Understanding the Bullwhip Effect in Supply Chain Management
Supply chain management is one of the significant factors that decide the success of any business. Only when the supply chain is in place, there remains a continuous flow of products to the end customers. Maintaining an effective supply chain is not an easy task to perform, as there are multiple processes involved in it. Through these various stages, factors such as maintaining the timely supply of orders and lack of communication between various stakeholders result in one of the most common problems in supply chain management — the Bullwhip Effect!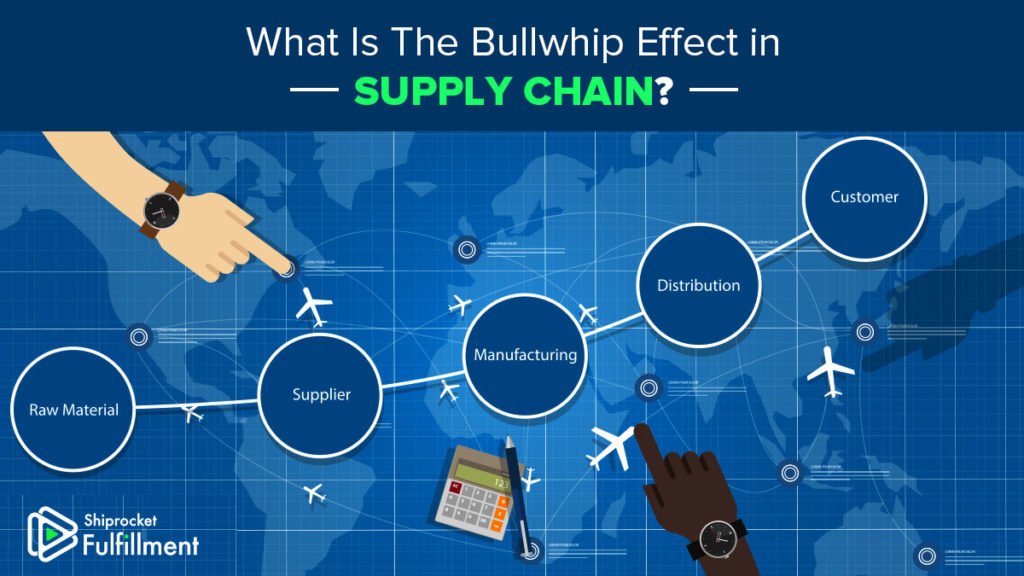 This article will take you through the details of the Bullwhip effect and how you can minimize to offer your customers a seamless shopping experience.
What is the Bullwhip Effect in Supply Chain?
If you're into the eCommerce industry, you would know that customer demand directly affects a business' inventory. Companies perform demand forecasting by gathering a suitable amount of products and other resources needed to meet the customer demand on time. But, while moving up the supply chain from the end-customer to the raw material suppliers, these variations often get amplified, causing issues with time, cost, and inventory in supply chain management. This is what we call the Bullwhip Effect.
In simple terms, when there is a slightest of change in customer demand, it can cause a significant snap in need of resources further down the supply chain, and it occurs mainly when businesses cut or add inventories.
Let us take an example to understand this better-
Imagine a person holding a long whip in his hand, and if he moves the strap a little near the handle, it creates small movements in the areas closest to the handle, but the areas located further away would move in a much more increasing fashion. Now, apply this example in the supply chain world, where the end customers have the whip handle, and they create a little nudge in demand, which then travels up the supply chain in an increasing manner.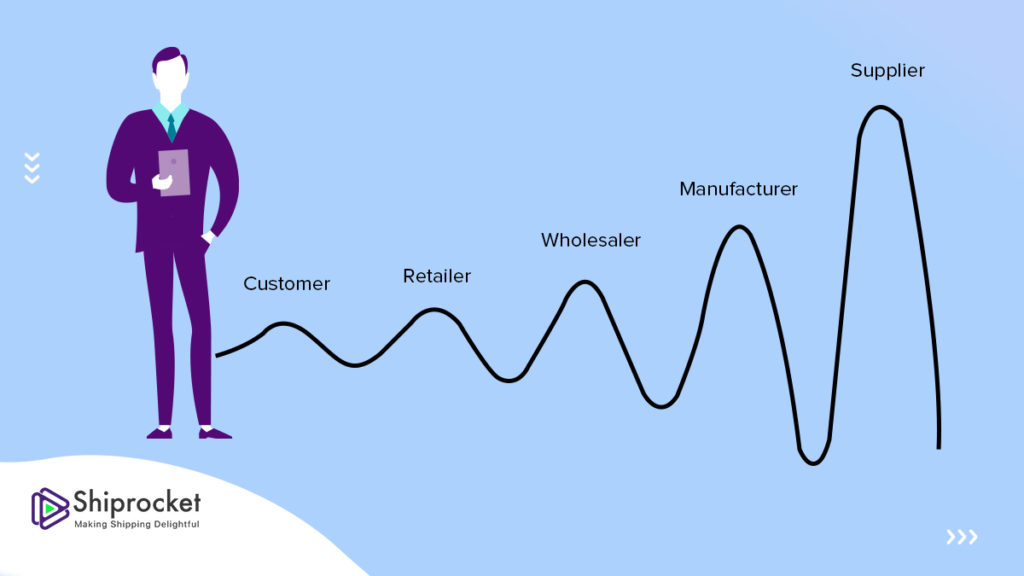 What Causes the Bullwhip Effect?
Fluctuations in Prices
Very often, exclusive discounts and other cost changes can disturb the regular buying patterns of your customers. Buyers want to take advantage of discounts offered during a short period, resulting in irregular production and distorted demand information.
Demand Information
It is essential to understand that relying on past demand information to estimate a product's current demand information does not make sense. The demand of customers change frequently, and you need to remain up-to-date with all the information.
Lack of Communication
Due to a lack of communication between each link in the supply chain, it gets difficult for processes to run efficiently. For example, managers can identify a product demand quite differently within different supply chain links and therefore order different quantities.

Impact of the Bullwhip effect on an eCommerce Business
The negative impact of the bullwhip effect can prove costly to any company. To maintain a manageable and useful inventory, businesses usually work very hard. However, the variables that cause the bullwhip effect can lead companies to have either an excess or lack of stock, which can be unfavorable for different reasons. Overstated orders based on misguided forecasts lead to incorrect inventory levels.
A surplus of inventory could prove costly to the company, and if consumer demand does not increase, it could result in wasted resources. Moreover, insufficient inventory can lead to poor customer relations due to unfulfilled orders and unavailable products. Such mistakes can seriously affect the goodwill and profitability of an eCommerce company.

How to Reduce the Bullwhip Effect
Here are a few ways to minimize the Bullwhip effect in your supply chain-
Understand the Bullwhip Effect
First and foremost, understand and accept the presence of the Bullwhip Effect in your supply chain. Detailed stock analysis of the inventory points from stores to raw material suppliers will help uncover idle excess inventories. Supply chain managers can further analyze excess inventories, take corrective action, and set norms.
Improved Communication and Better Demand Forecasting
A good strategy that can be used to minimize the bullwhip effect is through improved communication throughout the supply chain and better demand forecasting, not just for the end-customers but also for the manufacturers. Typically, business owners tend to ignore signals being sent through the supply chain and instead focus on the end-user demand. This can cause a mismatch between the raw material supplier and the end-users.
Optimize the Minimum Order Quantity, Offer Stable Pricing
Certain products have high minimum order quantity for end customers resulting in overall high gaps between subsequent orders. Lowering the minimum order quantity to an optimal level will help provide create smoother order patterns. Stable pricing throughout the year instead of many promotional offers and discounts may also create stable and predictable demand.
Improve the Raw Material Planning Process
Purchase managers generally tend to order in advance and keep high buffers of raw material to avoid production disruption. Raw material planning needs to be directly linked to the production plan. The production plan needs to be released sufficiently in advance, which will help purchase managers order only a specific amount of required inventory.
Conclusion
The Bullwhip Effect can pose a serious threat to eCommerce businesses if taken lightly. To prevent the Impact of the Bullwhip Effect, business owners should be highly aware of this concept and put into practice how to avoid it. We hope this article will help you understand this phenomenon in detail. For any concerns or queries, do write in the comments section below.
Calculate Your Shipping Costs Now