How Shiprocket is Helping Women Entrepreneurs Create the Next Gen D2C Brands
Digital brands in India are on a roll. The market is growing at an unprecedented rate, with investment policies working in favor of businesses. A segment of this eCommerce market is Direct-to-Consumer. Social media and DIY websites have made it easy to access a wide audience and sell without a middleman. Shipping solutions like Shiprocket give these models the extra push they require to deliver their products successfully to their buyers. Let's have a look at the D2C market in India and how Shiprocket is helping these brands.
What is Direct-to-Consumer eCommerce?
Direct-to-Consumer eCommerce is a model for sellers to directly reach out to buyers and sell them their products without the inclusion of a retailer or middleman. Most SMEs today are adopting this strategy to reduce costs and reach out to as many people possible with the help of digital brands.
According to a report by emarketeer, India's eCommerce sector will be worth $71.94 billion by 2022. Today, there are several brands online from whom you can directly make purchases. The flag bearer for these is women entrepreneurs.
Moreover, as most of the young audience (popularly regarded as Gen Z) is active on all social platforms, starting an eCommerce business is no longer a difficult task. With social selling from channels like Facebook groups, Instagram pages, or Whatsapp business, women are now running their business from the comfort of their homes.
However, no D2C business is complete without the actual order fulfillment. Be it any form of eCommerce, you will need to deliver orders seamlessly for retaining your clients and providing them an excellent shopping experience.
Order fulfillment solutions like Shiprocket provide D2C sellers with an all-round platform to process incoming orders from one platform and ship them to the entire country from the comfort of their homes. Let's have a closer look at how Shiprocket is adding value to these women-led eCommerce brands.
How Shiprocket is Contributing to the Growth of These D2C Brands
Shiprocket provides an all-round eCommerce shipping solution that helps with the majority of your fulfillment process. Starting with processing, sellers can integrate their website or marketplace with the platform and sync all incoming orders on the panel. Following this integration, Shiprocket offers the choice of 17+ courier partners. Hence, sellers sitting in Chhattisgarh can choose the partner that works best for their pin code with no limitation whatsoever. Moreover, there is no minimum order requirement. So, if a seller wants to ship only 4 orders a month, they can do so conveniently.
Mrs. Monalisa Bose is an eCommerce entrepreneur who sells Fabrics sourced from Gujarat and Maharashtra. At times, she ships as low as 3-4 orders a month owing to business requirements. It was a significant roadblock for her when shipping with courier partners. But with Shiprocket, she is now shipping without any restriction. Let's have a look at her journey.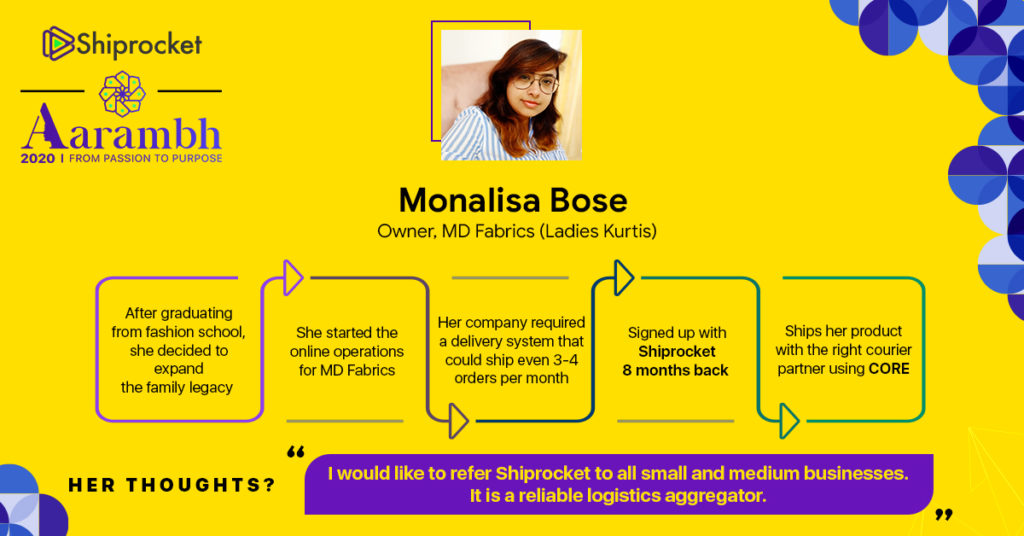 As of 2019, Shiprocket had 25% women sellers, wherein they contributed to over 30% of the total order count.
39% of these women sellers sold their products through social media channels like Facebook, Instagram, and Whatsapp. Here are the thoughts of another social seller, Ms. Alee Song, who is associated with Shiprocket.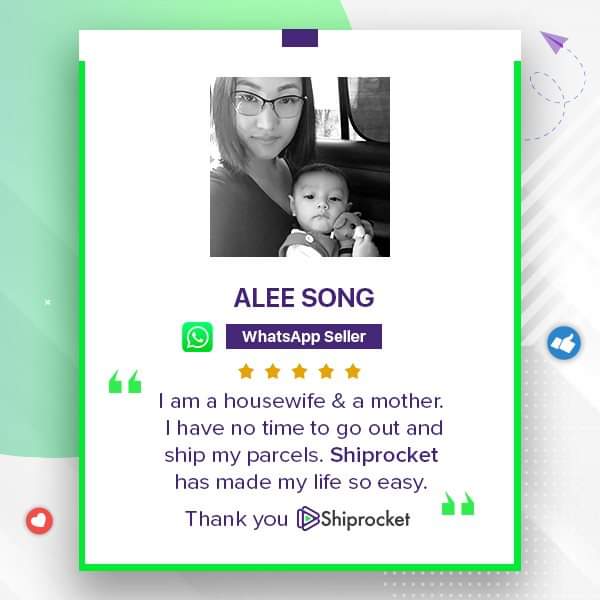 With a user-friendly platform at your disposal, you can make order fulfillment an easy task. Furthermore, incorporating ecommerce and it's operations into your day-to-day operations and reaching directly to your customers, as these skilled women, is no more challenging.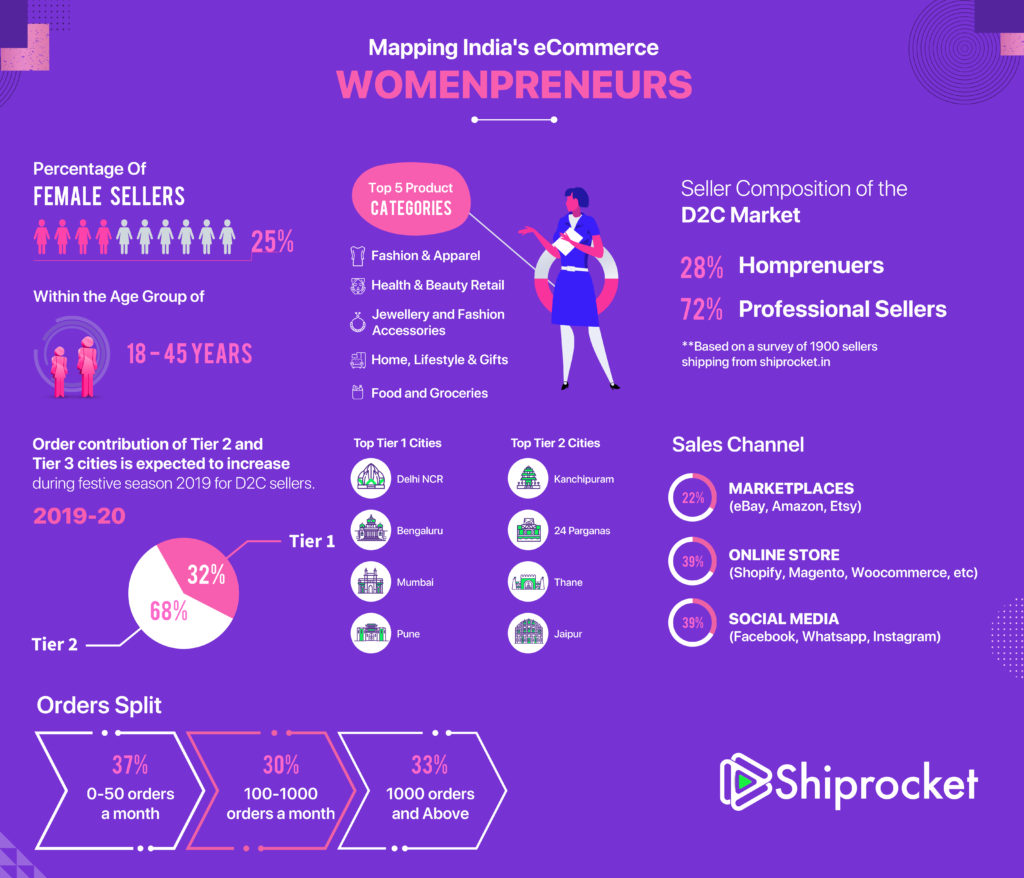 Along with facilitating D2C operations for over 1 lakh sellers across the country, Shiprocket is also going a mile ahead to promote women entrepreneurs to take up their passion and run it successfully as a business. With a model business competition, we are giving 10 passionate women a chance to pitch their business idea to an experienced jury consisting of business experts and earn funding of up to Rs. 3 lakh.
Final Thoughts
From providing a feature-rich platform to sellers to promoting D2C women entrepreneurs follow their passion, we are leaving no stone unturned in giving eCommerce businesses the support they require. With influential women entrepreneurs, we can lead the way for successful eCommerce businesses in the country.
Calculate Your Shipping Costs Now