How are Digital Wallets Useful for eCommerce Merchants?
India's eCommerce sector continues to show that e-wallet systems can be successful. The estimated value of e-wallets and mobile transactions across India was 36.5 trillion in 2020, which was expected to be more than triple by 2024. Today customers have a wide range of payment options for online shopping, but most of the time it has to deal with the issues of security and convenience, or a combination of both.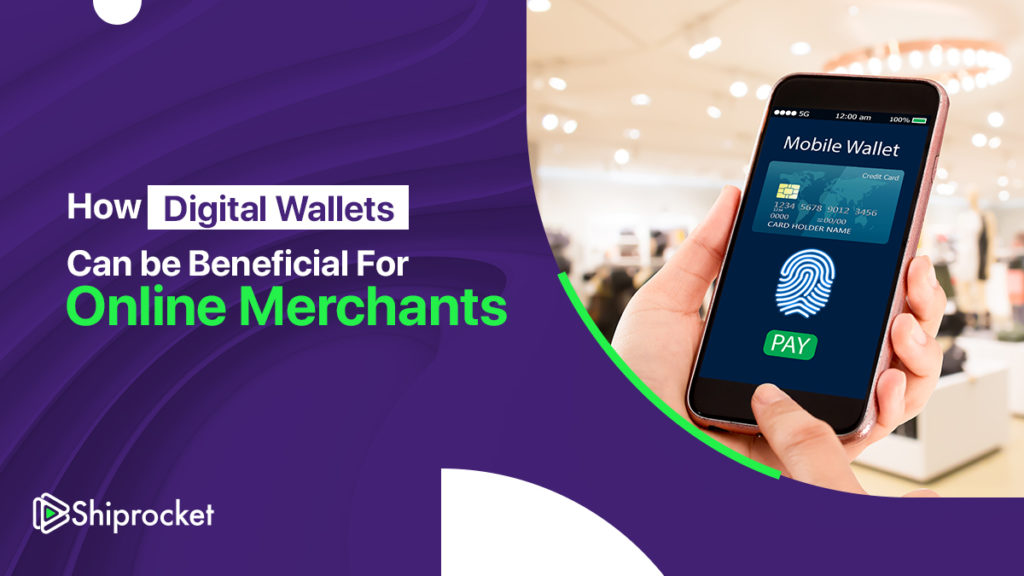 Digital wallets are encrypted for security and complete a purchase with a single click or tap. Digital wallets have seen a surge in popularity in the last few years, not only for the security they provide but it makes online shopping easier and faster than ever before.
How Does a Digital Wallet Work?
Given India's growing eCommerce market, the penetration of mobile payment technology, and digital wallets have become convenient payment options for online shopping. According to market reports, there are approximately 2.1 billion e-wallet users in the world. India and China account for 70% of 2.1 billion users.
The massive adoption of digital Wallets in India shouldn't be a surprise and should be considered a market to watch out for especially because of the favorable regulatory environment. Let us begin with the definition of the Digital Wallet.
A digital wallet or e-wallet is a service that allows you to pay for online transactions through a mobile app. These digital wallets are easy to use and also considered to be more secured than traditional online payment channels. It could store several items for you such as gift cards, e-vouchers, e-tickets, online passes, passports, library cards, loyalty program cards, insurance cards, etc.
You can recognize PayPal. It is one of the most commonly used digital wallets with over 346 million active users across the world. Approximately 87.5% of online buyers use PayPal.
A customer can choose to make a payment that will be drawn directly from their bank and pass through PayPal to complete the transaction. Or, customers can directly load funds into their PayPal account with a couple of clicks. However, there are other options available for online shoppers such as Amazon Pay, Apple Pay, GPay, Visa Checkout, Bitpay, and more choices are there. But not all digital wallets have the same features or type of funding options.
All these e-wallets require downloading a mobile app on your smartphone. And then you need to find a POS system that is compatible with your digital wallet in order to use it. Once you find a compatible POS system, you can simply hold your smartphone near the POS terminal to pay directly through your app. The same rule is also applicable to ATMs for cash withdrawals that work when in close proximity to a compatible e-wallet.
Benefits of Digital Wallets for eCommerce Merchants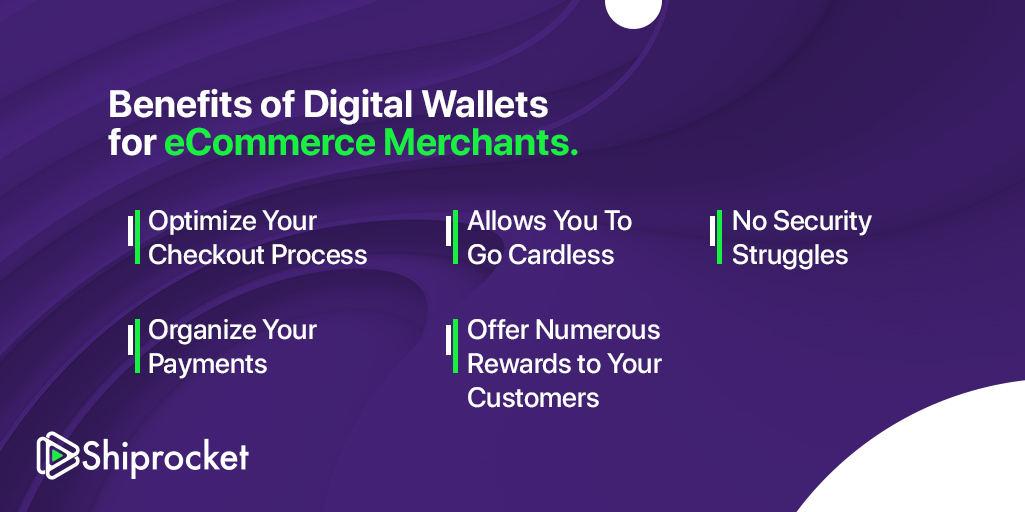 The pandemic of COVID-19 and lockdowns have had a huge impact on how consumers shop and make payments. Social distancing rules have made it difficult for people to pay physically with cash or cards. This has left many people with the only option to embrace contactless payments through digital wallets as they offer a safer way to shop online.
Digital wallets have a lot of benefits to offer for online store owners. Here are some of the many reasons why you should consider integrating a digital wallet into your online retail store.
Optimize Your Checkout Process
How many have you had trouble with the lengthy checkout process? Digital wallets don't have this problem. Most apps allow you to easily complete the payment process with a single click that saves your time. It also increases your conversion rate at checkout, as long checkout time is the main reason for cart abandonment.
Allows You To Go Cardless
Rather than making cash payments, you can simply hold your smartphone to a POS terminal at checkout and ready to go cardless. Digital wallets allow your shoppers to go cardless and give them multiple payment options. Online transactions are also streamlined, allowing your shoppers to pay quickly.
No Security Struggles
E-commerce merchants should choose the best digital wallet option for their business by considering both the ease of use and security features. The implemented system should simplify the issue of security for the consumer rather than making it more complicated. Data security is a top concern for online shoppers. Digital wallets add an extra layer of security to online transactions.
Your shoppers can simply slide through the checkout process and don't have to worry about the security of data. A digital wallet negates all the security risks and replaces all your credit cards, debit cards, online payments, and more.
Organize Your Payments
Most e-wallet apps organize all your payments in an easy-to-access way. It allows your online shoppers to make payments directly from their smartphone, laptop, desktop, or tablet. It doesn't matter what device they are using.
With digital wallets, you can accept payments from multiple devices. These apps also organize all of your payment information, saving your time shuffling through your wallet looking for items you need.
Offer Numerous Rewards to Your Customers
Arguably the most significant benefit a digital wallet offers to your customers is the additional bonuses and rewards. It means you not only provide your customers a way to pay faster for online purchases but also get numerous rewards. These benefits can be in the form of cashback and special rewards, allowing you to maximize your engagement level after every transaction.
The goal for eCommerce merchants is to make the online purchase experience as easy as possible. If you are looking to add a digital wallet to your online store, make sure you'll choose a digital wallet that will reduce friction at the checkout process. Don't forget to offer options that are in line with devices that your customers are using. PayPal and Amazon are the two most popular options for digital wallets with extended payment functionalities.
Final Say
For companies looking to add digital wallets into their businesses, the options are available and the opportunities are limitless. The checkout process can really be that simple with e-wallets and your customer will definitely thank you for implementing it.
We Shiprocket offer eCommerce merchants the fastest, cheapest, and best shipping options. Sign up for a free demo today and to take advantage of affordable shipping and eCommerce fulfillment.
Calculate Your Shipping Costs Now