The Most Effective Way to Dispute a Carrier's Re-weigh Charge
Are re-weighs and other freight adjustments eating up your profit margins? Are you worried about the continuous re-weigh issues? Ever wondered why freight re-weighs are a common issue?
The fact that most of the shippers don't have certified scales large enough to accommodate the majority of 'less than load' freight leads to re-weighs. And, without these proper scales, weights that are listed are approximations and not verifies exact weights.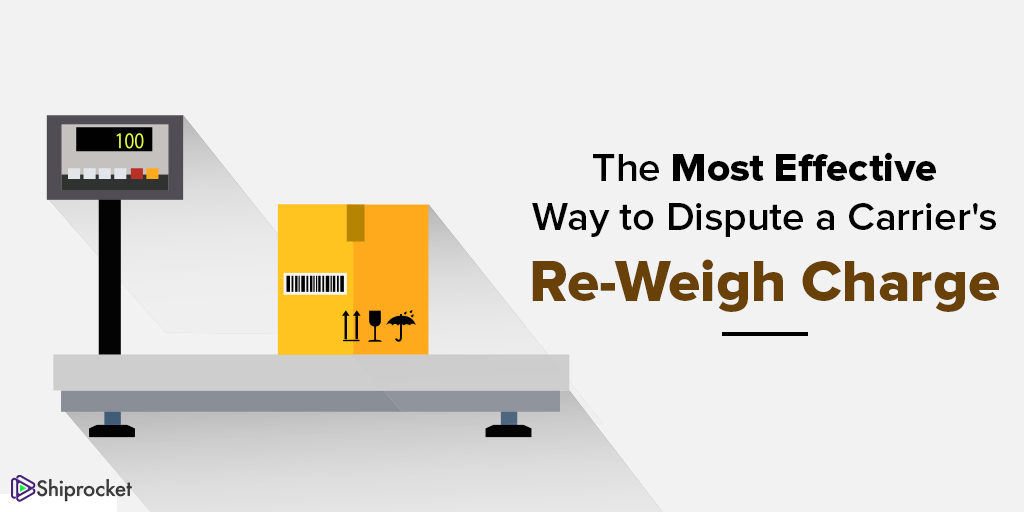 A re-weigh occurs when the couriers, using their own scale find a discrepancy between the listed weight and the actual weight of the shipment. Are these re-weighs resulting in additional fees for your shipment? Let's find out!
What Does It Mean To Dispute A Re-weigh
If you've been billed for a re-weight but you're sure that the carrier's weight is not correct, you can raise a dispute for a re-weigh charge. Re-weigh disputes are very common but you need to do it correctly to successfully win the dispute. Use certified scales during which all the carriers use to inspect the listed weight and the inspected weight. Furthermore, to make the process seamless, you can also opt for a courier aggregator like Shiprocket to help you raise a dispute against a re-weigh.
Below Are Some Practical Ways of Disputing These Additional Charges
Find The Origin
First and foremost, find out where the re-weigh issue happened? If it happened to be at the origin, then most probably it will be correct. However, you can always verify the same. Either you can contact the sales representative from that carrier or if you've opted for a courier aggregator, you can simply ask their representative to find out what other freight was on the pickup trailer.
In case there was another similar package on that trailer, re-weigh is possible. The dock worker might have crossed the shipments and re-weighed the wrong product.
In case re-weigh occurred at the break bulk facility, remember that the package has moved through two to three terminals without getting hit. With the advancement in technology, it is less likely that several terminals might have missed out on additional weight. Most couriers can trace the shipment package every time it moves. Request your courier aggregator representative to look at the movement of your parcel. The weight might get changed back to the original weight as the dock workers move the shipment.
Analyze Your Special Requirements
Sometimes, lift-gate trucks are required for freight exceeding 100 pounds or 72 inches in height. Also, if your freight receiver doesn't have a dock, a liftgate may be necessary to load or unload your shipment. Carriers are not required to notify the shipper before using a liftgate and charging it's fee. Such fees can be disputed but, you need to give a proof such as a delivery receipt or pictures of the pickup or delivery location showing a loading dock (that a liftgate wasn't required or was applied unnecessarily).
What Is the Best Way to Dispute Re-weigh?
The best way to dispute a re-weigh is taking an action as soon as you get to know about the re-weight that is in issue. Usually, the claims against a carrier re-weigh take between two weeks to a month.
If you are alerted about a discrepancy and asked to share proof, it is a good practice to share the images of your package for easier reconciliation with the courier company. If you don't have ample proof, your claim might not be addressed/
But, the entire situation can be dealt with better with the help of a courier aggregator such as Shiprocket. We have in place a thorough system to deal with weight discrepancies.
We can help you in filling a carrier re-weigh claim and even perform on your behalf. With the help of its weight dispute manager, it provides visibility for the users to view and track the disputed weight. The best part is that the amount charged for the 'disputed weight' is not deducted but is put on hold, separate from the 'usable amount'. The amount is put on hold until a resolution is reached.
The Bottom Line
When it comes to re-weigh, it will best if you take the proactive approach instead of the reactive approach. Remember, re-weighs occur when the weight of BOL (Bill of Lading) does not match with your carrier's scale. This is a common phenomenon and the best way to address it is by monitoring the carrier's re-weigh charges and addressing them immediately.
Also, partnering with a courier aggregator can help you reach your shipping goals. They offer the best shipping solutions which significantly improve costs and provides efficiency to shippers. If situations like re-weigh arise, they can also advocate for the shippers with the carriers to create a favorable business environment for all.
Calculate Your Shipping Costs Now