How to Engage Customers With Your D2C eCommerce Brand
The pandemic was a curse for physical stores, but the D2C eCommerce industry has seen explosive growth. Online shopping has become a new normal, and online stores are experiencing considerable gains. Offline stores also reconsidered their strategies and marked their entry into the online space.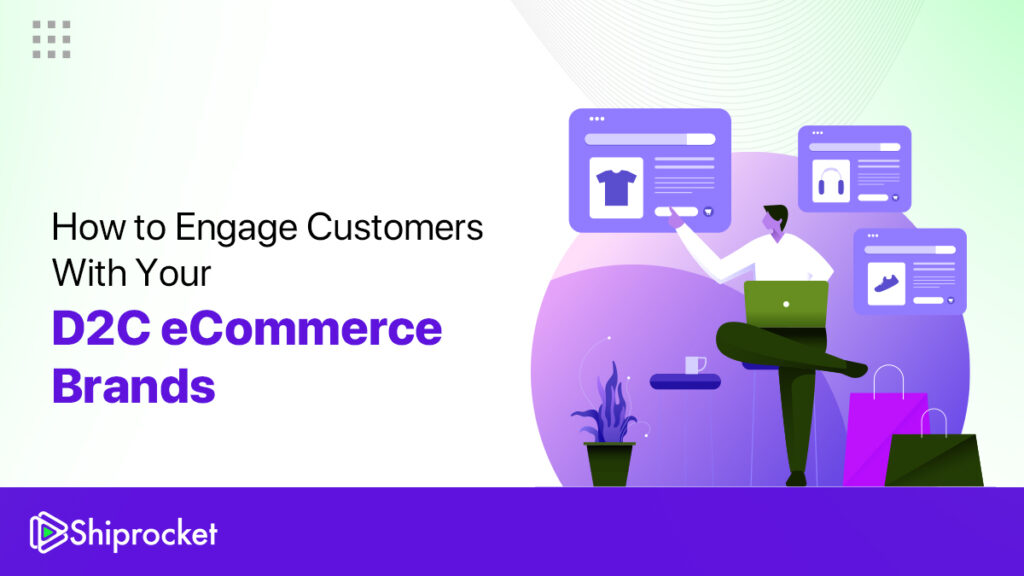 Several D2C brands have erupted in the digital space. Although the increase of D2C eCommerce brands was inevitable, the competition has increased significantly. There is cut-throat competition between online brands, and they are looking for different ways and strategies to engage and attract customers.
In this blog, we will look at how D2C eCommerce brands can attract their customers effectively.
What is the D2C eCommerce Model?
Let us first discuss what the D2C model is. Direct-to-consumer eCommerce is a business model where the seller sells his products directly to the consumers via an online sales channel, i.e., a website. Businesses like pet food and men's skincare that struggled to find distributor stores now sell directly to their customers through the D2C eCommerce model.
In the D2C model, the seller has the power to directly connect with the customers and engage them without relying on intermediaries like third-party retailers. The seller also has control over the customer experience and brand positioning.
Since D2C brands offer shopping convenience, competitive prices, personalization, and authenticity, they appeal more to the millennials. They are digital by design and will always attract customers that prefer online shopping. Almost all D2C brands are on social media – where most millennials spend much of their time.
Tips to Engage Customers With Your D2C eCommerce Brand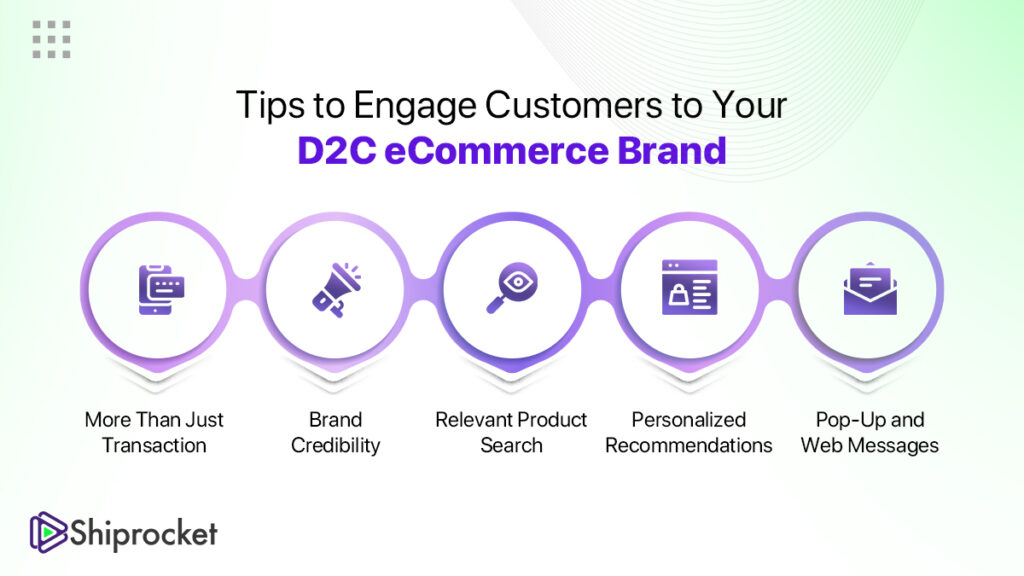 You can follow the below-mentioned ways to combat the high competition:
More Than Just Transaction
Customer experience plays a pivotal role in the promotion and growth of a digital brand. Just selling an item is not enough. The transaction is essential, but it takes a lot more for a D2C brand to succeed in today's highly competitive environment. An online brand must focus on offering a complete customer experience.
Assist your customers in choosing the right product and give them a delightful pre-purchase and post-purchase experience. It's necessary to have descriptive yet brief product descriptions. Also, offer your customers the required assistance to gain their trust and loyalty. You must offer your customers different payment options to help them complete the transactions quickly. Notably, the user interface of your website or mobile application will also play a huge role here.
Many brands send an email or a WhatsApp message about the purchase right after the customer makes a transaction. You can also keep your buyers informed during all stages of order fulfillment – order placed, processed, packed, shipped, and delivered. This way, customers will feel they are involved in all steps of their purchase, which will leave a positive brand impact.
Similarly, once the order is shipped, you can ask buyers about their experience with your brand through feedback. You can also keep your customers informed about the new collection, coupons, and discounts to keep them coming back!
Brand Credibility
Many businesses are joining the digital world, which is also increasing online scams and fraud. Thus, your D2C eCommerce brand must build credibility with social proof.
Social proof helps increase engagement and retain customers. It encourages customers who have not yet used your product to take action and make a purchase.
How does this work? Ask your customers to leave a review; you can reward them for writing a review. Display reviews, customer testimonials, orders fulfilled to date, etc., on your website. This builds credibility among new customers – fellow people's opinion matters greatly.
Relevant Product Search
Most brands offer product search options. With the help of intelligent search, you can stay a step ahead of your competitors. Intelligent search will help minimize zero result options and show other relevant options instead. But you must segregate products into different categories for accurate results. Besides, you can also offer filters and sort by options to make the search criteria more user-friendly.
Now, the most critical thing – customers often type in the wrong spellings. Thus, it is imperative that you add a spell check to the search bar. For the same reason, you can also add synonyms in the search bar. This will further ensure that the search results are never empty simply because of spelling errors.
Personalized Recommendations
Customers want personalized recommendations – just what they used to get in brick-and-mortar stores. Personalized recommendations help them discover new products, increase engagement, and ultimately retain customers. How to begin?
Show recommendations based on browsing history (let AI do its part).
Create a 'You might like this' section and cross-sell products.
Offer personalized upselling recommendations.
A capable Artificial Intelligence and Machine Learning tool will help discover user patterns to make the process smoother.
Pop-Up and Web Messages
Welcome and exit pop-up messages for the users can also help lower cart abandonment and increase engagement.
You can personalize these messages depending on the user's activities. For instance, if the user exits after adding items to their cart, you can show the exit intent pop-up saying you forgot something in your cart. In addition, you can also offer coupon codes and discounts to encourage them to complete their purchase.
Summing Up
The D2C brands are reshaping the retail world. It also means that there is a greater need for an efficient order fulfillment process. Juggling between engaging customers and fulfilling orders can be difficult. Thus, many online brands are now outsourcing their order fulfillment process to third-party logistics solution providers, like Shiprocket Fulfillment.
While D2C eCommerce brands like yours work towards engaging and retaining customers, a 3PL service provider will manage all your inventory and pick, pack, and ship orders. They will also handle customers' queries on your behalf and send relevant notifications to your customers about the whereabouts of the shipped package.
Calculate Your Shipping Costs Now