Guide to FedEx Tracking for eCommerce Orders
Order tracking is the connection between you and customers where you can establish personalized solid communication channels. After placing an order, the customers remain impatient about when they will receive it. Most of the time, they are also concerned about whether they will receive the order or not. Hence, giving the customer a tracking number and a tracking page containing all information can help them keep track of their charges.
FedEx is one of the most established and popular courier partners in India. If you inform your customers how to track their FedEx shipments, you can help them reduce stress and develop a strong relationship with them.
Let's look at how you can help customers with FedEx tracking and other aspects of order tracking.
Importance of Order Tracking
Order tracking is an essential component of the entire supply chain. Since the customers remain impatient until they receive their orders, order tracking can help you reach them and stay connected until their order is delivered.
Order tracking can help establish authentic bonds with your customer, but they trust your brand and are at every step of their shipment. It helps you portray your business as both dependable and trustworthy, which is critical for customer attention. It also helps reduce customer anxiety which further leads to remorse and disappointment.
How to Track FedEx Orders
Tracking your FedEx orders is pretty straightforward. If you want to track your physic FedEx order directly from their website, or you have to go to – https://www.fedex.com/en-in/tracking.html.
Sure, you can track the shipment with the help of a tracking number or by reference.
A tracking number is usually a unique 12 digit code assigned to a package.
Once you enter the tracking ID, you can see the status of your shipment.
If your seller has shipped your order from a courier aggregator like Shiprocket, you can track the shipment with the help of your AWB number. Firstly, you can check your email if you have received any tracking page links. Along with that, you will also see that shipment tracking details are sent to you with the help of emails and SMS.
Other than that, you can also track your FedEx order by visiting https://www.shiprocket.in/shipment-tracking/. Here you can check the status of your shipment with the help of the AWB or order ID.
What Should Your Order Tracking Page Contain?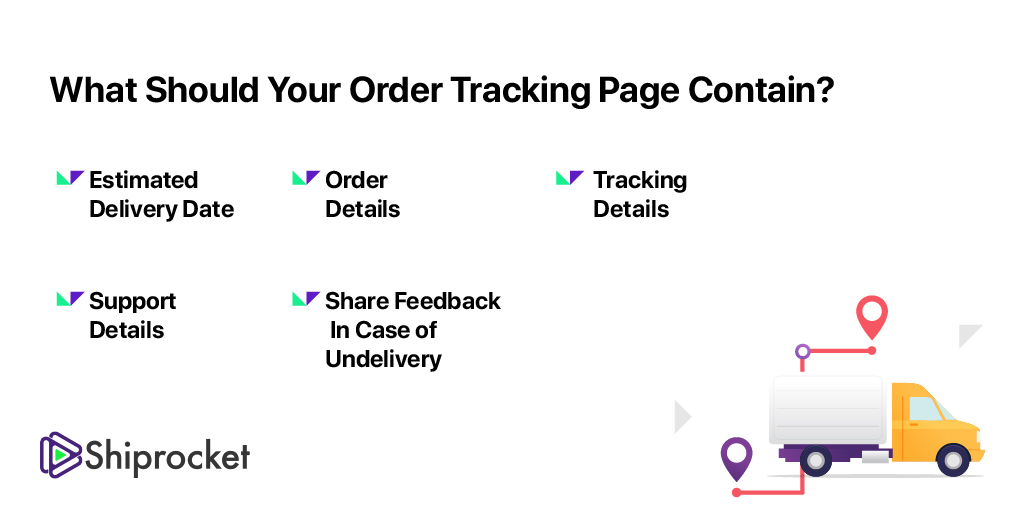 Since you understand the importance of order tracking, let's look at what an order tracking page should contain if it needs to provide all the necessary information. Along with that, your order tracking page can also be a superior tool for engagement and promoting re-purchases. You can also use it to re-market customers so that they come back to your website and make a repeat purchase.
Estimated Delivery Date
Every order tracking page must contain the estimated delivery date. This is necessary if you want to give your customers something to look forward to. It may not seem like a huge deal, but they will trust your brand sooner if you give them a definite date.
Order Details
The order details should be mentioned on the tracking page to clarify what the customer has ordered, and if it is a COD order, they should know how much they have to pay. It improves visibility and keeps the buyer updated.
Tracking Details
The tracking details are the crux of the order tracking page. You need to give granular tracking details of every step so that the wire can be informed and updated if they have any questions or queries.
Support Details
The support details like the contact number or email ID help them connect back to you and give them a sense of reassurance that you are available for them if anything goes wrong.
Marketing Banners
We spoke about engaging with your customers and increasing repeat purchases. With the help of marketing banners on your tracking page, you can re-market your customers by showing them exclusive discounts, sales, new collections, etc. This will encourage them to browse your website and make a few more purchases while tracking the orders.
Conclusion
We hope this method helped you track your FedEx orders quickly and you were able to locate the necessary information. If you want to check your FedEx orders, it is best to follow the track notification and receive an email & SMS.
Calculate Your Shipping Costs Now