The A to Z of Freight Shipping
You must have heard about freight shipping, but did you know that it is the lifeline of several economies around the world? Sounds like something you might be interested in?
Here's everything you need to know about freight and why it is a growing trend in 2019-
What is freight shipping?
Freight shipping is one of the methods of shipping or transportation of goods to various places across the world using different modes of transportation such as air, land, and sea. It is a crucial part of any business and takes place between a merchant and a freight broker.
Freights can also be independently defined as commodities that are transported by truck, plane, ship or train and weighs more than 150 pounds. Furthermore, to qualify as a freight, an item must have dimensions at least 30 * 30 * 30 inches.
The shipments smaller in weight or lighter in dimensions must be shipped via an ordinary mode of parcel shipping to avoid any unwanted costs. However, shipping freight has several advantages for eCommerce businesses.
There are two fundamental ways by which the shipments are loaded into the truck. One is via pallet and the other floor loaded. While pallets on trucks can be quickly loaded using a forklift, floor-loaded trucks have to be unloaded via hands.
Types of freight shipping models?
Now that you know what freights are for let's try to understand the types of freight transportation models that are used in the eCommerce industry. These vary based on the weight of the freights and the urgency with which it needs to be shipped.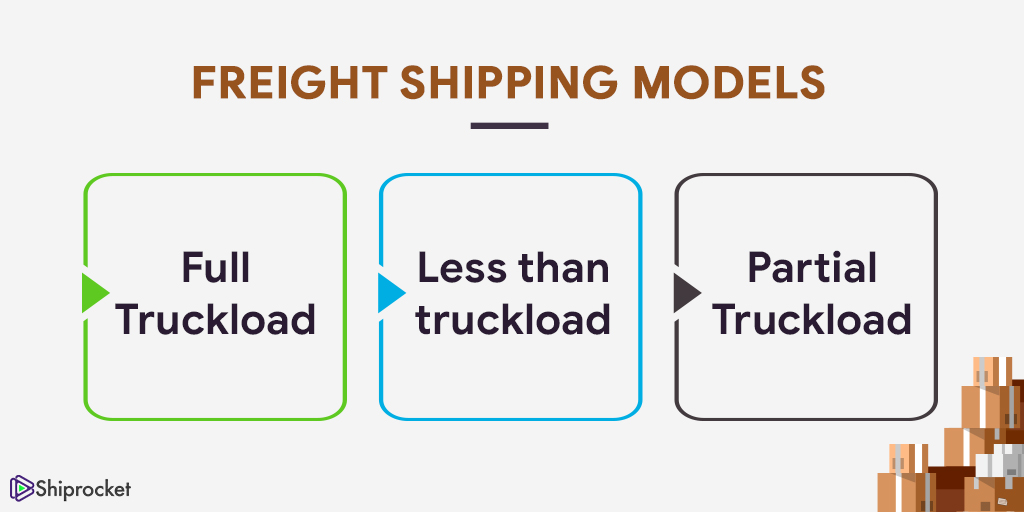 Full truckload
These shipments are direct shipments that originate from the designated pickup location and end up at the destination. Full truckload refers to the fact that the entire container is filled with the shipments to a maximum of its capacity. FTL shipments can be moved via truck or rail and carry nearly 24-26 pallets.
Full truckload shipments can be cost effective for an eCommerce business and also reduce any possibilities of damage as compared to other modes of freight transportation such as LTL.
Less than truckload
Another mode of freight shipping is less than truckload. These are the shipments containing 1- 6 pallets and are most commonly used for freights weighing between 150 to 15000 pounds. LTL shipments are usually transferred to other containers for transportation.
Partial truckload
A wise mode of transportation for freight shipments is the partial truckload. PTL or Partial Truckloads lets an eCommerce shipper split the cost of the truck with other shippers. It is ideal for 6- 12 pallets and helps in saving a lot of shipping costs.
Factors that determine your freight shipping rates
To ship a freight, you must be aware of the different factors that might contribute towards its shipping. Freight costs are also something most of the eCommerce sellers wonder about. Here are a few factors that influence freight shipping rates-
Origin and destination of the freight
The source and destination of freight are one of the significant factors that contribute to the cost of transportation. The farther the pickup address and the delivery destination, higher will be your shipping costs.
Weight and dimensions of freight
The weight and dimensions of your freight are also a contributor to the freight costs. It thus makes it essential for the seller to package their products wisely by rounding their length and breadth to the next inch.
Shipping method
The mode of shipping that you use to transport your freights are also responsible for the freight shipping costs. For example, if you're using expedited shipping, freight delivery costs will rise.
Special services
Freights that contain fragile items or perishable goods need to be handled with utmost care. This leads to an increase in freight shipping costs.
Freight shipping in 2019
The freight shipping industry is only getting bigger and bigger with each passing day. Market statistics also suggest that freight shipping will witness a rise of 35 percent from the year 2016 to 2027. The freight industry in on a path to unprecedented growth and the eCommerce industry is all set to capitalize it.
As a seller, if you haven't explored freight shipping, its time that you do. All the top carriers are providing freight services and helping businesses grow by offering much lower costs. Now that you know everything about getting started with freight shipping, you can prepare a business strategy for them. After all, the key to delivering goods faster, cheaper and rapidly to the customers is freight!
Calculate Your Shipping Costs Now