Ground Shipping: Advantages, Strategies & Top Carriers Compared
Lately, the jump in the number of online businesses operating in the country has led to severe competition in the eCommerce industry. Businesses are exploring different ways and means to establish their market leadership in the crowded marketplace. One approach that is reaping great results is the use of third-party services to complete non-core activities such as ground shipping, supply chain management, logistics and last-mile delivery.
To help eCommerce businesses gain insight into the advantages of ground shipping, we explore the basics of and how it can steer businesses to become profitable.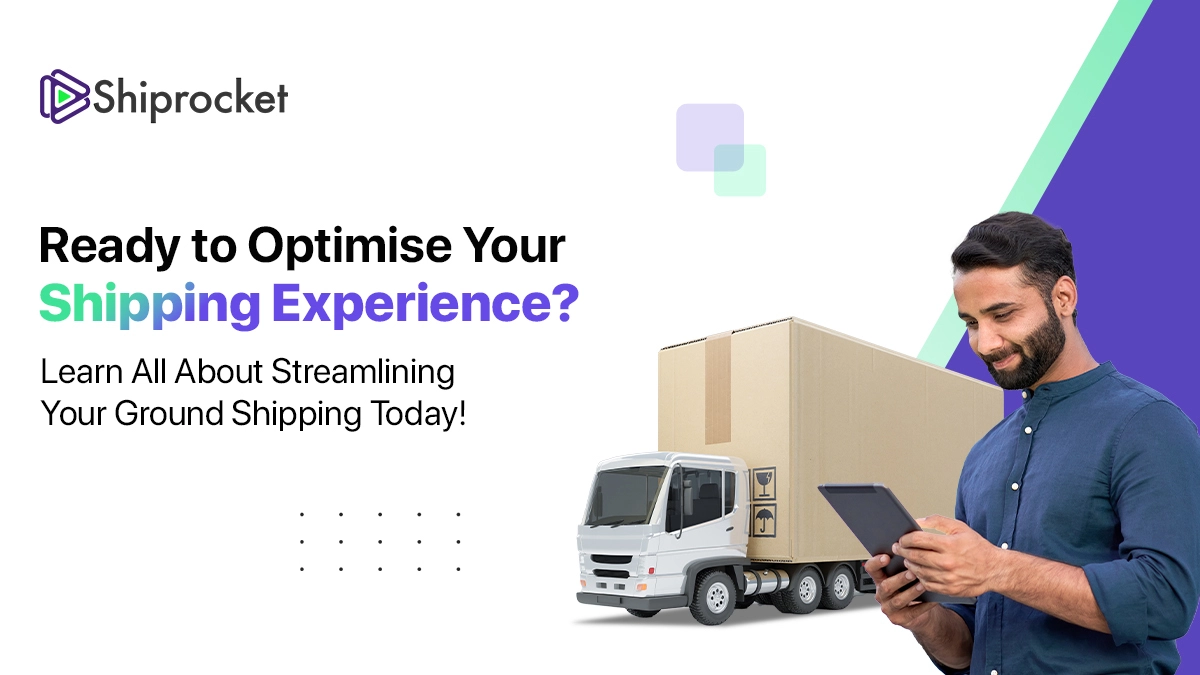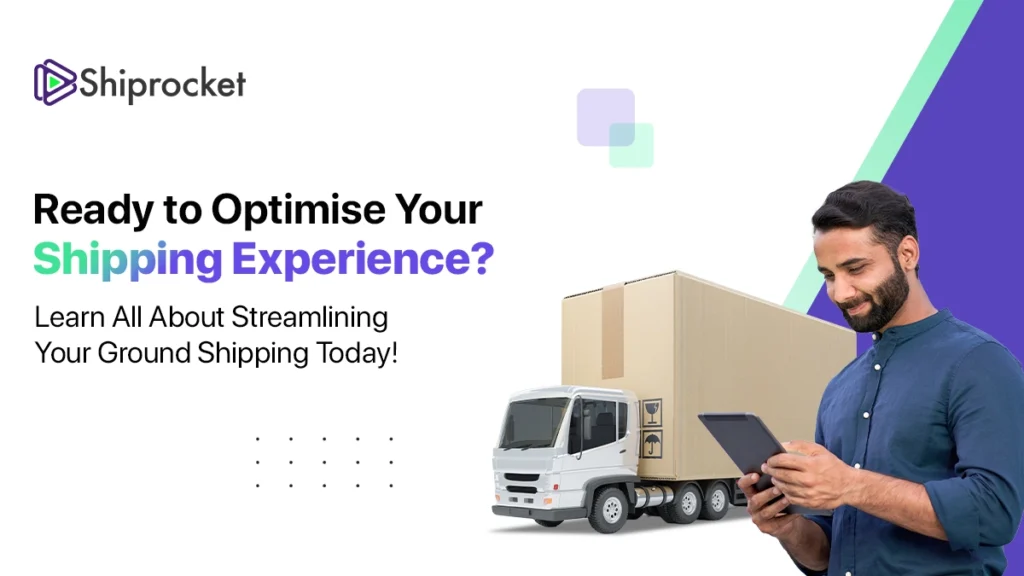 What is Ground Shipping?
In simple terms, ground shipping or road freight is the transportation of goods on land surfaces using vehicles like trucks, vans and even railways. The average time taken for ground shipping is one to five shipping days to metros and most Tier1/Tier2 cities.
In India, road transportation is expected to grow at a CAGR of 8% to reach a market size of USD 330 billion by 2025. The market share of intercity and intracity road transportation services is expected to reach 14% and 86%, respectively, by 2025.
The Advantages of Ground Shipping
Ground shipping helps businesses in the following ways:
Fastest Deliveries: Since roadways are the most well-established transport method, the movement of transport vehicles is smoother, faster and more efficient. Hence, ground shipping ensures on-time delivery throughout the year.
Low-cost Solution: Businesses save on costs with ground shipping. It is a great value-for-money option as it uses all resources optimally.
Using Best Routes: Ground shipping partners work with local couriers who are familiar with the shortest routes and deliver goods in the least time. Hence, delays are minimised in this form of shipping.
Easy to Track: Real-time tracking is easy, with customers being able to view the status of their parcels on their mobiles.
Eco-Friendly Approach: Ground shipping is slowly adopting greener transport vehicles such as electrics and hybrids to lower emissions and contribute to sustainable transport practices.
Reliable delivery: Ground shipping is able to establish schedules better and accurately predict estimated delivery timelines.
Expand DeliveryServices: It allows companies to deliver to multiple locations. It can add more destinations and encourage wider market reach.
Pricing is as per industry standards: Ground shipping prices remain stable, unlike air freight, which fluctuates due to fuel costs. This predictability lets eCommerce businesses set fair selling prices.
Low Risk: The risks with ground shipping are comparatively lesser than air traffic, and it is a preferred choice most of the time.
Build Customer Trust: A key aspect that drives customer satisfaction is consistency. When orders and parcels are delivered on time, customers are delighted, which results in building client confidence.
These are some of the advantages that your business can enjoy by choosing ground shipping services.
Ground Shipping Strategies for eCommerce Stores
Considering the innumerable ground shipping advantages, eCommerce stores must explore this transportation option. Here are five strategies you can use for an effective shipping process:
1. Optimise packaging for efficient handling: Standardised parcel sizes will minimise excess space, and your ground shipping partner will charge you less for it.
2. Partnering with localised carriers: The best ground shipping partners for your eCommerce store will be providers who have a strong local network. Localised networks are cost-effective and ensure on-time deliveries.
3. Real-time tracking: Implementing real-time tracking keeps customers informed, and they are reassured of the progress of the order with live updates.
4. Zone Skipping: Another way you can optimise ground shipping is to embrace zone skipping. In this method, you will need to consolidate packages before handing them to carriers for faster deliveries.
5. Delivery Window Options: To increase ground shipping capabilities, you should offer multiple delivery windows. Give your customers options like expedited or standard shipping so they can plan the delivery of their orders according to their availability.
These practical tactics help eCommerce stores enhance their ground shipping and make their customers happy.
Top Shipping Carriers Compared
Let's delve into a comprehensive comparative analysis of leading ground shipping carriers, each with its distinct service offerings, coverage areas, and value-added features:
| Carrier | Service Coverage | Delivery Speed | Tracking Options | Special Features |
| --- | --- | --- | --- | --- |
| Apollo Logistics | Nationwide | 3-4 days | Real-time | Integrated Logistics |
| APT Logistics | Regional | 3-7 days | Advance tracking | 16 branch offices |
| Blue Dart Express | Nationwide | 3-5 days | Real-time | On-cash-delivery |
| DHL | Nationwide | 3-5 days | Advanced tracking | Preferred time slot delivery |
| Maersk | Nationwide | 3-4 days | GPS tracking | Signature confirmation |
| Mahindra Logistics | Nationwide | 3-5 days | Online tracking | 15,000 trucks |
| OM Freight Forwarders | Nationwide | 3-7 days | Advanced tracking | 700 destinations |
| Shree Maruti Courier Services | Regional | 3-7 days | Real-time | Strong local network |
| VRL Logistics | Regional | 3-4 days | GPS tracking | FMCG, Furniture industries |
| TCI Express | National provider | 3-4 days | Tracking options | 13,000 delivery locations |
| TVS Supply Chain Solutions | Regional | 3-7 days | Real-time tracking | A subsidiary of TVS Group since 2004 |
Comparison Table of Ground Shipping Carriers
While these are only the top-10 ground shipping service providers in the country, you should consider the merits of every provider to assess their capabilities and make informed decisions.
At the same time, there are a number of providers who offer customised and all-in-one solutions.
Let us look at one such provider.
Streamlining Ground Shipping with Shiprocket
Ideally, eCommerce stores should use technology and tools to improve their services and to match the demands of their customers. While a number of ground shipping providers operate in the country, a handful are able to provide all-in-one solutions. Shiprocket is one such ground shipping services provider that leverages technology to ensure eCommerce stores satisfy the delivery needs of their customers.
Let us look at how Shiprocket makes this possible:
Multi-carrier Integration: Shiprocket provides access to a multitude of carriers within a single unified platform. This revolutionary approach simplifies shipping and minimises complexities associated with managing multiple carrier relationships. You can also choose Shiprocket to integrate with delivery partners like Dunzo and Shadowfax.
Automated Order Processing: In eCommerce shipping, saving time is a top priority. That's why tasks like handling orders, creating labels, and letting customers know about their orders are all done automatically. This not only speeds things up but also helps cut down on mistakes along the way.
Real-time Rates and Delivery Estimates: Customers are given real-time estimates of delivery dates, stock availability, applicable discounts and other information transparently. It helps customers to make informed decisions while setting clear expectations.
In-depth Analytics: Informed decisions stem from insightful data. Shiprocket's analytics capabilities furnish valuable insights into shipping performance, allowing businesses to optimise their operations and make data-driven decisions that can lead to enhanced efficiency.
Smart Route Optimisation: Shiprocket uses advanced technologies to intelligently route deliveries. It considers real-time data to suggest the most efficient shipping routes for packages. This approach ensures transit times are reduced. It leads to cost savings since packages arrive over routes that are least crowded and are not impacted by weather and other factors.
Green Shipping Options: Shipping services must strive to minimise their carbon footprints. Towards this end, Shiprocket uses eco-friendly options and ensures there is a minimal contribution to air pollution via its partner carriers.
These services are some of the ways in which Shipocket can make a difference to your company.
To learn more about Shiprocket ground shipping services, click here.
Conclusion
As the online selling and buying model becomes popular, there is intense competition among stores to offer the best products and fastest delivery at the least cost. These factors have ensured great customer satisfaction. Moreover, many eCommerce stores have been able to build their brand visibility through consistent on-time delivery. Their success has been their partnership with ground shipping service providers. Businesses of every size should leverage the advantages of using dedicated logistics and ground shipping service providers to build operational excellence and remain profitable.
How cost-effective is ground shipping for international shipments?
For international shipments, transport by sea is most effective. Ground shipping can become a cost-effective choice if you are shipping to neighbouring countries that are connected easily by road to your country.
How to select a ground shipping service for a business?
The service factors you need to consider to choose a ground shipping provider for your eCommerce store are delivery speed, the regions or destinations they can deliver, and the price at which these services are available to you.
Can customers track shipments?
Yes, most of the ground shipping providers offer shipment tracking facilities. Providers such as shiprocket offer real-time tracking features. This enables the customers to actively monitor the current status and location of their shipments during transit.
Calculate Your Shipping Costs Now