A Sneak Peek At How You Can Reattempt Delivery With Shiprocket
A successful and timely order delivery might be the last step in order fulfillment, but the entire customer experience depends on it. While timely delivery can make your customers purchase from you again, a late order delivery can create a bad reputation among your customers.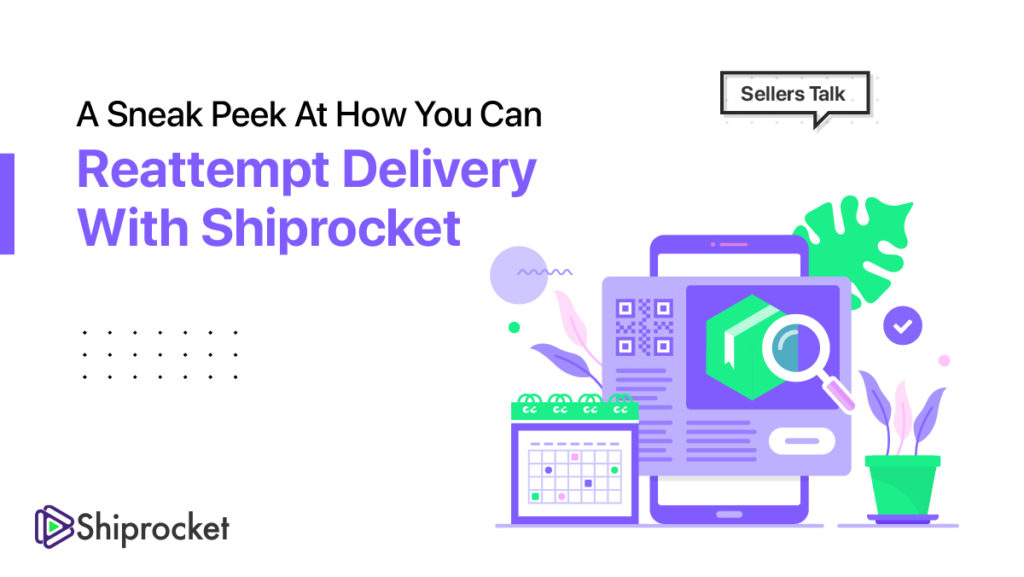 There can be many reasons why an order is processed for NDR. One such common reason is a wrong delivery address or information entered while scheduling a delivery. The courier agent tries to deliver an order, however, with the wrong delivery address/information, he is unable to contact the buyer, and thus, the order goes undelivered.
We get a lot of queries regarding whether the sellers can reattempt delivery if the order is processed for NDR. We are proud to say that with Shiprocket, you can reattempt delivery up to three times. And not just this, but you can also edit the buyer's mobile number and alternative number along with his address (house number) while reattempting a delivery.
Listen to how a Shiprocket representative helped solve buyers' queries related to delivery reattempt.
Audio Transcript
SR Representative: Hi, welcome to Shiprocket. This is Surya. How can I help you?
Seller: Hi. I am Palak from Live With Ayurveda. My product was picked up on November 12 and was supposed to be delivered yesterday, but customer ka House no. galat tha toh order deliver nahi ho paya.
SR Representative: Ma'am would like to inform you can update the buyer's address and reattempt delivery through the Shiprocket panel up to 3 times. I would also like to tell you that you can only edit the house no. and other minor details like an alternate contact number. You can't update the pin code, city, and state of the buyer.
Seller: Okay, main Dashboard me kaha se mai reattempt kar sakti hu?
SR Representative: From the left panel on the dashboard, you can click on Shipments and go to Process NDR. Under the Action Required tab, you can opt for reattempt delivery. When you click on the reattempt delivery, a dialog box will open where you can update the re-attempt date, buyer's house no., phone number, and alternate contact number.
Seller: This is great! Mujhe laga mera order RTO hi ho jayega, phir se address update karke order ship karna padega.
SR Representative: Ma'am, Shiprocket is all about giving our sellers the best shipping experience, and we always intend to keep shipping a smooth and hassle-free process for all our customers.
Additionally, ma'am, if you can spare a few minutes, I would like to introduce our new product Shiprocket Engage that can help you reduce RTO losses.
Seller: Yes, yes, yes, I think RTOs are crucial for any business. Sure, tell me how it can be beneficial for my business.
SR Representative: Shiprocket Engage offers a seamless and enhanced post-purchase experience to your customers over WhatsApp. With its help, you can automate buyer communication via a WhatsApp business account and reduce RTO losses and increase profits.
Seller: This seems quite interesting. I will surely check it out.
SR Representative: Is there anything else I can help you with, ma'am?
Seller: No, as such. All my doubts are cleared. Thank you so much.
SR Representative: You're welcome ma'am. We are always there to help you. Have a good day ahead.
Conclusion
We take extreme pride to say that we are a customer-centric organization, and we work harder to provide all our sellers with a smooth shipping experience. We are always working towards adding more customer-friendly features and making shipping hassle-free for you, and adding more value to your business.
Stay tuned for more. To raise any query with us or to know more about us, you can write to us at support@shiprocket.in. We are happy to assist you with all your queries.
Calculate Your Shipping Costs Now