How Can You Improve Conversion Rate With a Fast Checkout?
Any visitor to your online store is there for the sole purpose of buying something. If the visitor can find it on your website and place an order, that is known as conversion. For any online eCommerce store, the conversion rate is when a user adds something to his/her cart and makes a payment for it.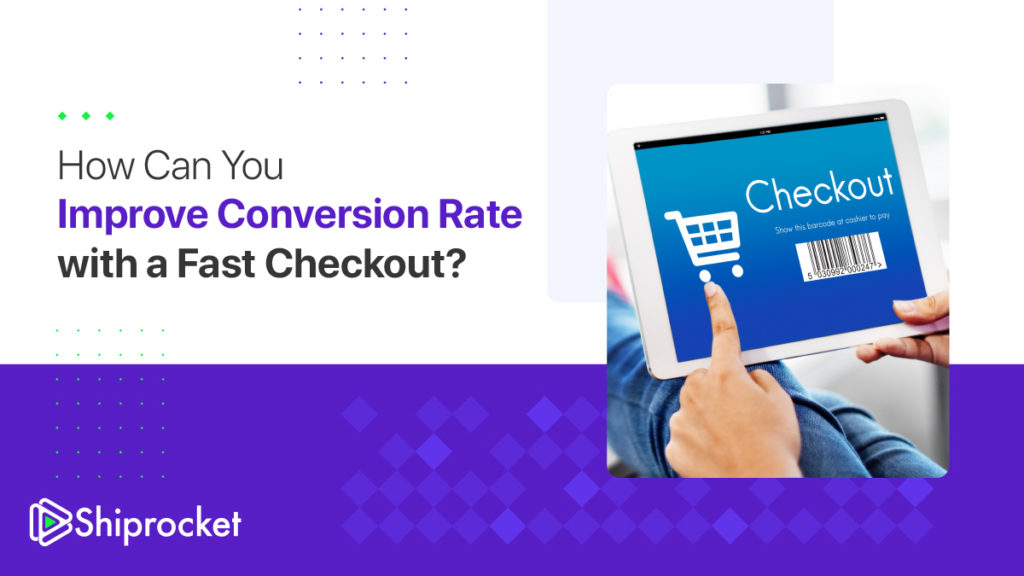 Optimizing your customer checkout conversion rate is one of the most important tasks and equally challenging. Important because most of the cart abandonments happen due to long and tedious checkout processes.
Cart abandonment rate is 60-65% and happens for various reasons, such as non-availability of preferred payment methods, high shipping charges, and more. Reasons such as these call for optimizing your checkout conversion rate.
But how can you optimize your checkout conversion rate? Let's take a look.
5 Methods to Improve Your Checkout Conversion Rate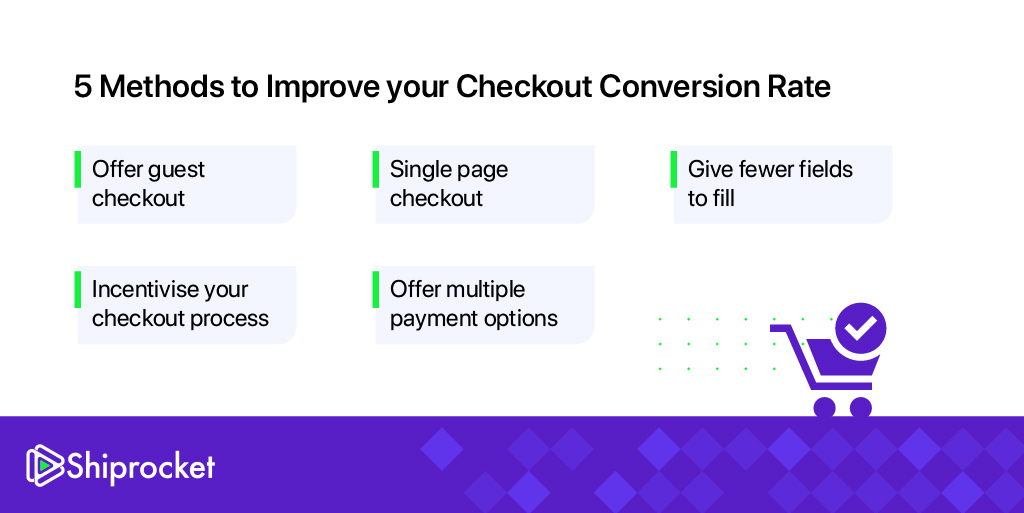 Offer Guest Checkout
One of the easiest ways to offer an amazing shopping experience is by offering a guest checkout to your customers. When customers are forced to sign-up for placing an order, they tend to abandon the carts. This is beneficial for when you get a customer who is in hurry and wants to checkout fast.
Having to sign-up might be a hassle for many customers and hence they should be allowed to check out their carts using a guest account. This will create a positive impact in the minds of your customer and might lead them back to your website and create an account for the future.
Alternatively, you can offer them a choice to create an account also if you think a guest account will affect your ability to grow your user database. Customers can also be incentivized to create an account by email once they complete their purchase.
Single Page Checkout
A single-page checkout page is exactly what it sounds like. One page where you can give your customers the option to put in their billing information, select a payment option, use a coupon, and select the mode of delivery for their orders.
People are busy with their daily lives, and offering them anything that helps them save time, will ensure that you secure a customer for a lifetime. Statistics show us that a single-page checkout process drives up the conversion rate by up to 21.8%.
Give Fewer Fields to Fill
Once a product is added to a cart, customers just want to get on with the checkout process and get their hands on their products. But if they are given unnecessary fields to fill, chances are they will ditch the cart and shop elsewhere, maybe with your competitors.
With fewer fields to fill, the checkout process will be short and time-saving for the customers, thus ensuring that you never lose a sale or a customer. One of the best ways to tackle this problem is by moving questions or recommendations on the page that comes once the payment has been confirmed.
As a business, you should always look at your checkout page to ensure that you are not giving your customers unnecessary fields to fill and that your page is quick, streamlined, and simple.
Incentivize Your Checkout Process
Online shoppers value conveniences and little things that enhance their shopping experience. Shoppers get excited when they are offered ways to maximize their savings, minimize their time, and are offered choices as per their preferences.
Free shipping is one of the best ways to drive up your sales as customers don't want to pay extra and want that extra bargain on their shopping spree. Sometimes free shipping is the difference between converting your customers and cart abandonment as it adds value to your site in the minds of the customers.
Free return is another value-added segment that can be offered to the customers to increase your conversion rates. In case any customer is not happy with the services or products being received, they should have an option to return the product free of cost. Hassle-free and free returns remove inhibitions from the minds of the customers about online shopping.
Secure payment systems are a way to gain credibility about your business in the minds of the customers. Customers need to feel secure about the data they are sharing with you, and the money they are spending on your online store.
Offer Multiple Payment Options
Not every customer uses the same payment method. Everyone has their own different preferred payment methods through which they like to shop and pay for their orders. It is important to give your users the freedom to choose their preferred payment methods as it highly impacts the checkout experience.
There are many modes of payment such as online wallets, credit and debit cards, net banking, and more. When users are given the option to choose their preferred payment mode amongst the lot, it increases the chances of sales significantly.
Final Thoughts
There is no single trick that works for everyone when it comes to checkout processes. Cart abandonments will always exist in eCommerce online stores, however, it can be ensured that more and more customers add products to their cart and complete their payments.
Instead of devising a strategy to reduce cart abandonment, one should focus on providing value to the customers and building a trust factor. If customers are offered quicker ways to purchase their desired products, they will surely return to make purchases again and again.
Calculate Your Shipping Costs Now