eCommerce Promotions – How to Use Coupon Marketing to Increase Sales
The 21st century is an era where shoppers do not want to pay the full price for a product they are willing to purchase. All of us are always on the lookout for discounts and coupons to lower the price we are paying for a particular product. eCommerce companies are continuously making use of coupons as part of their brand promotion to increase sales and convert visiting customers to paying customers.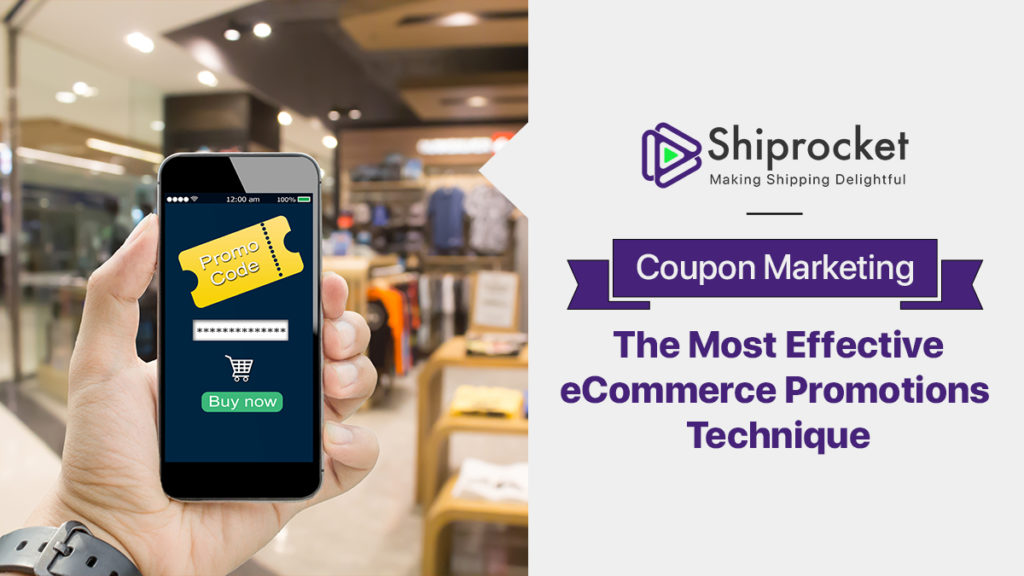 Sharing discount coupons, promotional codes have now become an essential strategy for eCommerce. You sure are spending a lot of money getting traffic to your eCommerce site by running paid ads on google, social ads, and many more. But once customers visit your website, how long do they stay there? Do they make any purchases? If not, it's time to rethink your eCommerce promotions strategy. This is why coupons play such an important role in eCommerce promotions. They urge shoppers to stay longer on your website, drive them down the conversion funnel to make a purchase finally, and come back again.
Let us discuss in details how you can utilize coupon marketing to increase your eCommerce sales–
What are Coupons?
Coupons are typically discounts and promotions that are offered by eCommerce businesses to customers or potential customers. ECommerce businesses mostly use digital coupons instead of physical coupons as they are much cheaper and can reach a wider audience fast. These coupons are focused on enticing customers to buy a product from the seller's online store by offering a specific percentage discount, free shipping, or any other kind of deal.
Customers use coupons at their peak during holiday seasons. During festivals like Dussehra, Diwali, etc., people tend to shop more online. Therefore eCommerce businesses utilize the coupon marketing strategy at that time of the year. More and more customers expect coupons along with various promotions during specific times of the year. eCommerce businesses that don't offer them risk being overlooked or losing to another competitor.
Types of Coupons
There are multiple kinds of coupons that you can incorporate into your eCommerce promotions strategy. eCommerce businesses are always looking for ways to entertain guests and keep them on their websites longer. This may involve a reward or incentive in the form of a coupon applied on their next purchase. Following are the types of coupons that businesses use mostly: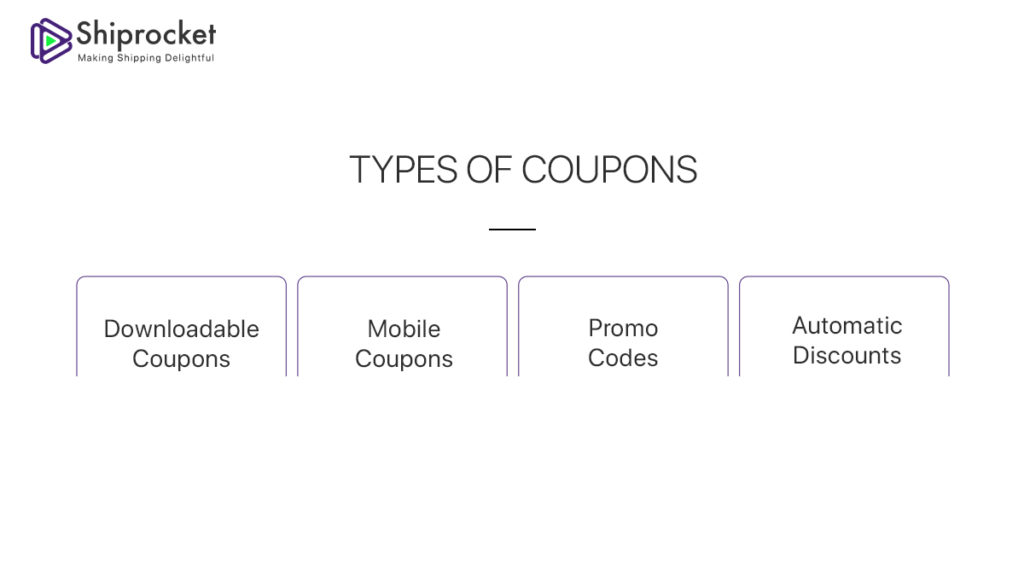 Downloadable Coupons
These types of coupons are accessible to consumers from several different locations. Customers download coupons from a seller's website, directly from an email, or via social media. Most of the time, these coupons are accessible from mobile devices as well.
Mobile Coupons
eCommerce platforms that have integrated mobile applications into their operations offer mobile-only coupons to drive further sales in this channel.
Promo Codes
The growing popularity of eCommerce has contributed significantly to the rise of promo codes. This discount is faster than downloading a coupon and is more comfortable for the customer to complete at the point of sale.
These codes consist of a combination of brand-unique numbers and letters and are often applied during the checkout process. They can be one-time use, personalized for an individual, or a generic code that can be shared.
Automatic Discounts
Discounts that are automatically applied at checkout increase in popularity because the consumer doesn't have to do anything to receive a discount. These work well for eCommerce companies because online retailers entice customers with an offer for a discount, reducing shopping cart abandonment.
How to Use Coupons to Boost eCommerce Sales
Here are a few ways how you can use coupons to boost eCommerce sales.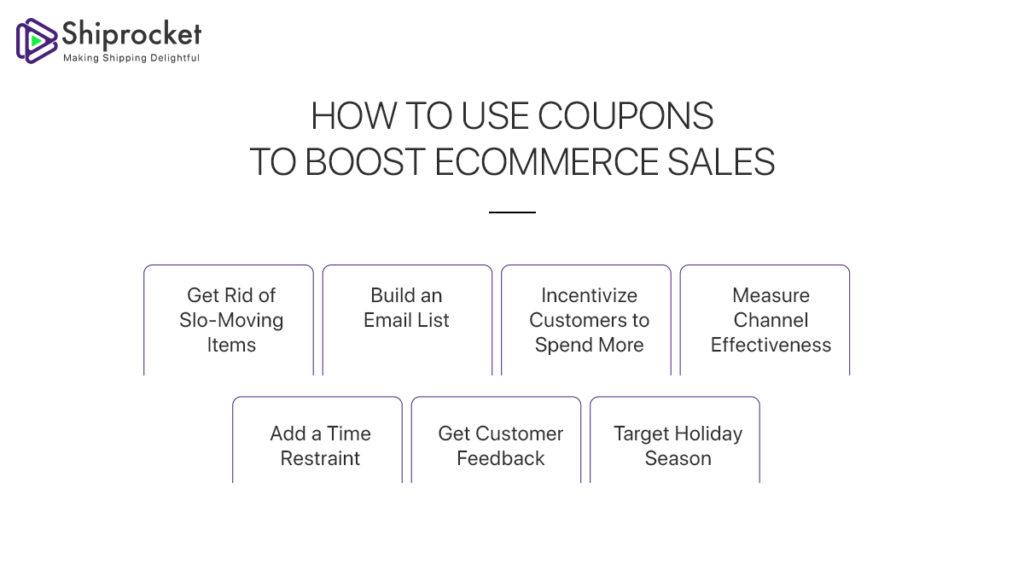 Get Rid of Slo-Moving Items
Some items don't sell, no matter what you do. And you must get rid of such things to have sufficient space for your other inventory. The best way to get rid of these items? Offer a steeper discount in the form of coupons so you can at least break even. Sometimes a percentage discount as low as 10% will help items get sold off just within a few days.
Build an Email List
Information is crucial, especially if it's information from potential customers. Data is precious, especially if it's data from potential customers. Many ecommerce shops offer a small discount if you sign up for their email list. You can do this too, and quickly build a 1,000+ person email list by only giving away a 10% discount!
Incentivize Customers to Spend More
Adding spending thresholds is an excellent way to boost average order values and use automatic coupons during promotion periods. For instance, it's not hard to incorporate messaging such as, "You're only Rs. 500 away from a 20% discount on your entire order!"
This gives the consumer a reason to shop more on your site and increases the chances of adding more to their order.
Measure Channel Effectiveness.
Coupons can also be used as a channel tester. If you put a different 10% coupon code on Facebook, Instagram, and an email campaign, you can see which channel performs best. This will guide you over time as to which channel your customers react to such offers best in. This can give you some great insights into where you should focus your marketing funds.
Add a Time Restraint
"Order by 12 PM on June 28 to get 20% off!"
The urgency factor can be a fantastic conversion driver. This kind of time restraint will push a lot of customers into checking out. Be sure to make your window of opportunity realistic, but not so far into the future where it could lose its effectiveness.
Get Customer Feedback
"Take a 5 minute survey and get 20% off!"
These short surveys can be the key to improving your business in many ways. Collectively, this information could help you craft a much better experience and become less reliant on discounts in the future.
Target Holiday Season
Using "New Year" as a coupon code for December 31, or "Holi Dhamaka" during Holi, can help you celebrate with customers. It's also more applicable and memorable to utilize popular culture in your marketing strategies.
How to Market your Coupons to Customers
Now that we have told you how to use coupons to boost sales let us look at how you should market those coupons to your customers to be aware of running those coupons.
Email
Email is a great way to reach out to multiple customers at one go. Include a coupon code in your emails whenever you're doing clearance sales, new product launches, etc.
Social Media
Utilize Facebook and Instagram stories to post coupons. Those coupons will only last for 24 hours, which will create a sense of urgency for your customers. Asking a follower to share a good deal increases your exposure, engagement, and brand efforts.
Advertisements
Anything from Facebook ads to Google Display ads can have a coupon code in the image. This not only incentivizes customers to click but also helps you get insight on which channel they used. Paid ads are often paired with incentives to offset some costs while driving volume.
SMS
More stores opt to send discounts via text message to get customers to check out on their mobile platform. Offering a coupon to allow SMS messaging is a great way to build your text list.
Be responsible with texting since this is still a new medium for retailers and can easily cross the 'what's acceptable' line when direct communications.
Physical Events
Attending trade shows, festivals, and local events are excellent brand-building tactics. Offering incentives and coupons along with real face-to-face marketing increases your chances of converting new fans and customers exponentially.
Final Say
Coupons are certainly an attractive way to boost volume and sales. Incorporating them into your marketing strategy can quickly build your customer file and temporarily increase your conversion rates. So, we recommend you research the kind of coupon you would want to offer to your customers without any further delays.
Calculate Your Shipping Costs Now