3 Reasons Why Inventory Distribution is Relevant for your eCommerce Business
Every eCommerce store owner wants to serve as many regions and customers as possible. The main focus of all businesses is to widen their reach and sell to customers across the country. The eCommerce sector is continuously evolving.
As a modern e-tailer, you need to consistently adapt your strategies and processes to ensure you stay ahead of the game in this competitive market. One of the most efficient ways to ensure maximum reach, combined with keeping up your A-game is Inventory Distribution.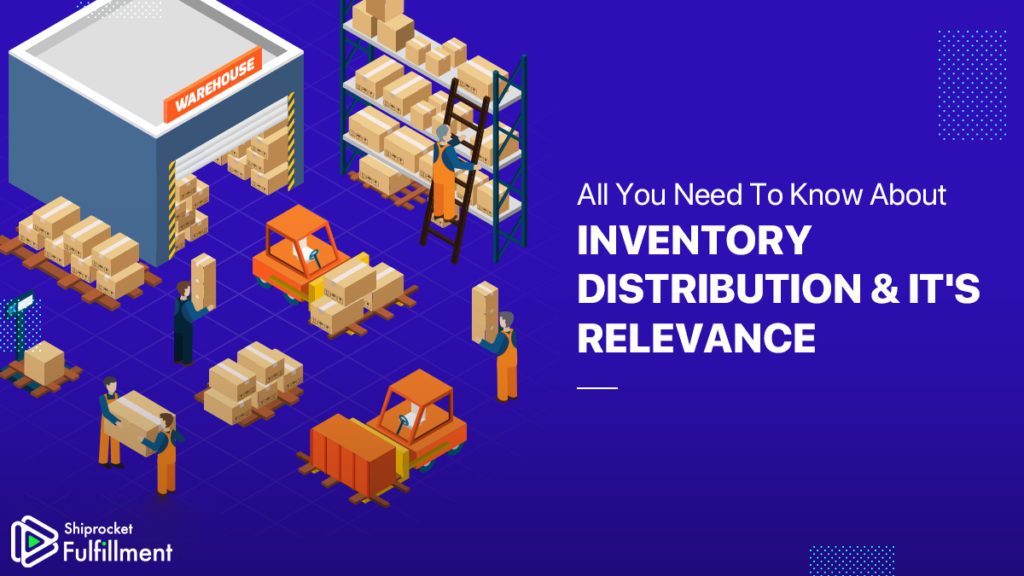 In this article, we will take you through the concept of inventory distribution and how relevant it is for your eCommerce store. First and foremost, let us take a look at what is inventory distribution-
The Concept of Inventory Distribution
You must have heard industry experts talking about keeping your inventory close to your customers for fast delivery. You are wondering what they meant? They mean Inventory Distribution!
Inventory distribution is where the inventory of a business is divided into multiple shipments and sent to fulfillment centers or warehouses of a 3PL across various locations in the country.
Distribution of inventory allows eCommerce sellers to reach customers located at every nook and corner of the country. Spreading the inventory across multiple fulfillment centers ensures it is kept closer to the end customers, reducing the transit time of the goods.

How does Inventory Distribution Work?
Now that you know what inventory distribution means, let us take an example to understand how inventory distribution works.
Samir runs an online handicraft store with its base at Gurugram and fulfills orders from a warehouse in Faridabad. One fine day, he receives an order from a customer located in Hyderabad. On receiving the order, the parcel was packed and dispatched from the warehouse at Faridabad the next day. Given the distance between Faridabad and Hyderabad, the customer received the order in the next 12 days.
What is the outcome?
A dissatisfied customer was all that Samir earned. The customer was upset due to the longer time it took for the parcel to arrive, and may never shop from his store again. The customer would have multiple other options near Hyderabad who could deliver his package within a day or two. Therefore, Samir faces a 'lost customer.'
What could Samir have done?
Samir should have signed up with a third-party logistics provider like Shiprocket Fulfillment that offers sellers to keep their inventory across multiple fulfillment centers. He could have distributed his inventory across various locations, including a fulfillment center near Hyderabad, which would have saved him a customer. The buyer would then have received the order within a day or two from the fulfillment center near Hyderabad and would have shopped from his store again.
This is precisely how inventory distribution works! It used a hub and spoke model — the fulfillment centers or warehouses work independently from where customer orders are fulfilled from the nearest location. Whenever there is a surge in demand for a particular product in any one fulfillment center, the seller can easily use the other centers to fulfill the order.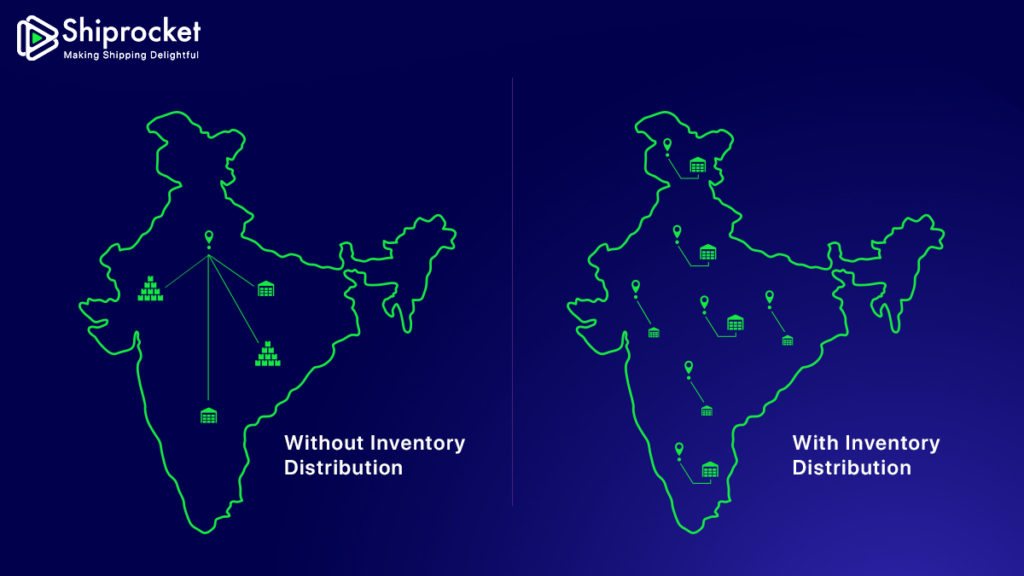 How Relevant is Inventory Distribution for your eCommerce Business?
The most important thing you must do to decide whether inventory distribution is relevant for your eCommerce store or not is analyzing where your customers are mostly located. If you find out that most of your customers are located near you, it's good to store your inventory in your current warehouse.
However, after analyzing the location of your customer base, you find out that your customers are located across the country. It's best to tie up with a 3PL that offers you to store your inventory in multiple fulfillment centers warehouses.
Below are a few advantages of inventory distribution that will yield you superb results for your eCommerce business –
Reduce Shipping Costs
When you opt to ship from a single warehouse, it will take a long time for the products to reach your customer than if you distribute your inventory across multiple fulfillment centers in the country. Higher the distance traveled by the products, the higher will be the shipping costs. Storing inventory closer to your customer will lower the shipping costs because orders will travel a shorter distance.
It is always less expensive to ship an order 30 km away than 300 km. Having access to a 3PL's network of fulfillment centers lets you use all its facilities without investing in any additional infrastructure. With Shiprocket Fulfillment, you can drive down your shipping costs by up to 20%.

Ship Orders Faster
With customers, nowadays, expecting their orders to be delivered in a day or two, it has become more critical to ensure fast delivery. Choosing to distribute your inventory will take you closer to your customers, reducing the time taken to deliver the orders. With 3PLs like Shiprocket Fulfillment, you can choose to store your inventory closest to the customers and increase your delivery speed by up to nearly 40%.
Distribute The Risk
Inventory distribution helps you distribute any risk in case of emergencies and lets you have backup options if your orders are not able to leave anyone particular warehouse or fulfillment center. These situations arise mostly in cases of adverse weather conditions in a specific area or natural disasters. When you split your inventory across geographic regions, you will have backup inventory in other locations. Whether to prevent delays or lost stock, it can be better to be safe than sorry.
One of the best examples is the current pandemic of COVID-19. Suppose you have distributed your inventory across multiple locations, and one of your fulfillment centers falls under a containment zone. In that case, you still have options in other zones from where the orders can be shipped.
Final Say
Inventory distribution is a significant factor that decides the success of your eCommerce business. Ultimately, the more customers you reach, the more revenue you will generate. Therefore, include inventory distribution techniques in your business strategy and see your business grow like never before. If you're wondering which 3PL to go for that provides multiple fulfillment centers, Shiprocket Fulfillment is the answer!
Calculate Your Shipping Costs Now