The Hub & Spoke Fulfilment Model: Is it the Right Approach for your eCommerce Business?
In the past, the Indian logistics and distribution industry was guided by the principles of point-to-point or direct-route operations. Transportation networks were comparatively unorganized than the present day. With the advancement of technology, the logistics industry has found faster and more efficient shipping freight, one of them being the hub and spoke model of logistics.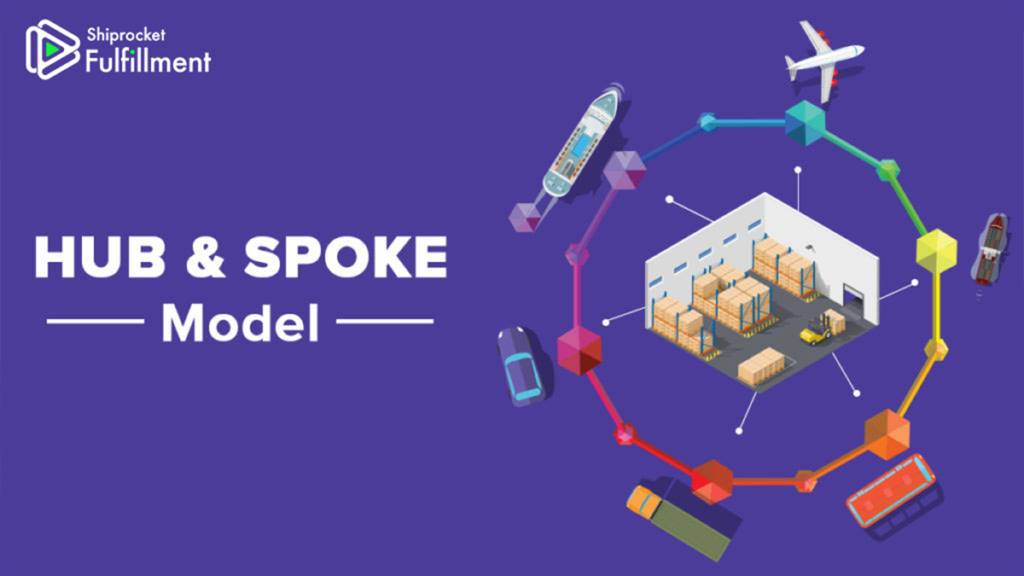 What is the Hub and Spoke Fulfilment Model?
The hub and spoke model is a system that simplifies a network of routes. It is extensively used in commercial aviation for both passengers and freight. Delta Airlines came up with this method in 1955, but in the 1970s, FedEx implemented it and revolutionized the way airlines were run.
The model is named after a bicycle wheel, which has a strong central hub with a series of connecting spokes. In the sense of aviation,airline routes all of its traffic through one central hub or hubs.
The design of a hub and spoke model is efficient for various reasons. The first involves day to day operations of a freight company. By centralizing control, the company can afford a smaller staff which concentrates on management from a central location. All packages can be sorted at the hub, rather than sorted in multiple locations. This makes the freight company much more efficient and reduces the risk of error.
In the recent years, shipping companies have adopted the hub-and-spoke warehousing model to speed up deliveries and reduce costs. In this model, different transports collect goods from its point of origin (the tips of the spokes), and then transport it back to a central processing unit (the hub). The shipment is then either warehoused or distributed directly from the hub to customers. Mostly, large scale companies operate through a hub and spoke logistics systems.

Evolution of Delivery
For the last two decades, whether you have been buying from Amazon or Flipkart, your online orders have been delivered using the hub-and-spoke logistics model.
Even today, the hub-and-spoke accounts for 99% of all deliveries worldwide.
In eCommerce, orders are collected from a retailer's warehouse and brought back to a hub where they are sorted, before being distributed onto multiple vehicles running delivery routes the next day.
Hub-and-spoke is the dominant logistics model because it is the only cost-effective way of sending a package over 20-30 km. The downside of hub-and-spoke is that it is not very flexible. Delivery times are determined by other deliveries within the network and on a delivery route.
Things get challenging when the delivery distance is less than 20 km.
Over short distances it can be cost-effective, often even more cost-effective, to send a courier straight from collection to delivery, point to point. Unlike the hub-and-spoke market which is dominated by courier companies like FedEx, the point-to-point market is highly fragmented with thousands of local operators.
Now, the point to be noted here is that eCommerce shipping is becoming increasingly decentralized nowadays. Most medium and small-scale businesses are going for decentralized fulfillment services, instead of a centralized hub system like the hub and spoke model. In other words, the hub-and-spoke model is dying. Logistics is becoming sophisticated enough to manage many point-to-point deliveries instead of going to a central distribution center. In transportation, you're seeing airlines doing more direct flights and shying away from hub cities.
It's becoming easier than ever for micro-and small businesses to deliver efficiently to buyers and fulfillment centers are no longer table-stakes for retailers.
Firstly, companies offering same-day and next-day delivery services make it possible to use stores as local distribution centers. Companies like Bigbasket, Dunzo, Shiprocket, and many more offer local delivery to their customers. The hyperlocal delivery service by Shiprocket allows its sellers to ship products such as grocery items to their customers within a radius of 8 km from the pickup location.
This increases the delivery speed, which in turn increases consumer satisfaction that directly impacts the business positively. Shiprocket's hyperlocal delivery service is delivering local orders with their courier partner Shadowfax Local as of now, and soon will be partnering with Grab and Dunzo.
Secondly, truly distributed fulfillment tools are finally emerging, even though it has been decades in the making. Shiprocket Fulfilment has debuted easy fulfillment for independent retailers, where it uses a huge warehouse and effectively necessitates big consolidated shipments from manufacturers or retailers. The entire order fulfillment process will be taken care of by Shiprocket Fulfillment, where it will ensure the effective packaging of products, picking up those items, and finally shipping them to customers across the country.
Advantages of the Hub & Spoke Distribution Model
Simplifies Shipping Process
In the hub and spoke fulfillment model, all the pickups are done from a designated hub. This makes it easy for logistics managers to plan everything efficiently and assign duties to the delivery agents systematically. Besides, loading and unloading shipment is also easy from a centralized point.
Improves Productivity
A delivery agent daily delivers multiple orders running across different locations. Running from one place to another is not easy, especially with constraints like traffic and time-based deliveries. A hub and spoke fulfillment model allows the delivery agents to plan their delivery routes and finish deliveries around a particular region. Then they can move to another hub for extra deliveries. It helps improve the productivity of executives.
Enables Faster Delivery
The hub and spoke fulfillment model allows the delivery executives to plan their delivery routes optimally. Hub managers can plan the shortest routes for the delivery as per peak hours and the customer's delivery timings preference. This ensures that the products are delivered faster and efficiently, improving customer satisfaction.
Reduces Logistical Cost
The hub and spoke fulfillment model is a cost-efficient model. Taking the most efficient routes speeds up the delivery process but saves on fuel costs as well. This model also reduces the number of distribution centers, which leads to reduced inventory management cost.
Calculate Your Shipping Costs Now