Top Factors to Consider When Choosing a Warehouse for Your Business
Warehousing can be regarded as the "one-man-army" for businesses that manufacture, import, export and distribute goods. The right warehousing can save you money and boost the productivity of your business. A warehouse provides you with better control over your inventory and ensures on-time delivery of products to your end-customers, which ultimately leads to higher profits for your business.
If you're opening a new warehouse for your eCommerce store, there are various factors you must take into consideration. From choosing the right warehouse location to storage requirements, making the right decisions regarding your warehousing and distribution contributes a lot to the success of your business.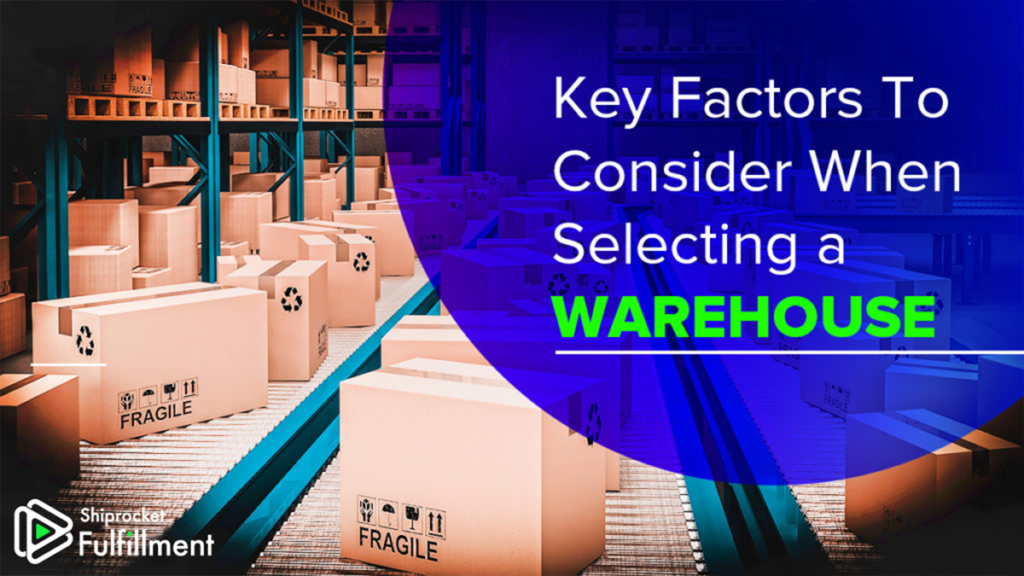 Warehouse: An Introduction
Warehousing is basically the process of storing products at a place before they are sold. A warehouse is a place where the products are stored securely and safely in an organized way. The facilities in a warehouse help you easily track where the items are located, when they arrived, and their quantity in hand.
New and small businesses may also warehouse their inventory at home until space is outgrown. Then, they can rent a storage space or lease a warehouse. They can also outsource logistics to a 3PL fulfillment center to store their inventory conveniently.
The products remain in a warehouse until an order is received is against them. Then, the products are packed, appropriately labeled (a shipping label is attached), and shifted to the end-consumer. A retail business can also store its inventory in a warehouse before moving it to the physical store.
Let us now take a look at a few of the key factors you must consider while choosing the warehousing for your business:
Factors to Consider while Choosing a Warehouse
Physical Location
Choosing the right location for your warehouse is the first and foremost factor to consider while building one for your business. The first question you should ask yourself is which region you are planning to serve? You must ensure storing your products in a region which is the nearest to your customers. Then only you will be able to perform prompt deliveries.
Apart from proximity to customers, you should also take into account your warehouse's proximity to courier companies. You must calculate the transportation costs from your warehouse to the end-customer, as that will help you decide where you can afford to keep your goods. Lesser the distance between your warehouse and carrier facilities or end-customers, lesser will be the transportation costs.
Opt for an all-encompassing solution that offers excellent warehousing facilities, as well as cost-effective transportation to benefit your business.

Workforce Availability
You must take into consideration the availability of the workforce in the warehouse that you select for your business. Choosing a warehouse at a remote location might be pocket-friendly, but finding a skilled workforce near such a place can be difficult. So, look for options where the warehouse is built near areas where many people reside, which will make it easier for you to find the workforce for your warehouse.
However, if you plan on building your warehouse in an area with an annual supply of workers, make sure that this seasonal workforce does not affect your business needs. For non-seasonal requirements in such areas, the labor costs can escalate to a greater extent.
You need to understand the labor force available at your new warehouse. Can the workforce operate for 24 hours? Are there any other competing businesses near your warehouse that might limit the available labor capacity? While choosing the warehouse for your business, ensure you have solutions to all such questions.
Storage Requirements
There are businesses that sell hazardous materials, flammable products and sometimes products that require strict storage facilities. In such cases, you must ensure your warehouse is suited to handle your unique needs.
If you are selling frozen or refrigerated items, you must ensure you have cold storage in place. For your equipment to function at its most favorable capacity, the temperature has to be set in a way that doesn't compromise with the warmth of the warehouse.
Also, is the warehouse suited to handle requirements for products that require a chemical system versus a water-based system? Make sure you take environmental concerns into considerations. Asking these questions to yourself before choosing the warehouse will help you avoid any disaster in the future.
Warehouse Lease
Before choosing your warehouse, you must thoroughly explore all the legal aspects included in the warehouse lease. It would be best if you were very sure about which party is responsible for what needs, starting from repairs to the maintenance of the warehouse. It's better to make the lease signing contingent on promises being delivered, which will ultimately help you in knowing delays related to leasing won't slow down your future processes.
You also need to pay attention to the type of rental contract your warehouse offers. If you are into selling seasonal products, you must choose a location that offers seasonal warehousing. Similarly, if your product has its highs and lows, depending on the time of the year, the warehouse should be able to offer more or less space depending on the demand of the product. All of these should be mentioned clearly in the rental contract that you sign.
Hidden Costs under Warehouse Rentals
Even if you think you're getting the best deal possible, it's best to be aware of these hidden costs that come along with warehouse rentals.
Real Estate Tax Expense
These expenses are typically passed on to tenants who have signed for a warehouse under a net lease. Though the real estate tax structure is stable enough, in case you are unaware of these, it might come to you as a hidden cost. Whenever in doubt, do check with a local tax official to ensure others involved in your warehousing business is not cheating you.
Utility Costs in Multi-Tenant Warehouses
In multi-tenant warehouses, you might end up paying the utility bill of your co-tenant if you don't stay aware of it. You might be keeping your consumption modest, but your co-tenant isn't, which ultimately leads to higher utility costs. Make your pro-rated utility fee reflects your actual usage. Otherwise, you will end up paying your neighbor's share out of your profits.
Shiprocket Fulfillment is an end-to-end warehousing and order fulfillment solution that has warehouses at strategically located zones, nearer to the highways, and the top courier companies. Moreover, the warehouse is located in such an area where there is an ample supply of workforce.
Conclusion
You need to take care of a variety of factors while selecting a new warehouse for your business. Factors ranging from your industry type to transportation to the land price will determine the effectiveness of your warehouse. Take your time to consider the above and make informed decisions to find the perfect fit for your eCommerce business.
Calculate Your Shipping Costs Now