Tips To Successfully Manage A Cold Storage Warehouse
With changing requirements and purchase trends, businesses now want to store their perishable and short shelf-life items in well-maintained environments. Thus, cold storage warehouse requirements are on the rise. If it were climate-controlled warehouses, the situation would be different. But managing a cold storage warehouse is a different task!
If it is about our homes, most of us would want to keep the cold at bay. However, when it comes to a cold storage warehouse, one challenging factor is to maintain the right cold storage temperature for the products stored inside. For the equipment to function at its most favorable capacity, the temperature has to be set in a way that doesn't compromise on its warmth.
Frozen and refrigerated food items account for the majority of the food items that are stored in cold storage facilities. This is not it! Cold storages also play an important role in other industries such as petrochemicals, pharmaceuticals, and high-tech electronics. Since the demand for cold storage is at an alarming rise, there is a need to come up with strategic solutions that can help in keeping the product cold without affecting the operating costs.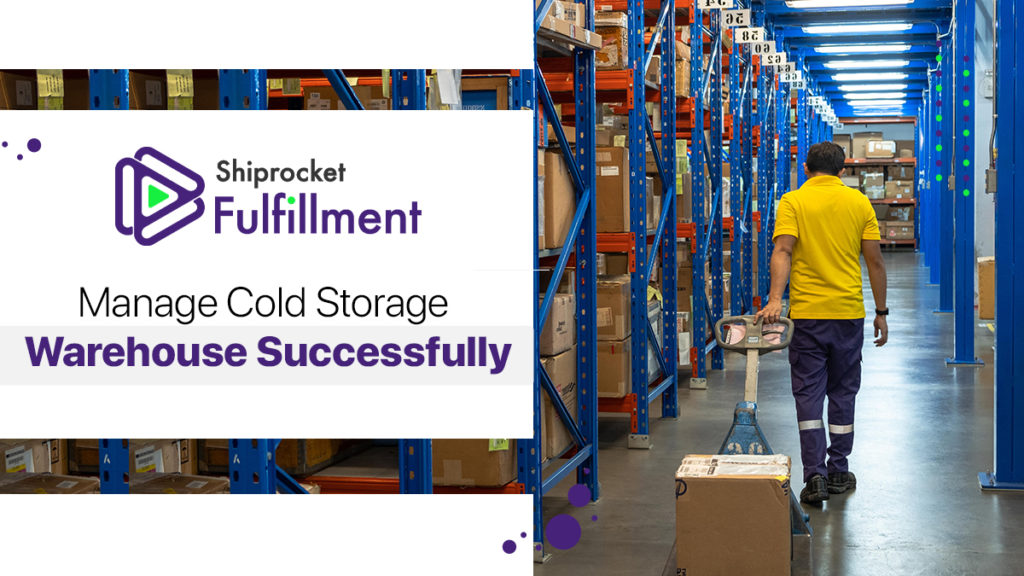 Problems Faced In Cold Storage And Their Solutions
Effect on equipment and the humans involved
Cold temperatures inside the storage often take a toll on the equipment inside. Taking the product out from the cold storage, such as for palletization, to a relatively warmer temperature might lead to creation of moisture, eventually damaging the product. In certain cases, even people involved in keeping the product inside the frozen four walls moving gets affected.
Solution-
There are a variety of ways in which you can maintain efficiency even in an extreme working environment. Thanks to recent technological advances, palletization can now be done inside the freezer. To improve conditions of the humans involved, oversized buttons that can be seen on the scanning devices of the cold storage facilities and can be felt via gloves are made available. Its touchscreen is sensitive enough to respond to a glove touch without compromising on the accuracy of the information.
Effect on the batteries
The low temperature might also hamper the performance of the battery in these handheld scanning devices. Constant exposure to such a temperature may result in degradation of battery life by up to 40-50%. So matter of fact is, how long will any device run before it decides to give up on the temperature?
Solution-
To cater to this, almost every device that is used in the cold storage is designed with seals that successfully withstand the temperature changes right from the ambient conditions to the freezer which can cause condensation to build up.
Effect on the Electric lift trucks
In the low-temperature environments, the average life cycle and the rate of charge of a lift truck battery can be hampered by as much as 20% to 50%. This means that a battery which lasts for about 8 hours in an ambient cycle will only last for 4 to 6 hours in the cold storage.
Solution-
The only solution to this problem is using higher voltage batteries to improve the run time. So, if you apply a battery that is rated for 12 hours in the ambient conditions in the cold conditions, it will operate only with a cycle reduction of about 25%.
Best Practices For Managing Cold Storage
Here are a few practices that will help you in better management of your cold storage.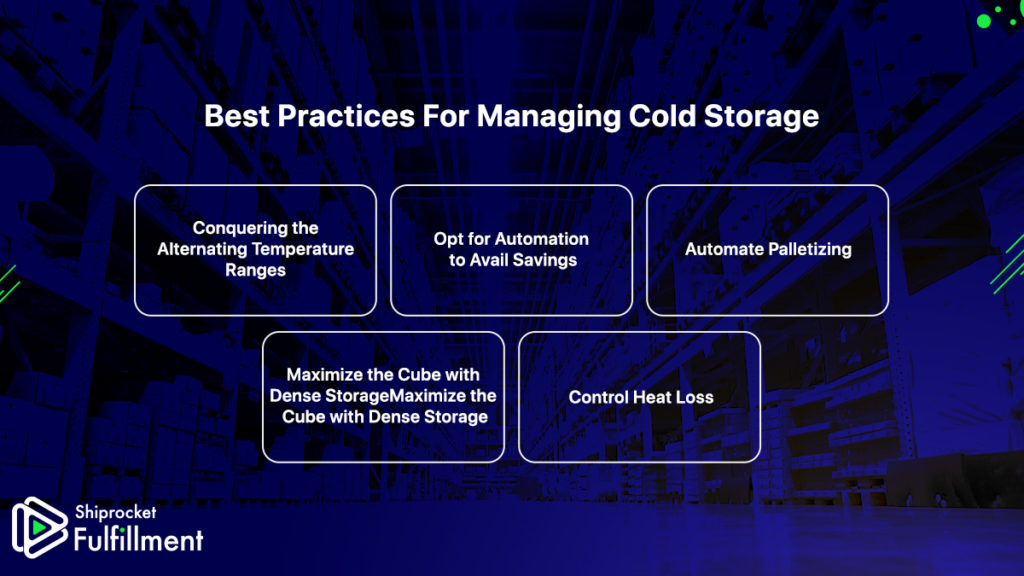 Conquering the Alternating Temperature Ranges
In cold storages, energy savings is a recurring concern. We all know it is far more expensive to cool the air than to heat it. Moreover, different products might have different temperature requirements.
For instance, vegetables need a temperature of 55°F, meat needs to be stored at 28°F, dairy products at 34°F and ice cream needs a temperature of –10°F.
So, this can be quite a challenge for third-party logistics (3 PL) who may have clients all across the year with variable storage requirements. Moreover, in a cold storage environment, re-configuring the space is not as easy as it would have been in conventional warehouses because one needs to take care of the cold temperatures.
All warehouses that need multiple temperature zones or where there is a mix of products that are stored change with the season, usage of a modular curtain wall system may seem flexible. Take note, the refrigerated air can be expensive, so after you make one change to the wall or a room, the cost savings are realized.
Opt for Automation to Avail Savings
The cost of labor, land and energy is increasing at an alarming rate. This is the reason why the operators of cold storage warehouses are on a lookout for automation to be able to control the cost. There are a variety of automated point solutions that can help reduce the rise in operational costs. In some cases, automation can also reduce the energy requirements by as much as 80%, space requirements by as much as 50% and finally the labor requirements by about 70%. Such savings can be realized in several ways.
Maximize the Cube with Dense Storage
Automated storage and retrieval systems (AS/RS) are not new to the cold storage warehouses today. AS/RS offers a high density, rack supported storage. This aids in deep and tall designs that help maximize the cube of the facility by minimizing the footprint.

Control Heat Loss
High-density storage tends to create a smaller area to cool. It also develops an environment that can minimize heat loss. Since food is one of those areas in a cold storage where the air can escape it will be rewarding to keep this area as small as possible.
Automate Palletizing
Accredited to the advancements in robotics, Palletizing is one area of operation in the cold storages. For many years, the manufacturers of the frozen products have been faced with a challenge of palletizing their frozen products in a manner that is efficient and cost-effective. Because of the limitation in the robotics, earlier the products had to first come off the freezer to be palletized and then put back into the freezer. This trip back and forth in the freezer led to the introduction of the ambient air when then had to be cooled.
Final Say
These are a few of the best practices that can help all the cold storage product managers effectively manage their warehouses. Do let us know, what you think of these practices, in the comment section below!
FAQs (Frequently Asked Questions)
What is a cold storage warehouse?
A cold storage warehouse keeps the products at the required temperature, extending their shelf life.
Does Shiprocket offer a cold storage warehouse?
With Shiprocket Fulfillment, you can store your products with us at our 45+ fulfillment centers across India.
How does cold storage work?
The perishable and temperature-sensitive products are stored in cold storage warehouses where the temperature is maintained as per each product requirement.
Calculate Your Shipping Costs Now