What Is Landed Cost And Why Do You Need To Calculate It?
The advent of eCommerce has narrowed down the boundaries of business. Regardless of your eCommerce business's size, it is now possible to cross borders and make it available to an audience that sits across the globe. The formalities in international shipping have been eased, and the costs that were once a nightmare for most businesses.
Thus, selling overseas has become an excellent prospective for MSMEs to establish themselves in the eCommerce industry and gain profits that result in the further expansion of their business. But, as enticing as international eCommerce sounds, it has its issues when it comes to calculating overall product costs.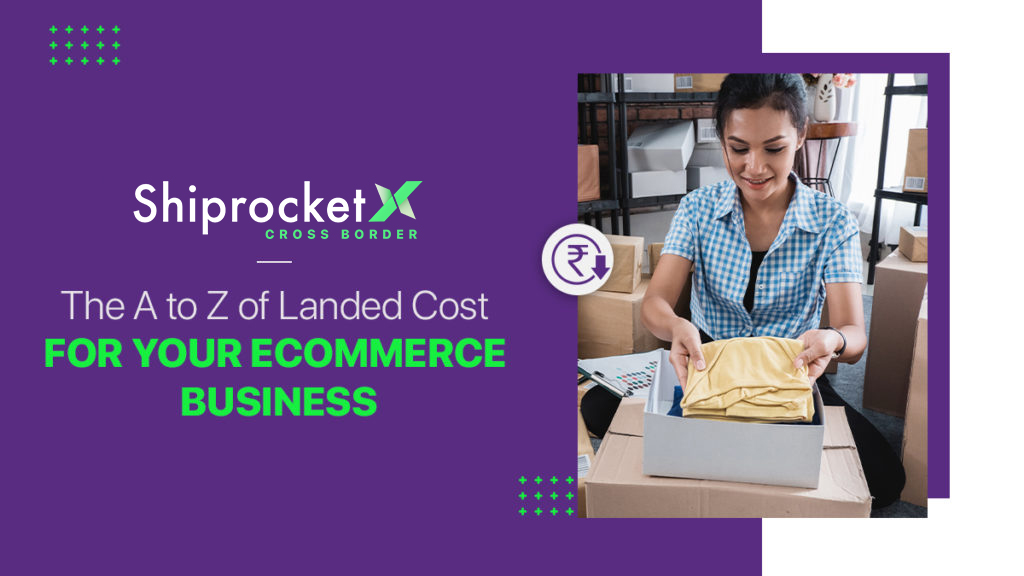 Even with the burned bridges, there are several duties and tariffs involved in shipping internationally. While not all of these are borne by the seller, they ultimately impact the product's price. To continue doing a healthy business, you need to finally realize these additional costs to your primary profit margins accordingly.
This is the point where you need to know about landing costs. Understanding landing costs in international business is essential and fundamental to the growth of the company. However, it must be natural to be confused right now. Don't worry; we have everything you need to know about the landed costs and calculate them for your business. Let's take a look at them-
What Is Landed Cost?
In simple terms, the landed cost is the product's total cost as it lands on the customer's doorstep in international eCommerce. Different products can have different landed costs depending on the nature of duties and tariffs applicable to them. Overall, the landed cost on any product is the sum of the following expenses-
Product cost
Transportation costs
Customs, duties
Tariffs
Insurance
Currency conversions
Payments
Handing charges, etc.
While all of these are individual coast, they add value to the product in more than a few ways. They increase the overall cost incurred on a product by the seller. For sellers involves in import and export, landed costs are inevitable. For example, let's say that a product's price is $20, and you sell it for $30. However, the logistics costs involved are $15, and there are additional tariffs imposed on it. Considering the price at which you're selling it, you are losing money.

Why is Landed Cost Important?
While shipping internationally can cost you more than a few bucks, calculating every cost incurred in selling your product becomes vital to sustaining your business. To calculate your profit margins precisely, you need to understand how the tariffs and duties increase your product's price.
The product costs might seem opaque if you're just blindly selling it to the customers. There are undoubtedly some hidden and apparent costs, knowing about which gives nothing but clarity to your business. Here are a few reasons why calculating landing costs are essential-
It helps you decide the price you'll be charging to the customers internationally.
Landed costs give you insight into the product's profit margins, ultimately helping you monitor your business's performance.
It gives you a clearer picture of the actual product costs, which helps you decide on any product discounts or promotions.
One of the most important reasons for calculating landed costs is accurate financial reporting. It helps you see the precise asset values and the exact profits you're making each month.
How To Calculate Landing Costs?
Calculating landed costs is easy if you know the points to cover. However, if you choose to ignore these and follow your intuition, it might cost you a lot of customers. An incorrect estimate of landed costs can result in overcharging your customers or, in the worst-case running a business with no profits. Make sure you calculate every little cost involved with the product in a step by step manner. Here's what you should cover-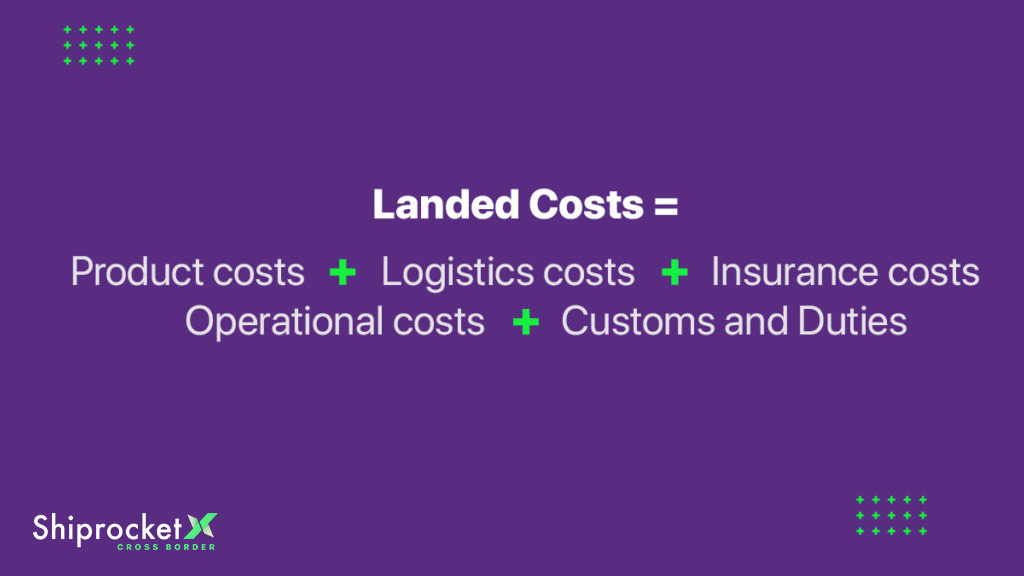 Product Costs
Product costs form the fundamental of your landed costs. It is the net price that you pay to your supplier for purchasing a product. Whether or not you calculate landed costs, product cost is something no business can neglect.
Logistics Costs
One of the essential kinds of costs is logistics costs. It involves the charges incurred on shipping the product from your warehouse to the customer's doorstep. Make sure you choose your logistics partner carefully to minimize these costs. Logistics costs involve shipping and include picking, packing, and warehousing costs of a product. Remember to calculate it efficiently for your product.
Customs And Duties
Depending upon the global region you're shipping to, customs and duties are calculated. Make yourself aware of these in advance of selling to an area. This would help you determine whether the business in that particular region is profitable at all. Since every country has the authority to monitor the goods that cross its borders, they charge customs, VATs, collecting duties, and tariffs differently.
Insurance Costs
Every product that you ship internationally must have insurance. This covers any risk involved in its transportation and handling. Remember to choose a logistics provider that offers insurance on your valuable products. Also known as risk costs, these also cover any kind of compliance and quality assurance costs you have for your product.
Operational Costs
One of the final costs constituting the landing costs includes all the product's diligence expenses. This means expenses related to staff, exchange rates, etc., are included in operational costs.
Calculate And Minimize Landed Costs!
Once you calculate all these costs individually, you can now calculate the landed costs by summing them all. Therefore, landed costs = product costs + logistics costs + insurance costs + operational costs + customs and duties etc. While there's little that you can do about duties and tariffs, a lot can be done to minimize your logistics costs.
Make sure you choose Shiprocket as your logistics partner and ship to 220+ countries at rates starting Rs 110/500 grams. Not only do you get to ship via multiple courier partners on a single platform, but you also benefit from features like inventory management, order fulfillment, automated label generation, maximized reach to customers, insurance on shipments, among others. The faster you start shipping with a smart logistics partner, the more rapidly you scale your business internationally.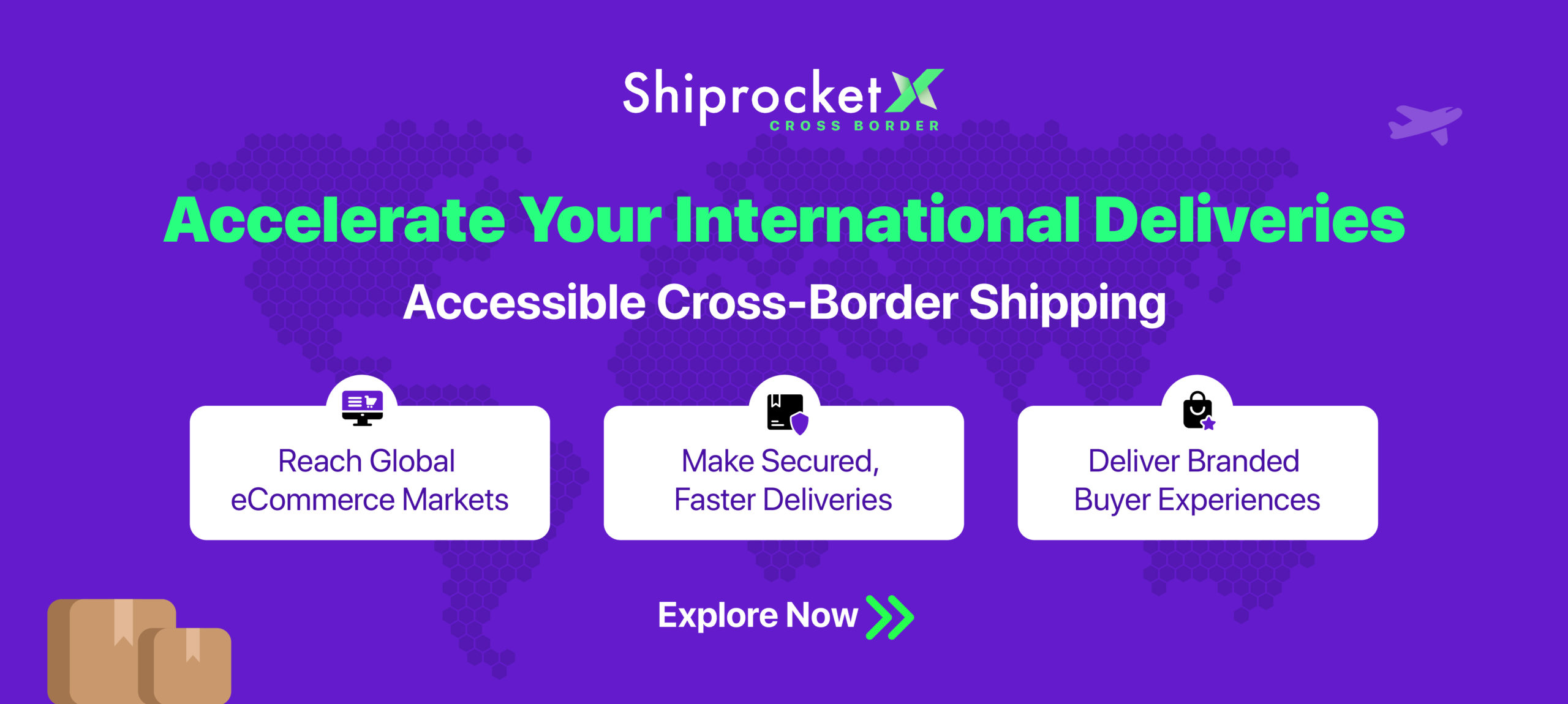 Calculate Your Shipping Costs Now