How to Choose a Logistics Partner for Your Online Business?
Imagine having a logistics partner who effortlessly handles your shipping needs, ensuring every package reaches its destination on time and in perfect condition. In this article, let us look at how a hassle-free logistics partner can take your online business to new heights.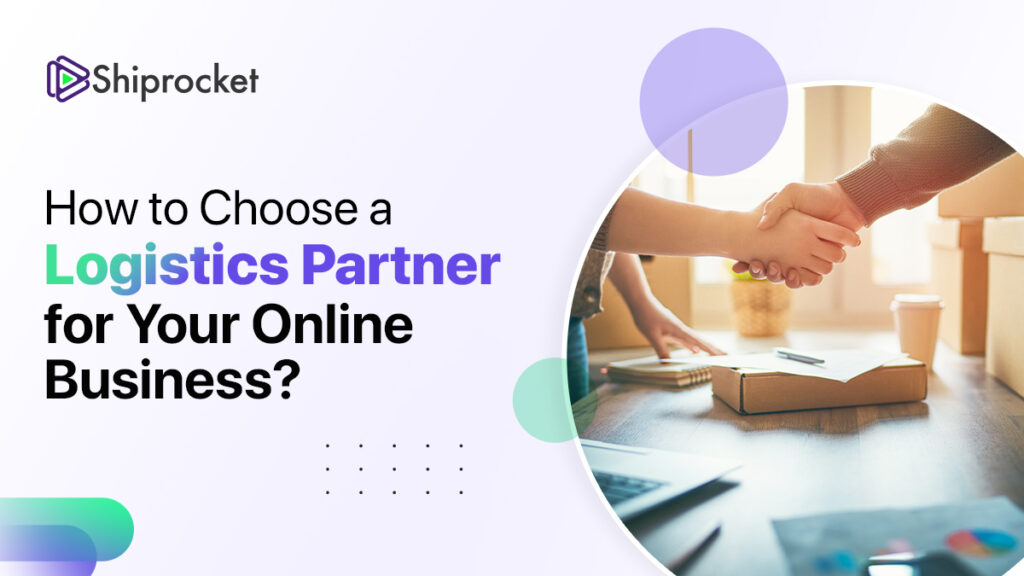 Importance of Selecting the Right Logistics Partner
As an online business owner, you would be the first to accept that logistics services are the lifeline of your business model. Hence, choosing a logistics partner who can smoothen operations and help your business grow is a critical part of your online business.
For example, suppose you have a confectionery business, and you partner with a logistics provider that lacks expertise in maintaining proper temperature control during transit. As a result, your chocolates arrive melted, damaged, or spoiled, leading to customer dissatisfaction and negative reviews. Besides, late deliveries can result in missed opportunities, decreased customer loyalty, and potential order cancellations. More importantly, inefficient logistics operations result in poor inventory management, eating into your profit margins.
Hence, you need the right logistics partner, one with expertise, reliability, and cost-effective solutions catering to your business needs. Such a partner would ensure that your products reach customers intact and on time, leading to enhanced customer satisfaction, repeat business, and sustainable growth.
Factors to Consider When Choosing a Logistics Partner
Considering the important role logistics partners play in ensuring your company has a competitive advantage, choosing the right logistics partner is crucial. The key factors to look for in service providers to find your logistics partner are:
Define your requirements: Start by understanding your specific logistics requirements. Consider factors such as the volume of orders, shipping destinations, delivery timeframes, return processes, and any specialised handling needs. Clear requirements will help you find a logistics partner that can meet your needs effectively.
Experience and expertise: Look for a logistics partner with experience in handling eCommerce shipments. They should have a strong track record of delivering packages safely and on time. Consider their expertise in handling products similar to yours, as well as their knowledge of local and international shipping regulations.
Scalability and capacity: Ensure that the logistics partner can scale their operations as your business grows. Evaluate their capacity to handle increasing order volumes and seasonal fluctuations. A reliable partner should have the infrastructure, resources, and network to accommodate your business's growth.
Shipping options and coverage: Assess the shipping options and coverage provided by the logistics partner. Consider whether they can handle various shipping methods, such as express, standard, or freight. Check if they cover your target markets and if they have a wide network of delivery partners to ensure efficient shipping across different regions.
Technology and integration: In the digital age, efficient logistics operations depend on technology. Evaluate the logistics partner's systems and tools for order management, tracking, and inventory management. Integration capabilities with your eCommerce platform or order management system are also essential for seamless operations.
Service level agreements (SLAs): Review the logistics partner's SLAs and understand their commitments regarding delivery times, order accuracy, customer service, and returns. Ensure their service level aligns with your business's requirements and customer expectations.
Pricing structure: Compare the pricing structures of different logistics providers. Consider factors such as shipping fees, handling charges, minimum order requirements, and any additional fees for value-added services. Balance the cost with the quality of service to find a logistics partner that offers good value for money.
Customer service and communication: Effective communication is vital for a successful partnership. Evaluate the logistics partner's customer service capabilities, responsiveness, and accessibility. They should be able to provide timely updates, resolve issues, and offer support to your customers when needed.
Reputation and references: Research the reputation of potential logistics partners. Read reviews, seek recommendations from other businesses, and request references from the logistics provider. Contact their existing clients to gather feedback on their reliability, professionalism, and overall performance.
Flexibility and customisation: Consider whether the logistics partner can accommodate any specific requirements or customisation you may need. This could include branded packaging, special handling instructions, or value-added services like gift wrapping or personalised notes.
By carefully considering these factors and evaluating multiple logistics partners, you can make an informed decision that aligns with your online business's needs and helps ensure smooth and efficient operations.
Shiprocket's Comprehensive Logistical Solutions for eCommerce Business
Shiprocket offers comprehensive logistical solutions designed to meet the needs of eCommerce businesses. Here are five key solutions they provide:
1. Shipping Aggregator: Shiprocket acts as a shipping aggregator, allowing businesses to compare and choose from multiple shipping carriers. This empowers merchants to select the most suitable and cost-effective shipping options based on factors like delivery speed, coverage, and pricing.
2. Pan-India Reach: Shiprocket provides extensive coverage across India, enabling businesses to ship to customers in even the remotest corners of the country. With their vast logistics network, they ensure efficient and timely deliveries to customers nationwide.
3. Automated Order Processing: Shiprocket simplifies the order processing workflow by integrating with popular eCommerce platforms. This automation streamlines the shipping process, reducing manual effort and minimising the chances of errors. Merchants can seamlessly import orders, generate shipping labels, and track shipments from a single platform.
4. Shipping Analytics and Insights: Shiprocket offers robust analytics and insights that provide businesses with valuable data on their shipping performance. Merchants can track delivery timelines, identify bottlenecks, analyse shipping costs, and make data-driven decisions to optimise their logistics operations.
5. Return Management: Shiprocket understands the importance of hassle-free returns for eCommerce businesses. They provide a user-friendly returns management system that enables merchants to create return policies, generate return labels, and track return shipments. This helps enhance the overall customer experience and increases customer satisfaction.
To know more about how these services can be customised for your business, speak to our experts here!
Conclusion
With their wide reach, automated processes, shipping analytics, and efficient return management, Shiprocket equips you with the tools to streamline your operations, delight your customers, and drive growth. From comparing shipping options to tracking deliveries and analysing performance, Shiprocket empowers you to make informed decisions and optimise your logistics strategy. So, take the leap and unlock the power of Shiprocket to transform your eCommerce business into a well-oiled shipping machine, leaving your customers satisfied.
Frequently Asked Questions(FAQs)
Can I schedule specific delivery times or request weekend deliveries?
Logistics partners offer flexible delivery options, including the ability to schedule specific delivery times or request weekend deliveries, depending on the carrier and service available in your location.
Can I ship oversized or heavy items with these logistics partners?
Yes, most logistics partners can handle oversized or heavy items, but additional charges or specific requirements may apply. It's recommended to contact the logistics partner or check their guidelines to ensure compliance and get accurate pricing information for such shipments.
How can I calculate shipping costs for my packages?
Most logistics partners offer a shipping cost calculator on their website or platform, allowing you to input the dimensions, weight, and destination of your package to get an estimate of the shipping costs.
Calculate Your Shipping Costs Now