How to Do MSME Registration for Ecommerce Businesses?
The eCommerce market in India is growing at a fast pace. Especially after the covert 19 pandemic and impending lockdowns in different parts of the country, eCommerce has become more of a necessity than a choice. Several businesses have opened up in the sector, and more and more brands are moving online.
It is a great time to start your e-commerce business as online consumers are increasing. According to a report by IBEF, the eCommerce market is expected to touch the US$ 84-billion mark in 2021 on the back of healthy growth in the Indian organized retail sector.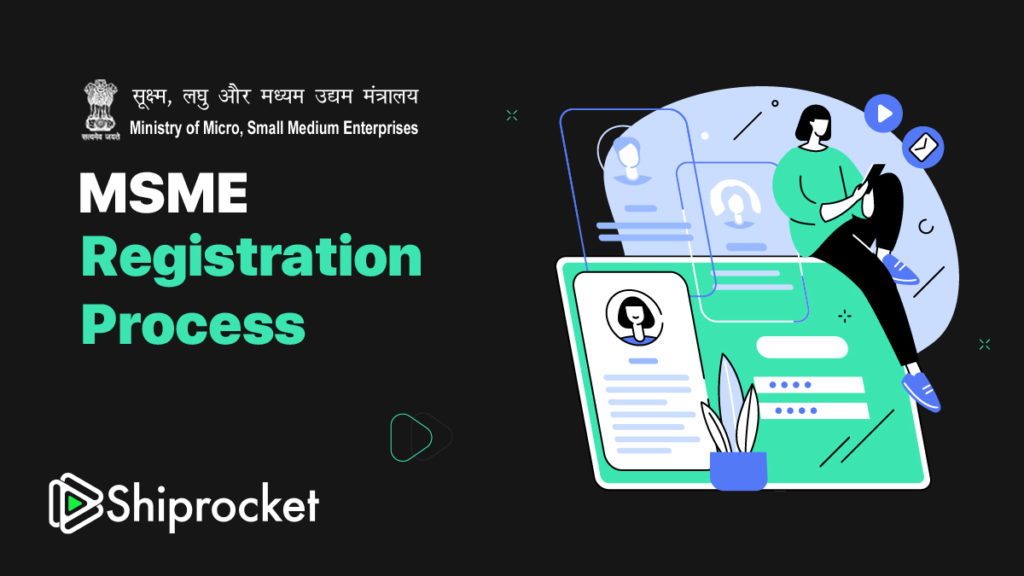 However, when you start a business, you need to acquire several licenses and complete registrations, which are mandatory or provide you benefits and security. We have talked about GST and IEC registration in some of our previous blogs. Here, we will talk about MSME registration, its significance, and how you can do it quickly.
What is MSME in India?
MSME refers to the medium, small, and micro enterprises (MSME) engaged in the manufacturing, production, processing, or distribution of goods.
Their segregation is done based on their investment cap as follows –
Microenterprise – Rs. 25 lakh;
Small enterprise – Rs. 25 lakh but does not exceed Rs. 5 crores;
Medium enterprise – More than Rs.5 crore but does not exceed Rs.10 crore.
Many businesses have protested against this breakdown as after growing from micro to small and eventually medium enterprises, companies lose out on the benefits.
After introducing Aatmanirbhar Bharat Abhiyan, many modifications were made to the MSME strategy, following which investment and an annual turnover of businesses were considered before classifying a business in the MSME category.
Currently, the government classification of MSMEs is based on –
Manufacturing enterprises
Enterprises Rendering Services
The government considers Micro, small and medium enterprises to be a massive contributor to the country's economic growth. They help provide job opportunities at a lower investment and help in the industrialization of rural areas.
Hence, it offers several benefits and subsidies to these businesses. But before that, you need to complete the registration formalities.
What is MSME Registration?
MSME registration refers to the process of registering your business with the ministry of micro, small and medium enterprises. Post this registration. You will receive a certificate that will act as official proof of registration.
Steps Involved in MSME Registration
MSME registration can be done online. All you need to do is head to the Ministry of Micro, Small, and Medium Enterprises website. – https://msme.gov.in/
Next, go to → Online services.

Click on Udyam Registration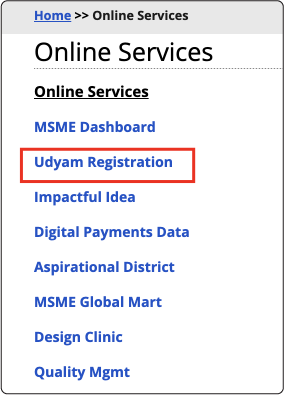 You will be redirected to another page.
Click on 'For New For New Enterprise who are not Registered yet as MSME.'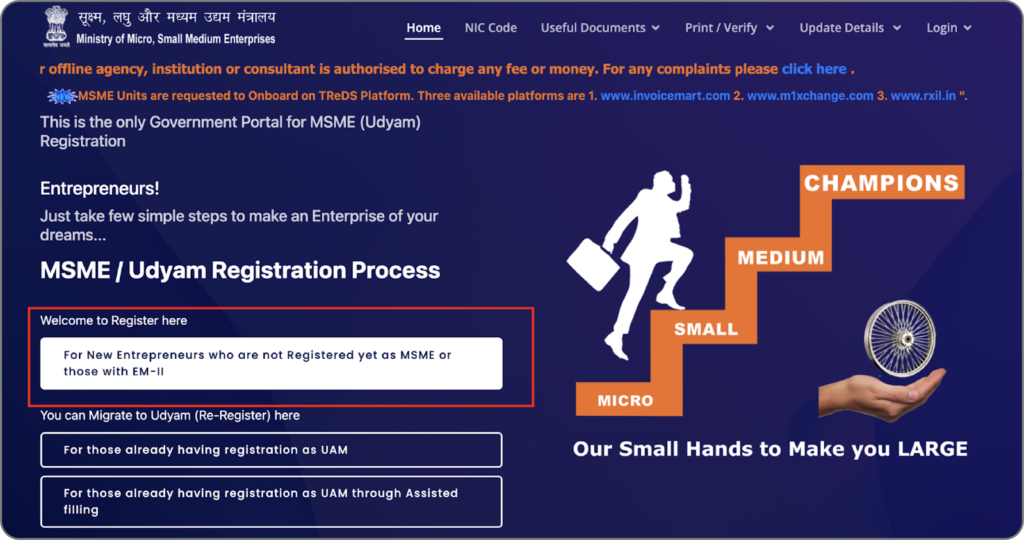 Enter your Aadhar number and name as on the Aadhar card. You will receive an OTP on the registered number. Enter the OTP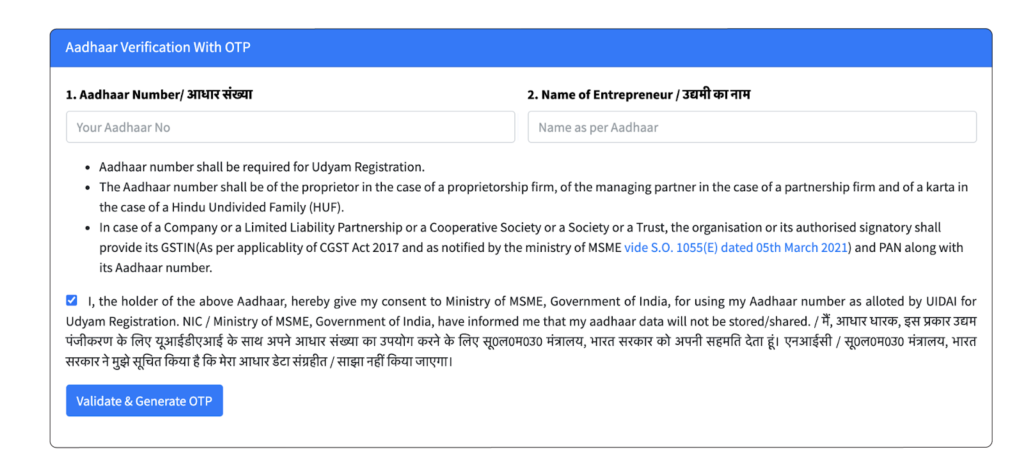 Next, you will need to fill in the type of organization and the PAN number.

After the PAN registration, the entire form fields will be displayed.

You can fill this form, receive an OTP, and your registration will be complete.
List of Documents Required
Aadhar number
PAN number
GSTIN number
Bank Account Number
IFSC Code
NIC Code
Employee data, if applicable
Number of Employees
Commencement date for Business
Copy of the sales and purchase bill book
Receipts and bills for the purchase of equipment or machinery
Copy of the Industrial Licence
Benefits of MSME Registration
Here are some of the benefits you can receive after registering for MSME certification.
Lower interest rates on banks and flexible EMIs
Tax exemption
Minimum Alternate Tax can be extended for up to 15 years
Discounts and rebates on patents and setting up costs
Preference for government tenders
Conveniently get credit for your MSME business
Preference and priority on applications of licenses and certificates issued by the Government of India
Conclusion
MSME registration is a crucial part of your business if you want to do business with convenience and security. You can easily apply for the MSME certificate and register your business with the government to avail of the benefits offered under schemes and strategies. Follow these simple steps to get started.
Calculate Your Shipping Costs Now