Personal Selling in the World of Digital Commerce
According to a report by Salesforce, high-performing sales teams are 2.8 times more likely to say that their sales organizations have become much more focused on personalizing customer interactions over the past 12–18 months.
What does this indicate? It tells you that personalization is the future of eCommerce. More and more companies are now focusing on providing their consumers with a more personal touch so they can sell more seamlessly and build long-term relationships with their clients. Personal selling is one such technique.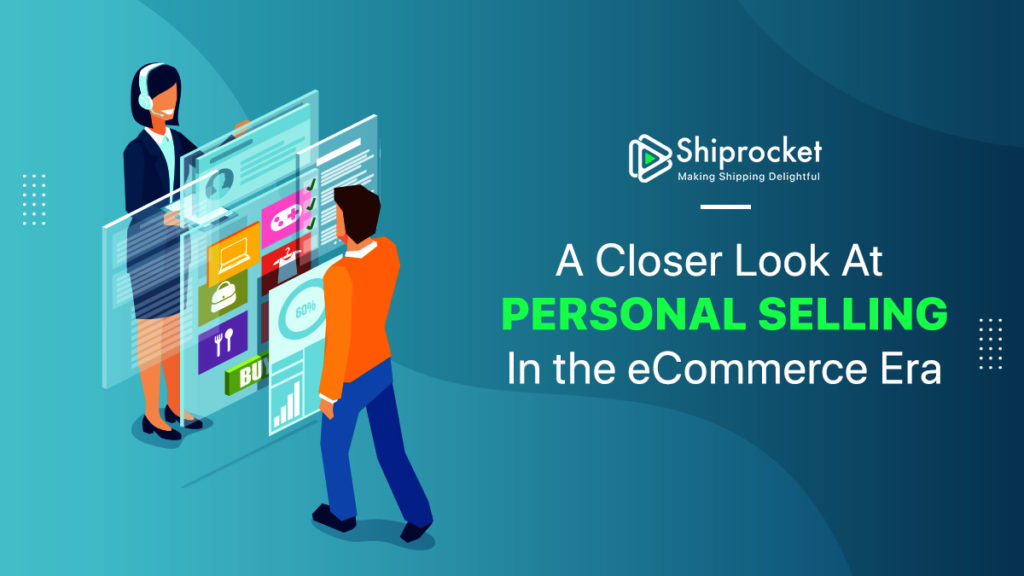 Let's begin by understanding the concept of personal selling before we get into the specifics of personal selling and how you can incorporate it into your business.
Decoding Personal Selling
Personal selling refers to the process of directly engaging with buyers to explain to them about your product and communicate with them about their expectations and experience.
It involves creating a customer relationship so that you can walk them through the process and value of the product. It helps you develop long-term relationships and promotes customer loyalty.
If you look at more traditional businesses, you will find that representatives go from door to door and sell their product to prospects. Furthermore, they engage with these prospects personally over a call or physical meetings to close a sale. This practice was prevalent in the olden times, but with the advent of eCommerce and digitization of shopping, personal selling has lost its traditional touch.
Today, personal selling via calls or meetings is still an essential component of B2B sales, but B2C sales don't engage using this approach.
Benefits of Personal Selling
Personal selling makes the customer feel at home and adds value to what you are selling. Here is why it is vital for your business –
Customer Loyalty
If you make the process of selling more personalized, your customers will stick to your brand for a long time. Eventually, these are customers who will be the brand advocates for your business. Adding a personal touch to your sales pitch can go a long way.
Improvement of Repurchase Rate
When customers know better about your product, that is when they will re-purchase from your website. You must utilize personal selling to educate your customers, which ultimately will make them keener to buy your product.
Interactive Pitch
With an interactive pitch, you can convince customers with ease. Personal selling can be beneficial for actively interacting with prospects and informing them about your product.
Drawbacks of Personal Selling
Personal selling has several advantages and disadvantages. The following are a few drawbacks of personal selling:
High Cost
The primary disadvantage of personal selling is high cost. With increased competition, higher travel, and costly salespersons' salaries, the cost per conversion (sales) is relatively very high. To compensate for this, many companies adopt commission-based payment, i.e., pay the salesperson only when he generates sales. However, this method may, in turn, be disadvantageous for you as the salesperson may approach clients with high potential return only.
You can reduce cost by using other techniques, like direct mailing, telemarketing, and online communication with the customers.
High-quality/Experienced Salesperson
The problem of finding high-quality salesperson is another disadvantage of personal selling. The experienced salespersons feel the best way their income can outpace their cost-of-living is by changing jobs. Because of the benefits the experience salespeople bring in, most companies hire experienced people instead of fresh college graduates who require training and experience.
Inconsistency
There is a lack of consistency in personal selling, as all salespersons have their own techniques and strategies for selling products. Consequently, there is no unified product message between the sales force and marketing communication.
How Does Personal Selling Work?
Personal selling can be done via two means –
Direct – calls, meet, etc.
Digital – emails, chat, etc.
Let's have a closer look –
Direct Personal Selling
Client Meetings
Client meetings are, by far, the most effective technique for personal selling. They ensure complete client attention and active engagement for selling your product. You can lay down your value proposition and judge the outcome then and there. It also gives you room for spontaneous conversations and clarifications of any other doubts the buyer may have.
However, It can be expensive as you have to train resources and manage additional overhead costs. Also, with a personal one-on-one approach, you can only target limited customers. B2B sales can incest in this method if they have a restricted target audience.
Outbound Sales Calls
Most companies have their sales team that connects with prospects and sells them the product. This approach is personalized as it gives you a chance to interact with the buyer and address their queries. Even though this approach is cheaper as it does not require you to go out and interact with clients, it is still labor-intensive. Thus, you have to spend on hiring resources and their training.
For small businesses, this may not be the best approach to rope in more customers.
Digital Personal Selling
As most shops are now online, businesses need to adopt a personalized approach online so they can still provide the personal selling touch to their customers.
Here are a few ways through which you can do so –
Emails
Emails are a great way to initiate conversation. They can help you convey important information and reach out to your customers. Also, since emails land directly in your customer's inbox, you can make them more personalized to engage with them.
Live Chat
Live chat is another way to ensure personal selling for your business. It gives you a platform to interact with your customers without spending too much money on resources and training directly. They can be used for lead generation and support.
With conversational eCommerce growing in the industry, you can also use live chats to assist your customers when they shop on your website.
Voice Assistants
Shopping with the help of assistants like Google, Alexa, and Bixbee is the new cool. Hence, make sure to make your store equipped for the same. Shopping with an assistant can make your customer feel like they are interacting with somebody from the store, and it can enhance their shopping experience by a large fold.
Also, the questions asked by customers can be used as insightful data to prepare your database and frequently answered questions.
Conclusion
Personal selling in the digital era is as essential as it was before. You cannot convince buyers to purchase a product without them knowing about its benefits, uses, applications, etc. Incorporate personal selling into your strategy and see your business grow like never before.
Calculate Your Shipping Costs Now