Simplify Returns, Delight Customers with Seamless Product Returns
Introduction
Have you ever been frustrated with returning a product? Long wait times, confusing return policies, and unexpected fees can make returning a product a hassle. The process of returning items can often be frustrating for customers, leading to a negative impact on brand loyalty and repeat business for companies.
In this era of customer-centricity, businesses are recognising the importance of providing a seamless return process that not only simplifies customers' lives but also leaves them feeling delighted with exceptional service. After all, a satisfied customer is more likely to become a loyal brand advocate.
In this blog, we'll explore the significance of streamlining product returns and how it can revolutionise how businesses interact with their customers. By prioritising an effortless return experience, businesses can retain existing customers and attract new ones, fostering a strong and enduring relationship with their target audience.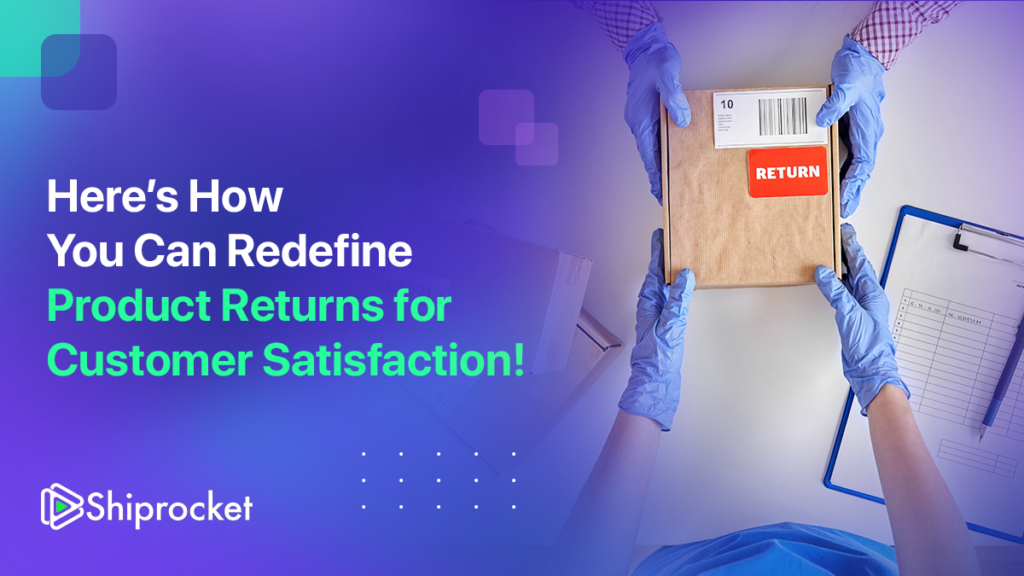 Understanding Return Procedures
When you buy something and then decide to bring it back to the store, that's a product return. It happens when the item you bought doesn't meet your expectations, gets damaged during delivery, or doesn't work as it should.
As a customer, it's frustrating to deal with this, and it's not fun for retailers either. As a retailer, you are faced with the challenge of processing returns, restocking products, and dealing with the potential loss of sales.
Reasons for Product Returns
There are many reasons why customers may want to return a product, including:
Defective product: The product may not work properly or may have arrived damaged during shipping.
Wrong product delivered: The customer may have received the wrong item or a different variation than what they ordered.
Change of mind: The customer may have simply changed their mind about the product and no longer want it.
How Returns Work
When you want to return a product, it's important to understand the retailer's return policies. Most retailers have a return policy outlining the timeframe for returns, the product's condition, and any associated fees or restrictions. Some retailers may require that the product be returned in its original packaging, while others may allow for some wear and tear.
You will typically need to contact the retailer's customer service department to initiate a return. They will provide instructions on how to return the product, including any required forms or labels. Some retailers may also offer the option of returning the product in-store.
Once the product is returned, the retailer will typically inspect it to ensure it meets its return policy requirements. You may be issued a refund or exchange if the product is acceptable.
As a business, a seamless return process can help in retaining customers and build brand loyalty. Customers are more likely to return to a business with a hassle-free return policy. A positive return experience can turn a customer into a loyal customer.
The 5 Steps of a Typical In-Store Product Return Process
Listed below are the steps of a typical in-store product return process:
Verify product returns request
Before you go to the store, ensure you have a valid reason and proof for returning the product. Check the store's return policy to see if your product is eligible for a return, exchange, or refund. Some products may have different terms and conditions depending on the category, brand, or warranty. You can usually find the return policy on the store's website, receipt, or packaging.
Also, ensure you have the original receipt or invoice of your purchase. It will help the store staff to verify your purchase date, price, and payment method. If you don't have the receipt, you may still be able to return the product if you have other proof of purchase, such as a bank statement, email confirmation, or loyalty card.
Create a return request in your POS system
Once you have verified your product returns request, you can go to the store and approach the customer service desk or counter. You must create a return request in the store's point-of-sale (POS) system there. The POS system is the software that records and processes sales transactions in the store.
To create a return request, you will need to provide some information to the store staff, such as:
Your name and contact details
The product name, model, and serial number
The reason for returning the product
The preferred outcome (return, exchange, or refund)
The store staff will scan your receipt or invoice and enter your information into the POS system. They will also inspect the product to ensure it is in good condition and meets the return criteria. They will approve your return request and print a confirmation slip if everything is in order.
Complete return and process refunds
After your request is approved, you can complete the return and process refunds. Depending on your preference and the store's policy, you may have different options for this step.
If you want to return the product and get your money back, you must hand the product and the confirmation slip to the store staff. They will then process your refund using the same payment method that you used for your purchase. For example, if you paid by cash, they will give you cash back; if you paid by credit card, they will reverse the charge on your card. You will also receive a receipt for your refund transaction.
Suppose you want to exchange the product for another one of equal or lesser value. In that case, you must choose another product from the store's inventory and hand over the original product and the confirmation slip to the store staff. They will then adjust the price difference (if any) and process your exchange using the same payment method you used for your purchase. You will also receive a receipt for your exchange transaction.
If you want a store credit instead of a refund or exchange, you must hand over the product and the confirmation slip to the store staff. They will then issue you a store credit voucher or card for future purchases at the same store. You will also receive a receipt for your store credit transaction.
Complete in-store product returns
Once you have completed your return and processed your refunds, you have completed your in-store product returns. You can leave the store with your new product, money back, or store credit. Ensure you keep all your receipts and documents related to your return transaction in case of any disputes or issues later on.
Return the product to the inventory
The final step of the in-store product return process is done by the store staff. They must update their inventory system and their stock levels accordingly. They will also need to label and package the product properly and store it in a designated area for returned products.
Depending on the condition and quality of the product, they may decide to resell it at a discounted price, repair it if it is defective or damaged, donate it to charity, recycle it if it is environmentally friendly, or dispose of it if it is unsalvageable.
5 Steps to Optimise the In-Store Product Return Process
Here are some tips to help you optimise the in-store product return process:
Understand controllable and non-controllable returns
Not all product returns are the same. Some are due to factors you can control, such as product quality, packaging, or shipping errors. Others are due to factors you cannot control, such as customer preferences, expectations, or changing needs. By analysing the reasons for product returns, you can identify the areas to improve your products, services, or processes to reduce controllable returns. You can also segment your customers based on their return behaviour and tailor your marketing strategies accordingly.
Establish a clear product returns policy
A clear and consistent product returns policy can help you set customer expectations, reduce confusion, and prevent disputes. Your policy should include information such as the time frame for returns, the condition of the products, the proof of purchase required, the refund or exchange options available, and any fees or charges involved. You should also communicate your policy clearly on your website, receipts, invoices, or other channels. Ensure your staff is well-trained, familiar with your policy, and can handle product returns efficiently and professionally.
Offer gift cards and coupons to encourage future purchases
One way to turn product returns into sales opportunities is to offer gift cards or coupons to customers who return products in-store. It can incentivise them to shop again at your store and increase their loyalty. You can also use gift cards or coupons to upsell or cross-sell other products that suit their needs better. For example, if a customer returns a shirt that is too small, you can offer them a gift card or coupon for a larger size or a different style.
Apply advanced product returns analytics
Product returns analytics can help you gain valuable insights into customers' behaviour, preferences, and feedback. You can use tools like Microsoft Power BI to collect, analyse, and visualise data from various sources, such as sales records, inventory systems, customer surveys, social media reviews, etc. You can then use this data to identify patterns, trends, and opportunities for improvement. For example, you can find out which products have the highest or lowest return rates, which customers are more likely to return, which channels or locations have the most product returns, etc.
Ask for customer feedback for process improvements
Customer feedback is a great source of information for improving your product return process. Ask customers to rate their experience with your product return process and provide suggestions for improvement. You can also monitor customer reviews on social media platforms and respond to their comments or complaints. Listening to your customers' feedback helps in understanding their pain points and expectations.
Conclusion
Simplifying returns is the key to delighting your customers and boosting your business. By having an effective return policy and following best practices for handling returns, you can create a seamless return experience that makes your customers happy and encourages them to return to your business. Remember, a positive return experience can turn a dissatisfied customer into a loyal one, so prioritise the customer's needs and provide exceptional customer service. By simplifying returns, you can delight your customers and grow your business. Let Shiprocket's fulfillment services handle your returns while you focus on growing your business. Start delighting your customers today!
Frequently Asked Questions (FAQs)
How can sellers manage return costs?
Some retailers may require the customer to pay for return shipping and charge a restocking fee from them. Others may offer store credit or cash refunds.
How sellers can reduce returns?
Retailers can take steps to reduce the number of returns they receive. It can include providing accurate product descriptions and images, offering customer reviews, and ensuring that products are packaged securely to prevent damage during shipping.
What happens to products that are returned?
Returned products typically go through a process known as reverse logistics. Depending on the item's condition, it may be restocked, refurbished, resold at a discount, donated or discarded.
Calculate Your Shipping Costs Now