How Shiprocket Helped Recode USA Manage Its Online Sales
"Makeup is self-confidence applied directly to the face."
The roots of makeup and cosmetics can be traced back to Egyptian times. Their popularity has only increased over the years, and they have become a vital part of our daily lives. From body lotions to beauty products, men too have started embracing cosmetics.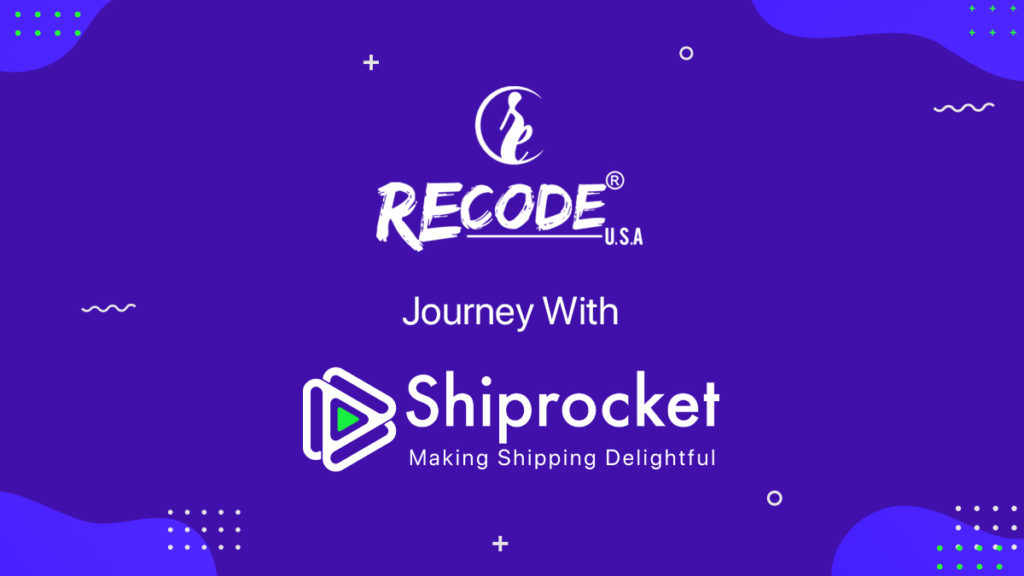 For centuries, makeup has been associated with several chemicals and harmful elements. However, since people have become more conscious and informed, they have started looking for organic and hypoallergenic beauty products.
Makeup has always been directly related to self-esteem and confidence. With numerous cosmetics available in different forms, such as lotions, creams, eye shadows, nail polishes, and lipsticks, we now have a wide range of options to choose from.
The Indian cosmetics industry is expected to grow to $20 billion by 2025. The primary reason for this is the rising awareness of beauty products, changes in product consumption patterns, and enhanced purchasing power.
Recode USA: The Journey
Going by the numbers and future predictions, the cosmetics industry is indeed a big opportunity in India. With this very thought in mind, the brand Recode USA was established in 2019.
Team Recode USA is a group of seasoned cosmetic experts who are passionate and committed to driving excellence in the cosmetics industry. The brand combines quality and creativity to produce the best cosmetic products in the world.
The brand has seasoned industry experts experienced in handling design, production, and cosmetics products business management. Brand Recode USA works closely in association with manufacturers from France and Germany and strives to offer world-class products.
The brand approaches customers through different channels, including social media, WhatsApp, and toll-free numbers.
"We reply to customer queries related to brand and products through personal calls."
The brand started in 2019 with an excellent note growth. It was doing a lot of offline business with 350 shops in 17 Indian states. But as the COVID-19 pandemic hit the world, Recode USA suffered a lot.
"As the pandemic started, everything came to a halt for us. This is when we decided to go online and launched our .com website."
As any business that decides to launch an online store, their first challenge was gaining customers' trust. However, since brand Recode USA was already doing profitable offline business before the pandemic, they didn't face much difficulty. In fact, launching an online store made it easier for their customers to access the products from home.
Starting Recode USA Starting With Shiprocket
For any online store, shipping is one of the biggest challenges. Having access to a wide pin code coverage and delivering products to the customers on time is crucial for the success of an eCommerce business.
Brand Recode USA also faced shipping and logistics challenges when they started their online business. But after connecting with Shiprocket, all their problems were solved – they could ship their products easily and quickly.
"Shiprocket was a turning point for our online store. We could not have managed our online sales without Shiprocket."

With Shiprocket, the brand can easily track its products once shipped. The customers, too, can track their products conveniently. "We are happy to have connected with Shiprocket. We find Shiprocket's tracking feature very useful and beneficial for our business."
Shiprocket offers comprehensive coverage of more than 27000 pin codes with 17+ courier partners. With Shiprocket, the brands, as well as their customers, can track their products conveniently. We offer a feature-packed shipping solution with a shipping rate calculator, order management tool, insurance coverage, multi-channel integration, and so much more.

With their plan, the brand Recode USA is assigned a dedicated account manager that manages their account and helps them track their order, revenue, different couriers' performance, and much more.
"Without Shiprocket, we could not have done what we are doing today."
In their endnote, the brand advises fellow budding entrepreneurs, "your business should be your passion, and you must work hard to achieve your goals. To be a successful start-up, you should work 16-18 hours a day, as you work hard for any entrance exam."
Calculate Your Shipping Costs Now