What is the Scope of eCommerce in India?
eCommerce is one of the most successful forms of business across the world. But, it is also where a lot of new businesses fail. In other words, eCommerce is a tough nut to crack, especially for small and medium businesses that do not have the abundance of large investments and access to the latest technological advancements. In spite of this, many SMBs manage to give competition to market titans like Amazon, Flipkart etc. in India.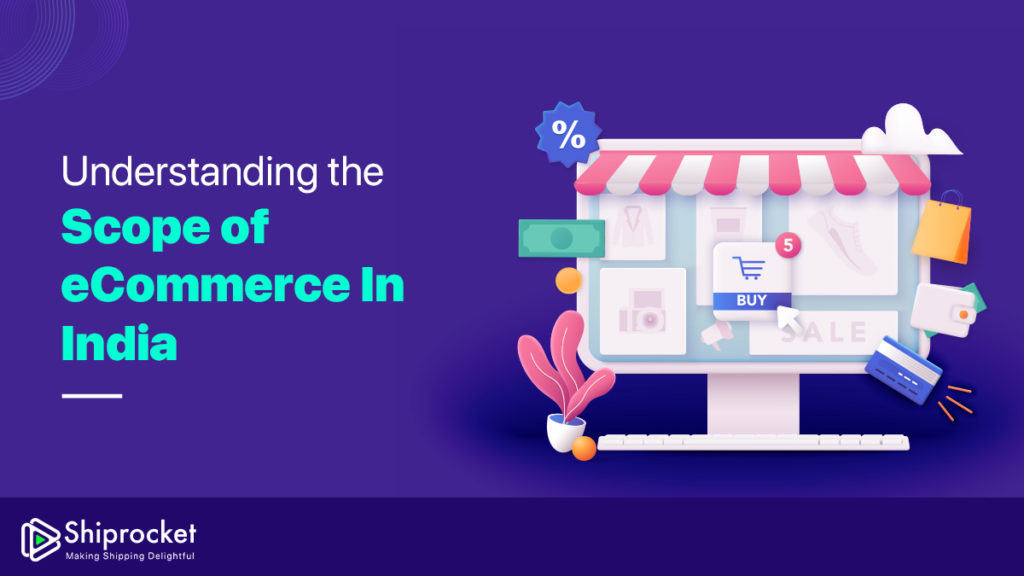 While eCommerce emerged around the 90s, it is only the past decade where it has picked up the pace like never before. Standing for purchasing, selling and exchanging goods and services through electronic medium, eCommerce now forms a crucial part of today's business. Especially, with the changing global scenario where social distancing will become more and more common, every business is trying to establish their presence on the Internet and capitalize on the eCommerce market.
Market research indicates that eCommerce will significantly increase in the Indian market. In the next five years, it is expected to grow at a rate of around 50%.There are any reasons that are resulting in this expansion, and all of them are pointing towards the huge growth opportunity that sellers have in the industry. While those eCommerce sellers that capitalize on this opportunity and make the most of it will be sailing on the profits as compared to those who still think that eCommerce requires huge investments and infrastructure.
Reason for the Growth of eCommerce in India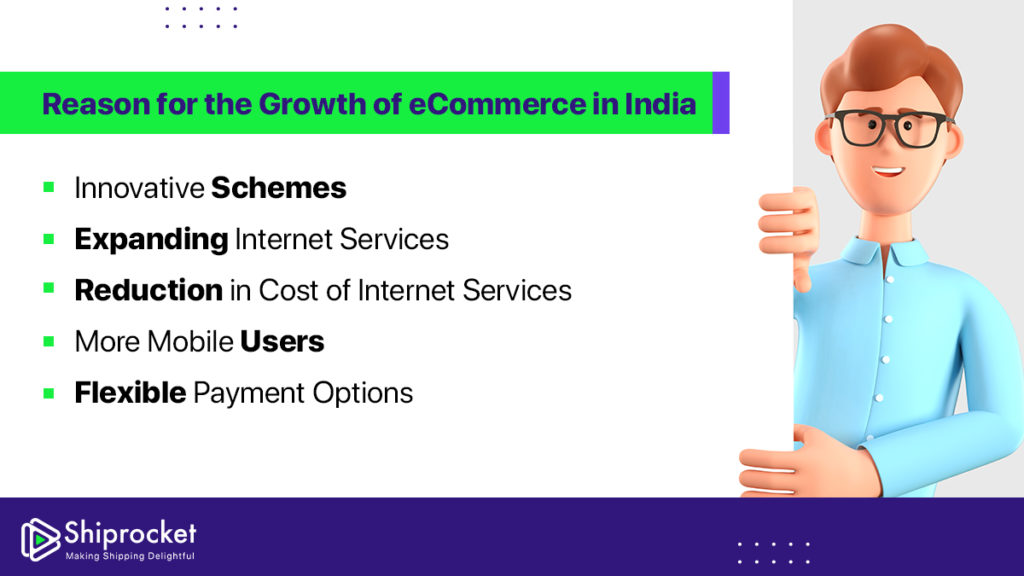 Let's take a look at the top reasons why the Indian eCommerce market will grow exponentially in the coming time-
Innovative Schemes
eCommerce in India is witnessing several innovative schemes that are helping the business grow tremendously. Low entry barriers to the market, easy registrations and availability of certifications are a huge help for businesses who are looking forward to carving a niche for themselves in the market. When such businesses find fewer restrictions, they readily establish their presence on platforms over the Internet. For example, selling on Facebook is as easy as browsing social media. Even Instagram has shoppable tags, which small sellers can take advantage of and reach out to their customers.
Expanding Internet Services
One of the biggest reasons for the expansion of eCommerce in India is rapidly advancing Internet services. Today the Internet has reached households located in the most remote locations of the country. Be it villages or a small town, a majority of people have access to Internet services. This is giving a direct boost to online business, whose biggest hurdle was only selling to an urban population. Moreover, faster internet services are making people browse more and look for more over the Internet.
Reduction in Cost of Internet Services
Internet costs have also reduced to a great extent in the past few years. Cheaper and faster internet is also one of the main reasons why people are looking for products online. They are more aware about the perks of eCommerce than they were ever before. Be it a student or a homemaker looking for appliances for their home. They know that they can find the products online and get it delivered to their doorstep without any hassles.
More Mobile Users
India accounts for more than 10% of the global smartphone market. Between the years 2017 and 2018, the rise in the shipped smartphones was from 124.9 million to 137 million. All this has given a sudden boost to the eCommerce industry with more and more people using smartphones. More to this, many smartphone brands offer a range of affordable devices, making it easier for everyone to own one. Smartphones have also opened a new option of payment for users where they can pay hassle-free from their wallets, UPIs, etc. safely.
Flexible Payment Options
The advent of UPI as a mode of payment has further sorted things for the Indian eCommerce market. The Unified Payment Interface is an instant payment system developed in India that facilitates one click payment options. It is regulated by the government of India and facilitates transfer of payments between two parties seamlessly through the mobile phone. With eCommerce companies providing UPI as a payment option, customers are finding it more than ever convenient to place their orders.
Threats to the Indian eCommerce Market
Every business has certain threats that it must look forward to in the global scenario. The same goes for eCommerce. It's all in the way these threats are tacked that decides the success or failure of your business.
Infrastructure
Even though the Internet is penetrating a lot of households in rural areas, the number is still quite less as compared to the population of the country. Even though India has the second largest online shoppers, the limitation of Internet infrastructure is something that is limiting its growth.
High Competition
One of the biggest threats of the eCommerce industry is high competition. With low entry barriers, all kinds of businesses are increasingly taking part in the market, posing competition to one another. Moreover, people still prefer to shop from market titans like Amazon etc. due to trust issues. More to this, sellers are providing unbelievable discounts that are luring the buyers towards buying from them.
Logistics
When it comes to logistics, it is one of the factors that can easily make or break a business. Even the smallest errors in the logistics of an eCommerce business can destroy the entire experience of the customer. To avoid this, companies must invest in third-party logistics providers like Shiprocket, who have years of experience in shipping eCommerce orders and helping a business grow from successful deliveries. Paying attention to the supply chain and logistics can have a drastic impact on the future of the eCommerce business.
Now that you know the factors that are responsible for the growth and threat of the eCommerce industry, it is important that you take decisions wisely. Remember that the most important factor for an eCommerce business is the satisfaction of its customers. For this reason, pay attention to your logistics and stand out from your competitors by providing your customers with a distinguished experience.
Calculate Your Shipping Costs Now