The Importance of Fast Logistics and Quick Delivery in eCommerce
The Asia Pacific region has the fastest growing eCommerce market. In fact, this part has the most online active users shopping online. By 2025, the number of digital consumers is forecasted to reach approx. 310 million across the southeastern region.
Digital eCommerce has been always a game-changer for the Indian economy and it continues to grow due to heavy internet penetration in the region. Several aspects such as quick delivery of products, same-day delivery, fast logistics, order tracking, online payment, seamless return, convenient online purchase have begun the outbreak of online purchase in India.
Now is a good time to widen your eCommerce business and potentially your product offerings. Look for opportunities to cross-sell and to generate some extra sales and revenue. When you are running an eCommerce business, one thing you absolutely need to get right is the quick delivery of products.
To stay competitive in your online business, you need to match the speed of top retail giants such as Amazon, Flipkart, eBay, or more. After all, quick delivery is what every online buyer wants.
The Relevance of Quick Delivery in eCommerce
There are a lot of ways to improve your eCommerce delivery. A negative shipping experience or late delivery can have an irreparable impact on your business. If there's one business area to focus on, consider making it an eCommerce logistics strategy.
According to NRF, 39% of consumers want two-day shipping of goods to be free. And if you don't offer it, they will go somewhere else. On the other hand, if you offer great customer service through quick delivery and returns, you will see increased sales volume, low cart abandon rate, and customers will more like to return to your online store.
How to Optimize Your Logistics For Quick Delivery Services?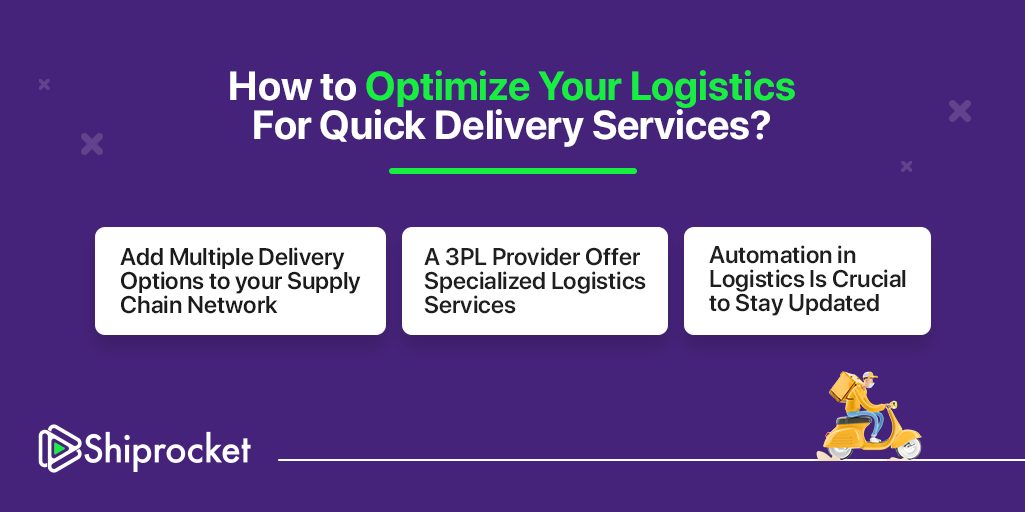 The first step in optimizing your delivery standards is to map your logistics and supply chain network. Collecting insightful data about your internal and external delivery vehicles, order fulfillment, distribution channels, and shipping turnaround time will enable you to map your eCommerce logistics effectively.
It will help you to find out pain areas and finding an advantageous way out for your existing and new customers. Here's how you can optimize your logistics for quick delivery services:
Delivery Options
Sellers across marketplaces need to keep up with fast-evolving customer expectations by providing fast and quick delivery of products. Customers consider fast delivery synonyms to same-day delivery, which means your customers want to receive their ordered products within the same day with zero delays and errors. Business owners should implement last-mile delivery solutions in their delivery process to ensure utmost accuracy and speed.
Make sure you also add a number of delivery options to your supply chain network for fulfilling orders on time. This also involves equipping your delivery process with smart tracking devices that have integrated Artificial Intelligence and Machine Learning for vehicle tracking and offering quick delivery services to your consumers.
3PL Logistics
The current evolving market scenario will require you to fulfill orders more quickly. Partnering with a third-party logistics provider or 3PL ensures your products are shipped out in time. A 3PL provider also ensures that you distribute your inventory across different regions and can also allow you to store your inventory to your end consumer nearest location.
A 3PL provider pack and ship items from the warehouse and sends back tracking information to the seller and also provide options for multiple courier partners. They ensure you're having an affordable yet reliable courier company to keep your customers happy and get quick delivery of products. A third-party logistics provider will help bring in dynamism and to achieve fast delivery standards successfully. 3PLs specialize in a certain area of logistics management.
They can handle all your order fulfillment challenges such as shipment issues, wrong address, return management, delay in delivery, and shipment tracking. To overcome these challenges, a 3PL company offers fast and affordable shipping for your online marketplace.
Automation in Logistics
Real-time data, automation, and technology plays important role in eCommerce logistics. But still, most businesses often overlook the importance of automation in logistics and don't care about its optimization. The route optimization in logistics is crucial for the quick delivery of packages across different regions.
By having real-time data of your driver's location, you can better plan the routes in the future. Even you can predict the order volume on given weekdays by analyzing historical data. You can plan for those days when demand will be lower or higher.
A route optimization software can help you stay connected and gain visibility into driving data, send you updates from the road for order completion, and shows you current & previous GPS location. You can also check your driver's live location, and send them updates and alerts. Data-driven decisions provide you a way for making better decisions to keep your day moving without any disruption.
Final Words
These are just a few of the ways to optimize your logistics. It can be challenging to meet all requirements of your customers. But with the right technology and processes in place, it can be done.
When you provide quick delivery and fast logistics services, it's going to have a positive impact on your customers. So, if you are looking to become successful in your business, simply follow the tips above and work on optimizing your logistics process as much as you can.
Calculate Your Shipping Costs Now