How Can You Improve Last-Mile Delivery with a Third-Party Fulfillment Center?
According to a recent report by Colliers International, the demand for small warehouses within city limits is expected to rise over the next year. This is because the demand for same-day delivery of products such as food and grocery items increases rapidly. Therefore, the demand for efficient last-mile delivery has also increased
Now, companies are working to store inventory closer to their buyers to reach them faster to improve the quality of delivery.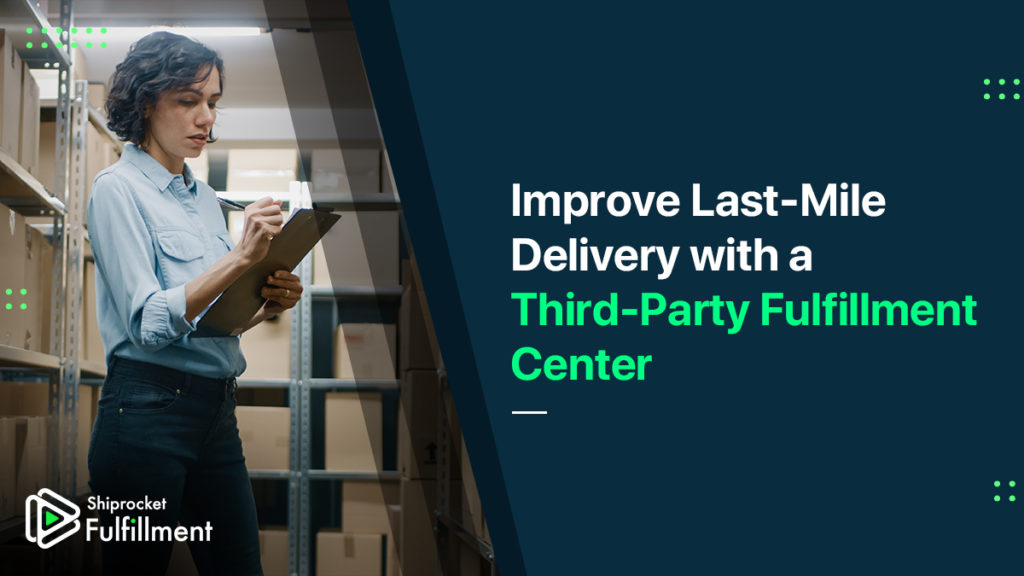 These reports indicate that eCommerce sales are at an all-time high in the country. It was flourishing before the COVID 19 pandemic, and the lockdown has only increased the growth. Companies are now looking to store products in small distribution hubs rather than in warehouses located on the peripheries or far away locations. eCommerce sellers are also looking to tie-up with 3PL providers to optimize operations and improve functioning. This will help the companies improve their last-mile delivery operations.
But how will these 3PL providers help improve last-mile delivery operations? Well, if you look at it from above, fulfillment centers just store, pack and ship your products. But, when you look deeper, their role is much more than that. Having a 3PL provider can accelerate the fulfillment process for your business with streamlined operations and dedicated technology.
Here is a closer look at the link between 3PL providers and last-mile delivery operations and how they can improve it.
Before we begin, it is essential to understand the specifics of last-mile delivery.
What is Last-Mile Delivery?
Last-mile delivery refers to the last delivery process that connects the distribution Centre to the customer's doorstep. This includes the part where the delivery executive carries the product to the customer and delivers it.
Even though it is the last mile, the delivery usually takes place from a central hub to the customer's doorstep. This can be within a few kilometers or go up to a hundred kilometers, depending upon the hub's location and the delivery address.
According to a report by Mahindra logistics, the last mile has the largest share in eCommerce delivery operations, i.e., around 45%.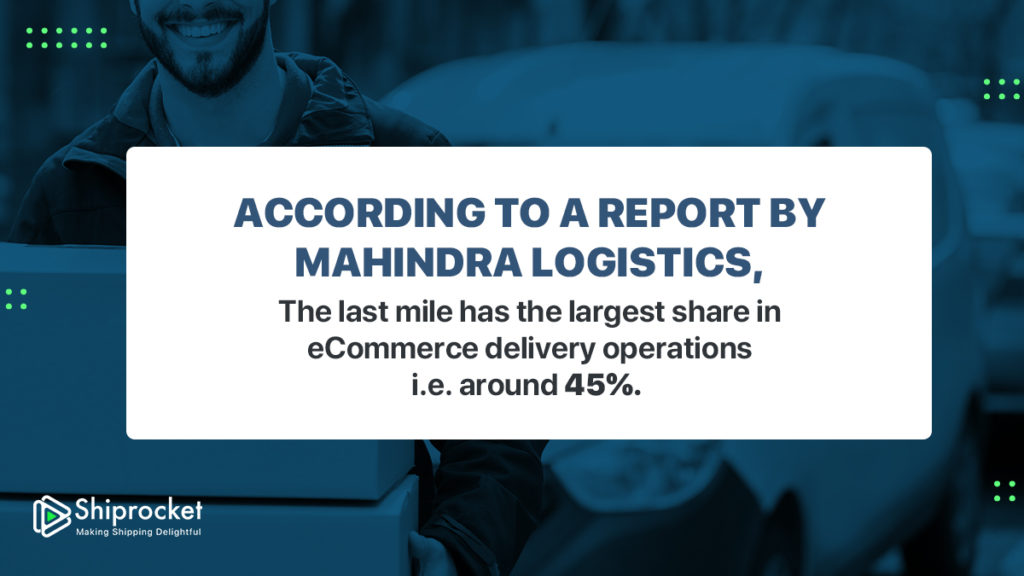 Currently, the last mile sector has not seen considerable intervention with technology. But with changing times and operation techniques in the last mile, delivery operations are also evolving.
The relevance of Last-Mile Delivery
Last-mile delivery has become an essential component of eCommerce as it decides the final fate of the customer experience. And optimize last-mile delivery operation can help companies in reducing costs and decreasing delivery time. Since it is the last leg of the entire eCommerce supply chain operations, it can make or break the whole chain.
Last-mile delivery operations are the most affected by factors like traffic, human errors, delayed deliveries, weather, etc. If not done correctly, they can end with the poor customer experience and delayed delivery.

Another aspect that significantly impacts last mile operations is the safety of the products. The products need to be shipped in a manner that they remain safe and tamperproof when they reach the customer. Hence they need to be routed in the most optimum method to avoid any mishaps.
How Can 3PL Fulfillment Providers Improve Last-Mile Delivery Operations?
Third-party logistics and fulfillment providers can help optimize the last mile delivery operations significantly. With the skilled labor and trained staff, they can accelerate the process before last-mile delivery operations and eventually lead to a faster delivery operation. Let's look at other aspects of associating with 3PL providers that can be beneficial for your eCommerce business's last-mile delivery.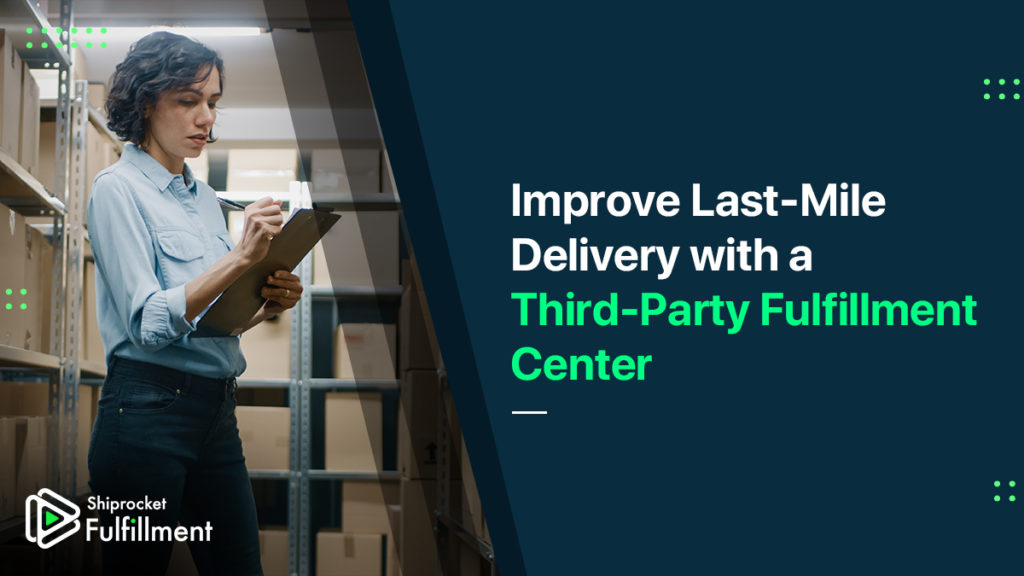 Products Stored Closer to Buyer
The main advantage of storing your products with a 3PL fulfillment provider is the choice of storing products closer to your buyers.
If you have your product store closer to your buyers, you can arrange for faster delivery and handle returns more cheaply. It will help you reach the buyer quicker and simplify the complexities of last-mile operations.
Reduced Delivery Time
Once you store your products closer to your buyer's delivery location, you can pick, pack, and ship them faster. This will result in reduced delivery times and costs.
For example, if your business is situated in Delhi, and you want to ship products in Kerala, a 3PL provider with a warehouse in Thiruvananthapuram can help you deliver products with a faster TAT. Moreover, if the product is stored closer to buyers, factors like weather, traffic, long delivery routes, etc. will not affect last-mile delivery as much.
Wider Reach
3PL providers come with a broader reach. They have many more serviceable pin codes than a single carrier as they have tie-ups with many courier companies. These provide you with an extensive reach across the country and into regions that are difficult to reach with only a single delivery force.
For example, Shiprocket Fulfillment ships with 17+ courier partners help you reach your customers in the fastest manner possible at the best price.
Powerful Delivery Network
With experienced professionals and a robust network spanning across the country, you can rely on 3PLs to connect you with your shipments' best delivery partner.
A courier partner that might deliver successfully in the northern zone might fail in the southern zone. A robust delivery network can help you leverage different courier partners' capabilities and play on their strengths to make sure you avoid last-mile delivery challenges and reach your customers on time.
Experienced Staff
Lastly, 3PL providers come with an experienced task force with prior experience in delivering products faster and with the best quality. In a country like India, delivery executives must be extremely cautious as several lanes can confuse anyone.
With an experienced delivery staff, you can avoid such problems as they have experience choosing the best routes for every shipment and, more importantly, they know their delivery areas properly.
In-depth knowledge of routes and transportation, you can avoid unnecessary delays and provide customers with a delightful delivery experience. This will also help you reduce RTO by a large margin.

Shiprocket Fulfillment – A Reliable 3PL Provider for Faster Deliveries
If you're looking for a 3PL provider that can help you optimize your last-mile delivery operations, then we have just the right name for you – Shiprocket Fulfillment.
Shiprocket Fulfillment can help you deliver faster to your customers as we provide you with warehousing and inventory management operations closer to your buyers.
If you want to ship your products in Bangalore, you can easily tie-up with Shiprocket Fulfillment and store your inventory with us. We will take care of delivery operations based on your incoming orders and ensure that the best courier network is utilized for order delivery.
You can increase your delivery speed by up to 40% and provide next-day delivery, with industry-standard operations in picking, shipping, and packaging.
The processing rates for Shiprocket Fulfillment start at Rs.11 per unit, and there is no storage fee if your product ships within 30 days. It is a steel deal for your business if you are looking for an all-round fulfillment solution that can also help you improve your last-mile delivery.
Final Thoughts
3PLs and optimized delivery go hand-in-hand. Since these providers work only in a single domain and have a lot of experience doing the same, their service is quite useful for eCommerce businesses. With the increasing demand for eCommerce, it is an excellent time to tie up with 3PL providers and start delivering quicker to your customers.
Calculate Your Shipping Costs Now