Self-Storage – Create your Own Warehousing Facility Effectively
Many times, it is not possible for small businesses to outsource their warehousing and fulfillment to a third-party logistics company. Either because they can't afford it or they don't have enough inventory that requires outsourcing. In such cases, self-storage of inventory is the best option. In this article, we will cover most information that you need to know about self-storage and how you can create your own warehousing facility effectively.
To ensure you're optimizing storage and keeping your inventory safe, you'll need to take a few extra steps. Follow the self-storage tips below & tackle your storage hassles like a pro.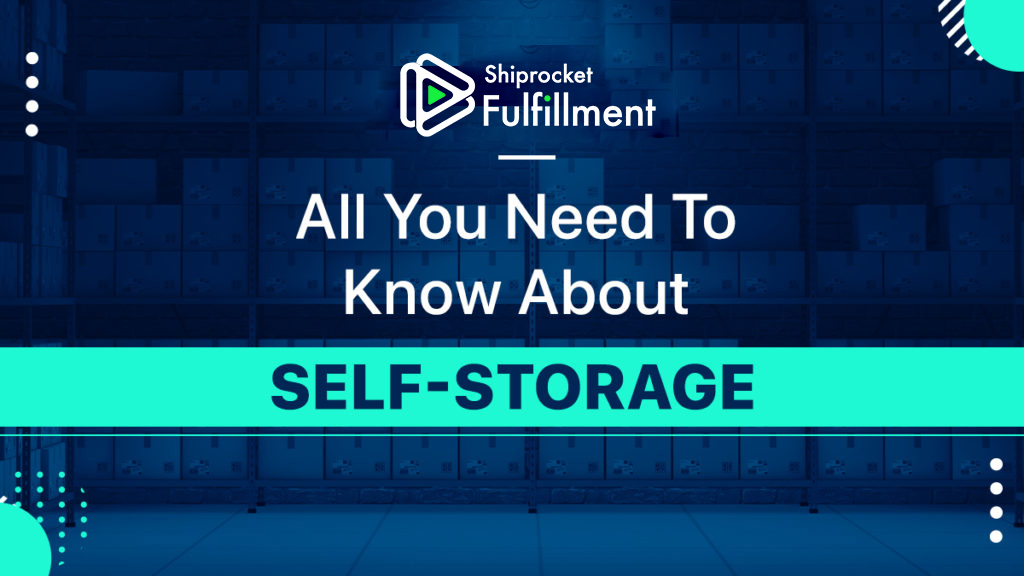 Choosing the Right Self Storage Unit
The storage unit or the warehousing facility you choose should be based on a few key factors, including the size, price, and convenience level that is most suitable for your business. To make sure you're checking off all three boxes, start your search for the right storage space early. If you wait too long to book, you may find that what you're looking for isn't available, or you may just not have enough time to do the necessary research. It's better to start a little early.
Do take an inventory of what you plan to store. This is helpful for two reasons. One, it helps you determine what size unit you're likely going to need, and two, it helps you stay organized once everything is in there.
Packaging of Goods
It is vital to label your boxes. If you're using self-storage for your inventory, chances are you don't intend to be needing the items you're packing up for at least a couple of months. Labeling your boxes with names of the particular items in a box will help you locate the goods easily, whenever you receive an order from your customer.
Pack every order strategically. Some of the most crucial self-storage tips you'll want to follow are those around how to pack your things, particularly if you're using a moving container that may shift in transit. You never know if or when you'll need to access your unit during the storage period, so organize everything in an organized fashion to make the process convenient.
Store items you receive the most number of orders for toward the front of the unit. And think vertically. Instead of crowding things across the bottom, take advantage of the unit's height (most are at least eight feet tall) and stack your items, keeping the heavier things closer to the ground. If you can, leave a pathway from the front of the unit to the back so that no item is completely out of reach.
Prevent items from getting damaged by taking the time to properly pack and wrap them. You must have extra protection in place at all times.

Safety and Security
Security is extremely important when it comes to running a business. If you are investing time and money into creating or purchasing all your stock items, it's important to keep them safe and secure. If something happens to your stock it can be hard to recover. When stocking your inventory in your self-storage unit, it not only creates a chaotic environment, it opens up your items to the threat of theft and damage caused by unforeseen circumstances. So, ensure you have access to your inventory 24×7 so that you have a tally of all the goods that are there in the storage.
Climate Controlled Storage Unit
If you are choosing to store your inventory, the best option is to go with climate-control storage. These are units where the temperature and humidity levels will always stay consistent. Having climate-control storage protects your inventory from dust, mold, and extreme weather conditions, which is important when the things you are storing are vital to your business. Depending on what you sell, a consistent temperature can be very important. Opting for an indoor unit can also help protect from the elements.
If you are in the eCommerce business, your storage space is definitely one of your most valuable assets. Whether it is a small storage space or a big warehouse, the care, and protection of your inventory are crucial to the success of your business! Hence, it is always worthwhile to go the extra mile to ensure that you have sufficient storage space.
Self-storage is an extremely feasible option for small businesses that do not want to go for any extra warehousing investment. However, if your business is growing gradually and the number of orders you are receiving is increasing by the day, it's best to outsource your entire order-fulfillment to a third-party logistics company. Shiprocket Fulfillment is one of them.

Shiprocket Fulfillment – A Convenient Way to Outsource Your Low-Volume Inventory
Shiprocket Fulfillment is a unique offering by Shiprocket, that offers end-to-end fulfillment solutions for your eCommerce business, including inventory management, warehousing, and logistics. You get to offer same-day and next-day delivery options to your customers, as you fulfill orders from Shiprocket fulfillment centers which are located nearest to your customer's residence. Moreover, you get to reduce your shipping costs drastically by reducing the distance between your customer's delivery address and your warehouse.
Now that you are aware of both the kinds of storage and fulfillment options, it's time for you to make your inventory storage choice wisely. Remember, storing your inventory is a crucial aspect of your eCommerce business, and it's best to compare various warehouse facility options first before choosing the right one for your business.
Calculate Your Shipping Costs Now