Order Fulfillment 101: Understanding Shipping Labels
A streamlined order fulfillment process enables the business to grow sales and also offer an extraordinary post-purchase experience for customers.
You are aware of the importance of shipping in your business strategy, and you also know how to optimize your eCommerce shipping to maximize profits. Having the right order fulfillment process will help your business continue to draw customers and satisfy them with your products. Among the many considerations you need to keep in mind for successful order fulfillment, one is shipping labels. Let's find out more about this aspect of your shipments!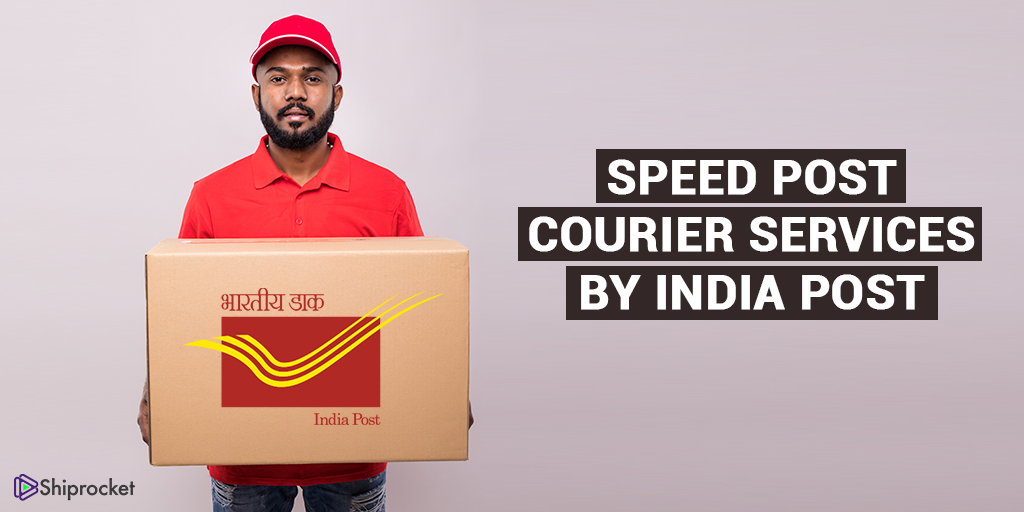 What Is A Shipping Label?
A shipping label is an identification document attached to the package once it is ready to ship. It contains origin, destination, and other vital details that help everyone in the order fulfillment process to identify the packet and process it appropriately.
What Information Does A Shipping Label Contain?
We are sure you must have seen a similar paper pasted on top of your shipping box or envelope when you ordered your last package from any online website.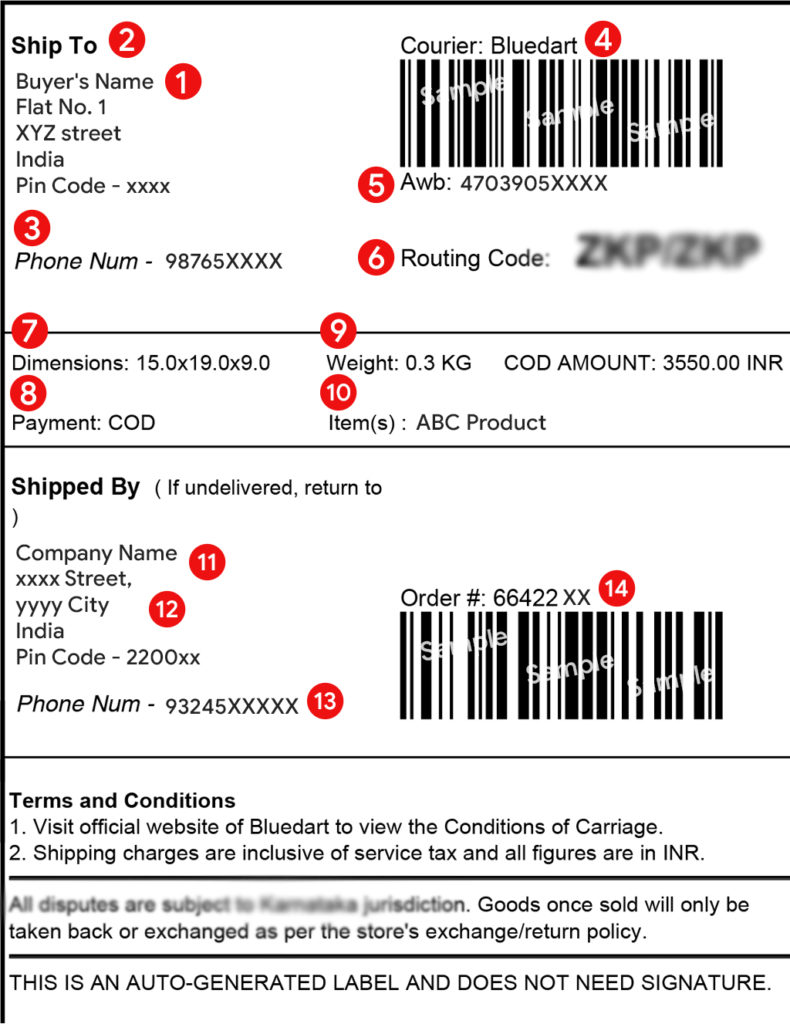 If you carefully observe the above-shared label, this is the information you can gather:
Identification Details of the Buyer
Name
Address
Phone Number
Carrier Details
4) Name of the courier company
5) AWB number – Airway Bill number, a document that provides detailed information about the shipment
6) Routing Code – It tells how to route the package within the courier company premises
Product Details
7) Dimensions – Length, breadth, and height
8) Payment method – COD or Prepaid
9) The weight of product – Gross weight of the product
10) Item details – The items contained within the package
Identification Details of Sellers
11) Seller's name
12) Seller's address
13) Phone number
14) Order ID
These are the details you are supposed to include in your shipping label. Without these, it is impossible to deliver your package to the right customer at a set time. Throughout the order fulfillment process, the details you mentioned on the shipping label serve as a guide for the carrier to ensure proper and timely delivery of your orders.

If you offer faster modes of shipping, such as expedited and overnight shipping, you must be extra cautious about your shipping labels and the information you print on them.
Label sizes
Templates provided by courier companies can vary, but generally, the industry standard for shipping labels is 4×6 inches. Other formats include 6×3 inches and 4×4 inches.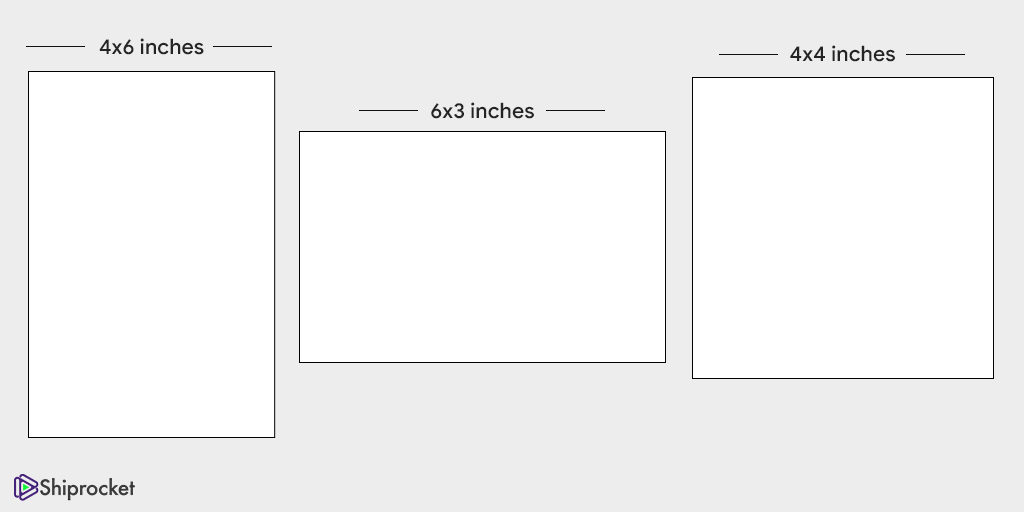 How to prepare and print shipping labels?
There are numerous ways through which you can prepare shipping labels. You can utilize both manual and automated techniques for this process, but it also depends on your shipping method and the number of shipments you process in a day. Here are the best options for understanding how you can create your shipping labels.
Self-fulfillment – manual generation
If you fulfill your orders yourself, there is a good chance you ship them using local courier partners like FedEx. Delhivery, etc. Therefore, you will have to sign up on their website, download the label template, and their label guidelines from there. Filling out the label and printing it will be your responsibility.
These methods are suitable for sellers who don't ship orders on a large scale. For example, if you send upto ten orders in a month, you can opt for manual generation of your shipping labels.

Software for generation and printing of labels
Many label generation software available online help you create a format and then print an online label. You have the flexibility to customize your label and also add and subtract information according to your business needs. Easy Sticker Software and labeljoy are good examples of label generation software.
This would be a good option if you need to print labels for more than five orders a day.
3PL shipping solutions
Many shipping software provides an all-around shipping solution for your eCommerce store. They also offer pre-prepared shipping labels that you can print directly from their panel. This process saves you ample time that you would otherwise spare for manually generating and printing labels.
An excellent example of such a solution is Shiprocket. With us, your shipping labels are auto-generated with all necessary details pre-filled. You can decide the size and customize the label with your preferred details.
If you don't draft your shipping label adequately, it can cause many logistics setbacks. These can cause a delay in the delivery of packages, and your customer experience will be profoundly affected. To avoid this mishap, double-check your shipment labels and ensure you share proper information.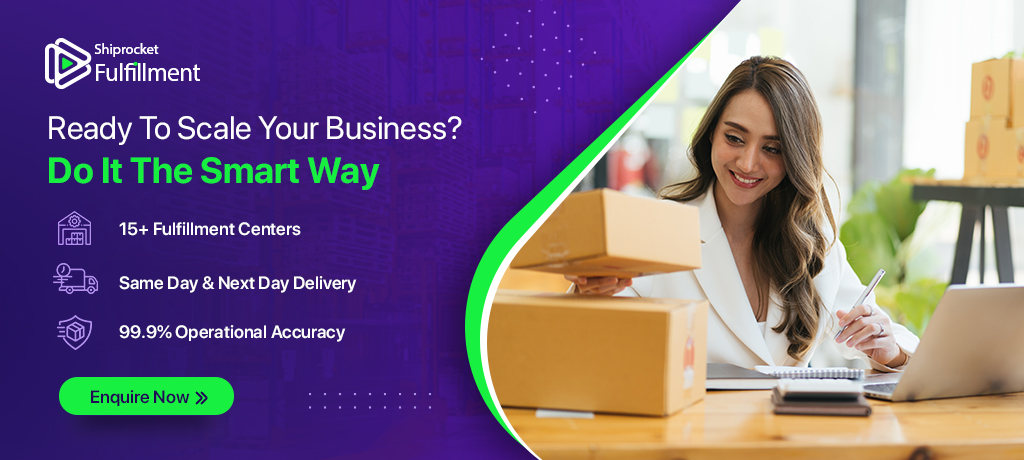 Do I need a particular Printer to print shipping labels?
For printing a regular label, you do not need a unique printer. You will need a thermal printer if you want to print self-adhesive shipping labels.
Can I handwrite my shipping label?
You can write parts of your label information by hand, but it is advisable to use a printed label as the fonts are uniform and eliminate confusion. Also, the barcode and other information that needs to be scanned must be printed.
Where should I put the shipping label on a box?
It must be placed on the box's most prominent and visible surface.
What are the size requirements of shipping labels?
The standard shipping label size should be 4″ X 6″. However, it can vary according to the courier partner you choose.
Calculate Your Shipping Costs Now