Sell on Paytm: How to Register Yourself as a Paytm Seller?
Regardless of whether you sell online or offline, you must not have gone without hearing Paytm's name. It is one of the most popular and successful mobile wallet services in India. The company facilitates easy payment options for its sellers. With this, Paytm presents several opportunities for easy payment to eCommerce sellers and the customers who seek to buy their products.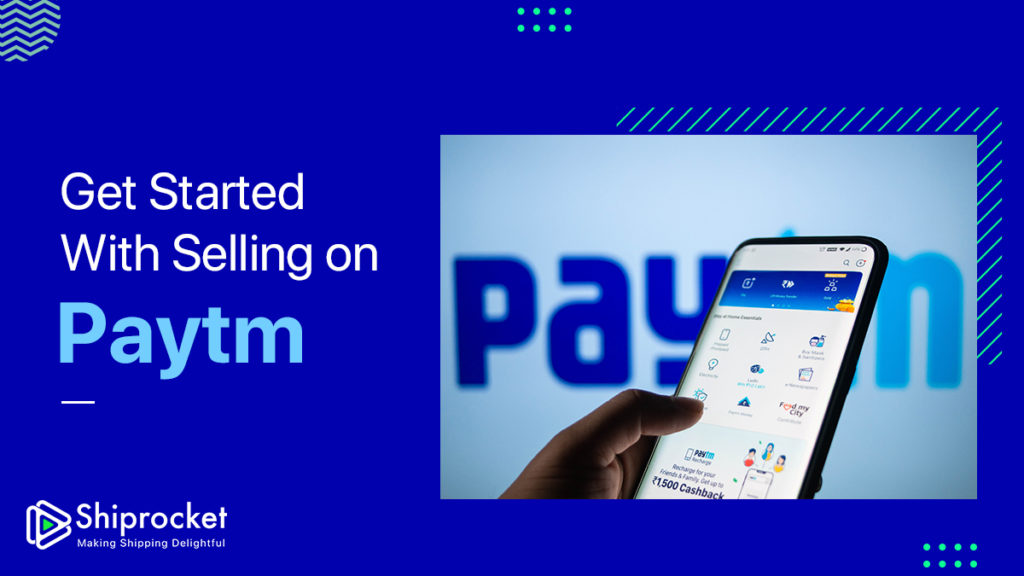 What Is Paytm?
Paytm isn't just a mobile wallet payment service provider. After establishing itself successfully in the market, Paytm has also expanded its company to benefit eCommerce sellers. In other words, it is now also a marketplace running under the name of Paytm Mall.
Like most businesses, Paytm aims to take the experience online for the customers. This is especially beneficial for online shoppers post the pandemic situation. With more people preferring to shop online, the eCommerce market is experiencing a massive boost. Alternatively, Paytm makes it easy for sellers and customers to connect on a hassle-free platform.
However, if you're wondering how to become a Paytm seller, don't worry, we've got you covered. Read to find out everything that you need to know to get started with .this platform
Why Paytm?
Before we move onto finding the registration process to become a Paytm seller, it is vital that you make up your mind for it. Understand that Paytm is an online marketplace that connects buyers to sellers. Quintessentially, it bridges the gap between the buying and selling processes, making online selling relatively seamless.
Let's take a look at why it is a good idea to become a Paytm mall seller and why it can be a great choice of the marketplace for selling online-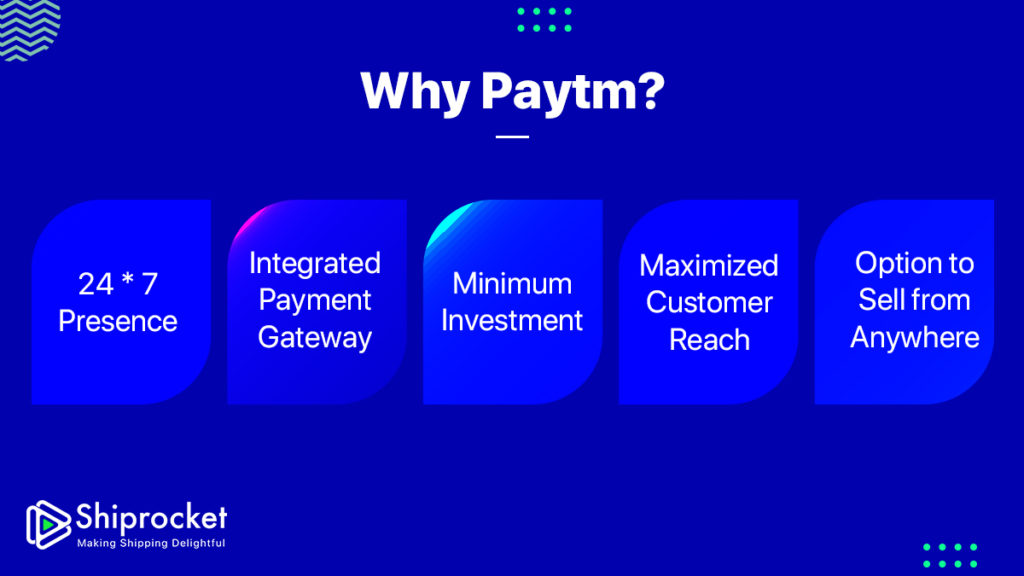 24*7 Presence
While establishing a 24*7 business in a brick and mortar format is impossible even in today's age, Paytm gives you the rescue. It helps Paytm sellers stay online with your business no matter what and when. Since it is also highly unlikely for your customers to walk in the middle of the night to make a purchase, the online experience provides a solution. With your store on the Paytm Mall 24*7, you are always there for your customers no matter what. Moreover, this is without the investment of additional costs.
Integrated Payment Gateway
One of the best qualities of Paytm is that it is quintessentially a payment gateway that ensures secure transactions. Therefore, you don't need to worry about integrating any additional payment gateway. Your customers can easily purchase your product and pay via Paytm. And moreover, since a lot of customers already have a Paytm app on their phone, it becomes convenient for them to shop on the same.
Close To None Investment
Paytm has close to no investment when it comes to online selling. The platform does not charge any additional fee for selling. Even though there is a small amount for adding your products on the platform, it stands close to none as compared to running a brick-and-mortar store or a web store.
Maximized Customer Reach
One of the nest advantages of selling on Paytm is that it offers an extensive reach to your customers. Since it is a marketplace, customers are already aware of it and come there to shop regularly. This means there is already an existing demand on the platform. All you have to do is reach out to them using your products. Therefore, by sitting at your place, you can cater to the demands of the customers all across India.
Option To Sell From Anywhere
Selling on Paytm gives you the flexibility to sell from anywhere. You don't need to have a dedicated store and invest in resources like staff, electricity, etc. You might be selling from your home but still can reach out to a wide number of customers. Therefore, you can make money without the constraints of a physical presence.
How To Register As A Paytm Seller?
To register as a seller on Paytm there is a minimum criteria you must fulfill. This means that you might have to keep certain documents ready and prepare to fill in information on the registration page.
Documents Required For Registering On Paytm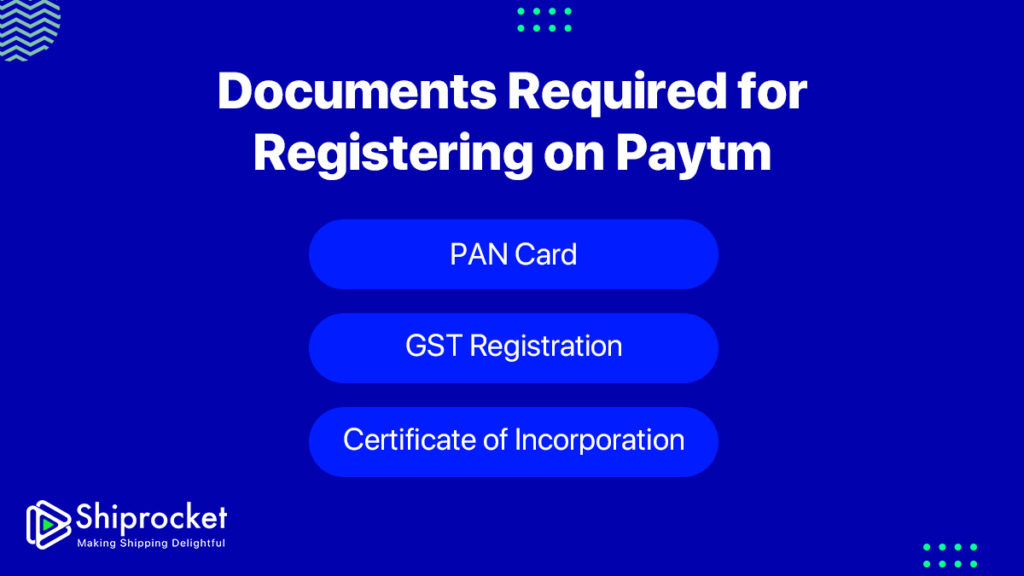 You must keep the following documents ready before registering on Paytm
PAN Card
In case you are an individual seller, you can add the details of your PAN card during registration. Alternatively, if you running a company, you will have to upload your company's PAN card details.
GST Registration
The good and service sales tax are applicable to all businesses. No matter where you choose to sell online, you will have to present these details. This is as per the norms of the government and might seem like a tedious process at first.
Certificate Of Incorporation
Another document that you need to keep handy while registering your business on Paytm is a certificate of incorporation. This is only applicable if you're a company. Alternatively for a firm, you have to present a copy of the partnership deed.
Registering On Paytm
Once the documents are in place, you can proceed to register yourself as a seller on Paytm.
You'll be asked to enter details such as your name, email address, phone number etc. Upon entering these details, a verification email is sent to your inbox.
Now enter your identity and address proof. If you're an individual seller, enter your personal details. On the other hand, if you are a company, enter your company details.
Congratulations! You have successfully registered yourself as a seller on Paytm. Now, all that's left to do is upload your product catalog and start shipping your first order. Add appealing details in your product description and make them engaging for your customers to read. Also, add high-quality images and use a good logistics platform to ship your products. Remember that logistics can make or break your business, which is why you must place your trust carefully.
Calculate Your Shipping Costs Now