Shipkaro vs Shiprocket: A Fair Comparison of Price and Features
If you're an eCommerce seller and starting fresh, there are chances that you might be confused over choosing one particular courier partner for your business. In another situation, you may be stuck with your research on finding a one-stop shipping solution for your orders.
So, either you've heard about Shiprocket on your journey, have been using ShipKaro and couldn't find a satisfactory experience or want to know why Shiprocket is India's #1 shipping solution, you're at the right place.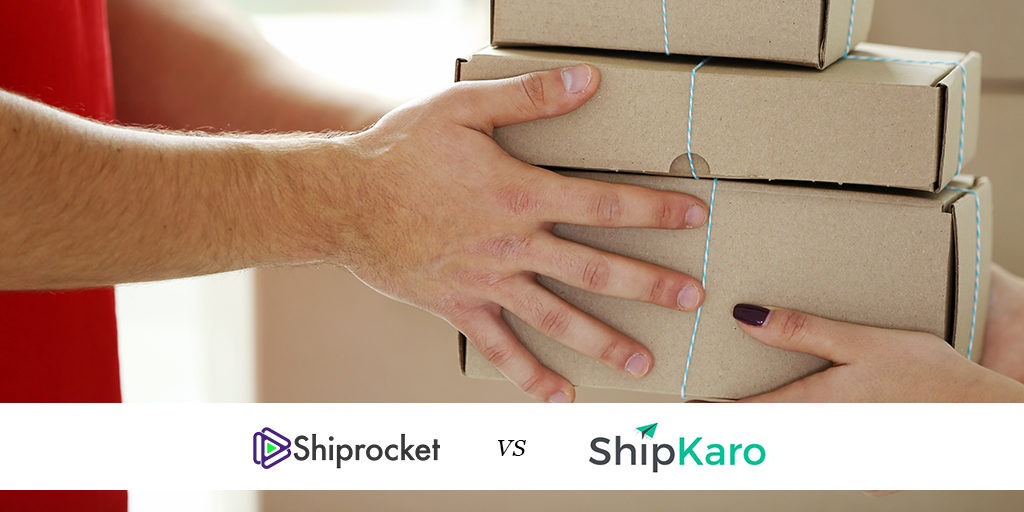 For people who are keen on understanding the difference between Shiprocket and ShipKaro, we bring a fair comparison of price and other features of both the platforms. You can also know why Shiprocket is the best solution for your business
USPs and Offerings
ShipKaro and Shiprocket provide a number of features to their customers. The following table can help you compare between them.
Plans and Pricing
Plans
Shiprocket has four plans. By default, your plan is Lite, until you upgrade to any of the others
ShipKaro has three plans:
Shipping Rates
The lowest shipping rates charged are mentioned below for 500 grams respectively.
RTO Rates
These are the charges incurred on the Shipment that is returned to the origin of the seller.
COD Charges
These processing charges are for receiving payments via the Cash on delivery mode from the customer.
Platform features
Different features on the platform help in the smooth sailing of your orders as your ship them to your customer. Here are the platform features of Shiprocket and ShipKaro:
Why Shiprocket?
Choosing a perfect courier partner can be a difficult decision, which is why it is best recommended to consider one's eCommerce shipping requirements. Each of the couriers have their specific reach and features, however, a few additional features can help your business gain an extra edge in the cutthroat market competition.
We believe that the fair comparison between ShipKaro and Shiprocket will help you decide the best courier for your business. Moreover, some of the additional benefits of these platforms mentioned below will simplify the decision-making process for you. Shiprocket's unique features will not just offer you a comprehensive choice of pricing for shipping your products but also make your shipping process a hassle-free experience.
Shiprocket's CORE (Courier Recommendation Engine)
The courier recommendation engine of Shiprocket solves one of the most crucial problems of eCommerce store owners, which is the paradox of choosing the best courier partners as per your requirement. To address this, the Shiprocket allows sellers to set their courier priority such as cheapest, top rated etc. Based on order pickup location, shipping metrics like delivery performance, cost, RTO pickup performance & COD Remittance, CORE displays the top carriers for your shipping priority.
The self-learning algorithms in CORE also help in reducing the shipping returns and ensure timely delivery of your packages.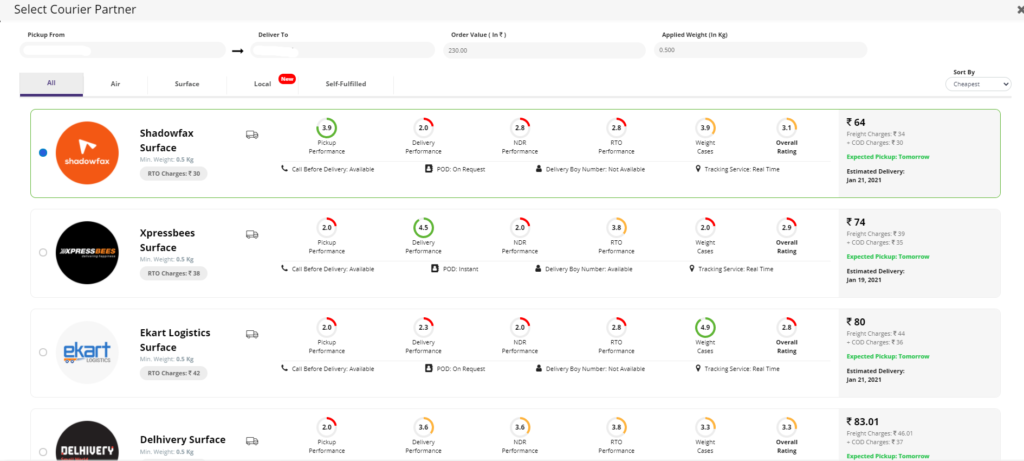 Inside the Shiprocket Dashboard
Non-Delivery & RTO manager
The dashboard of Shiprocket is easy to understand, with multiple functionalities all under one roof. You can also view the overall performance of your business in the dashboard and implement key strategies specific to your key metrics. The NDR Panel in Shiprocket is real-time and assists your business by tracking down the non-delivered shipments so that you don't lose track of anything. These reports are also sent to you on your email.
The reverse pickups can also be generated easily from the panel at much-reduced rates and easy printing of labels.
Reconciliation Log & Shipment Tracking
Shiprocket allows you some advanced features that will help you track your shipments within seconds and manage any discrepancies without any delay. Put differently, you can keep a track of every single rupee that you spend on Shiprocket.
Real-time Rate Calculator
One of the most unique features of Shiprocket is the rate calculator which lets you get an estimate of your shipping cost prior to shipping. All you require to enter is the shipping weight and delivery pin code of the destination and you will get the estimated cost within seconds.
Analytics and Reports
Analytics and Reporting at Shiprocket are there to help you make well-informed decisions and grow your eCommerce business exponentially. The analytical reports in Shiprocket are based on
Shipping Inventory

Order & shipment report

COD and Revenue

Credit, shipping bill report

Average Shipping cost etc
Unmatched Consumer Experience & Convenient Notifications
At Shiprocket, you get easy notifications directly in your mobile application and inbox. The customer interaction with the platform is superior and supported by an experienced team.
Reduced efforts for order tracking
Rapid notifications through SMS and emails.
Easier pick-ups for return orders

Widest reach forCOD orders
These reasons will help you make a smart decision about your logistics partner and choose to grow your business. Furthermore, shipping your products via Shiprocket will provide you with additional opportunities to capitalize your shipping expenses and make the most out of it for your customer.
Calculate Your Shipping Costs Now