Top Shipping Companies in Andheri for Your eCommerce Business
Andheri lies in the western part of Mumbai and is one of the important localities in the state where many eCommerce companies operate. It certainly is a commercial hub with many small and well-established businesses. With that, several shipping companies in Andheri offer domestic and international shipping.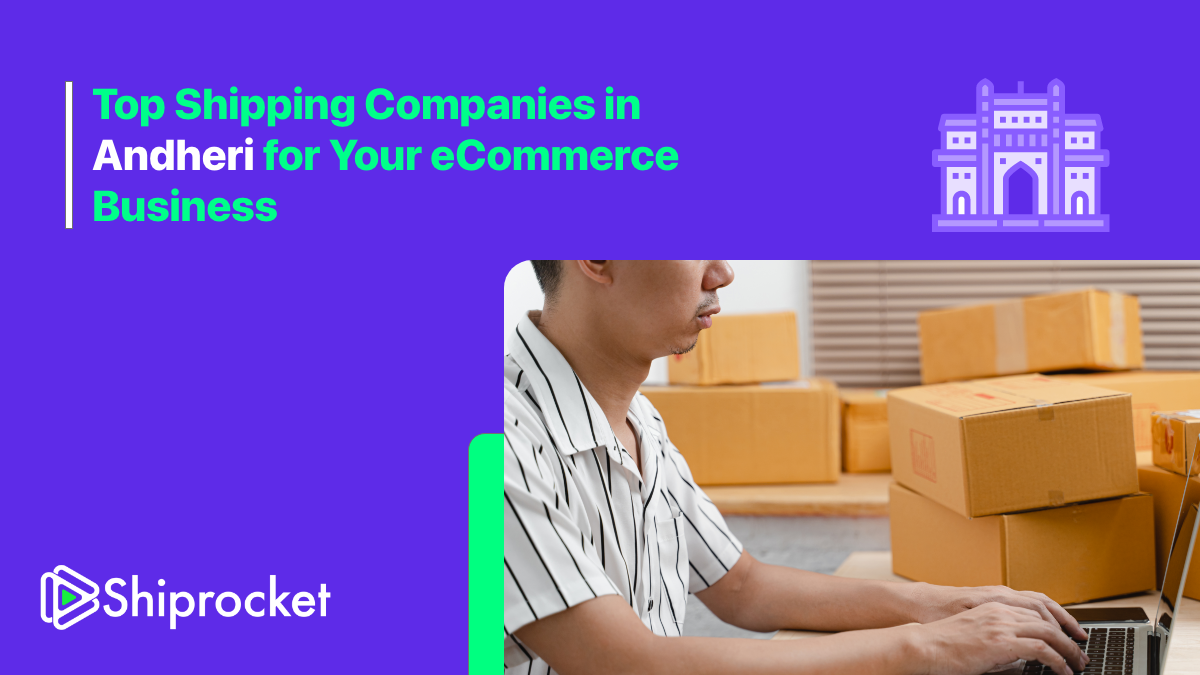 If you are also operating a business in Andheri or are planning to start one, you have come to the right place. We are here going to discuss the top shipping companies in Mumbai that you can trust for your eCommerce business. We will discuss them in-depth to help you make an informed decision.
List of Top 5 Shipping Companies in Andheri, Mumbai
1. Blue Dart Express
Blue Dart Express is one of the top shipping companies in India. It specializes in express deliveries and offers both domestic and international shipping services. Its wide range of services includes same and next-day delivery, time-definite delivery, door-to-door delivery, order tracking, and cargo insurance.
2. Allcargo Logistics
Allcargo Logistics is headquartered in Mumbai and was founded in 1993. Allcargo Logistics is a supply chain management company In India that offers services to more than 180 countries. Its eCommerce logistics solutions include warehousing solutions, milk-run pickups, scalable operations, return management, e-fulfillment, product pre-retailing and processing, cross-dock management, and quality-check at inbound. The company has a good presence in Mumbai and is known for efficient and reliable services.
3. VRL Logistics
VRL Logistics is one of India's renowned transportation and logistics companies. Founded in 1976, VRL Logistics is a public-owned company. Its services are spread across 23 Indian states and 5 union territories. Its wide customer base includes SMEs, corporates, and B2B services. VRL Logistics also offers 3PL and warehousing solutions with state-of-the-art infrastructure. VRL Logistics has served leading businesses like Bosch, Maruti, United, Michelin, and many more.
4. KK Logistics
KK Logistics is a Mumbai-based logistics company established in 2009. Its main services include empty container depot, warehousing, reefer repairs, container sales, container leasing, and freight forwarding. The company has a team of well-experienced professionals that are available to help you with any queries and concerns that you may have.
5. DHL Global Forwarding
DHL Global Forwarding is a globally renowned logistics company that offers a wide range of services. The company has a strong network and an established presence in Andheri. DHL offers road, air, and sea freight services along with warehousing solutions.
Simplifying Shipping with Shiprocket
Shiprocket is a Delhi-based logistics aggregator company that has onboarded 25+ courier partners on its platform. You can deliver orders to 24,000+ pin codes and 220+ countries and territories at the lowest shipping rates starting at just Rs. 20/500 grams. With Shiprocket, you also get access to a free shipping rate calculator, live order tracking updates, multiple pickup locations, and much more.
How are Shipping Companies Beneficial for You?
Shipping companies offer end-to-end logistics services. They help you deliver orders across the country and the globe at reasonable rates. With them, you can ship and deliver orders seamlessly. You can offer your customers a premium experience with hassle-free and on-time order deliveries. Thus, improving your reputation in the market.
Conclusion
Andheri in Mumbai is home to some of the best shipping companies in India. All the companies we have mentioned above have a wide range of services, from same and next-day delivery to warehousing and distribution services. These companies also have an experienced team of professionals that can help you scale your eCommerce business to new heights.
Calculate Your Shipping Costs Now