Shipping Manifests: The Essential Tool for Streamlining Shipments
Operating any business, especially on an eCommerce platform, entails juggling several tasks. And the most tedious of these tasks is the paperwork. Despite being the most boring task, paperwork is extremely crucial. Hence, understanding how to fill up a shipping manifest properly is vital.
A shipping manifest determines how your shipment will reach the customer. Shipment delays, lost goods, penalties, etc., are huge headaches that can be caused due to errors on the shipping manifest. These complications differ from what you want to deal with when working towards growing your enterprise. When you understand how to fill in a shipping manifest, you will get them right on your first try, and this will help you save a lot of time and stress in the future.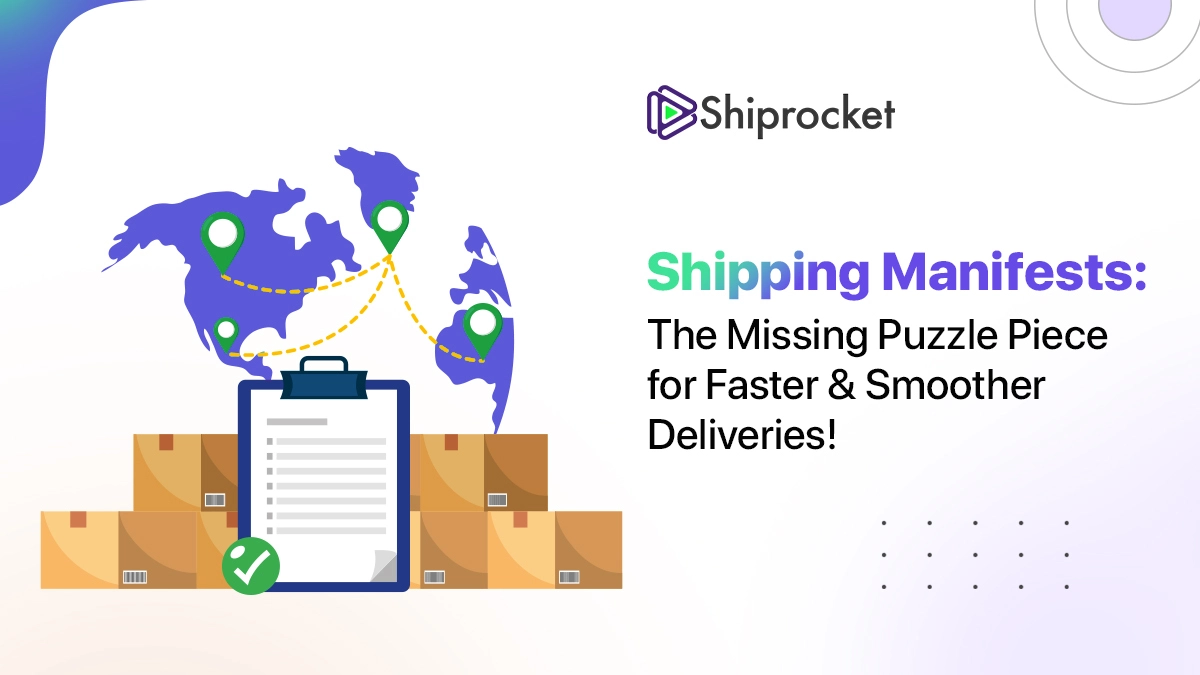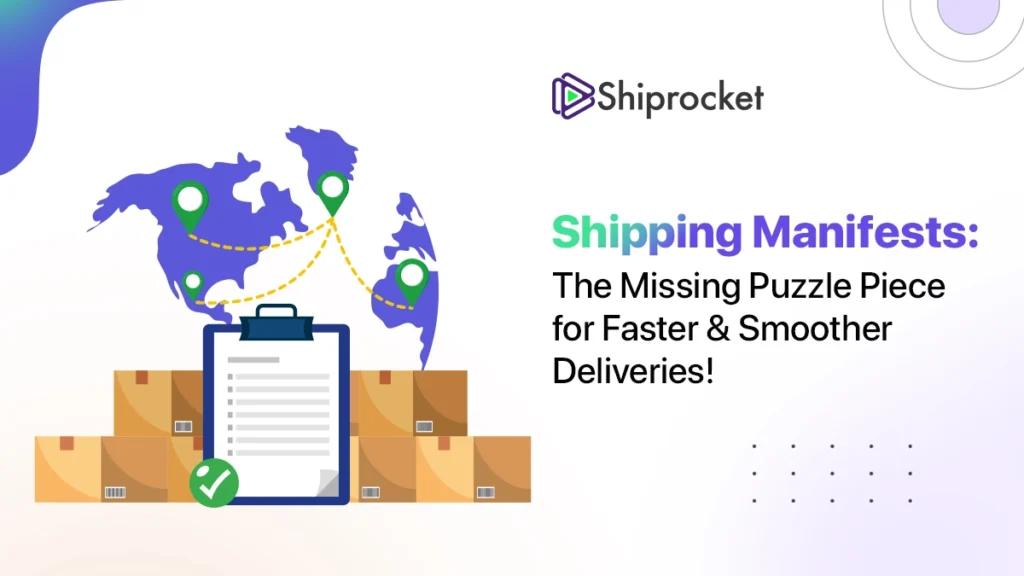 The Basics of Shipping Manifests for eCommerce
A shipping manifest is a detailed, legally mandated document accompanying goods transported by ship, ground, or plane. It encompasses all vital information like a comprehensive inventory of all contents within that shipment, information about the shipping and receiving parties and locations, and other relevant details.
Shipping manifests are rather old school and have been around for over a hundred years. They have played an integral role in the shipment processes and international commerce. The purpose of shipping manifests is multifold. Its purpose includes the following:
Provides a comprehensive overview of the entire shipment
Help customs officials at ports and airports to enforce regulations, calculate duty taxes, and eliminate illicit goods transportation.
Improving tracking and transparency of shipments
It also highlights pick-up and delivery information
Optimises the billing processes to create invoices for the consumers and suppliers
Acts as a risk management tool for insurance purposes when goods tend to be lost or damaged
Types of Shipping Manifests
There are different types of shipping manifests, and they are specially catered to meet specific criteria. These criteria are generally established based on the type of goods being shipped. Here are the most common types of shipping manifests:
A shipping manifest for cargo goods is a thorough document that itemises all the goods being shipped in that container. Every single item that may be negligible is listed in an elaborated fashion. It entails details of the nature of the product, the number of packages, the total weight, their volume, the shipper and receiver names, and their locations.
The reefer manifest relates to the transportation of products in an ice box or refrigerated container called a reefer. These reefers tend to contain perishable items to be transported at specific temperature settings. They could include products like medicines, food, and decayable materials.
Such a manifest provides comprehensive detail about cargo transportation that exceeds a transporter container's standard dimensions. They often tend to be longer, wider, and taller than the standard dimensions. OOG cargo generally includes heavy machinery, industrial equipment, automobiles, etc.
Cargo manifest and freight manifest are often used interchangeably. They serve similar purposes. Like a cargo manifest, a freight manifest also contains details about all the parts of the consignment being shipped and information about the seller and the consumer. Apart from this, it also contains the freight charges of each consignment. It is crucial when different consignments are placed in the same transport container. Every consignment generally has a different price, as the location, size, or agreement will be unique to that consignment.
Hazardous material manifest
These are called HAZMAT in short. It is a detailed and comprehensive document highlighting the hazardous materials being transported. The nature, classification, packing group, identification number, shipping name, type of packaging, etc., are included. Most importantly, emergency response instructions are to be included in such consignments.
Key Components of a Comprehensive Shipping Manifest
Any shipping manifest is rather straightforward. These are extremely precise and informative documents. Every manifest needs specific information, and these details must be filled out carefully to avoid problems down the line.
Here are some of the key components of a shipping manifest:
General Shipping Manifest
Contents of a general shipping manifest include the following:
Description of the goods within the consignment: Details about all the items transported within the consignment, like quantity, type, and dimensions, are detailed.
Seller and consumer information: Name, locations, addresses, and details for contact for both the consignor and consignee must be included.
Origin and destination: Elaborate descriptions of the departure and arrival locations are provided, enabling clear identification of the shipping route and facilitating efficient tracking of the cargo's journey.
Freight charges: The overall shipping expenses are computed and recorded on paper.
Carrier container information: Information regarding the transporter and the type of transporter used will be detailed.
BOL number and document number: A unique sequence of numbers will be assigned to the shipment and used for all traceability purposes.
Reefer Manifest Contents
Apart from the general details, the following will be added to a reefer manifest:
Temperature details: The ventilation and temperature that the consignment needs for quality maintenance are detailed.
Special handling instructions: All specific information for handling these consignments must be detailed to ensure that the product stays at the right quality.
All these details are to be carefully elaborated to ensure there are no problems during shipping and it meets the consumer's expectations, thereby not compromising the customer's experience.
Out-of-gauge Manifest Contents
Handling instructions: All handling instructions for loading and unloading the cargo must be detailed.
Center of gravity images: Diagrams and charts showing the center of gravity must be indicated for safe cargo transport.
OOG details: When the cargo shipment exceeds the standard dimensions of a cargo container, their details must be included.
Hazardous Materials Manifest Contents
Along with the general details, the following will be added to this manifest:
Nature of the hazardous material: The unique identification number, class, packing group, and sipping details are to be mentioned.
Emergency handling details: All the necessary actions to be taken during the shipment of hazardous materials must be added in case of emergency and accidents.
Certification: A signed document must be added regarding materials inside the consignment.
Shipping Manifest vs. Similar Documents
Shipping manifests are not the only documents that accompany a consignment. Here are the other documents that accompany the shipping manifests:
A bill of lading serves all legal purposes. It is the legal contract between the seller and the carrier. It outlines the quantity, destination, type of cargo, etc., that is being shipped. Unlike the shipping manifest, BOL is issued for every package on the consignment. The BOL also acts as a receipt while shipping goods.
As the name suggests, all included inside the shipment are listed in this list. It aids both the seller and the consumer to ensure that all the consignment parts are accounted for correctly. Furthermore, it also helps the authorities to verify the same.
An invoice is simply a bull from the consignor to the consignee. It is a payment request slip and entails all the consignment's specifics. The delivery payment details are also mentioned in this document.
The certificate of origin is vital for international trade. It certifies the originating country of the consignment and the entire lifecycle of the transported consignment.
Tackling Common Challenges in Shipping Manifests
Certain challenges are inevitable. Here are the most common challenges we come across with shipping manifests:
Lack of clarity in understanding the need for a shipping manifest
Organisations often view a manifest as simply an administrative task rather than an integral document in the shipping process. But the manifest plays a vital role in tracking, ensuring correct deliveries, compliance with all authorities, and legal matters. This lack of interest in meticulous care creates hassle in the shipping lifecycle.
Using 3PL partners to handle this demanding process can help avoid such issues.
Filling out errors in shipping manifests
Omissions and ignorance while filling out shipping manifests can lead to serious consequences during the shipping process. Customs clearances, delayed shipments, extra fees, disputes with consumers, etc., can be caused due to these errors. Implementing a robust checking system can help you avoid such issues.
Discrepancies in the manifest and actual consignment
Discrepancies in what is being shipped and what is written in the consignment can vary. It can happen due to clerical issues, miscommunication, or other problems during packing. Making sure you double or triple-check everything can help you understand these discrepancies and avoid them causing less hassle during the shipping phase.
Language barriers in the shipping world
Language understanding and differences can be one of the most common issues during shipping. Especially in international shipping, this must be clearly understood. Using standard languages and rules can help you overcome such barriers.
Amending manifests that are submitted
Submitting an amended manifest can complicate the complete process when a shipment is already en route. It often leads to a hefty penalty creating losses for the enterprise.
Conclusion
The bottom line is that shipping manifests are more than a clerical paper sent with the consignment. These documents help the shipment agency understand what, how, where, and when the consignment must be delivered. It acts as a legal document meaning the consignment is shipped across seas and gives a sense of understanding of what lies within it. By realising how vital shipping manifests are, companies can make their shipping better, and their operations run more smoothly in the future.
What is the difference between a shipping manifest and a bill of lading?
A bill of lading (BOL) is a legal document that provides complete information about the cargo, the consignee, and the shipper. It serves as a contract of carriage between the cargo owner and the transportation service provider. A shipping manifest acts as a supporting document to BOL.
What is the difference between a shipping manifest and a pricing list?
A shipping manifest provides an itemised list of items, including the shipping details, the type of package being transported, and more. A pricing list, on the other hand, provides a list of contents within a shipment.
Is a bill of lading a manifest?
No, a bill of lading is not a manifest. Though related, these documents serve different purposes. A bill of lading is a legal document a carrier issues as an acknowledgment of receipt of goods or shipments. A manifest is a detailed list of items or cargo loaded on different modes of transportation.
Calculate Your Shipping Costs Now