Shipping Zones Explained – Common Concerns Answered
In the vast world of order and fulfillment, you must be aware of the concept of Shipping Zones. Unfortunately, most eCommerce business owners struggle with understanding this concept and how it can impact fulfillment cost and shipping transit times.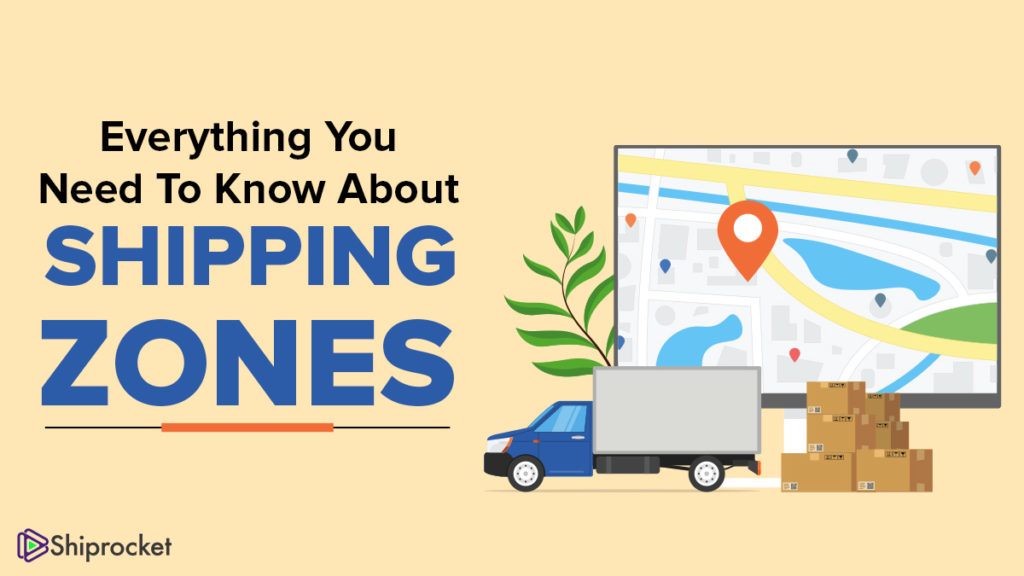 To help you understand the A-Z of Shipping Zones, we will cover some of the most common questions in this article, so you can make an informed shipping decision for your eCommerce store. Let's Begin!
What are Shipping Zones?
Shipping zones are a crucial aspect of logistics and order fulfillment, as it has a huge impact on shipping costs, delivery time and shipping efficiency. Each courier company defines its shipping zones based upon various factors such as distance between the pickup and destination, regional taxes, etc.
Not only does defining Shipping Zones help in standardizing prices of packages for carriers, but it also helps eCommerce business owners choose whether he would like to ship to a particular zone or not. For example, many sellers might not want to ship their packages to certain pin codes due to communal tension in the area, poor road connectivity and so on. With pre-defined shipping zones, the seller can opt-out of those pin codes.
On the Shiprocket platform, shipping zones range from Zone A to Zone E for all domestic shipments in India.
Please note that each courier company has its ways of determining shipping zones.
Let us look at how these zones are categorized in our Shiprocket platform –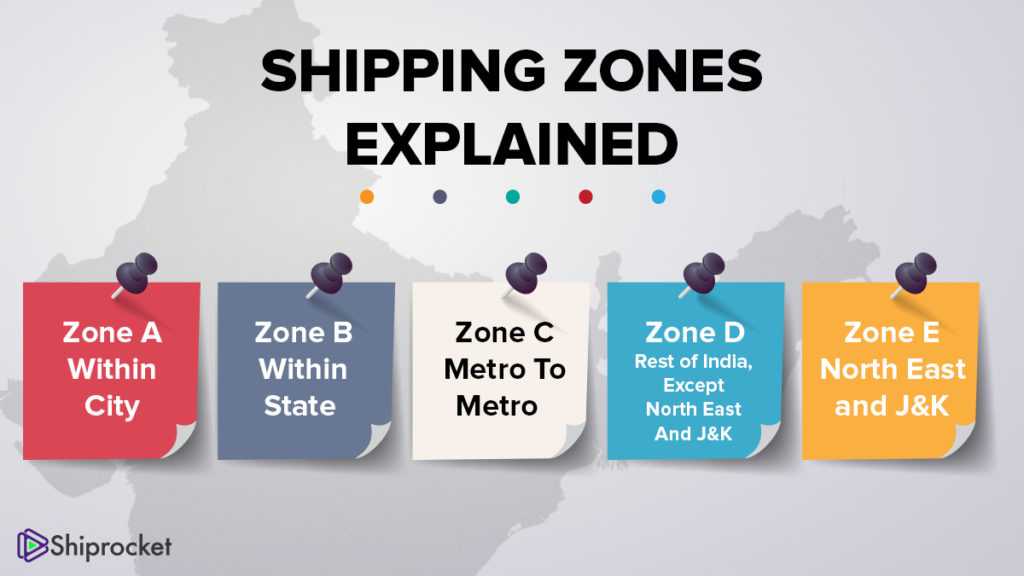 ZONE A – When a courier company ships a parcel within the same city
ZONE B – When a courier company picks up and delivers a parcel within the same state
ZONE C – When pick-up and delivery are done in metro cities. For example, if a courier company picks up a product from New Delhi and delivers it in Hyderabad, the shipping zone would fall under Zone C
ZONE D – When any or both pick-up and delivery is done in Rest of India except the North East and Jammu & Kashmir
ZONE E – When any or both of pick-up and delivery is done in the North East region or Jammu and Kashmir
How Do Shipping Zones Affect Costs?
Shipping carriers use zones to calculate rates for courier services. Higher the zone (from A-E, A being the lowest and E being the highest), higher is the shipping cost for most carriers.
The infographic below will give you a better picture of the same –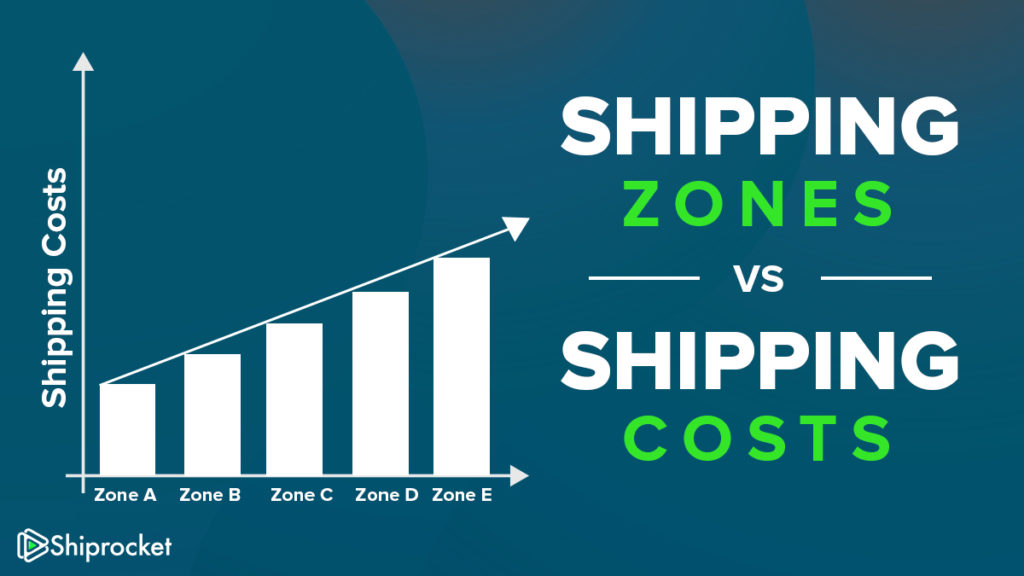 Best Practices You Should Opt For – Although looking at shipping destinations is critical for eCommerce sellers, offering flat-rate shipping based on the zones you're shipping to will increase customer satisfaction. Not only will it cost you less, but also put less shipping cost burden on your buyers. For example, if you're shipping to Mumbai, charge a flat rate to your customers and radiate your rates as the destination varies from Mumbai.
As of now, FedEx FR is the only courier company that offers flat-shipping rates to its customers.
How Can You Offer Free-Shipping?
It might seem difficult for sellers to offer free shipping to their customers, especially when the order needs to be shipped to a farther destination. To offer free shipping, eCommerce business owners have to design a very effective pricing strategy so that it makes sense from a financial perspective. Let us look at a few ways that can help you in offering free shipping to your customers –
Accept only a minimum order amount, which ultimately helps in increasing the value of your order
Factor the shipping cost into your product price
Limit the number of zones you're willing to ship your order to
What is The Impact Of Shipping Zones On Delivery Speed?
If an order is shipped nearby, for example within the same city, the delivery speed of the product will be higher than a package shipped to a farther destination. Many customers cancel an order due to slow shipping, directly affecting your business. Reducing transit time is extremely important because slow delivery can impact the customer experience.
With Shiprocket's Courier Recommendation Engine, you can now choose from the list of our fastest delivery partners and improve your shipment process.Why is it Important to Tie Up With a Shipping & Logistics Aggregator?
Tying up with a shipping and logistics aggregator platform is extremely important for eCommerce sellers, as it would offer you lower shipping rates even if you're shipping your product to the farthest destination. One such platform is Shiprocket.
Shiprocket provides you with the lowest shipping rates as compared to rates of individual courier companies. The shipping rate that we charge for a shipment traveling to a destination is always lower than that provided by an individual carrier. Along with the lowest rates, we also help you compare the prices of 17+ courier partners for you to make an informed shipping decision. Being India's leading eCommerce logistics provider, it has 13 cart softwares and marketplace integration, and other super-efficient features to make shipping much easier for you.
Conclusion
Understanding zone shipping is important, as it helps you in strategizing your eCommerce fulfillment to meet customer expectations around fast and affordable product deliveries.
Proper knowledge of shipping zones not only helps you be efficient by reducing distance and shipping transit time, but it also helps in reducing shipping costs, improving sales leading to a higher growth rate for your business.
Calculate Your Shipping Costs Now