Pitney Bowes + Shyplite vs Shiprocket: Which Is Better For Your eCommerce Business?
At Shiprocket, we believe in introducing innovative features & services that help us evolve and grow along with the eCommerce industry. Following this motto, we keep enhancing our platform so that sellers can easily increase their outreach, save on cost & raise their profits overall.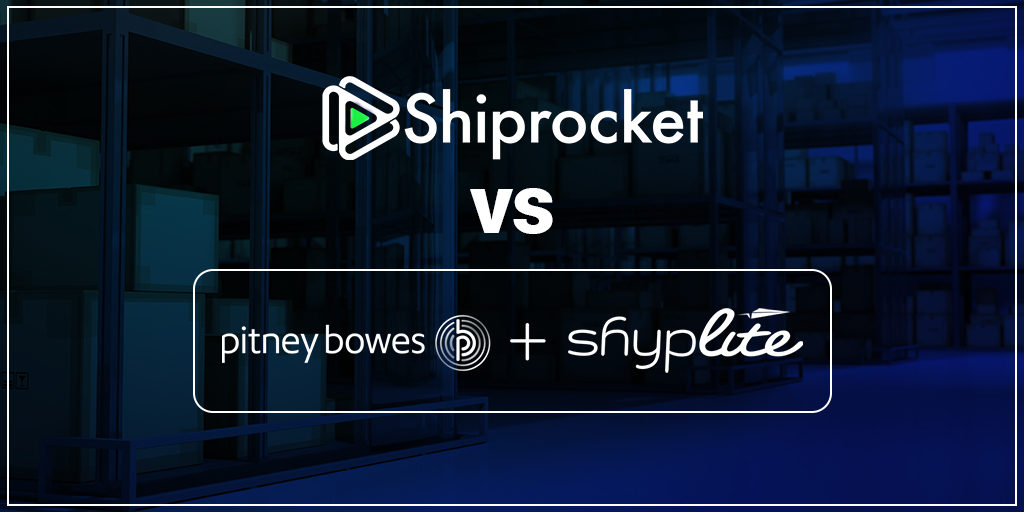 Very recently, some of our sellers have started asking about the various benefits that Shiprocket offers in comparison to what Pitney Bowes + Shyplite offers. To give a fair idea around it, we have come up with a detailed analysis between Pitney Bowes + Shyplite & Shiprocket that should answer all your queries. Here's how we have covered everything in detail:
1. Shipping rate comparison
2. Feature comparison
3. Why Shiprocket?
Shipping rates with Shiprocket:
Lowest shipping rates

Save up to 37% while shipping within the city
Save up to 33% while shipping within the state
Save up to 28% while shipping from metro to metro city
Save up to 35% while shipping in rest of India
Save up to 25% while shipping to special zones

No Security deposit
RTO charges lower than forwarding charges by 5 – 10%
No lengthy document verification required to start shipping.
Rate chart (Pricing starts from)
*Prices are inclusive of GST and all freight surcharge
RTO Charges
Shiprocket charges lower RTO shipping rates, which vary by about 5-10%
Feature comparison
Shiprocket is full of various features, using which you can improve the overall experience for your customer, manage shipments at ease, get your order returns and non-deliveries tracked, and analyze data like shipments, COD remittance, shipping expenses etc.
Shipment Reach
Platform Features
Why Shiprocket?
While choosing the perfect shipping partner, all e-commerce owners should evaluate the features being offered by various shipping service providers and then take a call. To help you pick the right one, we have done a clear feature analysis between Pitney Bowes + Shyplite and ShipRocket. You can check it out below and choose which one you wish to pick knowing well about the long-term benefits that you'll get with them individually:
Shiprocket's CORE – Courier Recommendation Engine
Courier Recommendation engine named CORE by Shiprocket is an interesting platform feature that gives a rating to the most appropriate courier partners after evaluating them on the basis of the order pickup location, shipping metrics like delivery performance, cost, RTO% pickup performance & COD Remittance & then suggests the courier partner, suitable for you. The highest rating and cost would be your factors to judge. This amazing self-learning solution helps in reducing the returns and ensures that the delivery of shipment happens on time.
Inside the Dashboard
Non-Delivery & RTO manager
NDR panel in Shiprocket helps in tracking the status of your shipment. No need to wait for your Non-Delivery Report by email. Easily track the status of your non-delivered shipments in a separate RTO panel & don't lose the track of any shipment.
With Shiprocket's return management process, you will be able to generate reverse pickups easily and print their respective labels directly from the dashboard.
Reconciliation log & Shipment Tracking
Inside the Shiprocket's dashboard, you can easily get reports like prepaid credit statements, weight differential, COD statements, etc. that help you keep an account for every single rupee that you spend using the panel.
Real-time rate calculator
In order to judge the exact shipping cost before you ship, Shiprocket's panel offers a real-time rate calculator that judges the cost based on the weight and volume of the product. So you get to know the real cost before your ship.
Analytics and Reports
Shiprocket does extensive reporting inside the dashboard itself, using which you can take necessary actions around your business. Some of these reports are based on:
– Inventory
– Order & shipment report
– COD
– Credit, shipping bill report
Great Consumer Experience & Post Order Tracking
Shipping is an integral part of a customer's overall online buying experience
Keep your customers updated with relevant order tracking details through SMS & email
Processing more prepaid and COD orders are easier with the Shiprocket panel.
Real-time shipment tracking
Easily handle Non-delivery requests.
We hope this feature analysis would help you make the right decision. Let us know if Shiprocket is the one.
Enjoy Shipping at ease!
FAQs (Frequently Asked Questions)
How can I sign up for Shiprocket?
Visit our website and sign up for free by providing your details like name, company name, email id, and password.
Which is better, Shiprocket or Shyplite?
Shiprocket can be your go-to option to meet all order fulfillment needs, from picking, packing, and shipping orders to managing inventory.
Is Shiprocket trustworthy?
More than 1 lakh online sellers ship their orders with us. You can trust us with the timely delivery of your orders.
Can I secure my order with Shiprocket?
Yes, you can secure your orders for up to Rs. 25,00,000 while shipping with Shiprocket. Click here to know more.
Calculate Your Shipping Costs Now