SHIVIR 2022: The D2C Dialogue Edition: Highlights
After organizing back-to-back two successful virtual eCommerce summits, Shiprocket is back with the third edition of SHIVIR – The D2C Edition. In case you missed the webinar, worry not. Here are the highlights from the event, especially for you.
Recalling the Previous Two Editions
SHIVIR 2020: The Virtual eCommerce Summit brought experts from the eCommerce industry on a single forum to address all your concerns around your business. It provided exposure to online sellers like you to help expand the business, get financing options, change eCommerce dynamics, and understand the purchasing behavior.
The second edition of SHIVIR – the Festive Rush Edition, helped online sellers prepare for the festive season with the help of India's leading experts. The edition witnessed the participation of 20+ industry experts, 12+ brands, and 4 educational brands.
This edition brought the experts from booming industries like eCommerce, digital payments, and logistics together to share insights on various topics like business administration during the festive season.
SHIVIR 2022: The D2C Dialogue Edition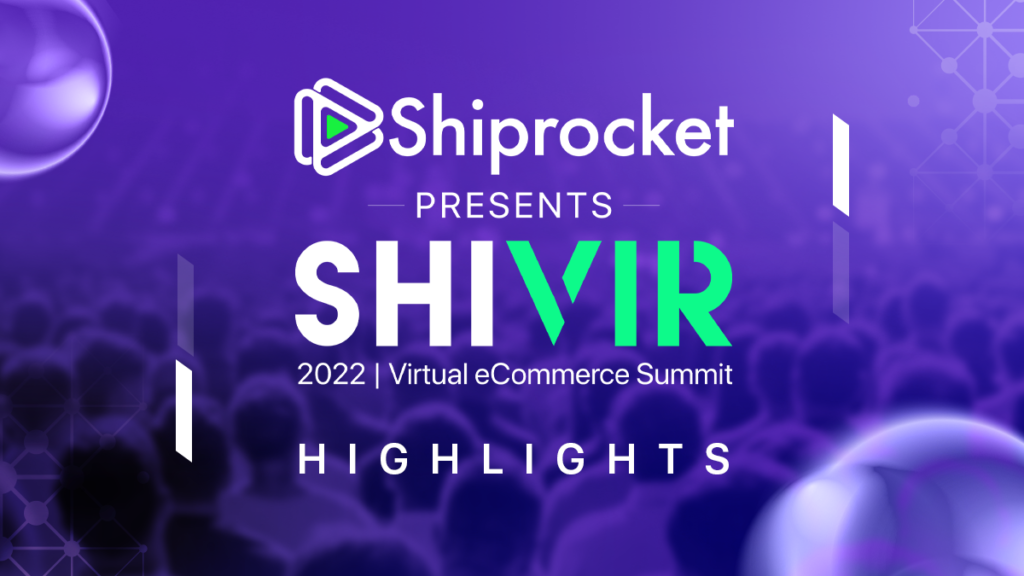 To help online sellers take their business to the next level with the help of seasoned industry experts, the third edition of the SHIVIR was organized on February 23, 2022. It was a virtual event that provided detailed insights on the ongoing trends in the post-COVID D2C space, and online sellers can leverage them for their business.
This edition of the summit focused on topics like the future of the D2C sector in India, quick commerce and warehousing, the role of technology in the logistics sector, funding options for D2C brands, and how to build a global D2C brand.
The event started with Saahil Goel, CEO & Co-Founder, Shiprocket, welcoming the attendees. He talked about SHIVIR and its legacy. SHIVIR is power-packed learning, knowledge sharing, and editorial-driven form, said Saahil Goel.
The D2C Panel: Future of D2C in India: Predictions and Trends
Panelists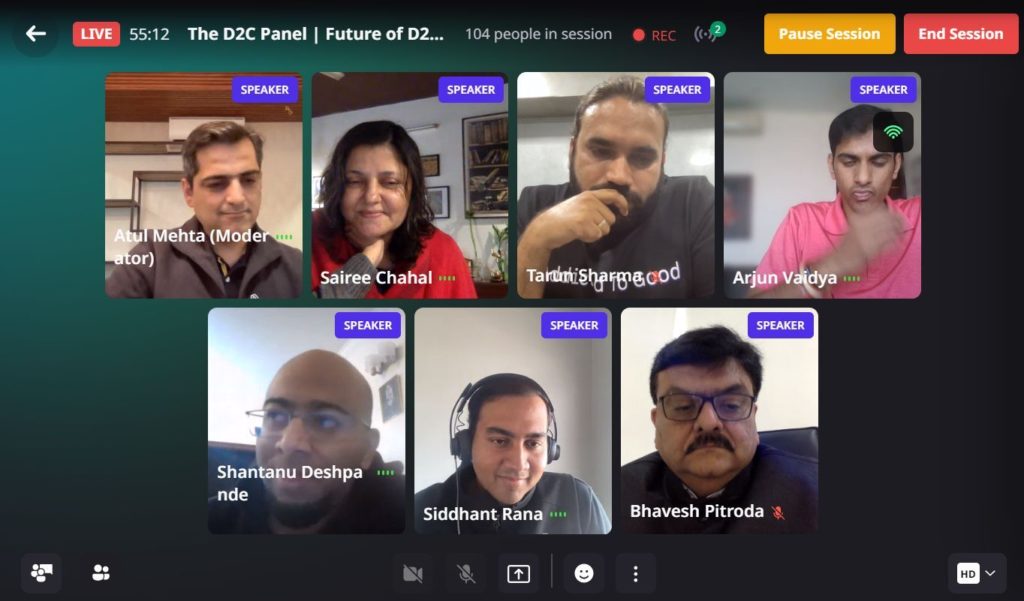 Bhavesh Pitroda, CEO & Director, Images Group
Tarun Sharma, CEO & Co-Founder, Mcaffeine
Sairee Chahal, CEO & Co-Founder, Sheroes
Arjun Vaidya, Founder & Ex-CEO, Dr. Vaidya's
Siddhant Rana, Marketing Development Lead, India and South Asia, Shopify
Shantanu Deshpande, Founder & CEO, Bombay Shaving Company
Moderator: Atul Mehta, COO, Shiprocket
The panelists in the first panel shared their views on the future trends in the D2C industry in India. They shared different perspectives on the D2C sector in India, which were insightful for the attendees.
Enabling Quick Commerce: The Interplay of Quick Commerce & Warehousing
Panelists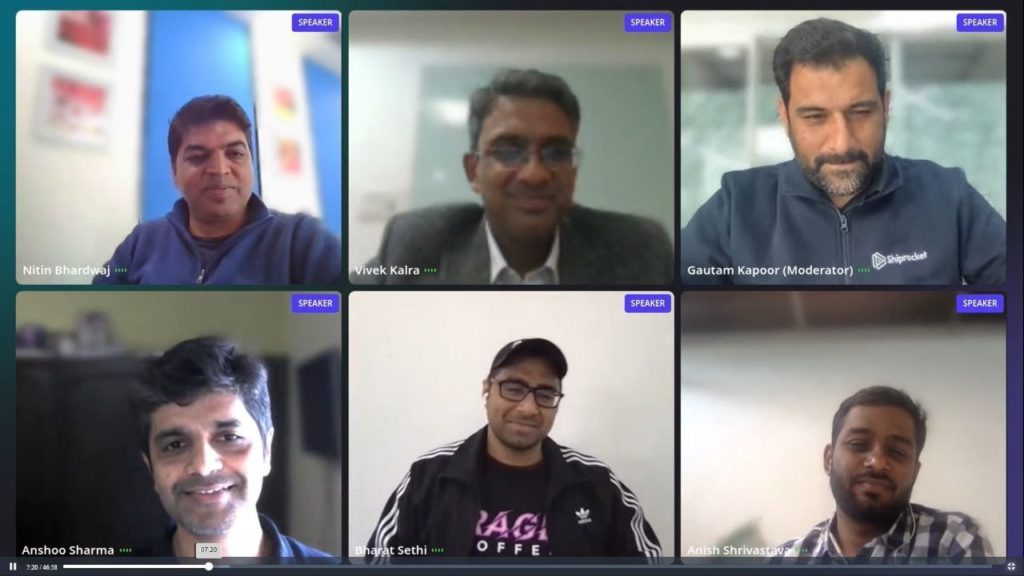 Nitin Bhardwaj, COO & Co-Founder, Jimmy's Cocktails
Vivek Kalra, Director & Co-Founder, Glaucus
Anshoo Sharma, CEO & Co-Founder, Magicpin
Bharat Sethi, CEO & Co-Founder, Rage Coffee
Anish Srivastava, Senior VP, Revenue, Blinkit
Moderator: Gautam Kapoor, Co-Founder, Shiprocket
Quick commerce is the next big disruption in the eCommerce and logistics industry. The panelists discussed the interplay between quick commerce and warehousing and how D2C brands can optimize their growth with its help.
The Technology Panel: Technology, The Backbone of New Age Logistics
Panelists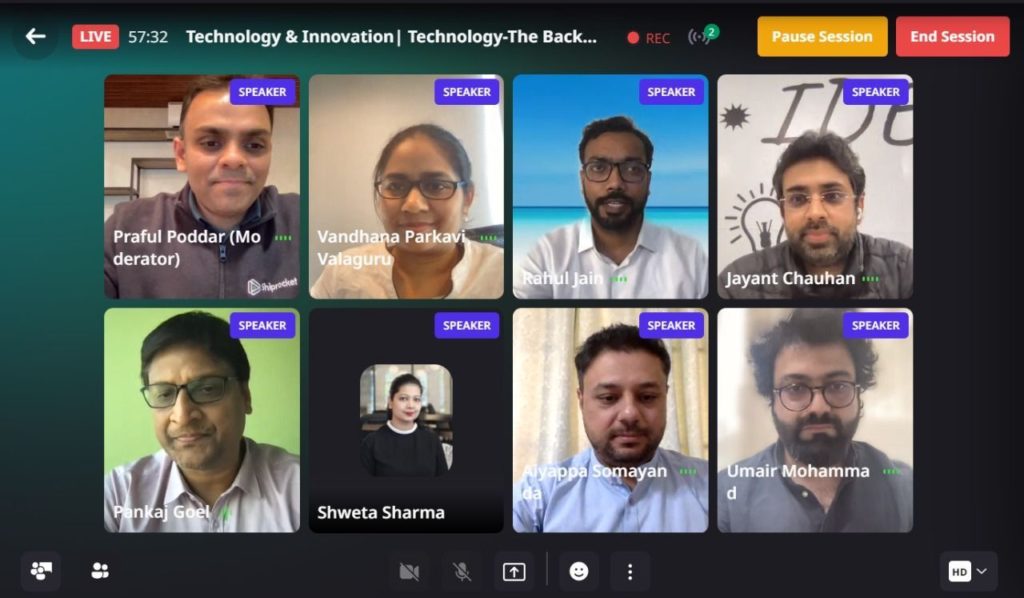 Vandhana Parkavi Valaguru, Country Head, Sezzle India
Rahul Jain, CTO – OLX Autos & Emerging Markets at OLX Group, OLX Autos
Jayant Chauhan, CPTO, MamaEarth
Pankaj Goel, VP – Engineering, Razorpay
Shweta Sharma, Head – Commerce Partnerships, Meta India
Aiyappa Somayanda, Head – New Initiatives, YourStory
Umair Mohammad, CEO, Wizgo
Moderator: Praful Poddar, Senior Vice President, Product Development, Shiprocket
In this panel, the panelists discussed how the technology wave has taken over, and the traditional players in the market are finding it challenging to upscale themselves. They further talked about the correct path for the D2C brands, and they can build internal first-tech products. Today, as technology is playing a crucial role in shaping the eCommerce and logistics industry, this panel was indeed very insightful for online sellers.
A Surprise Panel
In our special panel, we launched our new dashboard. While launching the website, Natalia Kaul, Product Manager, Shiprocket, said, "We want to simplify the day-to-day journey of our users and how to react to the platform."
"The new design flow of the website is done with a single purpose – to make it easy for the users to navigate. We call it a seller-centric flow. We are also going to optimize it further as per the user needs – easy-to-use and clutter-free," said Harvinder Pal Singh, Director, Design, Shiprocket.
Ashish Kataria, Senior Director, Engineering, Shiprocket, also shared his views on the new website, "we want to deliver a high-quality and good user experience to all sellers. Our aim is to offer a bug-free experience to our users."
Funding Options for D2C Brands: The Secret Behind Fundraising
Panelists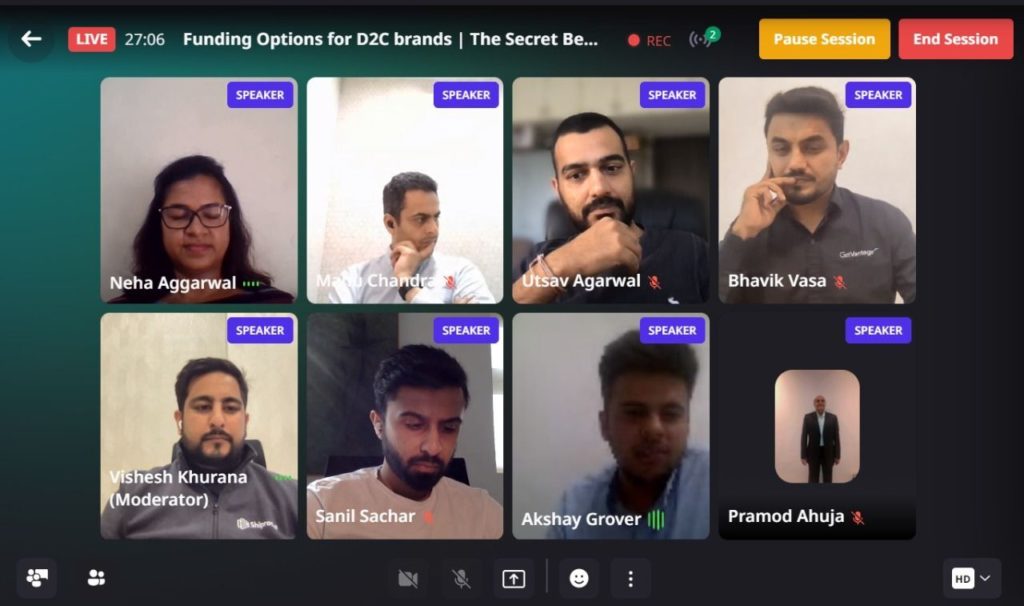 Neha Aggarwal, Principal, Mumbai Angels Network
Sanil Sachar, Founding Partner, Huddle
Utsav Agarwal, CEO & Co-Founder, Evenflow
Akshay Grover, Investment Lead, Fluid Ventures
Manu Chandra, Founder & Managing Partner, Sauce.vc
Bhavik Vasa, Founder & CEO, GetVantage
Pramod Ahuja, Partner, TCGF, Tata Capital Growth Fund
Moderator: Vishesh Khurana, Director, Head of Growth, Shiprocket
The popularity of recent Indian reality television, Shark Tank India, has brought fundraising into the limelight and made it a common discussion topic. But it is also true that many D2C brands face challenges in raising funds for their business. Our panelists addressed the challenge of approaching fundraising for a business and talked about various exit options and the secret to choosing a successful VC for an online business.
Making a Global Brand: Building an Ecosystem to Drive Growth for Global D2C Brands of Tomorrow
Panelists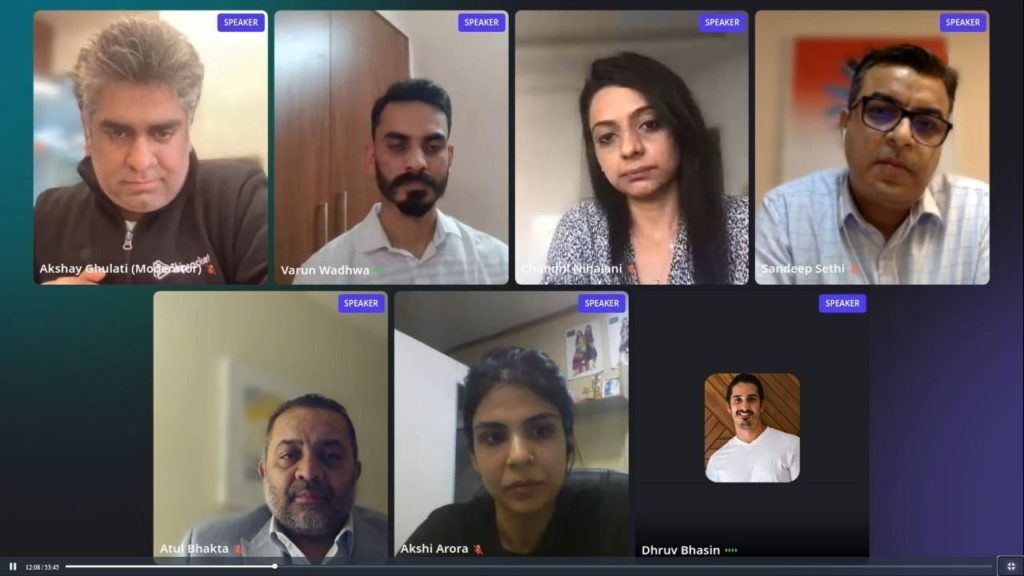 Chandni Nihalani, Director, PayPal India
Atul Bhakta, CEO, One World Express
Varun Wadhwa, COO, Slurrp Farm
Sandeep Sethi, Vice President & Country Manager – India, Shopmatic
Dhruv Bhasin, Co-Founder, Arata
Akshi Arora, Co-Founder, LAGI Fashion
Moderator: Akshay Ghulati, Co-Founder – Strategy & Global, Shiprocket
Many online brands are going global these days. However, it is vital to know the right market and steps to go global before taking the step. In our last panel, panelists discussed how D2C brands in India can plan and go global. They further highlighted the strategies on how to make a successful global brand.
While Chandni Nihalani, Director, PayPal India, highlighted that getting the right product, market fit, and right pricing is essential to go global, Atul Bhakta, CEO, One World Express, said, "shipping cost is important in going global, especially when you are selling low-cost products."
Overall, it was an insightful session for D2C sellers who plan to take their brand global and target global customers.
Speaker Keynote
In his keynote, Saahil Goel said, "markets are ever-growing, and consumers have become ever-experimental. There are many opportunities for brands to create more products. True innovation is coming out of India, and there is a large scope for the products to surface globally, given that India is a hotbed for innovation. The market is providing an opportunity to distribute products, both online and offline."
Calculate Your Shipping Costs Now