Shopify SEO: A Complete Guide To Ranking Your Store on Search Engines
Are you selling on Shopify? Do you want to stand out from your competitors who are selling on the same platform? In other words, do you want to sell more, without paying for it?

If you've answered yes to the above questions, this blog is what you must be reading right now. Read on to find out how you can increase your sales and generate more traffic for your Shopify store with these small changes in your SEO strategy.
You can create your free store with Shopify to get started!
What is SEO and why is it essential for eCommerce?
SEO or search engine optimization is a process of generating more traffic organically. When we say organically, we talk about traffic from non-paid sources such as Google, Yahoo, Bing, etc. that comes from natural sources.

For example, if one of the customers search for 'T-shirts for men' on Google, they would find the following search engine result page or SERP.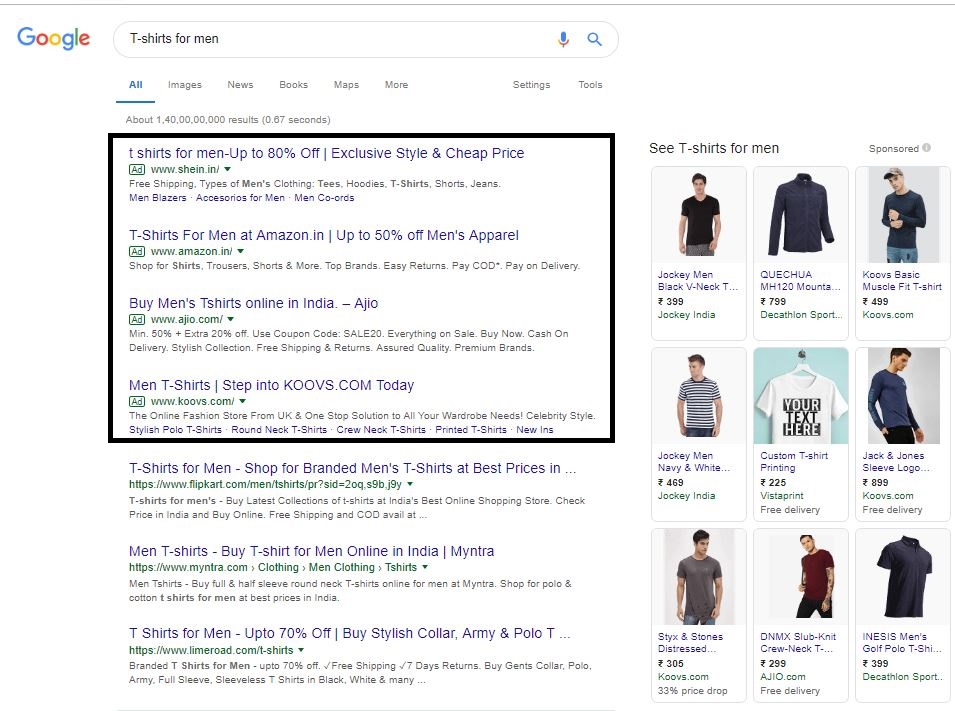 This page will have a couple of search results, some out of these are ads while others are organic results. The purpose of SEO in eCommerce is to make your product pages rank in the top organic search results on search engines.
But, what if you don't rank on the first page of Google? Statistics suggest that only 4.8% of the searchers on Google make it to the second page of Google. For this reason, your Shopify store can't do without SEO.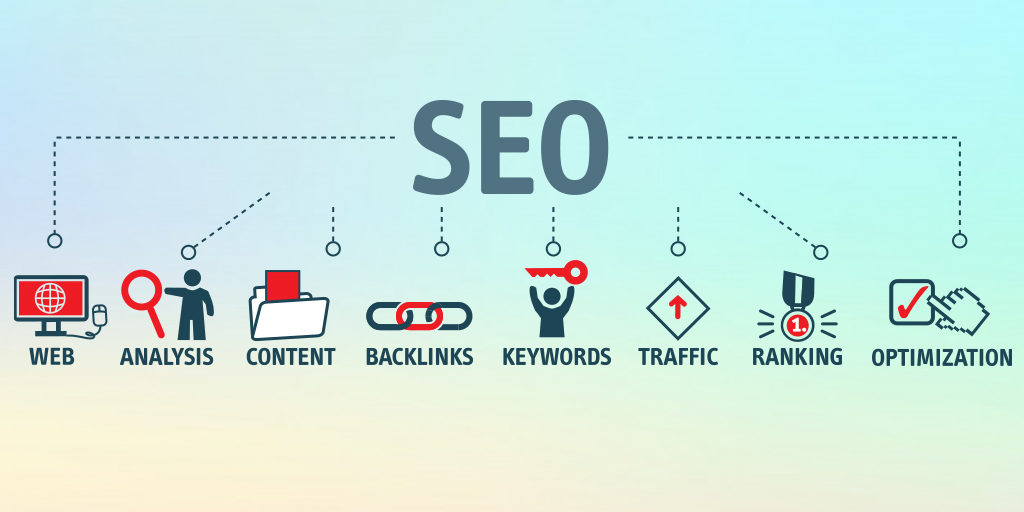 Optimizing SEO for Shopify
To optimize the SEO for your Shopify store, there are three main areas where you can focus and concentrate your efforts. These are:
Basic SEO

Technical SEO

On-Page SEO

Improve the User Experience
As Shopify itself is an SEO friendly platform, it automatically ranks on the ranking platforms. However, it doesn't mean that you just have to sit back. Putting some extra efforts and tweaking the SEO can help you get some additional traffic and sell more.
Basic SEO
You must start with the basic optimization of SEO for your Shopify store. Here's how you can do it smartly.
Check your descriptions
Make sure you check the descriptions of the homepage of your Shopify store and make it SEO friendly. These include your home page title and meta description that display in the search engines when someone looks up for your brand name. To edit homepage descriptions in your Shopify store, go to Online Store -> Preferences -> Title and meta description.


Remember that the decision of a buyer to click on your website from a search page result mostly depends on your meta descriptions.
Keyword research
Keywords are the backbone of your SEO plan. No matter which strategy you adopt to improve it, working on your core keywords can't be left behind. Before you start writing content for your Shopify store, make sure you know how your audience is searching the web.
You can use a keyword research tool that will help you get an idea of the likey keywords in your niche. Tools such as keyword planner, SEM rush, etc. can help you find the monthly search volume for a keyword, competition, ranking possibility, etc. Use this data to create content for your website carefully.
On-page SEO
Overall optimization of SEO for your website requires looking into all aspects of SEO rather than just focusing on the audience or website. In simpler terms, a successful Shopify store must pay attention to both the worlds for best results.
Remember that you're selling your products to real people but ultimately through a device, which is why you need to make it understand what keywords you want to rank for, using on-page SEO.
Descriptive Image names
If you've been uploading your product images on your Shopify store with default names such as 'capture.jpg' it's time you reconsider it. A lot of people also search for images to know how your product looks like. In this scenario, your search engine can't do much unless you add descriptive image names to your product images.

For example, if you're selling a red t-shirt add a descriptive name such as 'red t-shirt for men' etc. It will help you add relevancy to your Shopify pages and open new visitor acquisition channel. Another great way of improving the ranking of your images is to use alt tags for them. Alt tags can be entered when you're uploading an image on Shopify, and these can be the name of the product that you're selling.
Title and meta-description
Title and meta description, as already mentioned constitute the basic optimization for your on-page SEO. Write them as if you're writing a Google ad for your products. As they represent your product to the customer, you may miss a big sale opportunity if you neglect them.
For example, if you're selling a Samsung Galaxy S8 on your Shopify store, what do you think will rank better, 'phone' or 'New Samsung Galaxy S8 on sale'? Exactly!
Technical SEO
Another kind of SEO that can be optimized for your store is the technical SEO. Technical SEO helps search engine spiders crawl and improve the rankings of your site more effectively. Shopify has a provision for technical SEO, and guess what? You don't have to do anything.

Sitemaps
As Shopify is already an SEO friendly site, it does most of the work related to your technical SEO automatically. The sitemaps are a feature in the Shopify store that is automatically generated every time a new product, page or blog post is added. You don't need to do anything about sitemaps in Shopify. They can be viewed at the URL www.yourstore.com/sitemap.xml.

Canonicalization
You might not be aware of canonicalization if you've just stepped into the world of eCommerce. But, you must have heard about how websites are shut down because of duplicate content.

In the practical world customers often find more than one way to get to your products. They may browse through product categories on Shopify or click on your product after adding page filters. This creates several URLs, even though you are on the same product page. So, if search engines start seeing them separately, they would treat them as a duplicate content.

This is where canonical URLs come into the picture. Their job is to tell the search engine about the original page URL to avoid any accidental punishment that may occur on the search engine. Now, if you were selling on your website, you would have to optimize your canonical URLs carefully. But thanks to Shopify, canonical URLs are automatically taken care of.
Improve the User Experience
The user experience also matters a lot when it comes to ranking your store online. A greater user-experience helps in ranking higher in online search results.
Boosts Site Speed
Site speed helps the user to navigate through the website conveniently. It helps everything move quickly, and users have a site experience without any frustration. This means the users are more likely to spend time on the website.
To make your Shopify store user-friendly, you can:
Avoid using sliders
Use a mobile-friendly theme
User optimized and smaller images
Remove Apps and its icons you are not using
Use a Responsive Design
Responsive design means your Shopify store looks beautiful on all devices, like computer, smartphone, and tablet. A responsive theme can help improve user experience and keep visitors on the website for a longer time.
To assess the site's value, Google looks at the time-on-page a user spends. It is directly related to how user-friendly the website is. Thus, it can help improve rankings. The improved rankings of the website lead to repeat visitors and increase conversions. Ensure that your website works well on mobile since most users these days make a purchase using their smartphones.

Now that you've learned how to optimize SEO for your Shopify store, what are you waiting for? Take care of your keywords and use keyword research tools wherever necessary. Not only will these steps help you rank better in the search engine but also improve your chances of a sale. So, start implementing them right now!

Calculate Your Shipping Costs Now