Shopify vs. BigCommerce – Which is Better For Your eCommerce Store? (2023 Edition)
When you plan to start or upgrade your eCommerce store, you always look for the best solutions where you can develop a flawless store with ease. To make this research a tad bit easier for you, we have come up with a comparison between Shopify & BigCommerce. Both are famous in the business and are valued for their handy customer experience and easy adaptability. Want to learn more about them? Continue to the following sections.
Before diving into the specifics of Shopify and BigCommerce, let's establish the things you should look for in an online eCommerce website builder.
Must-have Features in an eCommerce Website Builder
Ease of Use
A website builder should primarily have a simple interface. If it does not, you will need to spend more on technical expertise, which will impact your budget. Therefore, it should have an easy-to-understand interface where any individual can create their website.
Design Options
Your website will be incomplete without a proper design in place. And more often than not, you will have to change the design of your website with changing trends. Hence, it is essential for your website builder to offer you the latest design options with all the necessary elements.
Mobile Responsiveness
In today's eCommerce age, it is critical to have a mobile website along with a web interface. Almost everyone is active on mobile phones as compared to a laptop or PC. To have maximum visibility, ensure you are provided with a platform where you can create and manage both kinds of websites.
Content Management System
Content Management System (CMS) is one of the major aspects of your eCommerce website. CMS is where all of your website data is created, and hence, it needs to be reliable. If your CMS is not robust, it will lead to poor website management, and you won't be able to deliver a seamless shopping experience to your buyers.
Marketing Tools
In today's digital era, automation is indispensable. To market your products the right way and acquire more customers, you need to implement strategies that can help you save time and target customers continuously. Hence, don't settle for a website builder that does not offer you apps or plugins to improve and enhance your marketing.
SEO Tools
SEO plays a significant role in the growth of any website. Without it, it is impossible to rank on Google organically. Therefore, it becomes necessary to ensure your builder has all the elements needed for implementing and continuously improving the SEO of your website.
Shopify is an eCommerce website-building platform that empowers over 1,000,000 businesses worldwide. It is known for its simple user interface, and most sellers opt for it because they can create a website in no time. It has excellent reviews on different software forums. Here is one such review on SoftwareSuggest →

BigCommerce is a website-building software that helps you build flawless websites and effectively manage your eCommerce operations. Founded in 2009, the builder has almost all the features that you would need to run a top-notch website. Here is what people think about it, as on SoftwareSuggest →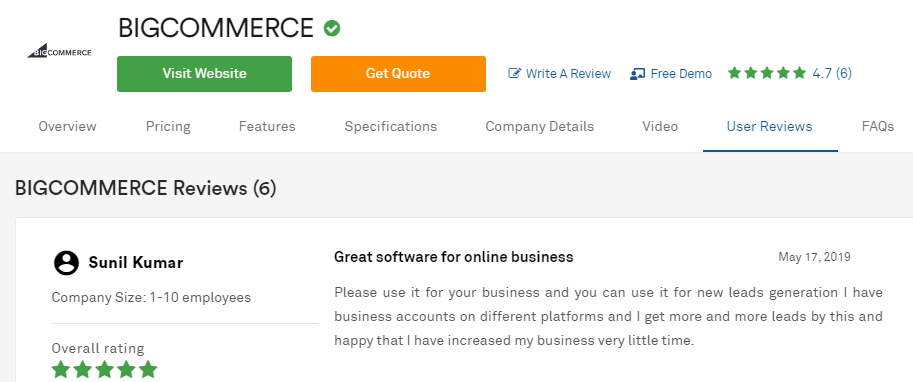 Shopify vs. BigCommerce – The Ultimate Comparison
Let's see how these website builders perform when compared head-on! We have examined them on various aspects such as accessibility, features, pricing, designs, and the applications they offer.
Accessibility & Ease of Use
We tried creating a store on both these builders. From our experience, this is what we would like to rate them –
The reasons for our judgment are as follows –
The loading time of the BigCommerce page was prolonged. Even after I filled in all the details, the page wouldn't load. It turns out; I had to fill in my complete information twice. Whereas with Shopify, the process was smooth. They had four screens and three short forms that I had to fill. Post that, my store was ready, and I could begin adding products!
To activate my free trial and create a new store, I had to contact customer care. This was the process that put me off.
Features
To ensure you sell your products smoothly and provide your sellers with a dynamic user experience, it is essential for your store to have a few features that you can put to your advantage. Here is a list of features that makes the comparison easier for you:
| Feature | Shopify | Bigcommerce |
| --- | --- | --- |
| 24/7 live chat + phone support | Yes | Yes |
| StoreFront | | |
| Professional themes | Yes | Yes |
| Edit HTML and CSS | Yes | Yes |
| Full blogging platform | Yes | Yes |
| Mobile commerce ready | Yes | Yes |
| Customer accounts | During checkout | Yes |
| Multiple images | Yes | Yes |
| Multi-Storefront | Yes | Yes |
| Order fulfillment | | |
| Payment gateways | Yes (100 payment gateways) | Yes |
| Multiple languages | Yes | |
| Dropshipping | Yes (With Ordoro, Inventory Source, and eCommHub) | Yes |
| Inventory management | Yes | Yes |
| Shipping | Yes | Yes |
| Marketing | | |
| Search engine optimized | Yes | Yes |
| Social media integration | Yes With all major channels | Yes |
| Product reviews | Yes | Yes |
| Email templates | Yes | Yes |
| Analytics | | |
| Dashboard | Yes | Yes |
| Google Analytics Integration | Yes | Yes |
| Product reports | Yes | Yes |
| Traffic/Referral reports | Yes | Yes |
| Export reports | Yes | Yes |
While the features are more or less similar, BigCommerce does offer more flexibility on the storefront with better display options, where you can showcase information like the weight, size, brand, rating, category, etc. However, in Shopify, you can only display the title and description.
As far as the payment integrations are concerned, Shopify offers over 100 payment gateways to its sellers, whereas BigCommerce provides only around 20. Nevertheless, BigCommerce covers a wide range of credit and debit card options. Furthermore, both provide a PoS so that you can even sell offline and remain in sync with your online store.
Pricing
Both platforms have different pricing models based on the features you require. As it goes for all platforms, as the price increases, more features are added to the module. Here is a table that compares the plans with the various features offered.
Shopify's pricing and plans –

BigCommerce's pricing and plans –

Comparison Table –
| Feature | Shopify Basic | Bigcommerce Standard | Shopify | Bigcommerce Plus | Advanced Shopify | Bigcommerce Pro |
| --- | --- | --- | --- | --- | --- | --- |
| Monthly price | $29.00 | $29.95 | $79.00 | $79.95 | $299.00 | $249.95 |
| Online Store (Includes ecommerce website and blog) | Yes | Yes | Yes | Yes | Yes | Yes |
| Unlimited products | Yes | Yes | Yes | Yes | Yes | Yes |
| Manual order creation | Yes | Yes | Yes | Yes | Yes | Yes |
| Sales channels | Yes | Yes | Yes | Yes | Yes | Yes |
| Third-party calculated shipping rates | No | No | No | No | Yes | No |
| Professional reports | No | No | Yes | Yes | Yes | Yes |
| Custom SSL | Yes | Yes | Yes | Yes | Yes | Yes |
| Transaction fees | 2.00% | No | 1.00% | No | 0.50% | No |
| Credit Card Fees | 2.9% + $0.30¢ per transaction | 2.9% + $0.30¢ per transaction | 2.6% + $0.30¢ per transaction | 2.5% + $0.30¢ per transaction | 2.4% + $0.30¢ per transaction | 2.2% + $0.30¢ per transaction |
Final Thoughts
The competition is neck-to-neck. It is challenging to choose one out of the two. Even though the decision is subjective and depends on the requirement of each seller independently, we have a preference. Shopify tops the charts for us! Owing to the ease of use and the features, we felt that Shopify offers its users a holistic platform. BigCommerce lacks some of the basics but wasn't far behind.
We love both, and you can use Shiprocket with either of them. If you plan on building your eCommerce store and are wanting to partner with a solution that does all the job, just like these two, you know where to look – Shiprocket. We hope you zero down your website builder and set up your eCommerce store soon!
Good luck and happy selling!
Calculate Your Shipping Costs Now