How Dry Fruits and Spices Company Spicy Carte Grew their Business With Shiprocket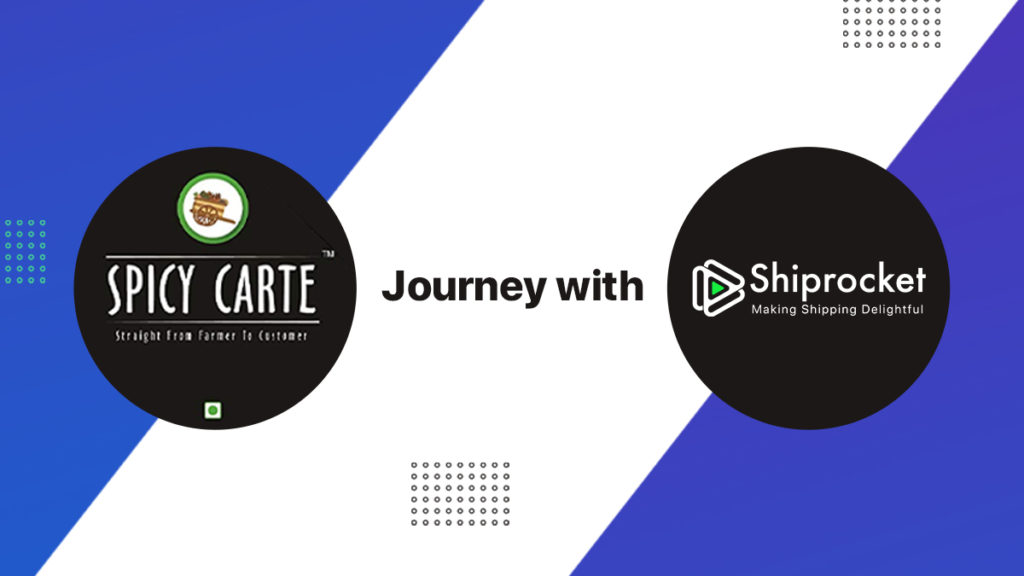 "It's never too late to follow your dreams."
As people in India are becoming health conscious, their food habits are also changing for good. Rather than junk food, they opt for dry fruits high in nutrition and fiber and low in fat and high calories. In fact, as per a report by ET retail, the dry fruit industry is expected to touch 30,000 crores by the end of this year.
Besides, the spice market is also doing well in India. Spices are in great demand during the COVID-19 times, and the exports have increased by up to 34% (in rupee terms). One of the significant reasons for the increase in exports is the health benefits of spices, in terms of improved immunity. In a nutshell, COVID-19 has had a positive impact on the spice industry in India.
How Was Spicy Carte Established?
Sultana Shanas was a homemaker and lived in a small town in Alleppey district, Kerala. With her hard work and dedication, she turned her dream of being an online entrepreneur into reality.
Sultana got married after she completed her studies and turned into a full-time homemaker. But she always thought of being an entrepreneur. Her family ran a reputable business from home. Sultana thought, why can't they extend their home-based business a little more?
Seeing the opportunity, Sultana Shanas established Spicy Carte, a small business from her home. The product line included spices, nuts, and dry fruits that they primarily sold on the eCommerce giant, Amazon. Though they initially faced challenges in getting visibility on Amazon, they have become one of the top sellers in their category with their hard work and dedication.
"I started my journey with Amazon in December 2018 as a way to sell products online. By the grace of Allah, it has grown much larger than I could have imagined."
Spicy Carte exclusively offers authentic spices, nuts, and dry fruits. The brand started with products that one could easily count on fingers. The product line has now increased, and the brand offers different variants of spices, nuts, and dry fruits.
After moving online with Amazon, her home-based business has quickly expanded with a large customer base.
Before taking her business online, Sultana performed a fair amount of research. She actively spent months studying products in the same category which she intended to sell. She found out that consumers who shop online are cost-conscious and more likely to compare prices. Thus, Sultana decided to come up with a strategy of selling products with a lower profit margin.
"I found this to be a good way to sell more products to more customers or to sell multiple items to the same customers."
Now her products are getting more visibility on Amazon, and they have become Amazon's best sellers. Their sales increase tremendously as each festive season approaches.
"I always thank Allah for giving me such a nice family who supports me. I always thought of doing something, along with balancing my family responsibilities, but I had never thought of building a career as an entrepreneur."
Challenges Faced by Sultana

Spicy Carte was established as a bootstrapped start-up. Sultana and her family were running the business from home. They didn't have much product range initially. Since it was an online brand, on-time delivery of the products was crucial, and they faced many challenges.
Most of the customers asked Sultana to send products in bulk quantity and at wholesale prices. She had a word with several courier services to deliver her products on time. But nothing worked out. Then, one of her friends suggested her to try Shiprocket, which turned out to be pretty helpful.

With her Shiprocket plan, Sultana is also assigned an account manager. He helps her keep track of her revenue, orders, different couriers' performance, and much more. The Shiprocket account manager also offers her suggestions as per the latest trends in the market.

Shiprocket has helped Sultana earn the trust and respect of her customers by delivering the products on time. She feels that shipping products by herself and having complete control over inventory has turned out to be a boon for her business as she is the key decision-maker.
In her final words, Sultana said, "I could have never imagined self-ship could be this easy. We can ship via multiple courier partners, and the channel integration feature is such an advantage. Shiprocket offers a real-time order tracking facility, and there is no shipping limit. Moreover, I could sign up on the platform in minutes and make an account for free."
Spicy Carte has been offering its customers the best-in-class spices, nuts, and dry fruits for more than a year now. They are focused on meeting the needs of their customers and giving them the best customer experience. Now, their customers can rely on them for quality and fresh products delivered to them on time. Shiprocket is happy to be a partner in the success of Sultana and Spicy Carte.
Calculate Your Shipping Costs Now