Types Of Export Invoices And What To Include In Them
We all know about the nitty-gritty of the Goods and Services Tax (GST) for domestic bills, but what happens when you are trading overseas? That's where things get challenging. Exporting goods involves a fair share of paperwork, and at the heart of it all is the export invoice.
An export invoice is the blueprint of an export transaction. It provides crucial information to the buyer, freight forwarder, customs, bank, and other key players in international trade. A simple mistake in your export invoice can lead to problems, delays, and disputes.
To avoid it, let's dive into the world of export invoices and understand what they're all about.
What Is An Export Invoice?
An export invoice is a document that lists the items you're shipping as an exporter and the amount the importer needs to pay. It is an elaborate tax invoice that includes the names of the exporter and importer, the type of export, and a shipping bill.
Why Is An Export Invoice So Important?
An export invoice is a crucial document in the shipping process for several reasons:
It's your safety net for insurance claims
It proves the legitimacy of the sale between the buyer and seller
It's a significant component of the documentation required for shipping
Government authorities rely on it to determine the value of goods and the applicable taxes
Importers depend on it to navigate customs and ensure goods reach their final destination
What Are The Different Types Of Export Invoices?
There are primarily five types of export invoices, each serving its unique purpose: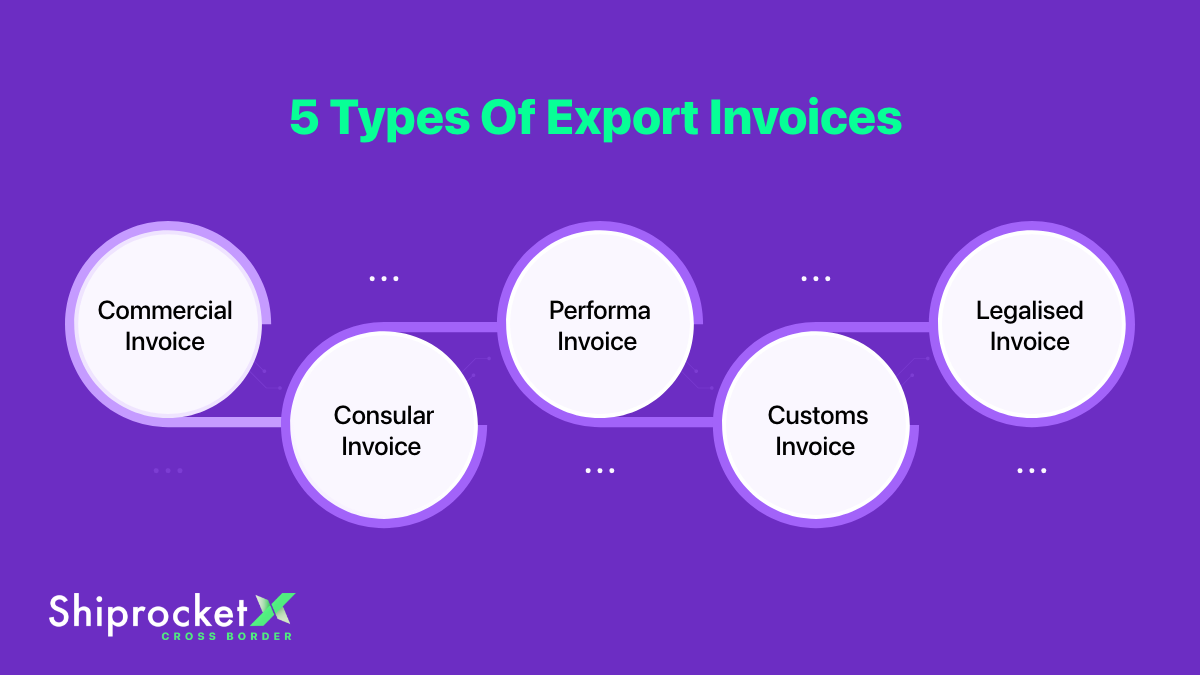 Commercial Invoice
Think of it as the king of all invoices. It's like a mixed bag of information including essential details such as the date, names and addresses of the seller and buyer, order numbers, detailed descriptions of the goods, quantity and quality, terms of sale, shipping information, and more.
The value of the goods, advance payments, and shipping marks or numbers are also included. In some cases, additional certifications required under a letter of credit may be specified.
Consular Invoice
The consular invoice comes into play when you're exporting to specific countries. It's not your everyday document. Tt requires certification from the consulate or embassy of the destination country.
This certification provides an official record of the type and value of the goods being transported, making it easier to establish the duties in the importer's country. It also streamlines the inspection process in the importing country.
Proforma Invoice
A proforma invoice is your opening act in the export journey. It's your first pitch to a potential foreign customer. This document includes critical details about the nature and quality of the items, their costs, and other essential information, including weight and shipping costs.
Once the proforma invoice is accepted, the buyer typically responds by sending a purchase order.
Customs Invoice
Some countries, such as the USA and Canada, require a customs invoice in addition to the standard commercial invoice. This document must be completed using a template provided by the importing country's customs office.
The primary goal of a customs invoice is to determine the customs import value at the destination port accurately. In addition to the information provided in the commercial invoice, the seller must include details like freight value, insurance value, and charges for packing, among others.
Legalised Invoice
A legalised invoice, while somewhat similar to the consular invoice, stands out in terms of format flexibility. This type of invoice is typically demanded in Middle Eastern countries.
It receives official authorisation, usually through stamping and attestation, from the importer's country's consul, which is located in the exporter's country. While it doesn't follow a predetermined format like the consular invoice, it serves a similar purpose of verifying the document's authenticity for customs clearance.

What All To Include In An Export Invoice?
While the exact details can vary from country to country, there's a must-have checklist for export invoices:
Date and invoice number for reference
Buyer's name and address
Buyer's reference number for easy tracking
Payment terms for clarity on when payment is due
International sales terms (Incoterms) to define responsibilities in the shipping process
Product description, quantity, unit cost, and total shipping cost
Harmonised Tariff Schedule classification number to facilitate shipping
Country of origin for customs duties
Shipping details, including the mode of transport
Invoice currency
Type of insurance coverage to determine liability in case of loss
In A Nutshell
Remember, an export invoice has a unique job compared to your regular accounting invoice. Mixing them up can lead to customs chaos and potential fines. So, always chat with your customers about the sales contract and what goes on the invoice.
And if you want to make your life even easier, consider a 3PL partner like ShiprocketX, which specialises in creating accurate export documents. Click here to learn more about export documentation.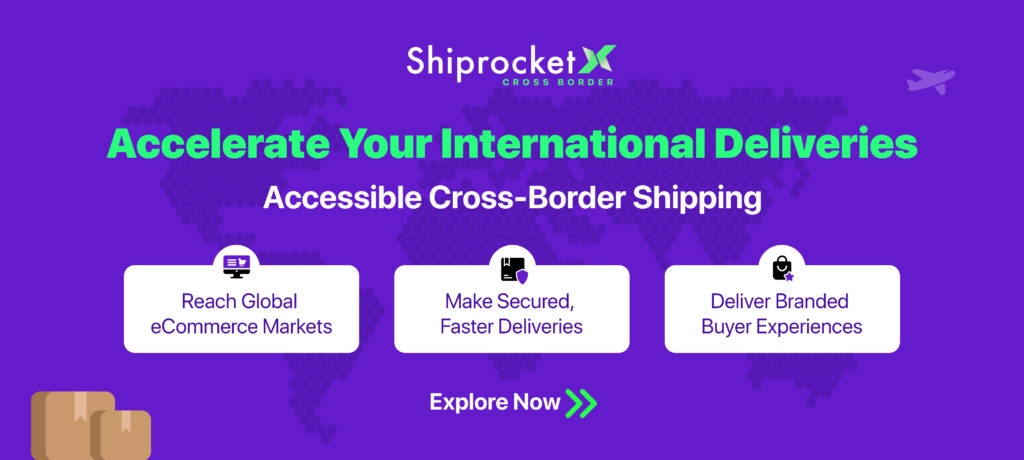 Calculate Your Shipping Costs Now