Customs Clearance in Cross Border Trade: Everything You Need To Know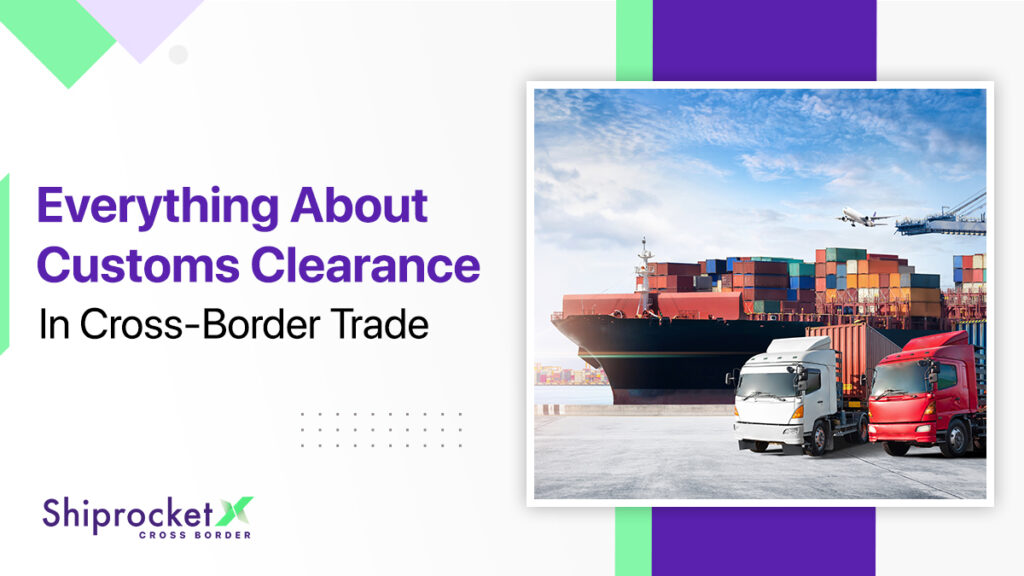 99% of merchants claim customs clearance to be one of the most crucial steps in the international shipping process.
What is Customs Clearance?
Customs clearance refers to the process of transporting goods through customs authority so that they can leave (export) or enter (import) into a country. Customs clearance can also be defined as documentation issued by the resident customs authority to the shipper. The customs clearance process is mainly exercised to generate income, protect the nation's economy and environment, as well as the citizens. Please note that every country has its own customs department and norms a shipper needs to comply with.
Process of Customs Clearance
Once a shipment arrives at the customs, here's what takes place:
Documentation is examined by Customs Officer
When your shipment arrives at the customs office, there are specific documents which are more under scrutiny than the rest – the shipping label, bill of lading, and commercial invoice. There is a detailed declaration form to be filled out with information such as the name of product, number, and weight of product. The information on the declaration form must accurately match with the information on the formerly mentioned documents, and in case of any discrepancies observed, the clearance process is extended, and you may be charged additional fees for extra screening. In worst cases, unidentified or mismatched data can result in shipments held without returns.
Assessment of Import Duties and Taxes
Since taxes are calculated based on the type of parcel, their declared value, whether value exceeds minimum threshold value, and the incoterm used, the customs officer checks whether your tax duties have been paid according to the paperwork you've submitted. Export duties are assessed on goods that exceed the minimum taxable threshold value.
Payment of Outstanding Dues, If Any
This is where your choice of incoterm on the document comes into play. If your documentation has DDU (Delivery Duty Unpaid), the customs officer transfers your goods to a customs broker to collect payments, which can be pretty expensive because they include re-inspection, handling, brokerage, storage, as well as delayed payment. If your documentation has DDP (Delivery Duty Paid), customs will clear it for delivery.
Clearance of Shipment for Delivery
Once the customs officer is satisfied with the examination and verification of your shipment, the exporter receives a green signal for delivery to the end destination. While shipments are rarely held back at customs, there are numerous instances where it gets delayed from clearance. This is mostly because of mismatched documentation and unpaid duties.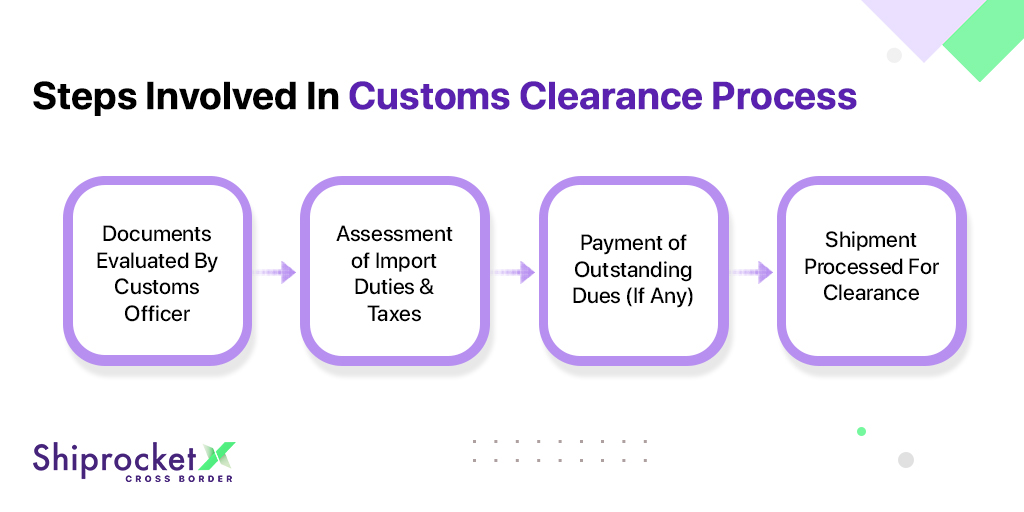 Documents required during Customs Clearance
For a hassle-free customs clearance process, your parcel must be accompanied by customs declaration document, alongside the following documents:
Export/Import License: Be it importing or exporting goods into a country, one must apply for licensing authority for seamless movement of goods across borders.
Pro Forma Invoice: Used as an alternative to commercial invoice in some countries, this is a confirmation document sent to buyer's after the order has been placed.
Country of Origin: This document is generally issued by the seller, denoting the region/state from which the goods are acquired, manufactured, or processed from.
Commercial Invoice: This document is a proof of transaction to both parties, buyers as well as sellers. It includes all crucial information related to the shipment such as names and addresses of both parties, customer reference number, volume and weight of shipment, terms of sale and payment of goods, incoterm, currency used in transaction, quantity, description, unit price, total price, shipment mode, and freight insurance details of the goods. Please note that the incoterm decided on by both parties is significant during customs clearance.

Checklist to Make the Customs Clearance Process Easier
To make the customs process as smooth as possible, one needs to follow a certain checklist and become familiar with the international trade policies of the country you are shipping to.
Ensure paperwork is updated and 100% accurate

Let's say your shipment has traveled thousands of miles to a destination country, and that too, has reached right on time! You wouldn't want it delayed at customs due to incorrect information or additional documentation as per the country norms. For example, some ports do not accept the cargo without the original stamped commercial invoice.
Keep in check of frequent changes in international trade laws & regulations
Sometimes, rarely than often, international trade laws tend to change, mostly due to inclusion of religious belief, political unrest, or changing governments. For instance, to ship some things in some countries can require the courier company to have an import license.
Keep the documents handy
As customs clearance hinges mostly on paperwork, it is always advisable to keep all relevant documents handy such as country of origin, duty payment documentation, commercial invoice, and bill of lading.
Research other required documents for certain product types & countries
Certain countries require additional documentation for the goods to be imported into borders. For example, importers of pharmaceutical drugs are required to submit a Drug Registration Certificate or Drug License Copy for export to some countries.
Simplifying Customs Clearance: Final Thoughts
Shipping internationally takes a few extra miles than domestic shipping, and might seem like the Goliath if you're new to the export-import industry, but with the right shipping partner by your side, your dilemmas about clearing customs could be at a minimum. From offering easy-print labels for shipments to customs documentation, take the hitch out of your export process with cross-border shipping solutions like Shiprocket X.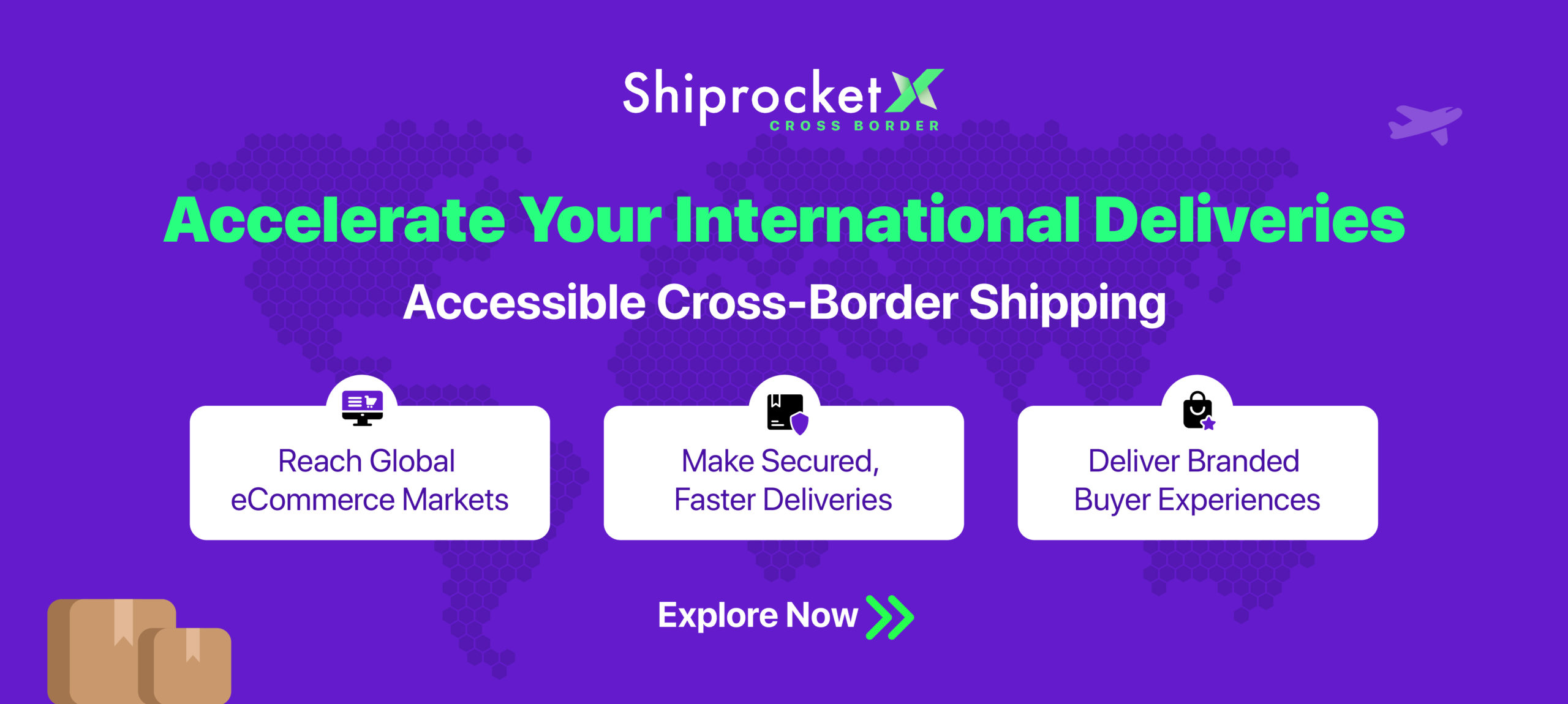 Calculate Your Shipping Costs Now