Exporting from India to Australia: A Brief Guide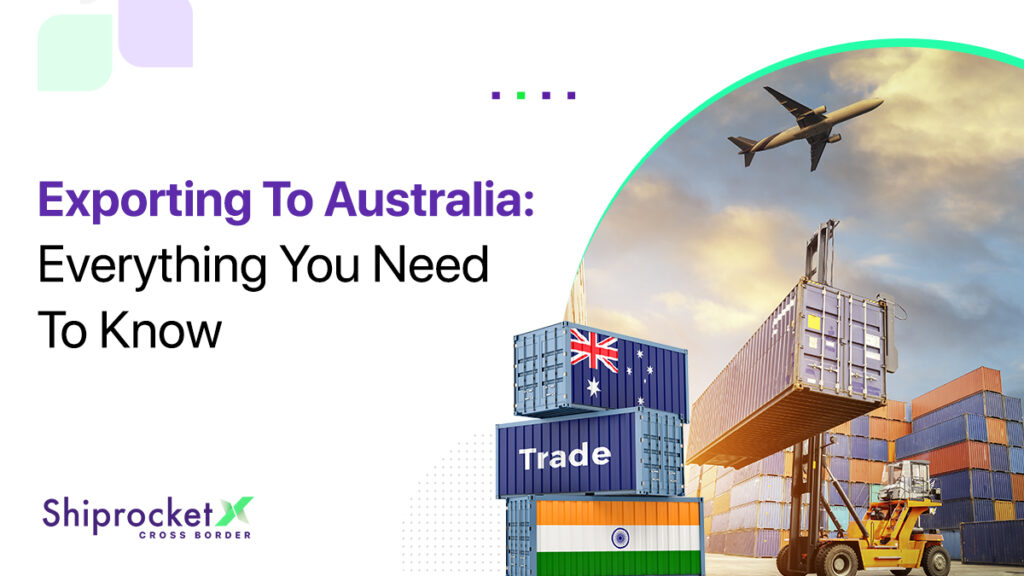 India and Australia have been holding hands in terms of trade for decades now, and it has only become stronger over the years. In lieu of the recent India-Australia trade pact, exporters will now receive duty-free access to the Australian market for over 6000 product sectors of India. Moreover, India's micro, small and medium enterprises (MSMEs) have a potential to explore over USD 2 billion in new export opportunities in Australia.
Looking at the numbers, exporting from India to Australia is one of the most profitable routes to taking cross-border business worldwide. Let's see how.
Why Should You Ship To Australia?
Growing Exports From India
In 2018, India exported USD 3.74 Billion to Australia in product categories of Petroleum oils, pharmaceuticals (especially medicaments), and precious stones like diamonds. Other major exports from India to Australia include agricultural products, leather and leather goods, footwear, textile, clothing and makeup, chemicals and chemical products.
Migration For Educational Purposes
Australia is home to a very large number of Indians, half of them being students pursuing higher education, and another half for work-related reasons. The country is the world's second highest overseas education destination for Indian students as of today. The demand for intrinsic Indian merchandise is therefore, always at a peak in the country.
Geographic Associations
Australia had recently wrapped up trade agreements with Asian countries such as Japan, China and Korea, linking it closely to Asia in terms of potential trade in the days to come. Moreover, the nation has also been actively involved in participating with regional forums such as APEC (Asia-Pacific Economic Cooperation) and ASEAN (Association of South-East Asian Nations).
Developing Infrastructure
Australia is on a focus to develop its cities' infrastructure to a top notch – including roadways, railway lines, ports, and healthcare facilities, all of which contributes highly to its foreign investment. India has a very high scope in this duration of extensive project demands to export raw materials into the country.
What Does India Export Most To Australia
Here are a few product categories that are exported the most from India to Australia: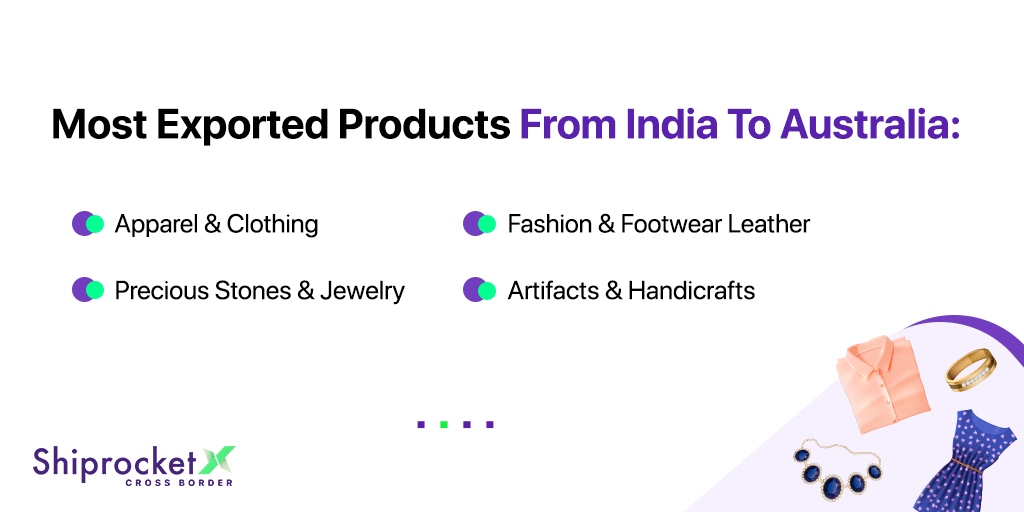 Apparel and Clothing
25% of Australia's total import from India was in the makeup, apparel and garments section in 2021. This year, it is estimated that it could go up to USD 205 million, the numbers owing to India being one of the finest handloom industries in the world.
Precious Stones & Jewelry
Also known as the hallmark of Indian culture, Indian jewelry is a regular accessory on every indian. The extensive range of jewels and stones in the nation has caught the attention of not just people in the country but from across the globe, including Australia. Rare and unique gems, gold, or intricately designed imitation jewelry are a few types that never go wrong in consumer demand.
Fashion & Footwear Leather
Did you know that leathered travel goods and fashion footwear were exported at USD 56 million in 2001 from USD 55 million in 2000? From purses to leather shoes and sandals, Australia imports all categories of leather fashion. Moreover, with a large number of sportspersons hailing from the country, there is also a huge demand for leather sports goods as well.
Artifacts and Handicrafts
One of the most unique and authentic handicrafts markets is that of India's, with indegeneous products grabbing a heritage place in the hearts of many around the world. From home decor to outdoor garden accessories, Indian products have gained popularity in Australian households and are exported to the country at very high prices.

How To Export To Australia From India
If you're one of those businesses that are dealing with products most exported to Australian borders, it is crucial to know which is the best foot forward to start shipping to the country in discussion. Firstly, you could run a survey on what are the behavior of customers towards your product niche, the capital required, the tariffs involved, and what would be the right option of cheapest shipping to australia.
Partnering with low cost, courier companies not only open up economy shipping pathways for first time global businesses, but also facilitate minimizing the hassles that come along with shipping. For example, a courier company like Shiprocket X requires minimal documentation such as IEC (Import Export Code) and AD (Authorized Dealer) Code to get products shipped to Australia, and also ensures your customs clearance procedure goes smoothly with the help of in-house CHAs. Being in the loop of what items are restricted and prohibited from shipping to the country also helps minimize risks of penalty issues. If you're a brand looking for cheapest shipping to Australia, it's always best to consult shipping solutions that offer shipping calculators to compare shipping costs.
Conclusion: Exporting To Australia Made Easy
Indian exports to Australia have considerably increased over the years, but the scope for development still exists. The governments of both countries are building efforts to expand Indian exports to Australia for it to reach its optimum potential. This is a golden opportunity for trading and exporting products to the island continent.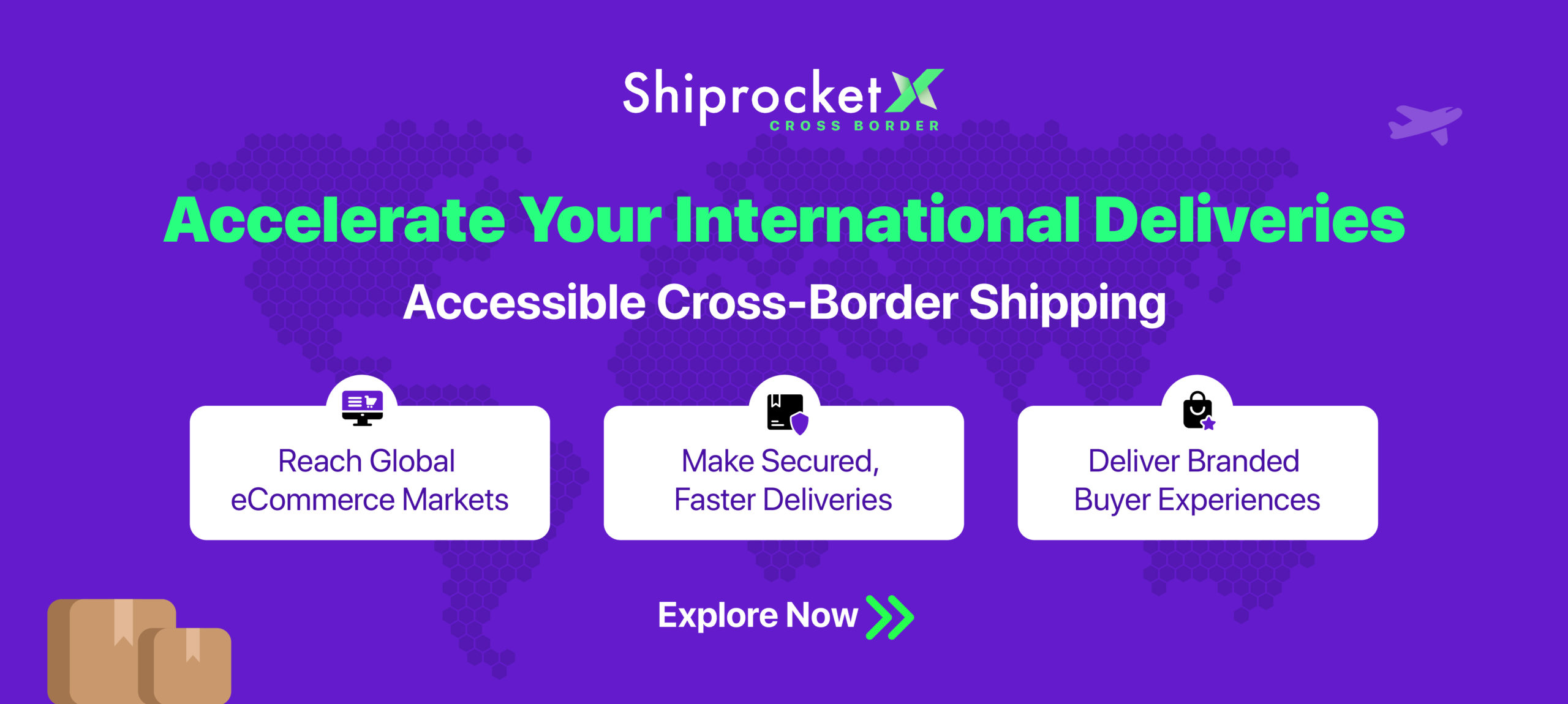 Calculate Your Shipping Costs Now