What is Air Cargo Insurance: Benefits, Types, and Coverage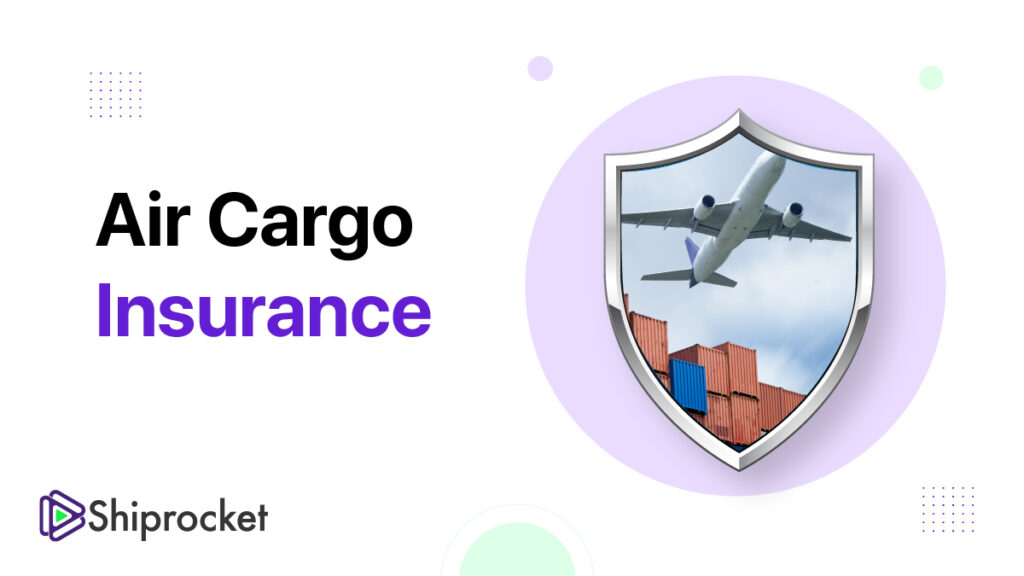 When your freight is in transit, it is vulnerable to the risks of damage or loss. If a shipment is lost at sea due to the sinking of a container ship, the carrier's liability is usually insufficient to cover the freight's worth. If your aircraft is involved in an accident, you have just lost two assets: your airplanes and your freight. As a result, it's critical to think about air cargo insurance for your shipments. If your shipment is lost or damaged, it helps you save time and money. And you'll discover more about air cargo insurance, including its benefits, types, and coverage, in this article.
What is Air Cargo Insurance?
Air Cargo insurance protects you against financial loss if your cargo is damaged or lost. If a covered occurrence damages your freight, it pays you the amount you're insured for. Natural disasters, vehicle accidents, cargo abandonment, customs refusal, acts of war, and piracy are typically covered. It's also distinct from carrier liability and insurance policies offered by dedicated cargo and freight insurance companies, freight forwarders, agents, and major brokers.
What are the benefits of Air Cargo Insurance?
The main advantage of air cargo insurance is that it reduces your financial loss if your shipment is damaged or lost during transit. As your items leave your warehouse, the tiny investment (also known as the premium) you make provides peace of mind.
It also comes with the following benefits for your company:
Unexpected halts in your cash flow are avoided.
Profits are still generated if coverage includes them.
Because of the competent service, the claims procedure is efficient.
Loss reporting was made more accessible.
When do you need Air Cargo Insurance?
Even if it isn't required by law, it's usually a good idea to purchase air cargo insurance for your shipment.
Other aspects to consider, such as the weather and traffic. As your freight passes through different hands, vehicles, and ports, it is subject to a great deal of risk. As a result, the longer it is exposed to risk, the greater the chances of being lost, stolen, or destroyed.
Keep in mind that, even if the carrier is legally accountable, their liability limit is frequently lower than the value of commonly transported products. Only up to US$500 per package/shipping unit, or the actual worth of the goods, whichever is less, are ocean freight carriers accountable. Meanwhile, air freight carriers are only responsible for 19 SDR (US$24) per kilogram. Without cargo or freight insurance, you could still lose a large amount of money based on these figures. There are, however, times when it is not necessary. It's crucial to review your contract's inconveniences because some of them relieve you of responsibility at specific moments during the shipping procedure. You can save money by determining the full scope of the contract and only paying for insurance when it is required.
Types of Cargo Insurance:
Land and marine cargo insurance are the two main types of cargo insurance (which also covers air cargo).
Land Cargo Insurance:
This sort of insurance covers cargo transported by land, such as trucks and light utility vehicles. Because its scope is limited to within a country's borders, it is also commonly employed for domestic cargo. Theft, collision damages, and other risks associated with land freight transit are also covered.
Marine Cargo Insurance:
This insurance covers ocean and air freight and is mainly utilized in international commerce. It protects ships and planes from damage caused by loading and unloading, bad weather, accidents, and other risks.
What Air Cargo insurance doesn't cover
Cargo insurance does not cover risks and issues over which the shipper has significant control. It's crucial to remember this to reduce the chances of your cargo being damaged or lost.
In general, policies exclude:
Inadequate packaging caused damage:
The policy will not cover you if any damage to your goods is traceable back to poor freight packaging.
Damage caused by faulty items:
The policy will not reimburse you if the carrier can prove that faulty items inside your cargo caused the damage.
Freight of particular types:
All insurance companies do not cover hazardous materials, certain electronic products, and other very valuable or fragile items.
Some modes of transportation are also available:
Some insurance may only cover your cargo transported by ship, plane, or vehicle.
How to make a claim
Unless otherwise demonstrated, carriers are presumed not to be liable for any damage or loss. They would also do everything possible to restrict or avoid their liability, and their limitations are clearly stated in the Bill of Lading Is acceptable language. As a result, you must prove that the damage or loss occurred while in charge of your package or that they were negligent in their treatment. And if you succeed, your claim will be justified, and the insurance company will pay you.
When filing a claim, you'll also need to retrieve the following information about your shipment:
Inventory number –
Your insurance company provides the number on the inventory list. If they don't provide you with an inventory list, you can ask for one.
Item's room-
This relates to where your item was located before being packed.
Item description-
Please include any other information you recall about the object, such as its dimensions, weight, visual cues, and accompanying accessories.
Damage-
Describe the damage to your shipment and where it occurred.
Item age & date of purchase-
If you don't have any production records, make an educated guess of how old the item is inside and when you purchased it. Remember that pre-owned items will have different ages and purchase dates.
Original and replacement cost –
To establish the replacement cost, write down the original cost as precisely as possible and research the price of an item that is highly comparable to yours.
Claim amount-
Indicate the cost of your item or the amount stated in the inventory if your claim is for loss. Only include the cost of repair for your item if your claim is for damage. The underwriter of your policy may also demand you submit proof of ownership or value.
Conclusion:
Delays, damage, loss, or cargo theft result in increased risks. Shippers can reduce their risks by purchasing the appropriate cargo insurance. Cargo insurance, while not needed, can provide peace of mind and protect the shipper's investment. However, benefits come with limitations, and shippers must be aware of these disadvantages.
Calculate Your Shipping Costs Now