All That You Need to Know About Amazon Seller Fees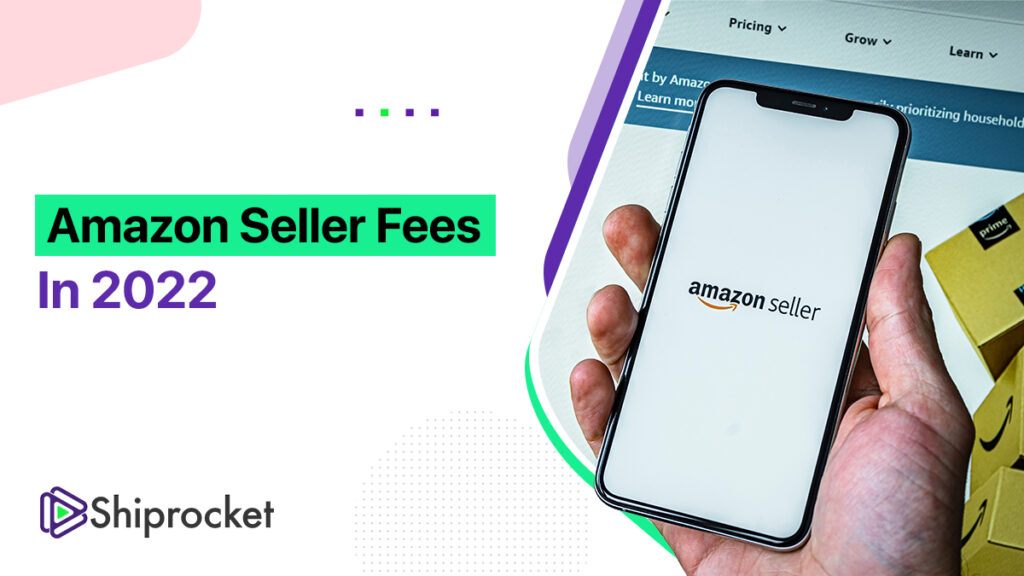 Sale-related fees, seller account fees, shipping charges, and Amazon FBA fees are the four main Amazon seller fees.
The typical seller pays roughly 15% of the product's selling price in sale-related fees, which range from 6% to 45 percent. Monthly account costs range from $0 to $39.99. You'll also need to fulfil and ship your orders, which might be expensive depending on the products you sell and the fulfilment method you use. Sale-related fees, seller account fees, shipping charges, and Amazon FBA fees are the four main Amazon seller fees.
Amazon Sale-Related Fees
When selling things on Amazon, there are three sorts of Amazon seller fees to consider: referral fees, minimum referral fees, and closing costs.
These fees vary depending on your item type and selling price, so doing some research to gain an accurate picture of your exact charges may be necessary.
Referral Fees
Every item sold on Amazon attracts a referral fee, which is paid by all Amazon sellers (including Individual and Professional accounts). Your product category and selling price are the two factors that influence your referral fee.
Referral fees are based on a percentage of the selling price of your goods. The average referral fee paid by most merchants is around 15%. However, depending on the categories in which your products fall, these fees can range from 6% to 45 percent.
Minimum Referral Fees
Some Amazon categories have a Minimum Referral Fee. If you sell in a category with a minimum referral fee, you'll pay the higher of the two fees (not both!) based on the selling price of your goods.
Closing Fees
Amazon charges an additional fee for products sold under its media categories. This fee is the Closing Fee, and it's a flat $1.80 charge, which is added to the Referral Fees for items in any media category, including:
Books
DVD
Music
Software and computer/video games
Video
Video game consoles
Amazon Seller Account Fees
Amazon offers two types of Amazon Seller Accounts The fees and features of each type are geared toward the specific selling needs along with the differences in fees, each type of account offers features that accommodate small or large sellers' particular needs. of low-volume individuals and high-volume business sellers.
Which Account Is Best for You?
If you're transferring to Amazon from another ecommerce platform, the Professional Seller account is the best option; the Individual Seller account is far more limited and requires more hands-on supervision.
If you're just getting started selling things on Amazon, though, an Individual Seller account can help you get started with no upfront charges. Registering for an Individual Seller account is free, and you'll only be charged fees if your products sell. You're not even "charged"—Amazon deducts its fee from your payment, so you don't have to pay anything out of pocket.
Shipping Credits & Costs
These charges are not seller fees, but they can cost you money if you're not careful. If you ship Amazon orders yourself, Amazon pays you a shipping credit on every sale to cover your shipping costs—but there's a catch. The credit Amazon pays sellers is generally low compared to the shipping rates you actually pay to ship orders.
Depending on what you sell and the total size and weight of each package you ship, you may wind up spending far more to ship orders than you receive from Amazon's shipping credit. To ensure you don't lose all of your profits to shipping costs, you need to know how much you'll get from Amazon for each item you sell.
Fulfillment by Amazon (FBA) Fees
FBA may store, pack, and distribute Amazon products for both individual and professional sellers. Of course, Amazon charges fees for this, but for specific items, many Amazon sellers find the FBA rates to be extremely affordable. It also relieves you of time-consuming daily order packing and shipping responsibilities, as well as makes your items Prime-eligible.
FBA is used by 91 percent of Amazon sellers to fulfil part or all of their orders, so it's worth thinking about. FBA fees, on the other hand, vary depending on the size and weight of the product. Before you sign up for FBA, you should understand the overall fees you'll pay to store and ship your products, just like any other aspect of selling on Amazon.
FBA Fees by Service
Amazon's FBA fees are rather straightforward: one price covers selection, packaging, and shipping, while the other covers inventory holding. FBA costs cover everything from boxes to packaging to returns handling if your customers return things to Amazon.
You'll come across two types of FBA fees:
Pick, pack, and weight handling fees: This is the total cost of your order from start to finish, including shipping.
The expense of holding your merchandise in Amazon's warehouse on a monthly basis.
Product Size Determines FBA Fees
The size of the merchandise you're storing and transporting determines your FBA expenses. Any packaging for your goods, such as shoe boxes, blister packs, or retail packaging, is included in the size. FBA items are divided into two sizes by Amazon.
Standard-sized items must weigh less than 20 pounds and measure no more than 18′′x14′′x8′′ when fully packaged.
Products that are too big: Oversized items are those that weigh more than 20 pounds and/or measure more than 18′′x14′′x8′′.
FBA Inventory Storage Fees
FBA also charges inventory storage costs, which skyrocket throughout the Christmas season from October to December. In addition to referral fees, account fees, and fulfilment fees, these storage prices are levied.
Bottom Line
Even in the off-season, Amazon produces more than a quarter of all US ecommerce sales (excluding auto parts) and receives over 2.45 billion monthly visits. Its immense popularity and customer-centric reputation make it a very promising marketplace to utilise, but these benefits come at a hefty cost in the form of numerous intricate elements.
On every item you sell on Amazon, the difference between profit and loss might be razor-thin, so it's critical that you understand the fees and prices. You'll be able to identify successful products and succeed in this massive, ever-growing industry if you keep this information in mind.
Calculate Your Shipping Costs Now