19 Best Products to Sell on Diwali in 2023
The festival of Diwali, which brings light and happiness, is celebrated by millions of people in India. Also, it is a period of rising consumer spending when retailers anticipate a 10-12% high in sales. The most favoured industry sectors are anticipated to be automotive, FMCG, eCommerce, manufacturing, commodities, travel, and hospitality. The employment is anticipated to rise by 20% as well.
As such, retailers have a high chance of increasing sales during Diwali by targeting products which can be easily delivered to the customer. Let's explore some of these best-selling products on Diwali.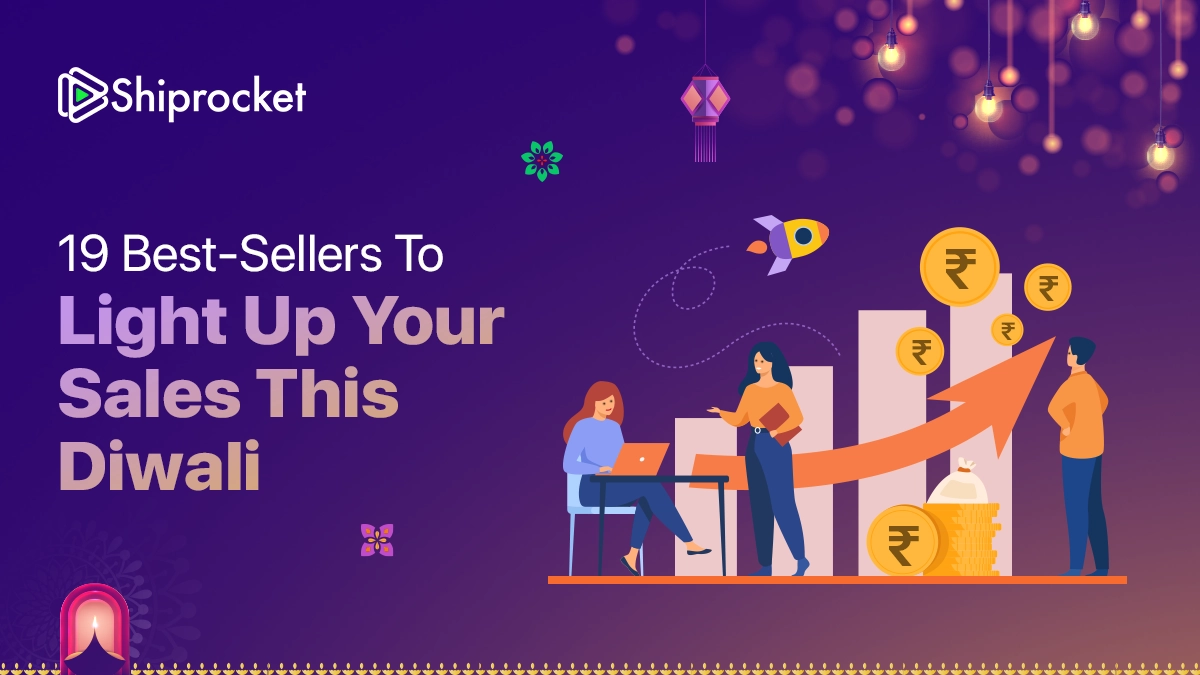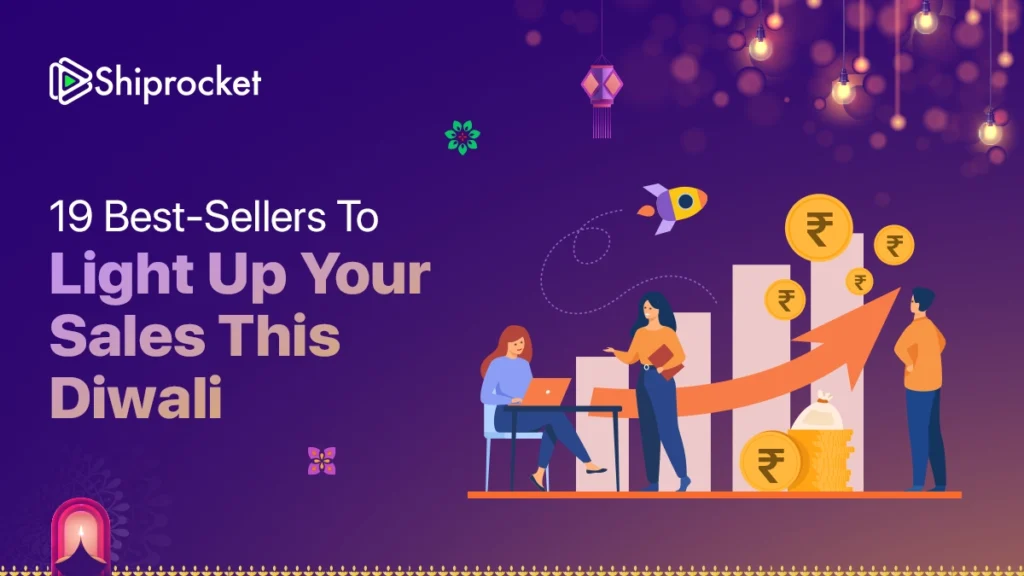 19 Best-Selling Products on Diwali
Diwali, one of the biggest festivals in India, is indeed a time of joy and happiness. The auspicious festival is celebrated by decorating homes with lamps and lights, exchanging gifts, and offering prayers to the Lord. People buy several things during this time of the year for their loved ones and homes to indulge in the festival's wonderful spirit.
List of the 19 most commonly bought products during Diwali:
Lakshmi, Ganesha, and Sarawati Charan Paduka
Goddess Lakshmi and Saraswati, with Lord Ganesha, are the Holy Trinity of knowledge, wealth, and wisdom. Hindus believe this brings auspicious vibrations into the home, and hence, it is gifted to all friends and family members during Diwali as a gesture of goodwill. It makes the perfect gift and also acts as a sign of good luck to the recipient.
Diwali Decorations
Lamps and LED lights form the core of Diwali decorations. The oil lamps lit during Diwali represent goodness and purity. As Diwali is celebrated on a no-moon day (a time of darkness), lamps are lit to eliminate all darkness and evil. Hence, lamps and LED lights of all varieties are purchased by everyone during Diwali in abundance. Every street and house is lit with several lamps with different decoration themes to celebrate this day, and it is one of the most commonly bought items during Diwali.
Aarti Thali
An aarti thali is a staple during almost every festival amongst Indians. Especially in Hindu and Jain households, an aarti thali is a must. The assembly of different elements on a plate meant for pooja holds a special significance. All the components, like haldi, kumkum, rice grains, betel nuts and leaves, flowers, scented oils, camphor, matches, saffron threads, incense, etc., are placed on a puja plate to balance different cosmic components.
During Diwali, everyone purchases new thalis to suit their decorations and join in with the festival's spirit. It is undoubtedly one of the most commonly purchased items during Diwali.
Rangoli Colours and Stencils
Rangolis are intricate designs drawn in different areas of the house as a part of the festival decorations. They add an artistic element to the festivities and also highlight the traditions and creativity of an Indian household. A rangoli design represents liveliness, joy, and positivity and is mainly drawn to welcome Goddess Lakshmi, representing good luck and wealth.
Rangolis can be made with powder or flowers and even other craft materials. Nowadays, these are even available in ready-made designs that can be purchased and placed for decoration. To add to the festivities during Diwali, all the necessities to draw and present rangolis are largely purchased.
Snacks and Sweets
According to a common seller, "the sweets-namkeen sector made an overall sale of INR 1.10 lakh crore and is now moving towards further improvement." As per the Diwali traditions, an abundance of sweets and savoury snacks are prepared in every household and distributed to family and friends after offering these to the Gods. Today, people even buy different varieties of snacks and sweets for the celebration, and hence, they are purchased in large amounts and are among the most commonly purchased items during Diwali.
Gold Jewellery
Consumers spend around INR 9,000 crore on gold accessories during Diwali, making it one of the hot-selling items. Most Indians consider gold the most auspicious thing to buy, as it represents wealth, purity, prosperity, and devotion. Diwali is the celebration of the victory of light over darkness and marks a new beginning. To bless these new beginnings with good fortune, gold is purchased during Diwali. Moreover, gold is also a wise investment, so no one hesitates to spend money on different gold ornaments.
Dry Fruits
India's dry fruit market has maintained a robust 10-12% CAGR growth even before the pandemic, showcasing impressive performance. Dry fruits are added to almost every Indian sweet, and several dry fruit hampers are also available for purchase. It is a healthy and well-appreciated present during the Diwali season.
Silver Coins
During Dhanteras, the first day of Diwali, silver and gold coins are purchased to bring good fortune. Yama, the god of death, appeared as a serpent to harm King Hima's son. The gleam of brass, silver, and gold blinded him. This prevented his entrance into the room, and he couldn't cause King Hima's son any harm. Thus, it is believed that buying any form of silver, gold, or even brass protects one from bad omens and brings them luck and prosperity. In the previous year, 2022, the sale of silver saw a 35% upsurge as compared to 2021.
Wooden Stools
Devotees believe that Goddess Lakshmi visits their homes during Diwali. All the decorations to welcome her require an appropriate place to be kept. Hence, wooden stools are placed and covered with red cloth to place these puja items. Moreover, Lord Ganesha is believed to also sit on that same wooden stool during puja; hence, it is a very popular purchase during Diwali. Several online stores sell differently designed stools during Diwali.
Flowers
Flowers are a non-negotiable part of any Indian festival. As of 2021, Marigold dominated the market, comprising approximately 75% of the business, with rose and other varieties following suit. Flowers are used for decoration and are offered as gifts to the gods. Flowers solely represent the purity, beauty, and divinity of worship. Flowers that are real and fake are used for decoration during Diwali. Artificial flowers are easier to handle and are extremely popular nowadays. They are the most sought-after purchases during the festival.
Kitchen Utensils
Brass utensils are known to positively affect health and are purchased during Diwali because they are also considered auspicious. These utensils are first used to make special treats (prasad) that are given as offerings to God during Diwali puja and are then used for other purposes. Today, the tradition has been passed down to even utensils made of steel and copper. If you are among those looking to buy kitchenware, Amazon is offering them at up to 35% off, starting from 8 October 2023.
Garlands, Hangings, and Table Runners
The international handicrafts industry was priced at USD 787.85 billion in the present and is anticipated to reach USD 2,149.93 billion by the year 2032. Garlands, wall hangings, and table runners are a staple of Diwali decorations. They bring beauty and elegance by creating a lively atmosphere in any room.
During Diwali, these handicraft items are decorated with mirrors to add sparkle to the room. Centerpieces and curtains are also embellished with mirrors to reflect the light from the lamps and make the room even better. They can also be gifted to friends and families.
Home Appliances
In 2022, the Consumer Electronics and Appliances Manufacturers Association (CEAMA) witnessed increased sales of mid- and high-end products, nearly 50% in terms of values and approximately 25-30% in terms of volumes, during Diwali.
Replacing all old gadgets and appliances with new ones is considered to be Lord Ganesha's blessing. Due to this belief, several shops and brands offer discounts and better prices on all gadgets and devices. Washing machines, televisions, air conditioners, and refrigerators, among other appliances, are often purchased during Diwali.
Clothes
During the festive season, it is anticipated that nearly INR 4 trillion in consumer spending will be witnessed, including both online and offline channels. These projections are based on assessments from various entities, including consultancies such as Deloitte and industry associations like the Clothing Manufacturers Association of India (CMAI).
Buying new clothes is a mandate for Diwali. It is a time of celebration and gathering; hence, new clothes automatically become part of the season's joy. Traditional clothes like sarees and kurtas made from silk are preferred during this time of the year. People buy abundant clothes for all their family and friends during Diwali.
Green Fireworks
Trending eco-friendly firecrackers form the spirit of Diwali celebrations. The victory of Lord Ram over evil is celebrated by bursting green firecrackers as a representation of the coming of light. They are an expression of joy and happiness during the festival, which everyone enjoys, thanks to their eco-friendliness.
As per CSIR- NEERI, the parent organisation which produced the crackers in 2019, green crackers are safe and reduce sound and light emission with a 30% reduction in particulate matter utilising potassium nitrate (KNO3) as an oxidant. This festival is incomplete without fireworks, making them one of the best-selling items.
Gifts
Diwali is a time of celebration for most Hindus. It is when gifts are swapped among friends, colleagues, and families to spread joy, appreciation, and happiness. The presents can range from simple items like flowers and fruits to more elaborate ones like toys and home decor. Ferns and Petals, a gifting company, is expecting a 60% revenue from corporate gifting during this Diwali season.
Padma Lakshmi Idol
During Diwali, people often buy small idols of Goddess Lakshmi, as she is the goddess of wealth, prosperity, and good fortune. This idol is mainly purchased in brass or gold and is used for puja during this festival. This idol is also the perfect gift for friends and family on this occasion.
Books and Stationery
Books and stationery are common gifts among children during Diwali. In the Stationery market, it is projected that the user base will reach 396.4 million by the year 2027. They are purchased and placed as an offering to Lord Ganesha during Diwali puja and then handed over to children to signify blessings of wisdom. They are thoughtful and useful gifts for children and those seeking to study and gain knowledge.
Candles and Clay Lamps
Diwali is the festival of lights. Clay lamps or diyas are the traditional lamps used to decorate homes during Diwali. Clay lamps are filled with oil, and a wick is placed to light a fire. It is tradition to have at least two clay lamps during Diwali.
The Global Candle Market is expected to rise at a Compound Annual Growth Rate (CAGR) of 6.20% from 2023 to 2030. Different sorts of candles, like floating or designer ones, are also purchased during Diwali for decoration.
Conclusion
Diwali is a time of pure joy and celebration. It is the festival of lights and most definitely celebrates the victory of light over darkness. This time of prosperity and good fortune certainly requires the purchase of different items to mark the beginning of something new. Purchasing different items for celebrations creates a festive atmosphere and a sense of positivity. Businesses also thrive during Diwali, with opportunities ranging from selling traditional clothes, sweets, and decorative items to puja items and gifts. Online shopping has gained significant traction, making it one of the preferred modes of purchase during this festive season.
Learn how to market these products, read our blog on Marketing Strategies to Boost Your Sales During Diwali 2023
Which business is most profitable on Diwali?
There are several profitable online Diwali business ideas you can explore. These can include selling traditional clothes, sweets and decorative items, gifts, puja items, etc.
How can I attract customers on Diwali?
You can leverage social media to promote special deals and discounts you are offering on your products. Other ways to attract customers include email marketing, influencer collaborations, paid advertisements, etc.
What are the best Diwali gifts for friends and family?
You can consider these products as gifts on Diwali: sweets, decorative lamps and candles, traditional clothes, home decor items, and more.
Calculate Your Shipping Costs Now