Top 10 Leading Shipping Carriers For E-commerce & Their Services
As the eCommerce industry continues to grow in India, reliable and efficient shipping solutions are more critical than ever. With millions of online orders being placed daily, businesses need to partner with shipping carriers that can handle high volumes, ensure fast delivery times, and provide excellent customer service. Fortunately, India has several best shipping carriers that specialise in serving the eCommerce industry. These carriers have developed sophisticated logistics solutions, including real-time tracking, automated processing, and integrated warehousing and fulfillment services.
Each of these carriers offers a range of services and features designed to meet the unique needs of online businesses, including cash-on-delivery options, reverse logistics, and customised packaging.
What Do You Mean By Shipping Carriers?
A shipping carrier is a company that is authorised to transport goods and services on behalf of another company from one location to another. With digitisation and the evolution of technology, more and more businesses continue to rely on the power of the Internet to offer their products and services. However, choosing an ideal shipping carrier depends on the requirements of your business, but some major shipping carriers that cover international and other regions are UPS, FedEx, DHL, BlueDart etc.
Let us explore some of these leading shipping carriers and their services and capabilities for eCommerce businesses. With the right shipping carrier partner, eCommerce businesses can streamline operations, reduce costs, and deliver an exceptional customer experience. We will also examine the advantages of shipping carriers, how to choose the suitable shipping carrier for your business, and why Shiprocket is a popular choice.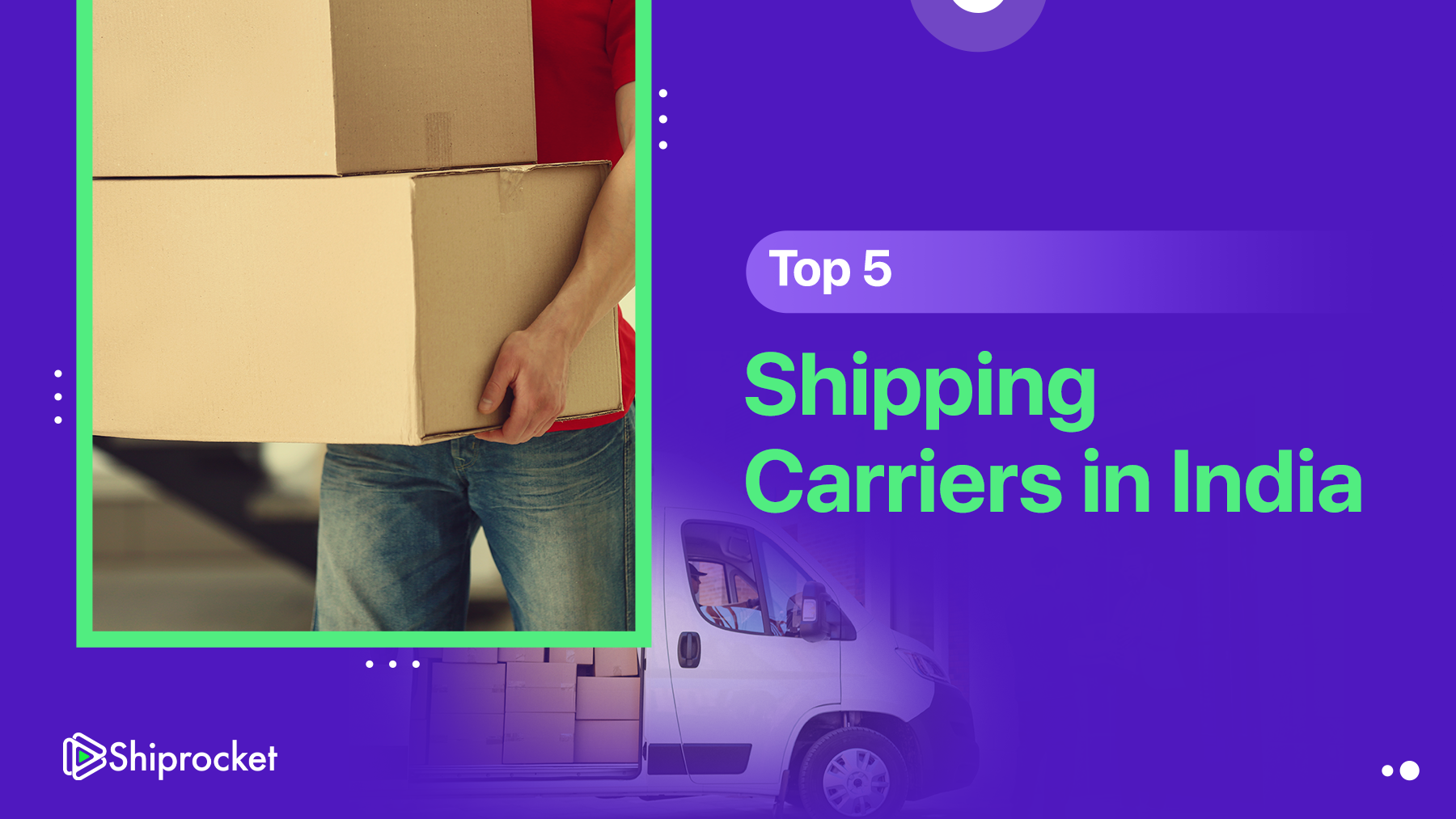 Top Shipping Carriers in India for 2023
Shipping carriers play a crucial role in the eCommerce industry in India. They are responsible for delivering goods from the seller to the buyer, ensuring that the products reach their destination safely and on time. Here are the top 5 shipping carriers in India and their unique services. We will also discuss how Shiprocket, one of the leading shipping carriers in India, has changed the shipping standards in the country and how it can make a difference to businesses.
1. FedEx
FedEx is a global logistics company that provides shipping services to businesses and consumers in over 220 countries. In India, FedEx offers various services, including international and domestic shipping, express delivery, and logistics solutions. One of the unique features of FedEx is its commitment to sustainability, with a focus on reducing its environmental impact through initiatives like alternative fuel vehicles and energy-efficient facilities.
2. DHL
DHL is a leading logistics company that provides shipping services to businesses and consumers worldwide. In India, DHL offers a range of services, including express delivery, international shipping, and logistics solutions. One of the unique features of DHL is its focus on innovation, with a commitment to using the latest technology to improve its services and provide a better customer experience.
3. Blue Dart
Blue Dart is a leading courier and logistics company in India, offering a range of services, including domestic and international shipping, express delivery, and logistics solutions. One of the unique features of Blue Dart is its focus on customer service, with a specialised team handling all queries and services of customers.
4. Indian Postal Service
The Indian Postal Service is one of the oldest and largest postal networks in the world, providing a range of services, including domestic and international shipping, express delivery, and logistics solutions. Indian Postal Service's wide network, with post offices located in even the most remote parts of the country, is its unique winning point.
5. UPS
UPS is a global logistics company that provides shipping services to businesses and consumers in over 220 countries. In India, UPS offers a range of services, including express delivery, international shipping, and logistics solutions. One of the unique features of UPS is its focus on sustainability, with a commitment to reducing its environmental impact through initiatives like alternative fuel vehicles and sustainable packaging. UPS also offers a range of technology solutions to help businesses streamline their shipping operations, including real-time tracking, automated shipping label generation, and integration with e-commerce platforms.
6. Gati
This national shipping carrier began services as early as 1989 and currently services 735 districts of India. This has therefore made it one of the key players in the express distribution category and supply chain management services sector. Gati's logistics and express distribution are now co-owned by Allcargo Logistics, as it holds a 50% stake and a minor stake of 3.5% shares by Kintestu World, a major Japanese logistics company in India. It has also smoothly integrated operations with digital payment modes, Chatbots and ERP systems.
7. Delhivery
Delhivery prides itself as the country's largest fully-integrated logistics shipping carrier. It is pioneering an infrastructure and operational logistics framework exclusively for eCommerce providers. Thus its hallmark services include flexibility, reliability and resilience. The very large number of customer bases that it currently has are eCommerce marketplaces, retailers and direct-to-customer sellers and resellers.
8. DTDC
DTDC handles over 12 million deliveries per month on average, making it one of the top shipping carriers in India. Its services are handled by over 580 operating facilities and 14,000 channel partners. It also has over 2.21 million sq. ft area under management. The main service of this company is Express Parcels. This is a C2C and a B2B service for domestic and overseas clients.
9. Aramex
A well-established global shipping carrier operating in India, Aramex is listed on the Dubai exchange, establishing its dominance in the UAE. Hence, it efficiently services both the global markets, the East and the West, apart from several customised logistics solutions. Known for its market-defining express delivery and logistics services, it supports eCommerce clients in emerging economies. Its USP is freight forwarding, supply chain management and logistics.
10. Ecom Express
One of the first of its kind, Ecom Express was built to make eCommerce shipping easy. It offers a range of simple solutions which have long-lasting impacts on small businesses, retailers and logistics players. The highlight of this player is the unique business model built around its service capability, customisation, sustainability and scalability. Hence, it offers a number of solutions that are automated and enable network optimisation, first-mile pickup and last-mile delivery.
These shipping carriers in India provide reliable and efficient shipping services to meet the diverse needs of individuals and businesses. With their extensive networks and expertise in logistics, they play a crucial role in facilitating smooth and timely deliveries across the country.
Advantages of Using Shipping Carriers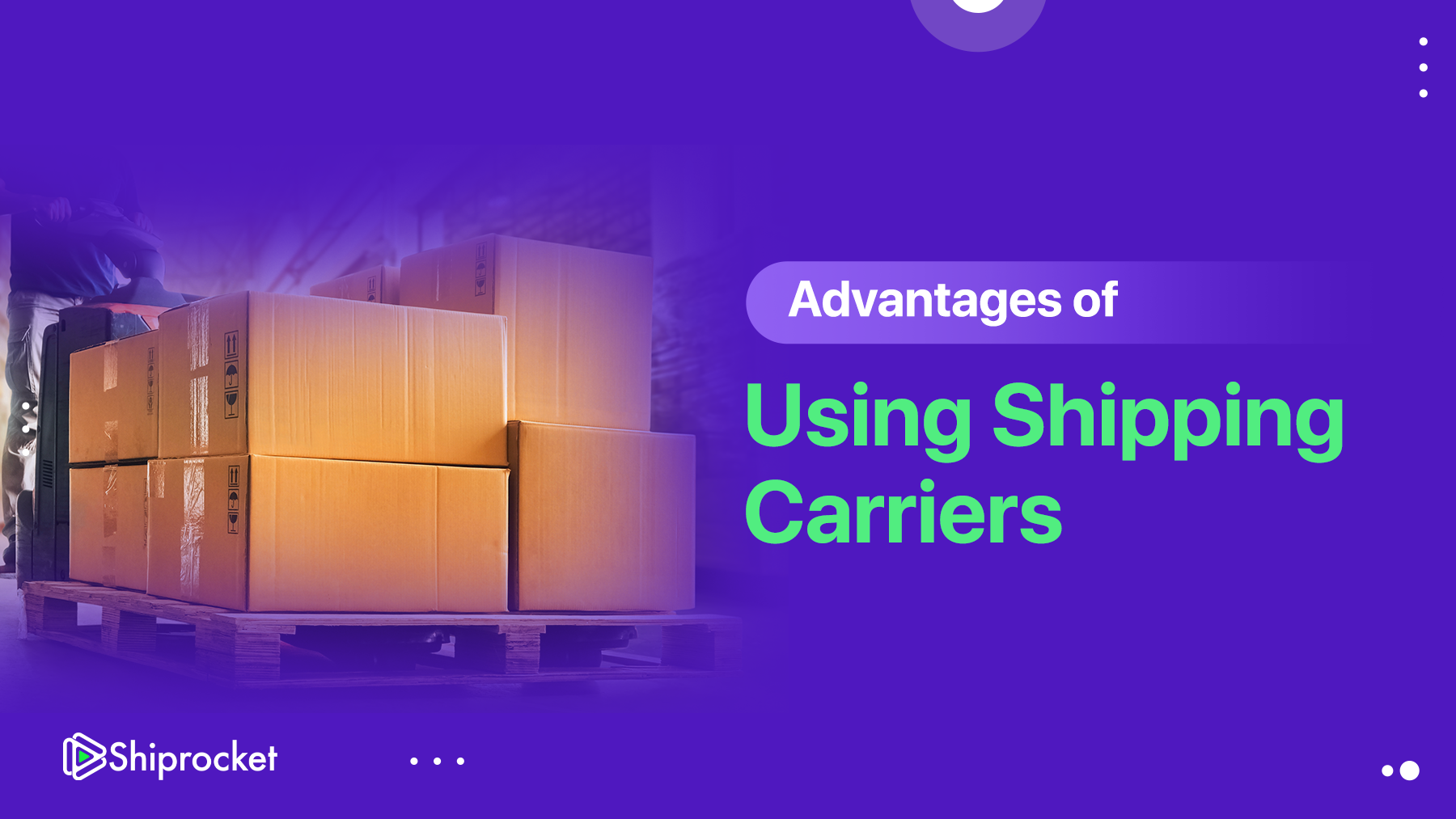 Using shipping carriers offers several advantages to businesses. These include:
Access to a Wider Network
Third-party shipping carriers often have a more comprehensive network of carriers and shipping options, providing businesses with more flexibility and options for shipping products.
Expertise in Global Shipping
For businesses that ship products internationally, third-party shipping carriers can provide expertise in navigating the complexities of global shipping, including customs regulations, documentation, and international shipping rates.
Real-Time Tracking and Analytics
Third-party shipping carriers often provide real-time tracking and analytics, which can help businesses monitor their shipments' status and identify improvement opportunities.
Reduced Environmental Impact
Third-party shipping carriers often have sustainability initiatives and programs to help businesses reduce their environmental impact through carbon offsets, sustainable packaging, and more.
Enhanced Security and Risk Management
Third-party shipping carriers often have security protocols and risk management strategies to protect products during shipping, reducing the risk of theft or damage.
Thus, third-party shipping carriers can provide businesses with several advantages beyond just cost savings and improved efficiency. By partnering with a reputable shipping carrier, companies can gain access to a broader network, expertise in global shipping, real-time tracking and analytics, reduced environmental impact, and enhanced security and risk management.
How to Choose Shipping Carriers For Your Business
Choosing a shipping carrier for your business should be based on the following factors:
Speedy Delivery
When selecting a shipping carrier for your business, choosing one that can meet your delivery needs is essential. Depending on your business, you may require a page offering same-day, next-day, or standard delivery. It would help if you also considered the carrier's delivery times for different destinations to ensure they can meet your customers' expectations.
Destination
The shipping carrier you choose should also be able to deliver to your business's goals. It may include different regions, states, or even countries. It's essential to consider the carrier's coverage area and delivery times to ensure your packages arrive on time and at the correct location.
Cost
The shipping cost can significantly impact your business's bottom line, so choosing a carrier matching your budget is essential. The size and weight of your packages will also affect the shipping cost, so choosing a page that offers competitive rates based on your specific needs is essential.
Reliability
Finally, it's essential to choose a reliable shipping carrier and has a track record of timely delivery. Late deliveries or lost packages can damage your business's reputation and lead to customer dissatisfaction. You can research carrier reliability by reading customer reviews, checking on-time delivery rates, and reviewing carrier policies for handling lost or damaged packages.
Choosing a suitable shipping carrier ensures delivery speed, destination coverage, cost, and reliability. By weighing these factors, you can select a carrier that will provide the best service for your business and its customers.
Compare every shipping carrier's capabilities with the business needs to make an informed decision. A test ride of the services and free trial options are a way to evaluate if a carrier works best for your business.
Advantages of Partnering With Shiprocket As Your Shipping Carrier
Shiprocket can be an excellent choice for your shipping carrier for these key reasons:
Wide Network – Shiprocket has a vast network of over 24,000 pin codes across India, so you can quickly ship your products to customers in any country.
Multiple Shipping Partners – Shiprocket has tie-ups with many shipping partners, including Blue Dart, FedEx, and Delhivery, among others. It lets you choose the best shipping partner and ensure your product delivery is on time.
Advanced Technology – Shiprocket offers advanced technology solutions that make it easier to manage your shipping operations. Its platform allows you to automate shipping processes, track shipments in real time, and manage inventory more efficiently.
Affordable Pricing – Shiprocket offers competitive pricing for its shipping services, which can help you save on your shipping costs. The company also offers transparent pricing, so you always know what to pay for shipping.
Conclusion
Shipping carriers play a critical role in the logistics industry, allowing businesses to transport goods quickly and efficiently. While there are many shipping carriers in India, the top five providers – Blue Dart, FedEx, DHL, UPS, Indian Postal Service and Shiprocket – stand out for their reliable service, a wide range of shipping options, and competitive pricing. When selecting a shipping carrier, you must consider your business's unique needs and choose a service partner that offers the right mix of services to meet those needs. With its advanced technology, extensive network, and focus on customer satisfaction, Shiprocket is an excellent choice for businesses looking for a reliable, cost-effective shipping solution.
Frequently Asked Questions(FAQs)
How do I track my shipment with a shipping carrier?
Most shipping carriers provide online tracking tools that allow you to enter your tracking number and check the status of your shipment in real time. You can also contact the carrier's customer service to track your shipment.
Can shipping carriers deliver to international destinations?
Yes, most shipping carriers offer international shipping services. However, the availability of these services and the associated costs may vary depending on the shipping carrier and the destination.
How do I choose the correct shipping carrier for my business?
When choosing a carrier, consider shipping rates, delivery speed, reliability, and customer service. It is also helpful to research the carrier's track record with shipping similar products to your own.
What is the difference between an international and a domestic shipping carrier?
An international shipping carrier typically specializes in transporting goods across borders, while a domestic carrier primarily operates within a single country. International shipping carriers often have more complex customs and documentation requirements, while domestic carriers tend to understand local regulations and infrastructure better. It is essential to choose a shipping carrier appropriate for the shipments you need to send, whether domestic or international.
Calculate Your Shipping Costs Now