Cheap International Couriers: Tips To Choose
Why Do You Need Cheap International Couriers?
Whether you're thinking of going global with your local eCommerce business or you're looking to expand further in more countries, you'll need cheap international couriers. Here's why.
It has been more than two years since COVID-19 locked up the world. The crisis hugely impacted the economies around the globe and changed the behavior of consumers. If not you, somebody you know must have made their first online purchase during the pandemic.
The behavioral shift towards eCommerce resulted in over 26% growth in retail eCommerce sales globally in 2020. Thanks to this massive boom in eCommerce, reaching out to your target customers today is a breeze, especially in other geographies.
Do you know? The share of cross-border eCommerce in total eCommerce worldwide is expected to increase to 22% this year compared to just 15% in 2016.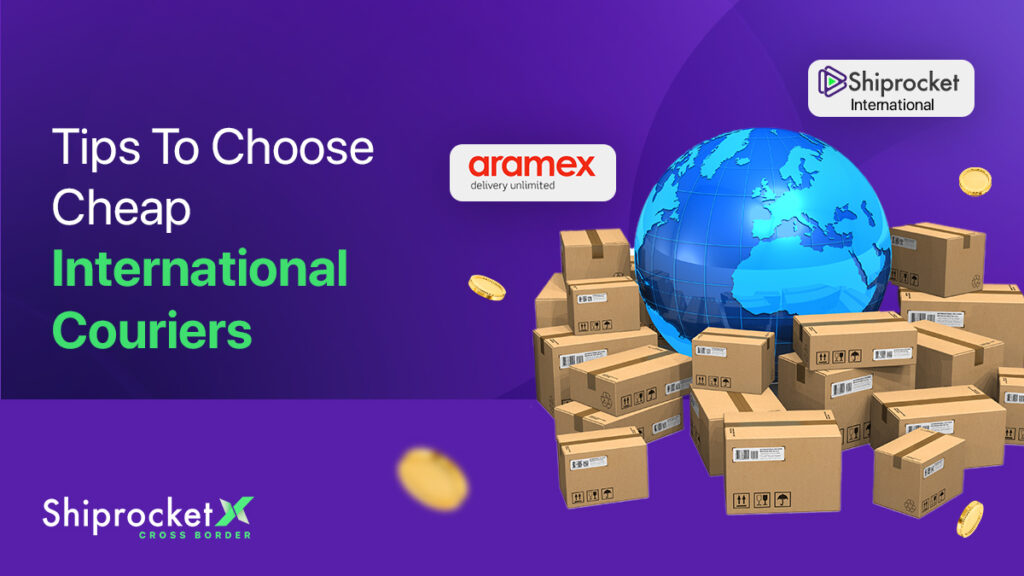 If you run a local eCommerce business, the best time to consider having a global footprint is now. If you're already present in other countries, you'd naturally want to expand further to make the most out of this trend.
It's not a piece of cake, though. While the eCommerce demand has grown, international shipping costs have been rising due to disruption in the supply chains. According to the World Economic Forum, the rates would still be at record highs throughout 2022 and will only stabilize by 2023.
Hence, choosing efficient and cheap international couriers for your business becomes extremely important. With so many courier companies providing similar services, it's tricky to cherry-pick the best ones at the most affordable prices. Let's help you out.
Criteria For Selecting Cheap International Couriers
Here are some things you must never miss comparing when hiring a courier service provider for your international orders.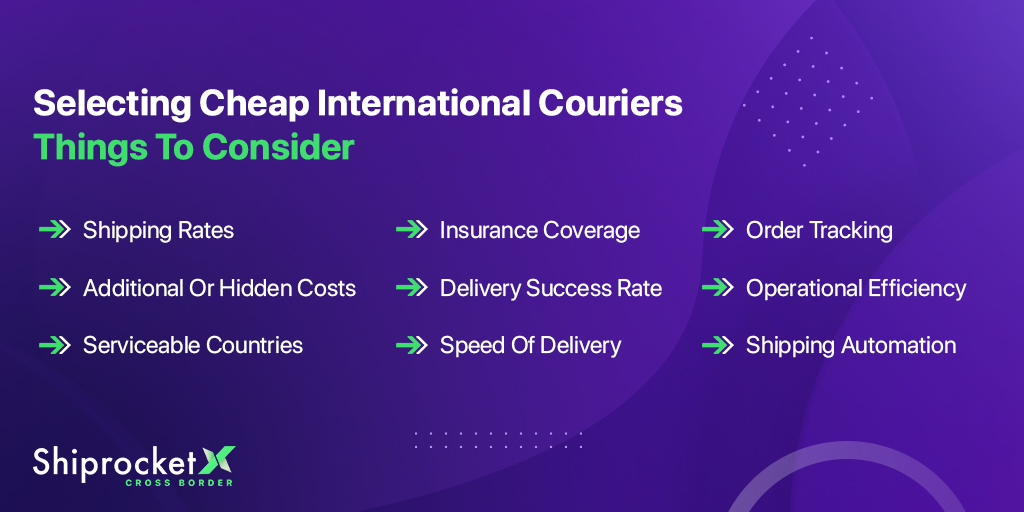 Shipping Rates
As you're looking for cheap international couriers, the first and the most obvious factor is the pricing itself. To stay ahead of your competitors, you need a courier partner that provides the highest-quality services while helping you keep your shipping costs low.
Additional Or Hidden Costs
Always make sure you pay for all the costs upfront. Avoid selecting a courier partner that lacks transparency in billing and reconciliation. Otherwise, you'll only end up increasing your overall
shipping expenditure.
Serviceable Countries
While you'd want to reduce your shipping costs, you'd also want to reach as many pin codes across the world as possible, right? Take out some time to plan in which all countries and union territories you'll need to deliver your packages.
An ideal courier service provider should provide a broad enough reach in all major international markets. The idea here is to choose cheap international couriers while ensuring that you never miss out on new customers and expansion opportunities due to the limited delivery network.
Insurance Coverage
International shipping comes with its own set of risks. Your packages might get damaged, lost or stolen during transit. This might not only waste your hard-earned money but might also hamper your customer experience, reducing your profitability in the long run.
Most courier partners offer insurance plans to keep you from facing this situation. Make it a point to compare the extent of coverage, claim limit, time taken in the claim process, and other terms and conditions.
Delivery Success Rate
Selecting just cheap international couriers doesn't guarantee that your orders will be delivered successfully at your customers' doorsteps in other countries. Undelivered or RTO orders are nothing but unnecessary addition to your overall costs.
Therefore, it is critical to analyze the delivery performance of all the available courier options and choose the one having a reasonable delivery success rate.

Speed Of Delivery
Nowadays, consumers expect you to deliver their orders at the speed of light. In the wake of keeping your costs down, would you want to keep your customers waiting, knowing that they may never buy from you again? No way. Remember to go for a courier partner that charges less and delivers your orders timely.
Order Tracking
Real-time order tracking is another crucial factor that you should consider when picking cheap international couriers. Neither you nor your customers would want to settle without the convenience of tracking orders easily and getting notified when the order status changes.
Operational Efficiency
One also needs to consider how efficient a courier provider is in day-to-day operations. For instance, if you get a lot of weight discrepancies when processing your orders, you'll be caught up wasting your time on resolving such disputes. As they say, time is money.
Even if you don't raise any dispute and your courier partner has recorded more weight than actual, you'll have to pay extra, which is again unfair.
Shipping Automation
Yet another criterion to consider when choosing cheap international couriers is shipping automation. If a courier partner minimizes manual efforts by automating the shipping process, there's a higher chance of maintaining relatively lower shipping rates for a long.
Ready To Ship Affordably Worldwide?
We hope the above tips help you get it right. Choosing the best international courier will reduce your costs and help expand your business reach, enhance customer experience, and grow your sales.
Alternatively, you can leave your international shipping worries to Shiprocket X. Shiprocket X is an easy-to-use global shipping platform. It lets you deliver your orders to more than 220 countries and union territories through the best courier partners at the lowest shipping rates.
Whatever you decide you do, don't forget to let us know how it goes. Best of luck!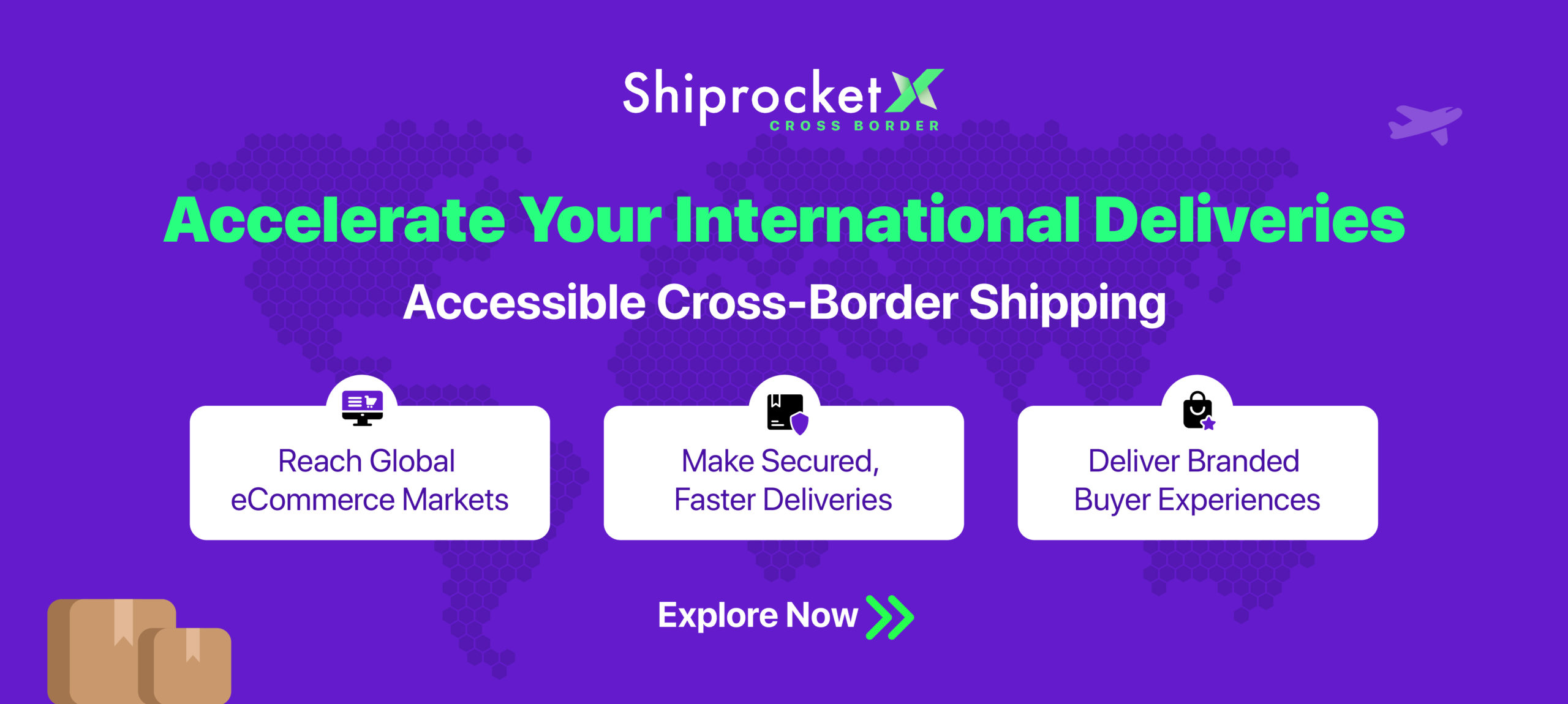 Calculate Your Shipping Costs Now