Combating the COVID-19 Outbreak – Safety Measures for eCommerce Sellers
The new coronavirus variant, Omicron is spreading in India faster. With the customers again not coming out of their house, the pandemic has again become nothing but short of a nightmare for most businesses. Even though the FMCG and retail sector has taken a blunt hit, some industries are still showing an upward trend. Tough times call for strict measures. This means we have to take the best possible route to ensure that the disease does not spread through us. Furthermore, we also have a more significant responsibility on our shoulders – to make sure that the customer experience is smooth as the customer needs us more than ever in this difficult hour.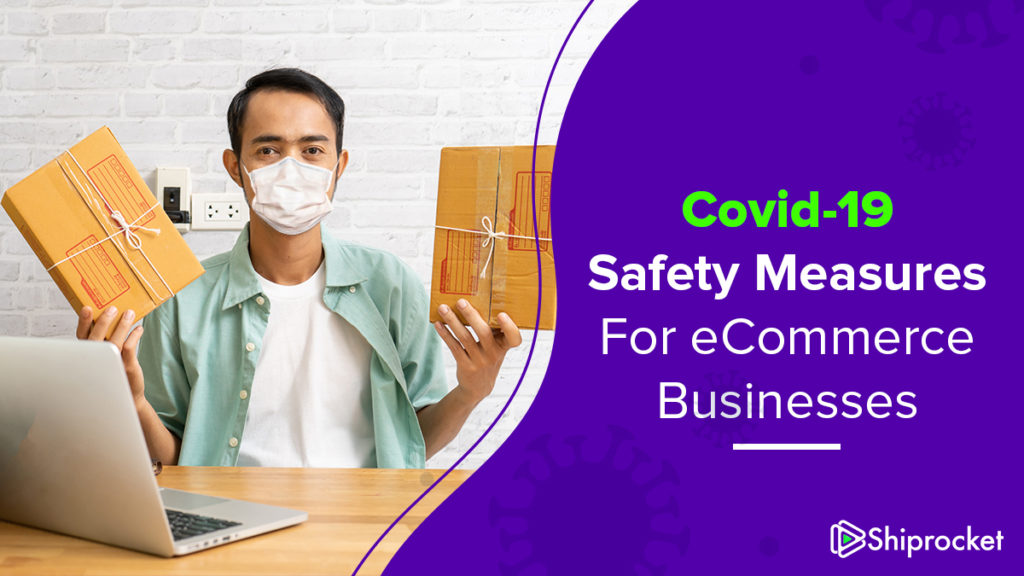 The deadly COVID-19 virus spreads via respiratory droplets transmitted by being in direct contact with an infected person or by coming in contact with intermediate surfaces.
Since order fulfillment is a process in which multiple personnel come in contact with products and machines regularly, here are a few precautions to help you be cautious while processing shipments.
Sanitize Your Warehouse
The warehouse is a high-risk location in your fulfillment chain where people come in maximum contact with surfaces. Since the various processes followed by picking, packing, and dispatching take place in the warehouse, the risk of spreading this disease increases.
The virus can live on metal for around 4-5 days. Hence, the bins, racks, machines, doorknobs, etc. must be sanitized at least 3 times daily.
A thermal scan must be done at the entry of the warehouse, and people having a temperature and/or mild symptoms must be prohibited from entering. The Omicron variant has new symptoms and you must also take care of that.
Sanitation and cleanliness are of the utmost importance when it comes to protection from COVID-19. Hence, all employees must follow a strict protocol regarding the washing of hands, using sanitizers, and wearing protective gear like overalls, gloves, face masks, etc.
Ensure that the products do not come in contact with many people. And if they do, they must be sanitized thoroughly before you dispatch them.
Choose to receive all documents electronically. Reduce the risk of touching unknown surfaces like papers and pens as the virus can stay on them for a longer period.
Opt for Contactless Delivery
In these challenging times, take innovative measures to deliver products with ease. Contactless delivery is one of them. If your buyer agrees, you can ask them to authorize the courier executive to leave the package in a safe place. In testing times like these, you must make contactless delivery mandatory.
For example, food chain Domino's Pizza has already introduced 'zero contact delivery' across all its restaurants where it will allow its customers to receive their order without coming in direct contact with any delivery staff.
This way, both the customer and the executive can avoid contact. Although this will not be a suitable option for large or expensive shipments, it can be useful for everyday household materials or food items and can help reduce contact by a large margin.
Provide Sanitary Guidelines to All Courier Executives
It is imperative that you make your entire staff aware of the impending threat this outbreak can cause. Hence, please write down the sanitary guidelines and share them with every employee.
These guidelines will include washing hands at fixed intervals, wearing gloves and disposing of them before leaving, wearing face masks, etc. If these safety guidelines are not followed properly, people working with you or the people buying from you can contract this disease.
The delivery executives must also wear gloves and face masks. Before delivering any product, they must sanitize their hands. They must avoid going into houses or compounds and deliver products outside the house itself.
Make sure they follow them religiously. Keep sanitizers in every nook and corner and promote hand hygiene at all times.
Handle Returns Effectively
Designate a spot in the warehouse where the returns are dropped. Do not collect them directly as you do not know how sanitized it is. If the return delivery agent has to provide you with documents, ask them to send them electronically via images or pdfs or leave them at designated spots.
Pick up these products in batches, disinfect them properly in the same area, and then move to the rest of the warehouse. Sanitize the product again before keeping it back on the shelf. Wash hands after dealing with return items.
How Can You Ensure Your Business Copes With This Challenge?
Ship with Shipping Aggregators
If you want to deliver your packages across the country, now is an excellent time to begin using a shipping aggregator like Shiprocket. You will be able to ship with over 17+ courier partners across 29000+ PIN codes in the country. Since most companies are working with lesser staff because of the pandemic, you will be able to choose an alternate courier partner without wasting any time.
Strengthen the Support
Customer support will be the most critical element in your strategy now. If you want your business to thrive despite these stringent measures, you must make sure you can offer round-the-clock support to your buyers and communicate with them regularly.
Ensure Smooth Tracking
Your customers are bound to be worried about their incoming orders since the situation is changing by the minute. Thus, if you give them a proper tracking page and update the tracking details regularly, your customers will benefit from your brand. Communication of information in the correct format is the most vital component in these times.
Final Thoughts
We at Shiprocket, request our seller partners, courier partners, and everyone associated with us to follow stringent guidelines and secure every touchpoint to curb this outbreak as much as we can. Our support and account management teams are always available for our sellers to ensure the smooth delivery of their packages. We wish everyone the best of health and hope you emerge stronger from these tough times.
Calculate Your Shipping Costs Now