Best Courier Delivery Apps in India: A Top 10 Countdown
Introduction
The idea of delivery has rapidly grown today. It has become extremely easy to send parcels from one place to another. People prefer having their purchases delivered to their doorstep. Over the years, quick, smooth, and efficient delivery has evolved, and now people expect their purchases to be delivered within the shortest time frame. A fast and reliable courier service has become the key to success, growth, and expansion in any eCommerce business.
Courier delivery applications have made it extremely easy for people to transport goods and services from one place to another. These facilities can be accessed through mobile applications, allowing you to ship goods from one place to another at your fingertips. Every delivery application has its own set of unique features that cater to the requirements of different people and enterprises.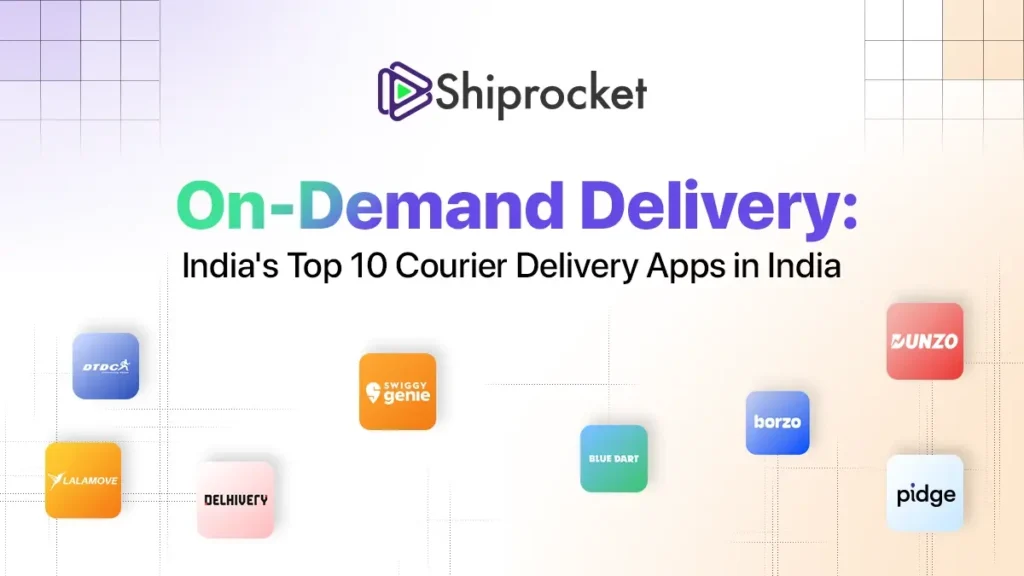 In today's rapidly growing world, conventional courier services have transformed, and we can now track our parcels throughout their journey from the time of purchase. Selecting the right courier facility might seem tedious, but gathering all the information about their services can help you make an informed decision.
This blog will explain why courier applications are so wildly popular. It will also dive into a list of the country's top 10 delivery service applications.
The Significance of Courier Delivery Apps in Modern Times
Here is a list of reasons why courier delivery applications play such a significant role in modern times:
Seamless online shopping experience
Seamless shopping experiences are the one functionality a courier delivery application gives your customers to ensure that their packages are shipped and delivered efficiently. Consumers can look at the tariff rates for the service through the app and hence make an informed decision regarding the price.
Provision of different payment methods
Quick, secure, and efficient payment methods are needed to ensure a seamless experience. Ensuring that your delivery service application integrates a fine payment gateway and that your transactions can be made through different methods, including online payments, credit and debit cards, net banking, UPI, etc.
Enhanced fleet management
An on-demand delivery application solves the fleet management issue by storing all the data needed. It stores and asks for accurate information regarding all buyer information, addresses, and routes. It also handles all the information regarding the vehicle number and the driver's information. Hence, fleet management becomes easier.
Enhanced consumer satisfaction
Consumer satisfaction must be extremely high on any eCommerce enterprise's goals, irrespective of the type and size of the business. Any on-demand delivery application enables clients to book parcels from any place while ensuring they have no issues using your delivery services. A review evaluation and tracking section will help boost your customers' experiences and help you build a loyal and lengthy consumer-seller relationship.
Reduction in paperwork and other admin chores
Every delivery comes with its own mountain of documentation that is extremely tedious to manage. An on-demand courier service minimises these manually-filled documentation processes by asking the consumer to complete all the details online. Furthermore, it minimises the risk of eros and helps you avoid wrong deliveries. As a result, all the admin duties will be automated, and your enterprise will save administrative costs.
Real-time tracking
The enterprise will communicate with the logistics partner to understand the status of the shipments. However, integrating this feature into the courier application will allow customers to track their parcels using an in-app GPS. Real-time tracking is a feature that has revolutionised the delivery world.
Push notifications
The application immediately informs the buyer and the consumer if any roadblocks are encountered during the delivery journey. Also, push notifications can keep your clients informed, which is always a positive. They feel more informed and appreciated when included in the back-end processes. Hence, they find it easier to trust your enterprise as well.
Top 10 Courier Delivery Apps in India
After the COVID-19 pandemic, courier delivery applications have become extremely popular, like eCommerce platforms. From clothes to groceries, courier services are available for all products, and people expect their purchases to be delivered as soon as possible. Courier delivery service applications must be efficient, quick, safe, and convenient. Here are the top ten courier delivery applications in India:
Dunzo
Do you know why Dunzo has become so popular lately? Well, Dunzo is backed by Reliance and Google. It ensures on-demand rapid and secure delivery services to your customers. They provide professional delivery services, facilitating the quick and safe arrival of packages. What's more? They have a real-time tracking feature and a secure payment system integrated with the application. Another benefit of using this courier delivery app is that it provides great discounts and offers if the goods are ordered in bulk.
Wefast
Wefast offers its customers delivery services on-demand. It has become one of the leading delivery applications in the country. So, what does it offer? It's a courier service that handles your packages carefully while ensuring timely deliveries. Some of their offerings include easy, quick, secure, and efficient deliveries for all your requirements within a particular city or even across borders. Lastly, it also enables you to check the status of your orders.
Pidge
Pidge offers instant delivery services that allow you to track your parcels until they reach your destination. They have a very simple application interface. It has simplified the monitoring and ordering process to a great extent. They also provide integrated API solutions and dedicated account management for those businesses seeking on-demand delivery services.
Swiggy Genie
Swiggy Genie provides services on-demand and ensures swift and secure deliveries of several items, including groceries and important documents. It also allows you to get real-time updates on your delivery status. They also have a customer support team available to help you 24*7 with your queries and concerns.
Saral
Saral is an on-demand delivery service application that allows you to indulge in same-day intra-city delivery services. They promptly and safely deliver your packages across borders. The courier delivery app has an easy-to-use interface that makes ordering and tracking extremely simple. They offer services in over 12 cities in the country and are growing quickly. They are extremely secure and have easy payment options integrated into their application.
Lalamove India
Lalamove India is a delivery application that features end-to-end tracking functionalities in real time. This courier delivery app also comes with a dedicated functionality for account management. It also has integrated API features. Thus, the application is extremely reliable and extremely secure. They also deliver medical equipment and furniture with extreme care. They also provide offers and discounts for bulk transportation.
Delhivery
Delhivery is a courier delivery app that is a simple start-up on a very small scale. In the last few years, it has grown and reached heights no one expected. They are extremely well-reputed for their quick and efficient delivery services. They have extremely well-planned and distributed logistic centers that optimise their supply chain processes, reducing negative environmental impact. They provide several delivery choices, including same-day, on-demand, and scheduled delivery services.
DHL
Over the years, DHL has expanded their business in more than 220 countries. They have a very well-established network that is vastly spread, enabling them to provide optimised supply chain processes and logistics management options. Do you know what's made DHL so popular? Well, it's the unparalleled delivery experience and the 24*7 customer support it offers to its customers.
Blue Dart
Blue Dart provides scalable solutions that all sorts of businesses can use. They provide time-based or slot-based services, automatic proof of delivery services, packing, COD delivery options, express delivery services, weather-resistant delivery services, etc. All those seeking quick, secure, and efficient services make them very popular in the country. The Blue Dart delivery application also offers features that benefit eCommerce businesses to ensure secure and speedy deliveries, making it a fine choice for a delivery service.
DTDC courier delivery
DTDC courier delivery is known for its huge distribution network of logistics centers. These logistics centers are strategically distributed nationwide. They are one of the biggest delivery services in India, and it offers delivery options like intra-state deliveries to fulfill consumer demands. Their application also offers features like real-time tracking of shipments, online booking of services, etc. Furthermore, they also allow cancellations of orders. This courier delivery app is extremely simple to use, with an interface that's quite user-friendly.
Conclusion
Delivery applications are extremely popular and vital for the success of any eCommerce enterprise today. Although the job seems extremely simple and entails ensuring that the consumer receives their package on time, several back-end processes complicate the courier delivery services. Choosing the right delivery application for your organisation might seem daunting.
However, simply understanding all their delivery features will help you choose the one that fits your business requirements perfectly. Today, in India, several delivery partners are efficient and loyal. Hence, you have a range of options to choose from. Real-time tracking, easy cancellations, reliability, and security are the major features you must remember while choosing your courier delivery application.
Frequently Asked Questions(FAQs)

What are the challenges of a courier delivery app?
There are several challenges a business might face with a courier delivery app. These include delayed orders, managing multiple orders simultaneously, high delivery costs, poor visibility into delivery operations, and more.
How to choose the best courier delivery app?
There are four primary factors you should consider before choosing a courier delivery app. These four factors include the app's range of shipping services, cost, delivery speed, and coverage area.
What are the types of couriers?
Different types of courier services include:
Standard Service
Express Service
Overnight Services
On-demand Services
Freight
Parcel Services
Same-day Services
Calculate Your Shipping Costs Now