How Shiprocket Empowered Sellers to Overcome the eCommerce Lockdown
India entered a nationwide lockdown on 24 March 2020. The government of India ordered limited movement throughout the country as a preventive measure for COVID-19 spread.
This news greatly impacted the retail sector. Since social distancing norms were strict and the spread was increasing, hypermarkets, local stand-alone shops, and other physical markets were put to a standstill.
Along with this, the eCommerce landscape had also seen some major shifts. There were strict orders on the shipping of non-essential items and only essential items could be delivered to customers.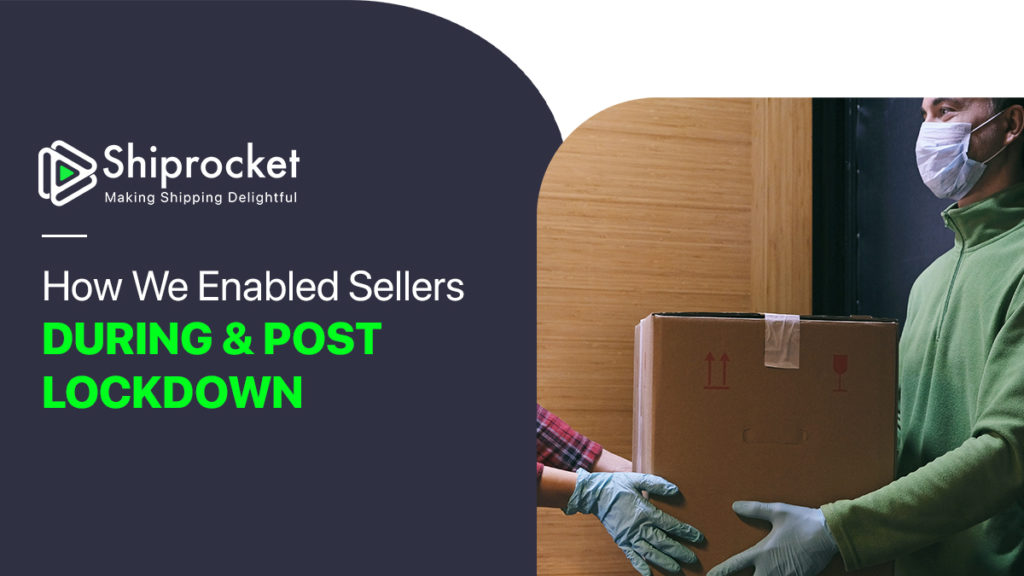 Many businesses were affected by this decision as many shipments were in transit or at courier hubs.
Here are some insights from a survey of 1900 sellers who were selling essential goods with Shiprocket.
Pre-Lockdown
Before the lockdown, Shiprocket was servicing around 26,000+ pin codes across India with 17+ courier partners.
Ofcourse, the demands were different and the top products sold included health and beauty, home improvement, fashion retail, accessories, kitchen appliances, etc.
According to a survey conducted on 1900 Shiprocket sellers, In the D2C market, about 73% of sellers consisted of social sellers, 28% were homepreneurs and over 72% were professional sellers.
During the eCommerce Lockdown – April 2020
As soon as the lockdown was imposed, many businesses had to stop operations altogether. As the shipping of non-essential items got completely banned, products like electronics, apparel, fashion accessories, home improvement items, etc.were not allowed to be shipped.
Soon, sellers were given a green signal to sell essential items that included products like medicines, groceries, food items, personal care items, supplements, pet essentials, etc.
During this time, we worked hard with our courier partners to prioritize deliveries of essentials and ensure that sellers are able to deliver necessary products to their buyers.
Keeping all necessary documentation in place, Shiprocket worked endlessly to deliver across 17,229 pin codes across India. Over 2637 pin codes were active for pickups.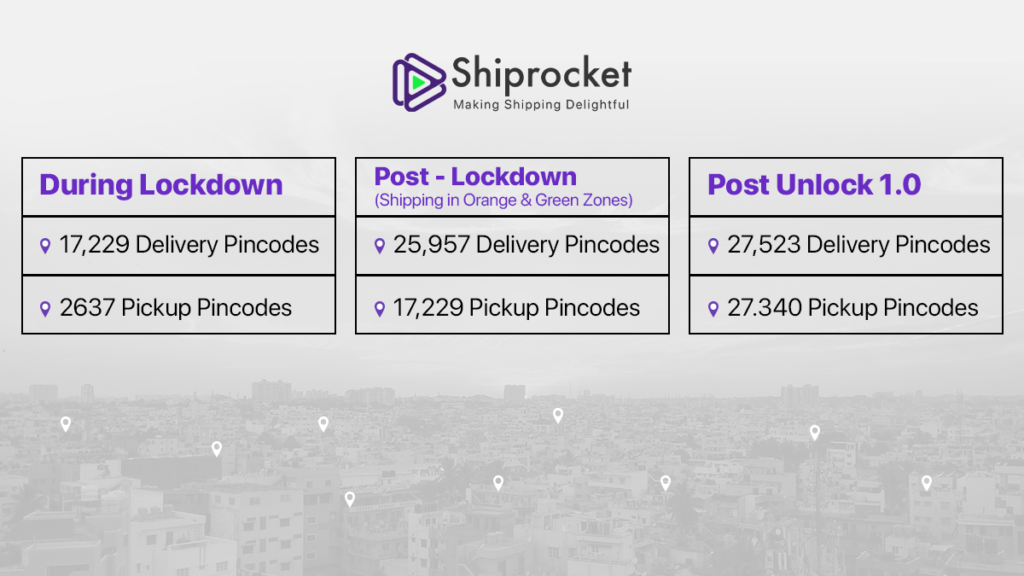 The top cities for pickup and delivery were Delhi, Mumbai and Bangalore. Following this were Gurgaon and Hyderabad.
Out of all the products sold during the lockdown, 80% of the products were medicines, and 16% of the products accounted for food items. Other than these, there were products like personal care items, supplements, and pet care.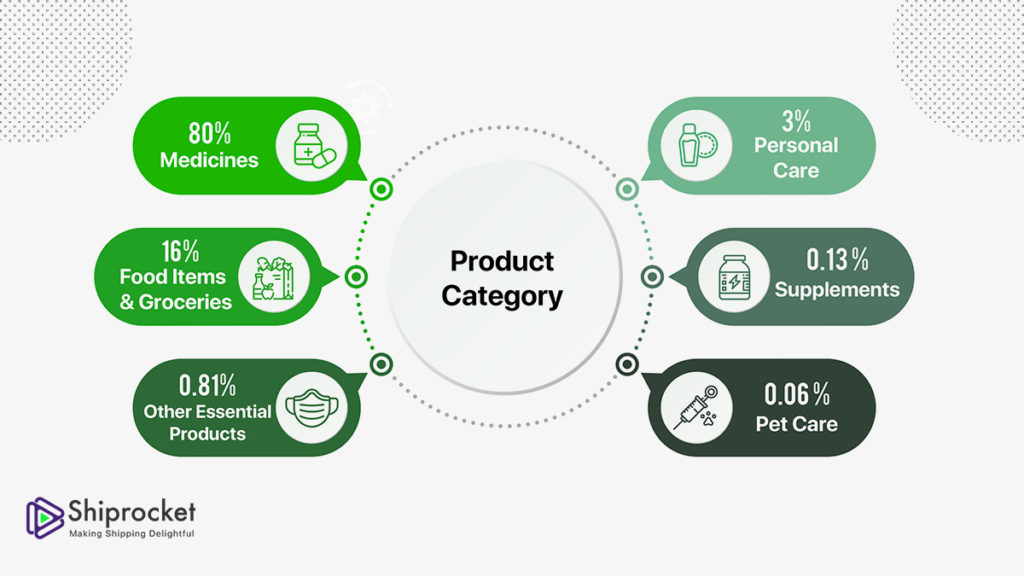 During the lockdown, over 11% of all non-essential shipments were stuck in transit or at courier hubs. This shows that the shipments of many sellers were greatly impacted due to the last minute lockdown.
Many businesses also had to stop operations completely as they only sold products like accessories or fashion apparel. Mr. Puru Dhawan from Sai Sanjeevani commented that after the lockdown started it was difficult for the business to deliver medicines to customers and also they had stuck in transit because the movement of non-essential goods was restricted. Their business also saw a 30% hit due to the early lockdown.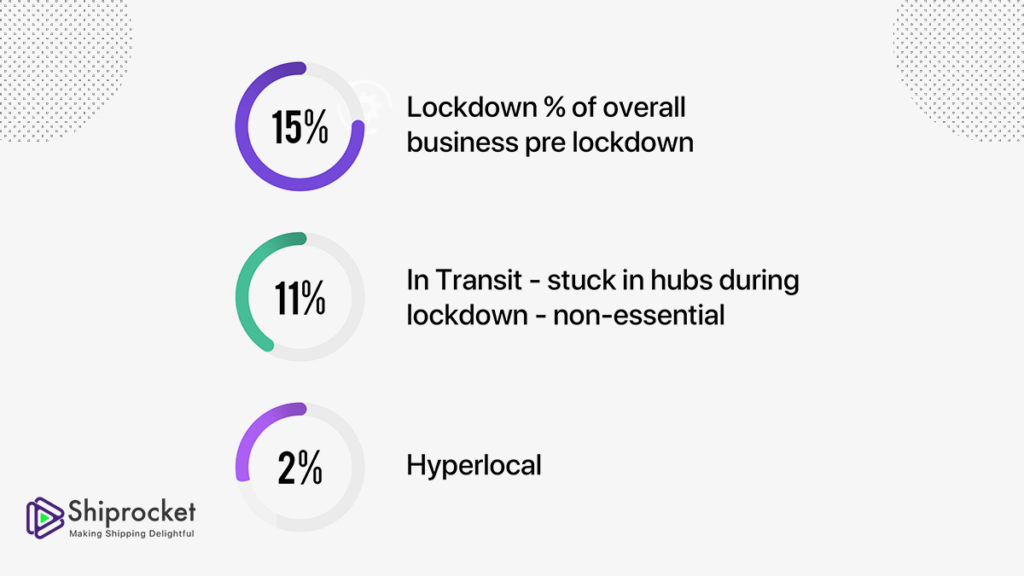 Shiprocket also launched its hyperlocal delivery initiative during the lockdown period to enable small sellers to deliver products within a localized area at cheap rates. Partners included Shadowfax, Dunzo, and we fast. Over 2% of all shipments were hyperlocal in nature.
Due to the lockdown and restricted movement of goods, the average turnaround time for deliveries also increased by a significant margin. It took over 4 days to deliver a product intrastate, 7 days to deliver within metros, and over 12 days to deliver in special zones!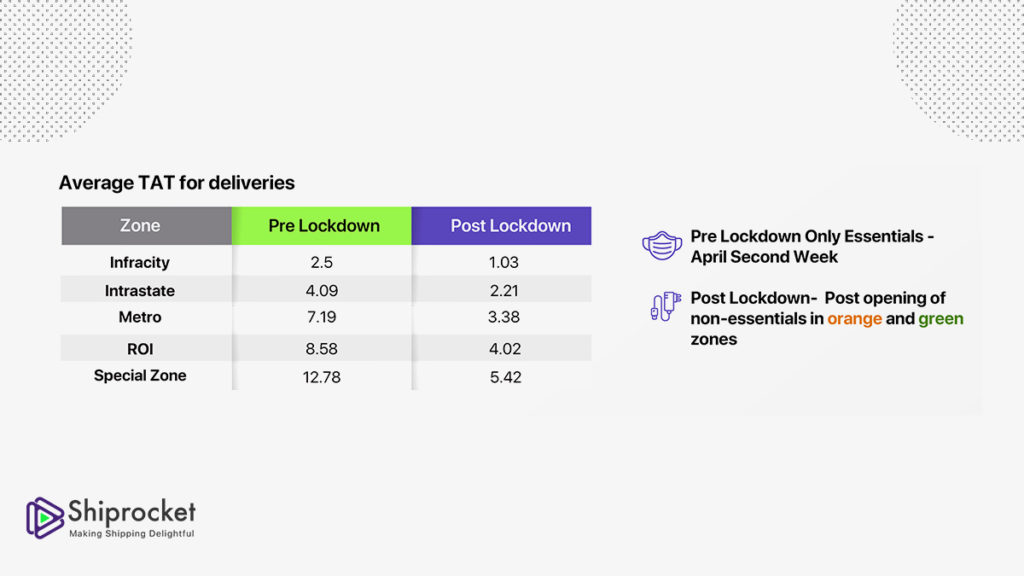 Here is what other sellers had to say about the lockdown and Shiprocket's role in delivering their shipment.
"70% of my business has been the recipient of a major impact due to the current lockdown scenario. At the beginning of the lockdown period, our team wasn't able to schedule pickups for any kind of shipment, which was a huge hit to our sales. The business started picking up only after Shiprocket resumed its delivery services for essential goods, and eventually non-essential goods." – Varun (Green Cure Wellness)
"Our business operations halted starting 23rd March – right after the Prime Minister announced a complete national lockdown due to the novel coronavirus situation – and resumed on 14th April, when Shiprocket called us to inform that they were re-starting their delivery services for essential goods. Our business has seen a 60% downfall since the lockdown commenced. We're happy that Shiprocket has supported us in maintaining business continuity through these tough times." – Mrunal (Healthy Hey)
Shipping of Non-Essential Goods – Lockdown 4.0
After three consecutive lockdowns, in the fourth phase, the government released guidelines to divide states into red, orange, and green zones. eCommerce companies were allowed to ship non-essential and essential goods in orange and green zones.
During this phase, Shiprocket started shipping actively in 25,957 delivery pin codes and 17,229 pickup pincodes with almost 11+ courier partners.
The average delivery turnaround time reduced to two days for intrastate, three days for metro cities, and five days for special zones.
The product categories remained similar to what they were during the lockdown period.
Resumption of eCommerce Services – Unlock 1.0
In the unlock 1.0 announced by the MHA, eCommerce shelling of non-essential items along with essential items could be carried out across all zones except containment and buffer zones.
Shiprocket saw a steep rise in the number of shipments and also stepped up its game for helping sellers adapt to the new norms of shipping and logistics. We introduced hyperlocal deliveries with the Saral app and packaging solutions to help sellers optimize their fulfillment.
Active shippers increased by over 65% post the lockdown indicating that the demand for eCommerce is increasing nationwide.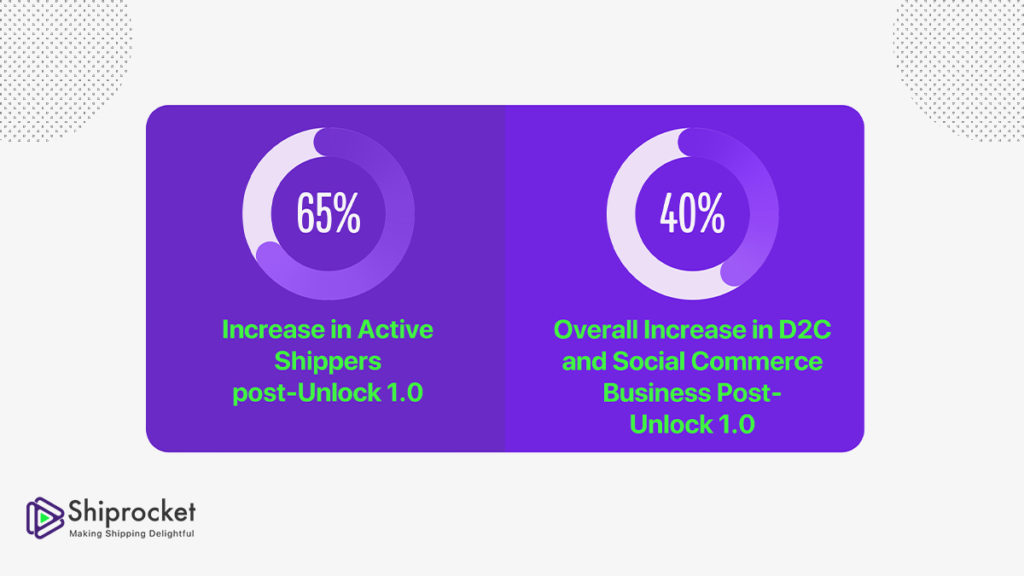 The lockdown also gave a chance to DTC and social eCommerce brands to choose Shiprocket as their shipping partner. Social commerce and DTC business grew by 40% on the Shiprocket platform post the lockdown.
We activated more pin codes for serviceability post the lockdown. We are now active across 27,340 pickup pincodes and 27,523 delivery pincodes.
Upon surveying 1216 sellers for non-essential categories, we found that post lockdown, top products being sold fall under the category of health and beauty retail, fashion apparel, electronics, and home and lifestyle products.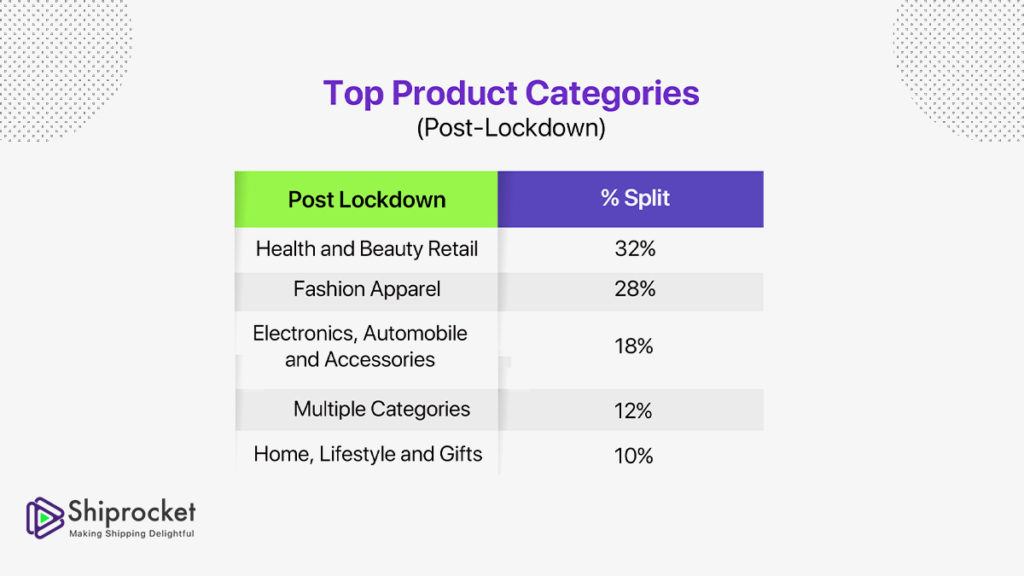 Post lockdown, sellers have seen a shift in the purchase behavior of consumers. People are now more focused on essentials and personal care products like antibacterial and anti-pollution face masks, baby shampoos, hair oil, etc.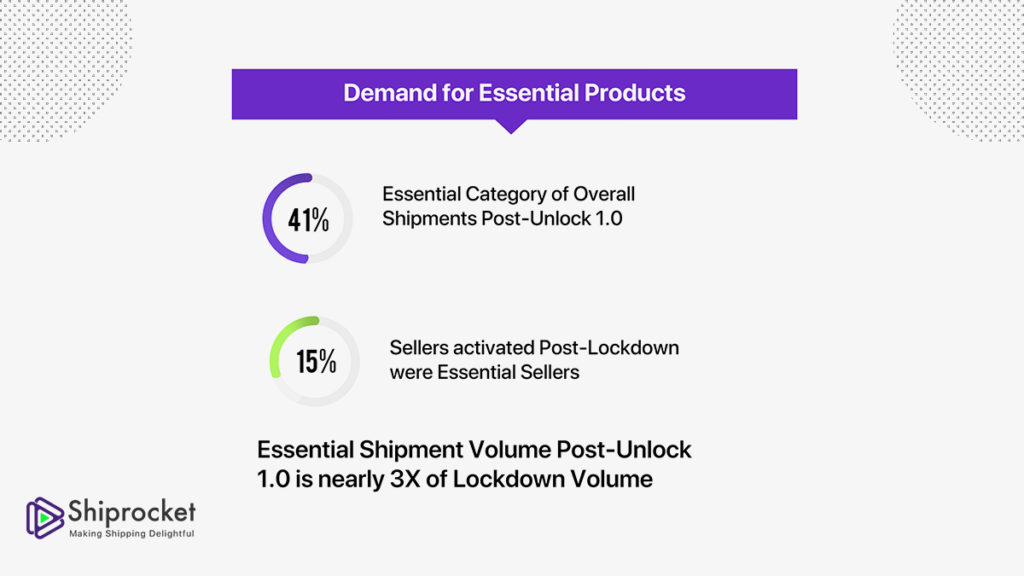 We also noticed a trend that 41% of overall shipments post lockdown were of the essential categories and the essential shipment volume post lockdown had increased 2.78 times of the lockdown value. This implies that the consumer demand and purchase behavior is dynamic and it will see a shift in the coming time.
"I started my home improvement business about two months ago. Before this, I had an event management business, which rapidly declined post the COVID-19 national lockdown. Since then, offline markets are a no-show and online is the newest playing field for businesses. Therefore, I decided to adapt to the changing consumer behavior and start my online business, Easy Peasy Living Store." – Guru Dutt, Owner, Easy Peasy Living Store
"Since Unlock 1.0, my online clothing business has seen an increase in orders by over 40% and this has compelled me to partner with an eCommerce post-order fulfillment platform like Shiprocket, which has considerably reduced our manual effort through seamless automation." – Leo, Owner, Vennila Clothing Company
Final Thoughts
The eCommerce lockdown and the COVID situation has gotten many challenges for sellers across the country. But, it has also given many a chance to explore the eCommerce realm and reach out to customers far and wide. Shiprocket continues to play a key role in enabling sellers on all levels to deliver seamlessly and actively contribute to the growth of local businesses.
Calculate Your Shipping Costs Now