Tips For Writing eCommerce Return and Exchange Policy?
Online businesses are always looking to invest in strategies for their store, customer return merchandise, and product mix in their store.
The planning is most important for these items. You don't create a million-dollar store in a day. If your vision includes king-size profits, you should consider buying, sorting, reselling, returning, and exchanging merchandise when you start a store.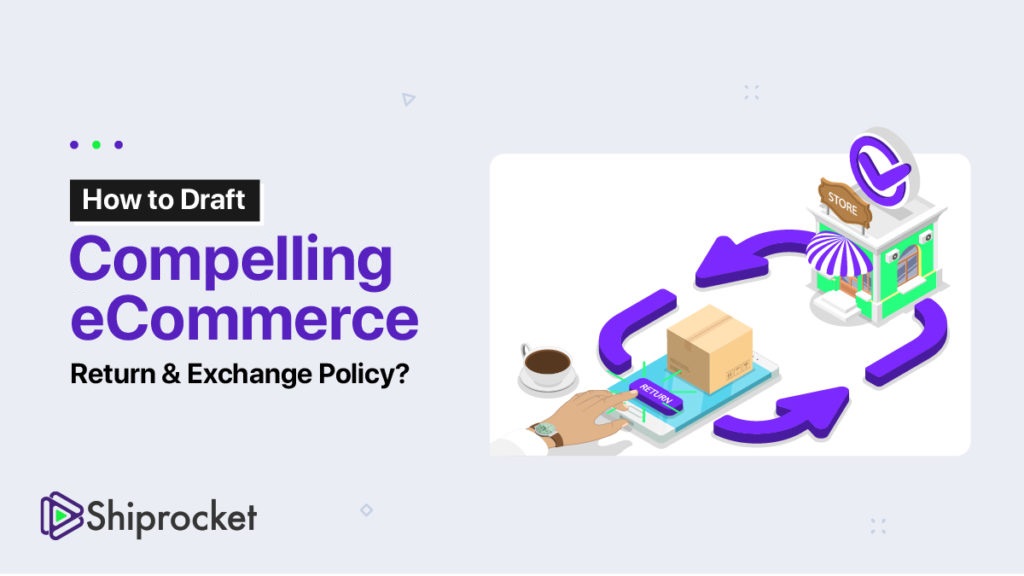 Returns and exchanges are the most critical aspects of an online business that can break or make a business. According to stats, 20% of all products ordered online are returned. 65% of returns are due to a retailer's fault, and 24% of product returns happen because a customer changed their mind after purchase. The main reasons for product returns are that 22% of products look different, 23% receive damaged goods, and 23% receive the wrong product.
The best way to handle returns and exchange is by having a smooth process. It's also a great opportunity to keep your customers happy.
Now Let's take a look into how to draft an exchange and return policy.
A return is when a customer return items they purchased because they are not satisfied. The customer can return and opt for a refund or can exchange the item with a different product.
An exchange is when a shopper returns an initially purchased item and receives the same product in return. Customers opt for product exchanges because of product defects, size, or fit issues.
How to Write a Return & Exchange Policy?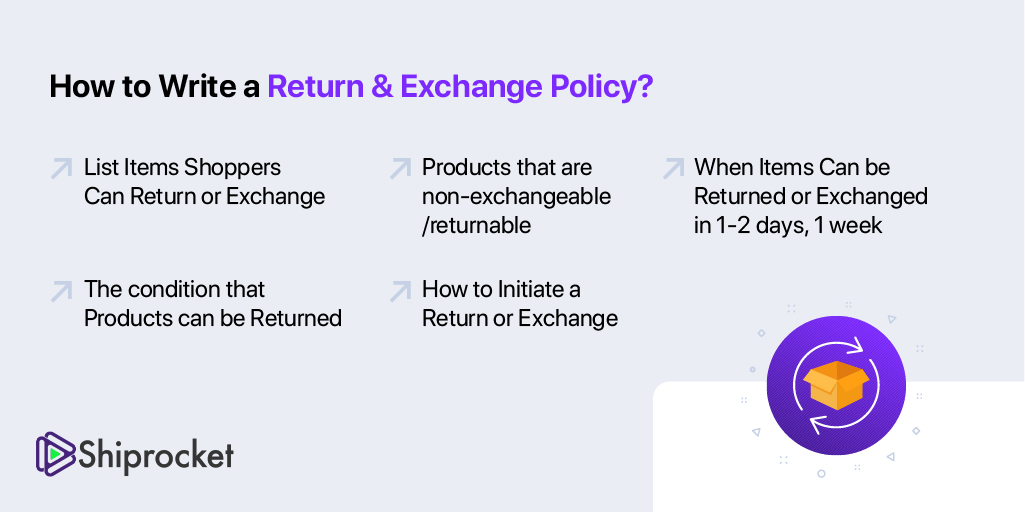 Since shoppers focus on giving a smooth return and exchange experience, the written policy should cover the following basics:
List the items shoppers can return and exchange.
List the items that are non-returnable, and non-exchangeable.
List days when products can be returned or exchanged 2 days, 3 days, 1 week, 1 month.
List the condition of the products that can be returned or exchanged.
List the process to initiate a return or exchange.
The benefit of having a clear written return and exchange policy is that it makes customers feel safe. It allows them to test and try a product before buying, which they can exchange and create exchange without any regret.
ECommerce businesses manage returns, and exchange can directly impact sales, and customers will certainly trust retailers with flexible policies. The majority of customers prefer to buy from a store if their return process is easy.
Ensure your return policy is visible to all of your shoppers. Your customers might miss the policy if your return & exchange policy is hard to find. Try to consider giving it on your about us page, product page, cart, checkout page, website chat, website footer, FAQ page.
When your return and exchange policy is clear, customers will have more trust in your brand and set the right expectation before initiating a purchase.
Final Words
Your return and exchange policy represent your business' philosophies, and you treat your customers. This policy should be well-written as this is the most-read document on your website. It's not just a way of explaining your requirements and process, but also a means of making a good impression.
So when drafting your company's return and exchange policy, take your time, plan, and come up with an awesome return policy that fits your business.
Calculate Your Shipping Costs Now