7 eCommerce Trends to Dominate in 2023
If there's one sector that you had to name for witnessing an exponential rise in the last decade, it would undoubtedly be the eCommerce industry. Customers these days are making as much as 60% of their purchases online, leaving sellers with more than just a couple of opportunities.
But as the customer continues to receive tons of options for shopping online, their expectations are on a surge like never before. For example, 38% of the shoppers now want same-day delivery of their orders. And this is just the beginning. There are many more eCommerce trends shaping 2022, which eCommerce entrepreneurs must be prepared for.
Latest eCommerce Trends to Follow in 2023
So, if you're looking for the latest trends in eCommerce, you're at the right place. Read on to find out more.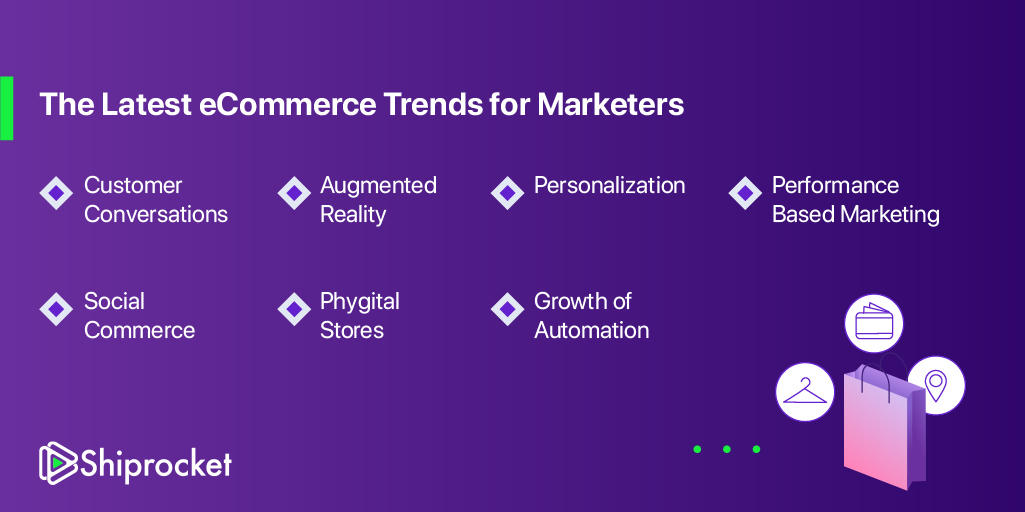 The Era of Phygital Stores
As we progress further into the year 2022, we can witness more and more online stores making the transition into physical stores. This practice is predominantly being driven by popular eCommerce brands such as Myntra, Firstcry, Nykaa, Lenskart, etc. And these are not just limited to opening one or two physical stores, but scaling them all over the country.

All these trends are set to dominate 2022. The question is how many of these are you prepared for? If there's something that you've been trying to accomplish for your business, now is the right time to get out of your comfort zones and do it—gear up for the remaining months of 2022 with strategies and practices that help you reduce costs. And to know what's working and what's not, you have the right metrics- return on investment (ROI)!
Augmented Reality
One of the hottest trends around the globe in augmented reality is selling hotcakes in the market. Furthermore, 2022 will be the year where eCommerce companies harness the power of augmented reality to the fullest.

Many tools such as Shopify AR Powered 3D warehouse have already been launched, making it easier for eCommerce companies to integrate AR into their business. Experts from the industry believe that augmented reality can be one of the most significant assets in bridging the gap between customer expectations and the seller's reality.

AR for eCommerce entrepreneurs can mean fewer return orders and much more conversion rates. On the other hand, for buyers, it can mean better satisfaction and experience when it comes to trying new products or testing makeup without having to step out of the house.

One of the hottest trends around the globe in augmented reality is selling hotcakes in the market. Furthermore, 2022 will be the year where eCommerce companies harness the power of augmented reality to the fullest.
Personalization
Personalization is once again ruling the eCommerce industry and will keep doing so in the future as well. Every customer wants to experience a journey tailored for themselves and not generically addressed to the masses. Personalization affects your buyer's journey and acts as a factor that contributes to the decision-making regarding a purchase.

Using analytics to personalize your customer's experience can be one of the best decisions that you make. Even if you look at recent market statistics, nearly 43% of the customers prefer companies that personalize the customer experience. And that's a huge number!

2022 would be the most opportune moment to implement dynamic websites that are personalized for your customers. There are plenty of tools emerging in the market that is helping sellers achieve this, ultimately driving conversions for businesses.

So, when a seller comes to your website and browses Adidas products, the next time they land on your website, your website's landing page will show them related products such as the latest collections and top offers on them. This is just one aspect of how personalization can be tailored on websites.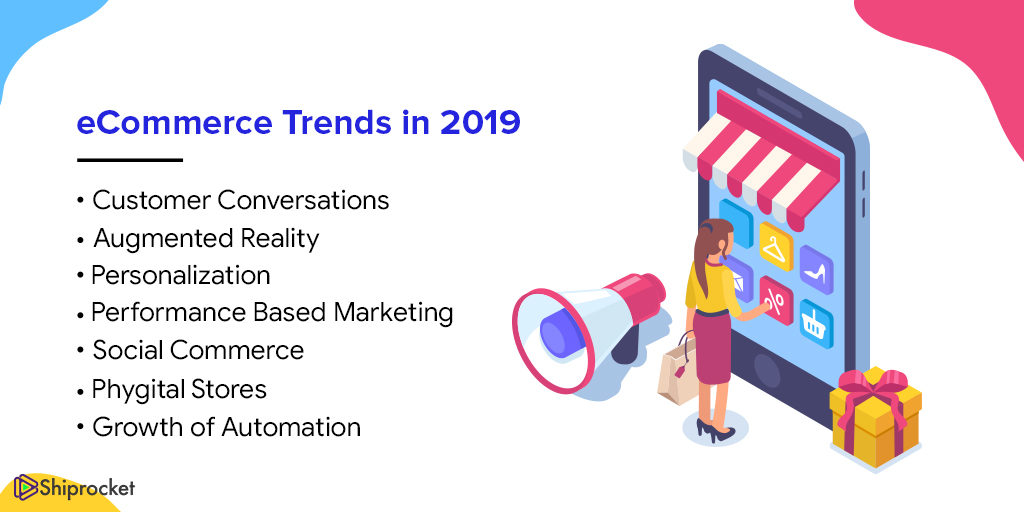 Customer Conversations
Customer conversations are all set to dominate the eCommerce market in 2022. It wouldn't be incorrect to say that they are a path to customers' purchase frequency. Conversations are also an essential part of tailoring the experience to your customers.
Industry experts insist on finding opportunities where you can have conversations with your customers, right at the top of the funnel. This also helps in gathering micro feedback from them, for enhancing their experience in the future.

Customer conversations are all about maintaining a healthy and long-lasting relationship with your buyer. And it's one of the most important metrics you should be focusing on, in eCommerce. The journey of your buyer begins right from the first time they get in touch with you. This also accounts for their experience before they purchase the product, after the purchase, and between the two.

With the rapid progress in the very definition of eCommerce, companies are focussing on improving their services for their clients. Moreover, it is independent of the fact whether they are newly acquired or existing. And customer conversations are the key to it.
Next-Day Delivery
The eCommerce giant Amazon offers same-day and next-day delivery to its prime members. Most businesses in the coming time will also offer same and next day delivery. If you also fulfill orders faster, it will help you scale your business. Without investing much, you can outsource order fulfillment to a third-party fulfillment company that can help you with same-day, next-day, or faster delivery.
Animation
A static screen will go out of fashion, and motion will attract attention. This is the main reason why social media platforms like Facebook and Instagram are actively using auto-played videos.
You can also use motion videos on your website or in your email campaigns. This will help draw customers' attention to essential details on your website. But never overdo them, as they might distract viewers from the most crucial parts of your website.
In the End
The eCommerce trends to follow in 2022 are a clear indicator that there is great potential to grow for the industry in the upcoming year. If you are looking to find the right experts to get your eCommerce business going, then contact us.
Calculate Your Shipping Costs Now