How to Grow Your Hyperlocal Retail Shop Quickly
According to recent research by Deloitte, India is one of the fastest-growing economies globally. The retail market is expected to grow from $ 795 billion in 2017 to $ 1 trillion by 2021.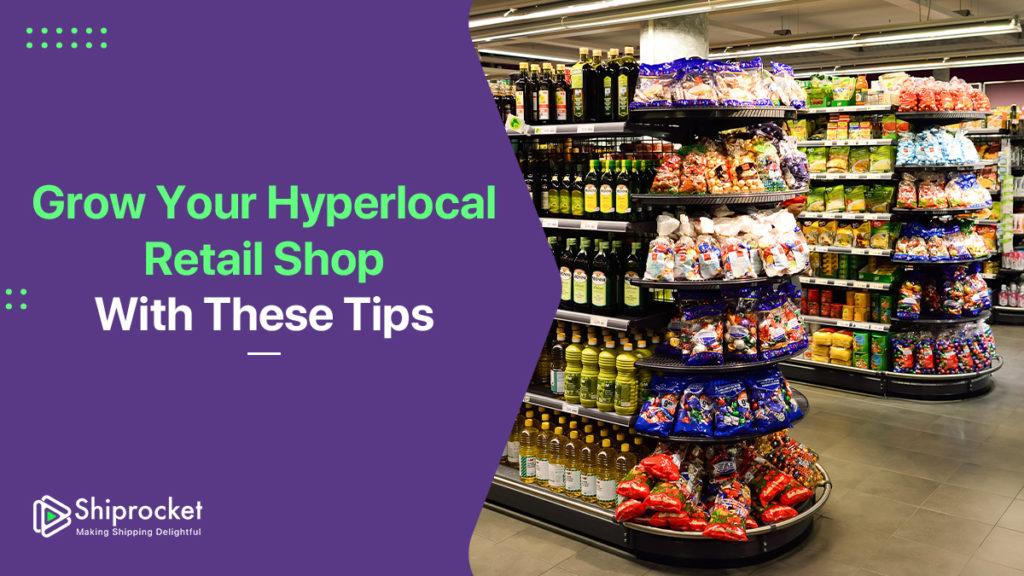 Ever since the onset of the coronavirus, stand-alone shops and hypermarkets alike have seen a shift in the purchasing dynamics. This means, due to safety and hygiene concerns buyers are now moving towards eCommerce stores for their daily purchases.
Although eCommerce is booming in the country since the past few years, brick and mortar stores still contribute to more than 50% of the retail sales.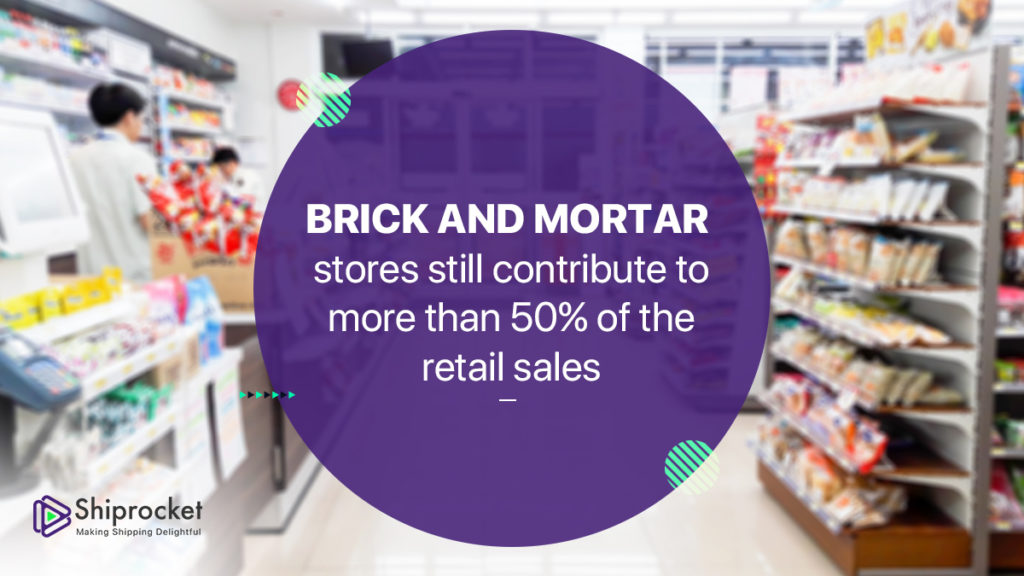 The eCommerce segment has seen rapid growth since India entered a lockdown. Organized retail stores and hypermarkets have already shifted their base online to accommodate the spike in orders and increasing eCommerce penetration. But online or offline, the real challenge remains to get things delivered to your customers. Let's find out how you can grow your hyperlocal retail shop amidst this competitive environment and reach out to your customers without asking them to come to your store.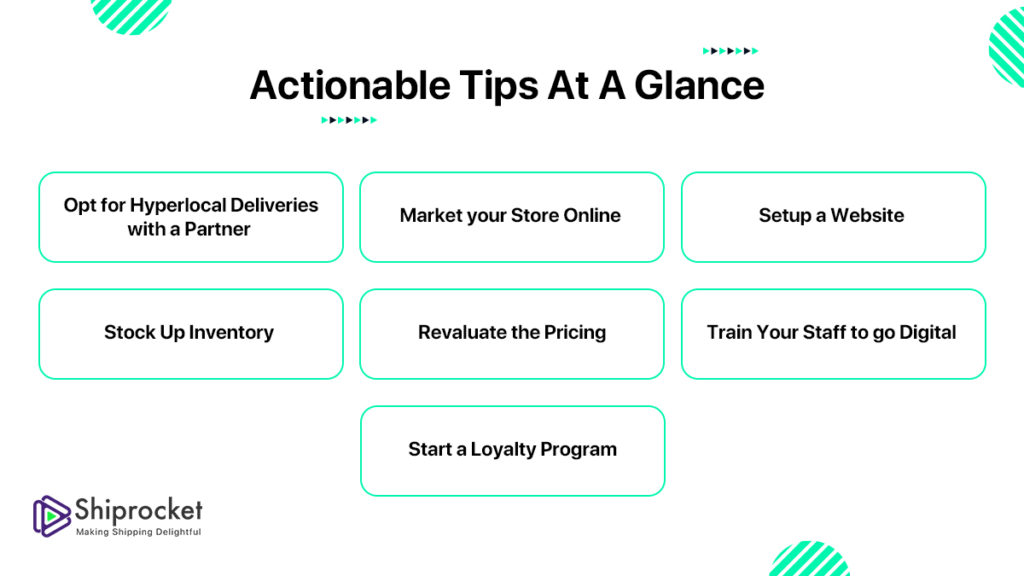 Opt for Hyperlocal Deliveries with a Partner
The real challenge when trying to reach your customers is scheduling pickups and delivering products to their doorstep. This might seem impossible with social distancing norms and hygiene practices in place, but you can always resort to technology to help you deliver products.
Usually, local stores like Kirana shops, pharmacies, restaurants, etc. have their own delivery agents that help them with deliveries. But with the right technology, you can easily assign delivery partners and get started.
If you ship in a small geographical area or have a standalone shop that you want to revive or increase sales for, you can ship with SARAL.
SARAL is Shiprocket's hyperlocal delivery app that lets you ship within a 50 km radius and provide delivery to your customers within a few hours or the same day. It enables you to ship with multiple delivery partners and not rely on the services of just one. The partners include names like Dunzo, We Fast, and Shadowfax. The best part is a user-friendly application that you can easily download from the play store to get started.
Market your Store Online
Next, it is essential to make your customers aware that you are shipping products directly to their place. This is only possible with optimum marketing. Instead of using off-line mediums like posters, flyers, etc, you must explore other options like google's my business listing, SEO optimization for local keywords, etc. These practices will help you establish a presence online and you will appear in the searches when your customers look for shops nearby. Google's business listing feature is extremely helpful for businesses that sell locally and want to gain visibility only in a particular area.
Social media is an important tool that you must use in order to market your store online. Since a maximum number of individuals shop online or use social media for one task or another, it is important that you set up a page on Facebook and promote it among several groups to gain more visibility.
You can also run location-specific ads to target customers who live within your delivery radius. This will help you reach your target audience more easily.
Setup a Website
Setting up a store online is always a good idea. Now since the dynamics are changing drastically and people are resorting more to online shopping, it is a great idea to take the lead and set up a store online along with your retail shop. This step can help give you a strong push and an edge over your competition.
If you don't want to set up a website where your customers can shop. You can also make a website to list your products online. This can be like an online catalog that you can refer to your customers whenever they ask about the products available at your store. This will help you work faster and also give your customers more clarity.
Setting up an online store is extremely easy. You can do it with Shiprocket Social in a few clicks. You just need to add your details, get started with social, create your own store with customizations, list your products, and start selling!
Once your online store is set, you can market it to customers and watch orders come in like never before. Always ensure to include the correct images, and product descriptions when you list your product online. These will guide the customer better and you will not face the brunt of returns or RTO due to incorrect products.
Stock Up Inventory
Next, you need to track your inventory closely so that you never go out of stock on the top-selling items. If you take your inventory casually, you might have to see days when there are no sales as products are unavailable.
Controlling inventory helps you organize your products better and you can arrange them effectively so that you can easily track them at all times.
Reach out to customers and understand what products are most required and then stop them up accordingly. It is a waste if you store products that are not being sold and end up housing more unsold products than profits
Revaluate the Pricing
Since there is a lot of competition for daily essentials, it is time that you reevaluate your pricing and sell your products accordingly. Try to give customers a discount wherever possible so that they come back to your store and shop from you regularly.
If your customers know that they are being given a better price in other stores, they will pick your store without a doubt as the products are being sold commonly.
Now, if you set up your store online, you don't need to invest as much in a brick and mortar store. Therefore, you can use these funds to offer a more competitive rate.
Train Your Staff to go Digital
Train your staff on how to accept incoming orders online, packaging techniques to avoid leakage and spillage during delivery, and the process to schedule pickups on the hyperlocal delivery app. Thus, if a new order comes at any point, your staff can take care of it if you want available. This will help you be more prepared and deliver faster to your customers.
Along with this, your staff must also be trained about adequate safety and hygiene practices so that they can work in a sanitized environment and maintain their health also. For example, washing hands regularly must be made mandatory so that proper hygiene is maintained across your store
Start a Loyalty Program
Most standalone shop sellers don't say it out loud but they have a loyalty program going for all regular customers. Be it stationery or Kirana shops, if you have been shopping with them for a long period of time, they will offer you a discount on the overall purchase. You can use this informal strategy as a formal one and promote it among new users.
Hypermarket brands like Big Bazaar and Easyday, offer such loyalty programs to customers. They offer them membership and as a part of their club, they can avail of additional discounts and other benefits. These help you attract new customers to your store and also retain customers who shop from your store for a long time. You can plan your loyalty program according to your store. For instance, if you sell stationery, you can offer a free monthly subscription of registers of pens to customers who have been shopping with you for a long time.
Conclusion
Growing your hyperlocal shop is not a difficult job if you follow the right steps in the right direction. You have to be consistent in your activities in order to stay relevant and keep your customers informed about all the updates that take place at your store. For example, if you have new products in stock, you must inform your customers so that they can decide if they want to make a purchase. These hacks can be helpful if you're looking for quick solutions!
Calculate Your Shipping Costs Now